During our exploration of Holland, our first-class vessel, the MS Amadeus Cara, takes us past vibrant tulip fields and quaint picturesque locations. Through its vast network of waterways and canals, we'll uncover hidden gems highlighting both Holland and Belgium. Marvel at the architecture, charming villages, and scenic countryside as we cruise this unforgettable region!
Celebrate 30 years with us!
We have chartered the whole ship with our world-class partner, Amadeus, for this special occasion. Their sleek, modern ships offer amazing views with 100% outward facing staterooms ship-wide and loaded with amenities – from spa and fitness facilities, sun deck and viewing platforms, evening entertainment, gourmet meals, and wine/beer/soda with dinner. From our ship, you'll enjoy breathtaking views of colorful tulip fields and charming villages!
Two-night pre-cruise stay at the Golden Tulip Hotel Central
Cruise aboard the MS Amadeus Cara, chartered exclusively for our traveler
Explore Castle Heeswijk, a beautifully restored 11th century fortress
Visit to Keukenhof, considered the most beautiful garden in the world
Experience a guided tour of Operation Market Garden

Visit the Belgium city of Ghent - full of rich heritage and impressive medieval buildings.
See Kinderdijk, a UNESCO World Heritage site, to learn more about the windmills that have been functioning since approximately 1740
Exclusive on-board concert by a "shanty choir" of Dutch sailors
DAYS 1-2: WELCOME TO AMSTERDAM!
Following our included overnight flight, we arrive in Amsterdam to meet our Tour Director. Our time in the Netherlands kicks off with a visit to the Clara Maria Cheese Farm and Clog Factory in Amstelveen before heading to the charming town of 's-Hertogenbosch (also known as Den Bosch) for a guided walking tour. Next, we will settle into the Golden Tulip Hotel Central to enjoy a group welcome dinner. D

DAY 3: CASTLE HEESWIJK/DEN BOSCH
After a delicious breakfast, we will take a guided tour of Castle Heeswijk, a beautifully restored 11th century fortress. We'll also visit the Gardens in Demen with 20 different layouts carefully devised according to color and floral variety. Following a stop at the vibrant market of De Noordkade, you'll have free time to explore Den Bosch before tonight's dinner at local favorite, Pilkington's. B, D

DAY 4: KEUKENHOF
Our delightful day begins as we visit Keukenhof, considered by many the most beautiful garden in the world. More than seven million tulips, and other regional flowers fill 80 acres with color and fragrance. Later, we board our modern and comfortable home for the next seven nights: the MS Amadeus Cara. Just like that, your week on the waterways of Holland is underway! The excitement is palpable during a festive welcome dinner hosted by CTD's Steve Uelner. Following dinner, sit back for an on-board concert by a "shanty choir" of real Dutch sailors. B, D
DAY 5: SITES OF AMSTERDAM/HORTUS BULBORUM
This morning in Amsterdam, we'll see the Royal Palace, Museum Quarter, and extensive canals. Since there is no better way to experience the city than cruising on the water, our group will enjoy a traditional canal cruise to see a portion of the village's 90 islands and 400 bridges. This afternoon, enjoy our optional tour of Limmen or enjoy free time on your own to experience the Rijksmuseum, Van Gogh Museum, or Anne Frank House! Just before dinner, we set sail for Arnhem. B, L, D
Option—Hortus Bulborum:
Travel to the 13th century village of Limmen to see its Hortus Bulborum, which ensures that over 2,000 varieties of rare tulips do not become extinct. The landscape here is a springtime masterpiece of vibrant colors, shapes, and sizes. Price: $54 per person.

DAY 6: BRIDGE OF ARNHEM/AIRBORNE MUSEUM
Today we drive through Arnhem, known for World War II's "Operation Market Garden". In September 1944, the British 1st Airborne Division and the Polish 1st Independent Parachute Brigade secured the bridge at Arnhem. These actions became the basis of the historical movie, A Bridge Too Far. We'll then visit the Airborne Museum in Oosterbeek which became a headquarters for the British Commander-in-Chief. This afternoon, we cruise to the charming city of Middleburg. B, L, D
DAY 7: DELTA WORKS/MIDDLEBURG
We rise this morning for a visit the Delta Works project, an amazing example of how the Dutch have truly tamed the environment in which they live. We'll learn about the storm surge barrier, a project that started after a devastating flood in 1953 that inundated the countryside. This surge barrier is now considered one of the world's most impressive engineering marvels. We'll also stop in the lovely town of Veere, a Middle Ages trading port used for trading wool from Scotland. B, L, D
DAY 8: BELGIUM'S MEDIEVAL CITIES
After another delicious breakfast aboard our ship, we'll visit the Belgium city of Ghent - full of rich heritage and impressive medieval buildings. We will explore the fortress "Gravensteen", which was built in the 12th century by the Count of Flanders after he returned from his crusades. We'll walk through Ghent's charming city center and behold its belfry, a medieval bell tower, and much more. This afternoon, you may enjoy time in Ghent on your own or join us for an optional tour to the Flemish jewel of Bruges. B, L, D
Option—Tour of Bruges:
Enjoy a tour to the Flemish jewel of Bruges. The historic marketplace is cradled by the river Reie and has been recognized as a cultural world heritage site by UNESCO. We'll also saunter along the maze of winding, cobbled alleys and cruise its romantic canals. Price: $59 per person.
DAY 9: ANTWERP/COUNTRYSIDE
This morning we'll discover Antwerp, and with it, one of Europe's largest ports. We'll stroll through the attractive historic city center and visit the Onze-Lieve-Vrouwe (Tower of Our Lady) Cathedral, the largest Gothic church in Belgium. This church contains valuable treasures such as Peter Paul Rubens' wall paintings that date back to the 15th century. After lunch, you may choose to join our optional Belgian beer and chocolate tasting excursion or enjoy free time in the city. B, L, D
Option—BELGIAN BEER AND CHOCOLATE TASTING:
We'll visit a chocolatier to learn how local chocolate is made while enjoying some tasty samples. Then it's off to a local Belgian brewery to sample and learn of its roots dating back to the 12th century. Price: $75 per person
DAY 10: ROTTERDAM/DUTCH MILLS
Often called the "Gateway to Europe", Rotterdam is one of the world's largest ports. During our visit, we'll experience a harbor cruise and visit the market hall with stands of fresh fruit, vegetables, and other delicacies. We'll also see why The Netherlands is famous for its windmills, still boasting over 1,000 today. Near Kinderdijk, a UNESCO World Heritage site, we'll encounter some of the best-preserved windmills. We'll walk along a private miller's path and hear about how these fascinating structures have functioned since approximately 1740. B, L, D
DAY 11: VAARWEL
After breakfast, we disembark the MS Amadeus Cara for your included flight back home. We are sure you will return with long-lasting memories of our travels through the Dutch and Belgian countryside! B

Dates:
Departure Date: April 17, 2024
Return Date: April 27, 2024
Pricing:
***Enjoy the below Early Booking Discount pricing until August 1, 2023***

C Window, Stern, Haydn - $4,947
C Window, Forward, Haydn - $5,047

B Drop-Down Panoramic Windows*, Stern, Strauss - $5,497

B Drop-Down Panoramic Windows*, Mid, Strauss - $5,697
B Drop-Down Panoramic Windows*, Forward, Strauss - $5,797
A Drop-Down Panoramic Windows*, Stern, Mozart - $5,797
A Drop-Down Panoramic Windows*, Mid, Mozart - $5,997
Suite, Mozart - $6,747
Single supplement: +$1,000 for Haydn, +$3,000 for Strauss and
Mozart, +$4,000 for Suites.
Mandatory port taxes (per person): $165
*Per person rates
*Included airfare from STL or MCI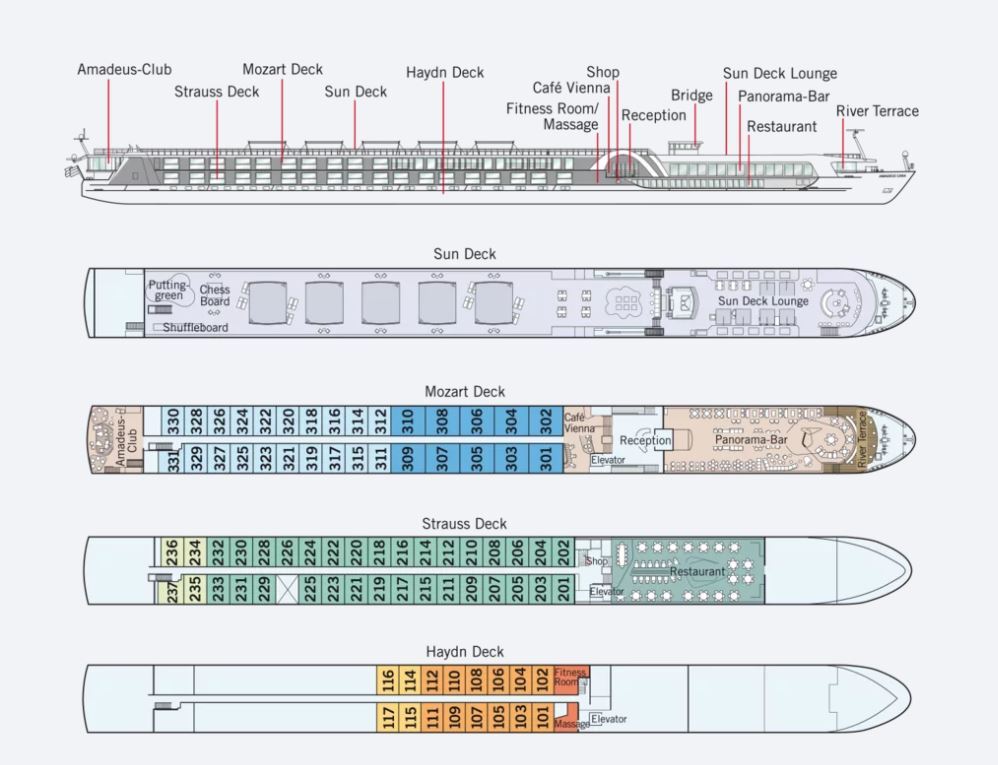 Walking Distance
Travelers should be in good physical health and understand there are times when a good deal of walking is involved. Those who have difficulty walking may not want to take this trip or should discuss their personal situation with their doctor before deciding. You should be able to walk at a steady pace for a mile at a time and be able to manage steps to board/de-board the motorcoach several times a day.
We are finding that larger European cities are closing their historic districts to motor traffic. This adds to the amount of walking involved when visiting a city (sometimes on uneven and/or cobblestone walkways). In addition, you may be required to exit the motorcoach at each stop because local law often does not allow travelers to remain on the motorcoach while it is parked for a scheduled stop.
Average Temps
The Netherlands – high of 57°, low of 41°
Belgium – high of 57°, low of 42°
Currency
Euro (The Netherlands & Belgium)
Time Zone
GMT+1 (5 hours ahead of New York)
Hotel Amenities
All AMADEUS ships have an elevator that operates between the Mozart, Strauss and Haydn decks. The sun deck is not accessible by elevator.
Wi-Fi is available aboard the ship and the price is fully covered by Sunrise. We will travel in rural river landscapes, meaning the Wi-Fi connection at times can be limited.
All cabins and suites are equipped with high-quality care products, such as soap, shampoo, body lotion, and shower gel. You will also find a hair dryer, sewing set, shower cap, and nail file in your cabin. Laundry is available onboard for a small fee.
Breakfast and lunch are lavish meals, with evenings featuring chef's specialties and regional dishes. In addition, a light breakfast and lunch is offered in the Panorama-Bar. There is always a vegetarian option for all meals on board.
Additional Information
A total of three mailings are sent to assist you in preparing for your tour, including information sent upon receipt of your reservation.
Dress on tour is casual. Evening dinners aboard the ship will be a more elegant occasion, so we welcome you to dress in a business casual manner. Sunscreen, sunglasses, hat, visors, and comfortable walking shoes will add to your enjoyment of this tour. Toward the end of the cruise, a Captain's Dinner will be held. For this dinner, we suggest (for the women) dress pants or skirt along with a blouse or sweater, or possibly a dress, and (for the men) dress pants along with a collared long-sleeved shirt or sweater, and possibly a blazer of some sort (blazer not required).

An outlet converter that adapts to European outlets is needed. You can find these at many stores, including Amazon and Walmart.
Identification:
Passport required to travel

Luggage:
Orange luggage tags are provided and are to be placed on your "checked luggage" (large bag). You do not need a tag for your carry-on bag, for which you will be responsible for taking on and off the coach. There is limited space in the cabin of the coach, so unless you require your carry-on bag while traveling, we will stow it in the luggage compartment.
Booking Information:
Booking requires a valid passport
$250 per person deposit required
Includes airfare from St. Louis or Kansas City (call for other gateway cities)
Terms and Conditions:
Please refer to our policies HERE for more information on our terms and conditions.
Share it
---