Get ready for a wicked good time in Boston, Massachusetts. The Boston Pops presents us with the best music of past and present. With our expert guide, see historic landmarks, before enjoying a firework celebration along the waterfront. Head south to the quaint town of Narragansett, including a day trip to an unexpected jewel – Block Island. Sip on champagne and take in the beautiful landscape of the east coast.
Rehearsal concert of the Boston Pops
Historic Boston Landmarks
Enjoy the 4th of July Fireworks along the banks of the Charles River
JFK Library and Museum
Aboard the Rhode Island Ferry, learn about 10 historic lighthouses.
Visit a Rhode Island jewel – Block Island
Blithewold Estate
Oyster and Champagne Tasting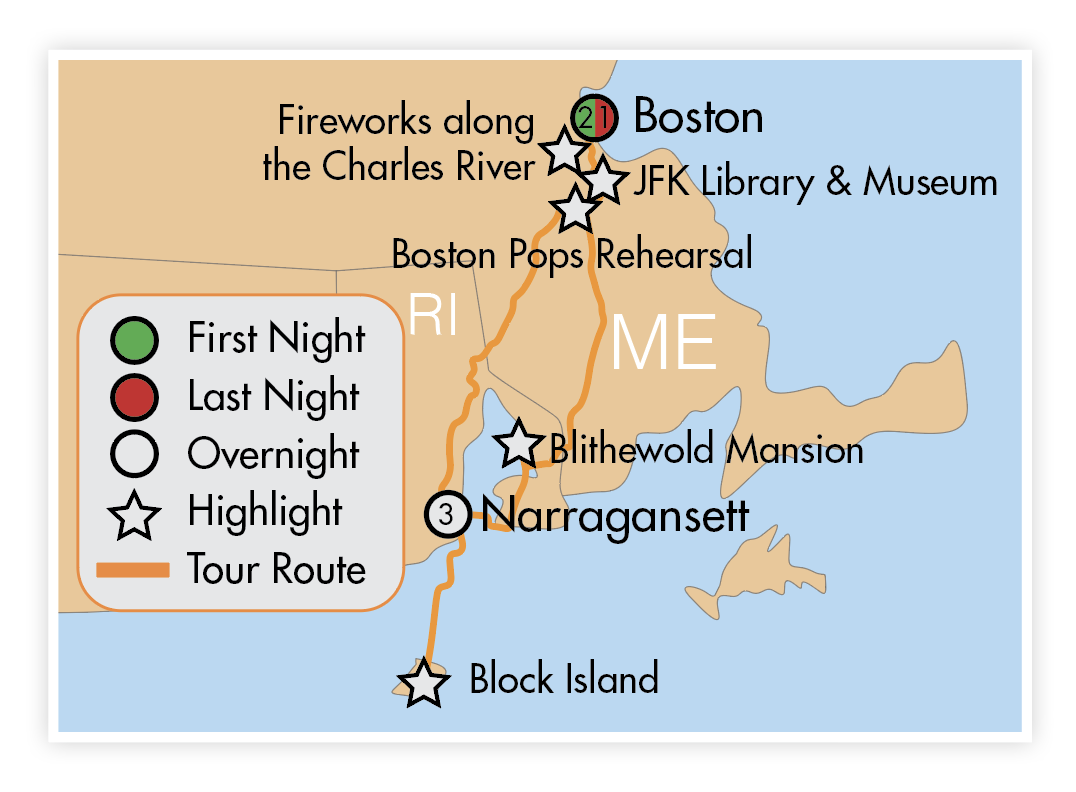 DAY 1: POPS REHEARSAL CONCERT
Kick off your patriotic extravaganza with a flight into Boston. Tonight, enjoy the Boston Pops Rehearsal Concert on the Oval at the Esplanade, a waterfront promenade that runs 3 miles along the Boston shore of the Charles River. D
DAY 2: SPIRIT OF BOSTON
Sail Boston Harbor and observe the USS Constitution (known as "Old Ironsides") on her turn-around cruise. "Old Ironsides" the oldest US Navy commissioned ship still in service, launched in 1797, most famous for her accomplishments in the War of 1812 when she and her crew defeated 5 British Warships! Enjoy music and a bountiful buffet lunch during the cruise. After a delicious dinner with live entertainment, set up your chair on the banks of Charles River, enjoy a warm evening breeze and marvel at July 4th Fireworks Spectacular! B, L, D
DAY 3: NARRAGANSETT RHODE ISLAND
Explore JFK Library and Museum for a firsthand experience of President Kennedy's life, leadership and legacy. Dine and explore all that Quincy Market has to offer. You will feel the cobblestones beneath your feet, see roaming performers, and be able to taste the wonderfully diverse ethnic foods available. Head to Narragansett, Rhode Island for a three-night stay in this quant town. B, D
DAY 4: NARRAGANSETT, RHODE ISLAND
At Manatunuck Oyster Restaurant, learn the harvest process of the Potter Pond Estuary and embark on an Oyster Farm tour. Then, enjoy a tasting of champagne and oysters, as you take in the lovely scenery! Learn about the historic 10 lighthouses on a narrated cruise through Narragansett Bay. B, L
DAY 5: BLOCK ISLAND
After a leisurely morning, take the ferry to Block Island, nature's treasure of sea, offering an unspoiled rural setting and continue on a guided tour of this island full of orb treasures! In the heart of downtown Block Island, enjoy an elegant lunch at the historic landmark National Hotel, with sweeping views of the Old Harbor. B, L
DAY 6: BRISTOL, RI
Step back in time to the Gilded age with a tour and lunch at Blithewold Estate, located on the waterfront of Narragansett Bay. B, L
DAY 7: HOME
Fly home from Boston and reflect on your once in a lifetime experience! B
Dates:

Departure Date: July 3, 2023
Return Date: July 9, 2023
Pricing:

Double: $3179

Triple/Quad: $2999
Single: $3499
*Per person rates
*Price includes roundtrip airfare from STL, MCI (call for other gateway cities)

Luggage

Orange luggage tags are provided and are to be placed on your "checked luggage" (large bag). You do not need a tag for your carry-on bag, for which you will be responsible for taking on and off the coach. There is limited space in the cabin of the coach, so unless you require your carryon bag while traveling, we will stow it in the luggage compartment.
On the first and last nights of this tour, you are welcome to pack your carryon bag with essentials that would enable us to leave your "checked bag" on the coach. This will facilitate faster check-in and luggage delivery. This is not a requirement, merely a suggestion; we will deliver your "checked bag" to your room on the first and last nights if you desire, just like every other night of the tour.
Important Information:
Each reservation requires a $250 per person deposit planning fee (exceptions may apply) to be credited toward your final payment. Some or all of your deposit may be non-refundable per our cancellation schedule noted in these Terms & Conditions below. We are happy to accept cash, check (preferred) or credit card (Visa, Mastercard, Discover) for your deposit.
Throughout 2021 we limited capacity on all our tours. This policy was so overwhelmingly popular by Sunrise travelers, we have made it permanent. In 2022 and beyond, we will limit the capacity on our motorcoaches to 80%. Most Sunrise Tours travel on 50-seat coaches with extra legroom, which means guests will enjoy extra legroom AND at least 6-8 empty seats. In the rare cases when we charter a 55-seat coach, there will be at least 10 open seats on the bus.
Our popular on-board refreshment service on travel days will feature a variety of soda, beer, wine spritzers, juices and sparkling water choices served in recyclable aluminum cans. This is a safe and eco-conscious way for us to deliver the ever-popular Sunrise Tours "happy hour" on tour. We do not typically serve bottled water and ask that while on tour you be responsible for your own hydration and consider the Sunrise Tours drink service a welcome refreshment.
Terms and Conditions:
Please refer to our policies HERE for more information on our terms and conditions.
Share it
---