Spend three nights in Albuquerque, a city diverse in culture and scenic beauty. Visit magical Santa Fe for two nights and dive into the local cuisine at the Santa Fe School
of Cooking. Our local expert guide takes us to the San Miguel Mission and the Loretto Chapel, home of the miraculous staircase. Shop the local wares at the Santa Fe Farmers Market. This gem of the southwest is a true sensory adventure!
Dine at The Indian Pueblo Cultural Center Sandia Peak
Wonder the field and see the Balloon glow in the night
See hundreds of Balloons Take off at the Mass Ascension
Cooking demonstration at The Santa Fe School of Cooking
Miraculous Loretto Staircase
"Ring of Fire" Solar Eclipse (weather permitting)
Walk through Santa Fe: 7,199 feet above sea level
Santa Fe Farmers Market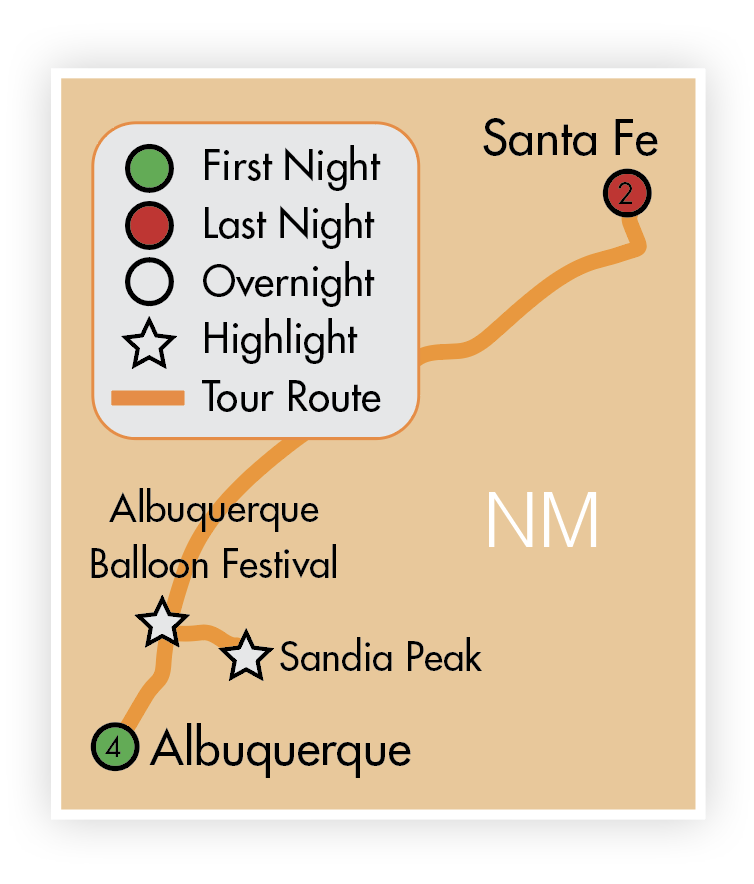 DAY 1: ALBUQUERQUE, NM
Fly into Albuquerque, host to the dazzling 2023 international Balloon Fiesta, the world's premier balloon event. Your adventure starts at the Balloon Glow – walk amongst the balloons on the launch field and experience the sight of the glow in the evening desert sky. Witness the Fiesta's spectacular After Glow Fireworks show from your reserved seats on the launch field. Settle in for three nights at the Drury Inn located near Fiesta Park. D
DAY 2: MASS ASCENSION
Rise and Shine! The Dawn Patrol Show and glorious Mass Ascension are a thrilling experience as hundreds of vividly colored hot air balloons fill the morning sky. Watch it all from your reserved seats on the launch field or walk amongst the balloons. With our local expert guide, explore Old Town Albuquerque, home to San Felipe de Neri Church – the oldest surviving building in the city! Enjoy lunch at a Sunrise Favorite – Season Rotisserie & Grill. B, L, Hot Apps
DAY 3: INDIAN PUEBLO MUSEUM
This morning, take a balloon ride (at your own arrangement and own expense) or relax at the hotel. Enjoy a guided tour and meal at the Indian Pueblo Cultural Center, showcasing the traditions, art and craftsmanship of 19 New Mexican Pueblos. This afternoon, board the Sandia Peak Aerial Tram, the world's longest tramway, and ride 2.7 miles above Cibola National Forest to Sandia Peak and experience a panoramic vista of the great Southwest. B, L, Hot Apps
DAY 4: SANTA FE, NM
Travel to Santa Fe, the nation's oldest capital city filled with a unique blend of Spanish and Native cultures set against the backdrop of the Sangre de Cristo Mountains. At the New Mexico Capitol building, take in the beautiful works of art and learn about the history of New Mexico. Lunch at the Santa Fe School of Cooking will educate and entertain while you sample the unique flavors of New Mexico. Discover the many charms of Santa Fe with our local step on guide. Do you know the mystery that surrounds the construction of the Miraculous Staircase at the Loretto Chapel? B, L
DAY 5: EXPLORE MORE OF SANTA FE
At the Railyard District you will experience one of the oldest, largest, and most successful growers' markets during a morning visit to the Santa Fe Farmers' Market. Known for her paintings of enlarged flowers and New Mexico landscapes, take in many masterpieces at the Georgia O'Keefe Museum B, D
DAY 6: RETURN HOME
Fly home from Albuquerque with amazing photos to share and exciting stories to tell of your adventure out West! B
Dates:
Departure: Oct 13, 2023
Return: Oct 18, 2023
Pricing:

Double: $2599
Triple/Quad: $2379
Single: $3139
*Per person rates
* Includes roundtrip airfare from STL or MCI (call for other gateway cities)
Luggage
Orange luggage tags are provided and are to be placed on your "checked luggage" (large bag). You do not need a tag for your carry-on bag, for which you will be responsible for taking on and off the coach. There is limited space in the cabin of the coach, so unless you require your carryon bag while traveling, we will stow it in the luggage compartment.
On the first and last nights of this tour, you are welcome to pack your carryon bag with essentials that would enable us to leave your "checked bag" on the coach. This will facilitate faster check-in and luggage delivery. This is not a requirement, merely a suggestion; we will deliver your "checked bag" to your room on the first and last nights if you desire, just like every other night of the tour.
Important Information:
Each reservation requires a $250 per person deposit planning fee (exceptions may apply) to be credited toward your final payment. Some or all of your deposit may be non-refundable per our cancellation schedule noted in these Terms & Conditions below. We are happy to accept cash, check (preferred) or credit card (Visa, Mastercard, Discover) for your deposit.
Throughout 2021 we limited capacity on all our tours. This policy was so overwhelmingly popular by Sunrise travelers, we have made it permanent. In 2022 and beyond, we will limit the capacity on our motorcoaches to 80%. Most Sunrise Tours travel on 50-seat coaches with extra legroom, which means guests will enjoy extra legroom AND at least 6-8 empty seats. In the rare cases when we charter a 55-seat coach, there will be at least 10 open seats on the bus.
Our popular on-board refreshment service on travel days will feature a variety of soda, beer, wine spritzers, juices and sparkling water choices served in recyclable aluminum cans. This is a safe and eco-conscious way for us to deliver the ever-popular Sunrise Tours "happy hour" on tour. We do not typically serve bottled water and ask that while on tour you be responsible for your own hydration and consider the Sunrise Tours drink service a welcome refreshment.
Terms and Conditions:
Please refer to our policies HERE for more information on our terms and conditions.
Share it
---