Embark on a true river adventure during the height of the fall foliage aboard the American Countess, completely refurbished in 2020 and considered by many to be the jewel of the American Queen fleet. This cruise is sold out to the general public, but we have secured wonderful staterooms so our travelers can experience this beautiful region during one of the most sought-after dates of the year! Together we'll travel the upper Mississippi and Illinois Rivers from St. Louis to Minneapolis enjoying the vibrant country views and famous historic landmarks along the way.
Cruise the Mississippi River in luxury aboard the American Countess
Explore the Mark Twain Cave featured in many of his famous books
Enjoy a special Sunrise exclusive excursion in La Crosse
Visit the Grand Opera House in Dubuque
Self serve coffee and snacks (including soft serve ice cream!) on the American Countess
Premium excursions available at each port (not included in pricing)
What's the Best Stateroom for You?
STATEROOM A
This stateroom is a deluxe outside room with a private veranda. If you're looking for a peaceful break after a busy day of exploring, this is the cabin for you! Open the doors to your private veranda and watch the riverbanks of America's heartland drift by.
STATEROOM B
Stateroom B is an outside room with an open (shared) Veranda. Start each morning in this room by opening your sliding doors to enjoy the fresh air and picturesque river views. Indulge in some snacks on the deck outside of your stateroom, socialize with fellow guests, or simply lounge in your comfortable room.
STATEROOM E
With limited rooms available, Stateroom E is the room for you if you prefer an inside stateroom. This option invites you to relax and unwind in modern comfort. These spaces offer a tranquil retreat where you can feel at home on the river and prepare for exciting days brimming with fun excursions.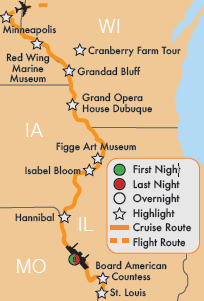 DAY 1: EMBARK
Begin the journey along the Mississippi River by boarding the beautiful American Countess, our ship for the next seven nights. Gather with your fellow travelers for a welcome happy hour before dinner. Each night on this luxurious ship enjoy daily entertainment at 6:00 p.m. and gourmet dinners at 7:45 p.m. B, D
DAY 2: HANNIBAL/MARK TWAIN CAVE
Located 100-miles north of St. Louis on the Mississippi River, the town of Hannibal's style and dignity comes to life in the writings of the father of American literature, Mark Twain. You might recognize this town from the famous novel "The Adventures of Huckleberry Finn"! During your time here, explore the Mark Twain Cave featured in five of Twain's books or discover unique attractions like Karlocks & Pop Culture Museum. As a group we'll enjoy the Big River Train Town packed with more toy trains than you've ever seen before. Then take a guided tour of the Haunted House & Wax Museum featuring wax figures of Mark Twain and his characters before heading back to the ship. B, L, D
DAY 3: SCENIC RIVER CRUISING
Enjoy the day on the incredible American Countess watching small river towns and lush landscapes become lost in the horizon from the deck. You can spend time on your own exploring the ship and enjoying the impressive daily onboard entertainment and enrichment options. This evening gather for another happy hour with our group before dinner. B, L, D
DAY 4: BETTENDORF/DAVENPORT
Arrive in Bettendorf, Iowa where we'll visit unique stops in the "Quad Cities". Travel to Isabel Bloom Studio where Isabel's legacy lives on in her home city of Davenport. As we explore the area, we'll stop at the Figge Art Museum which touches on nearly every style of art in the world. Next we'll visit the Bix Beiderbecke Museum and discover the story of Bix Beiderbecke, one of the most influential artists of the Jazz Era. Explore an award-winning Sun Garden with blooms of exotic flowers at the Quad City Botanical Center before continuing up the river. B, L, D
DAY 5: DUBUQUE/GRAND OPERA HOUSE
Today we explore Dubuque, Iowa. Visit exciting attractions like the Historic Millwork District, a repurposed warehouse now home to stores, cafes, shops, and more. Stop at the Dubuque Museum of Art, home to two of the most important paintings by renowned Iowan artist Grant Wood. Continue on to the Grand Opera House, the oldest and grandest theatre in Dubuque that opened its doors in 1890. B, L, D
DAY 6: LA CROSSE
This morning we dock in LaCrosse, WI for an exclusive day of touring prepared special for our travelers! The day begins at Warrens, known as America's Cranberry Capital. We will visit a cranberry bog where we'll learn how cranberries are grown and harvested. Next, continue to the Wisconsin Cranberry Discovery Center. After learning what makes Wisconsin the nation's leading cranberry producer, we will enjoy a cranberry inspired lunch. This afternoon we will head back to LaCrosse and take in the magnificent views from the top of Grandad Bluff. Before heading back to our boat, explore the Riverside International Friendship gardens that celebrates LaCrosse's sister cities in China, Germany, France, Norway, Ireland and Cameroon. B, L, D
DAY 7: RED WING/ALIVEO MILITARY MUSEUM
This morning we'll arrive in Red Wing, Minnesota to visit the Aliveo Military Museum and see the significant collection of military artifacts from all the major wars. Next, we'll explore the Red Wing Marine Museum, one of the city's historical venues along the river. It sits near the site of the original factory where Red Wing boats and motors were made and launched. B, L, D
DAY 8: TRAVEL HOME
Say farewell to the American Countess and head home with fond memories of your time cruising the Mississippi River. B


Dates:

Depart (St. Louis): September 29, 2024

Return (Minneapolis, MN): October 6, 2024
Pricing:
Stateroom A Double: $6,799
Stateroom B Double: $5,899
Stateroom E Double: $4,799
*Price per person
*Includes Return Airfare to St. Louis
Amenities & Additional Information:
The American Countess stateroom has WiFi, a hair dryer and a coffee maker. Your American Countess stateroom also features a complimentary water bottle which you can refill at ubiquitous filling stations on board.
Evening attire aboard the American Countess is smart casual. While there is no strict dress code, recommended attire includes collared shirts, slacks, blouses, etc.
Luggage:
Orange luggage tags are provided and are to be placed on your "checked luggage" (large bag). You do not need a tag for your carry-on bag, for which you will be responsible for taking on and off the coach. There is limited space in the cabin of the coach, so unless you require your carry-on bag while traveling, we will stow it in the luggage compartment.
Important Information:
Each reservation requires a $250 per person deposit planning fee (exceptions may apply) to be credited toward your final payment. Some or all of your deposit may be non-refundable per our cancellation schedule noted in these Terms & Conditions below. We are happy to accept cash, check (preferred) or credit card (Visa, Mastercard, Discover) for your deposit.
Throughout 2021 we limited capacity on all our tours. This policy was so overwhelmingly popular by Sunrise travelers, we have made it permanent. In 2022 and beyond, we will limit the capacity on our motorcoaches to 80%. Most Sunrise Tours travel on 50-seat coaches with extra legroom, which means guests will enjoy extra legroom AND at least 6-8 empty seats. In the rare cases when we charter a 55-seat coach, there will be at least 10 open seats on the bus.
Our popular on-board refreshment service on travel days will feature a variety of soda, beer, wine spritzers, juices and sparkling water choices served in recyclable aluminum cans. This is a safe and eco-conscious way for us to deliver the ever-popular Sunrise Tours "happy hour" on tour. We do not typically serve bottled water and ask that while on tour you be responsible for your own hydration and consider the Sunrise Tours drink service a welcome refreshment.
Terms and Conditions:
Please refer to our policies HERE for more information on our terms and conditions.
Share it
---