A summer respite for the well-to-do of the east coast for decades, the towns of Cape Cod combine the charms of a fishing village with the cuisine and amenities of a world class resort. Spend three nights in Hyannis, MA, enjoy a cup of chowder in Provincetown and imagine the Pilgrims taking their first steps in the new world on the sandy beaches of the Cape. Tour The Breakers, a Vanderbilt mansion, and ferry to Martha's Vineyard for a taste of opulent life past and present.
Stand where the Mayflower Pilgrims first landed in 1620
Enjoy the unspoiled charm of Martha's Vineyard
Visit the Vanderbilt's grand Gilded Age summer getaway, the Breakers
Stroll the historic and lovely streets of Newport, RI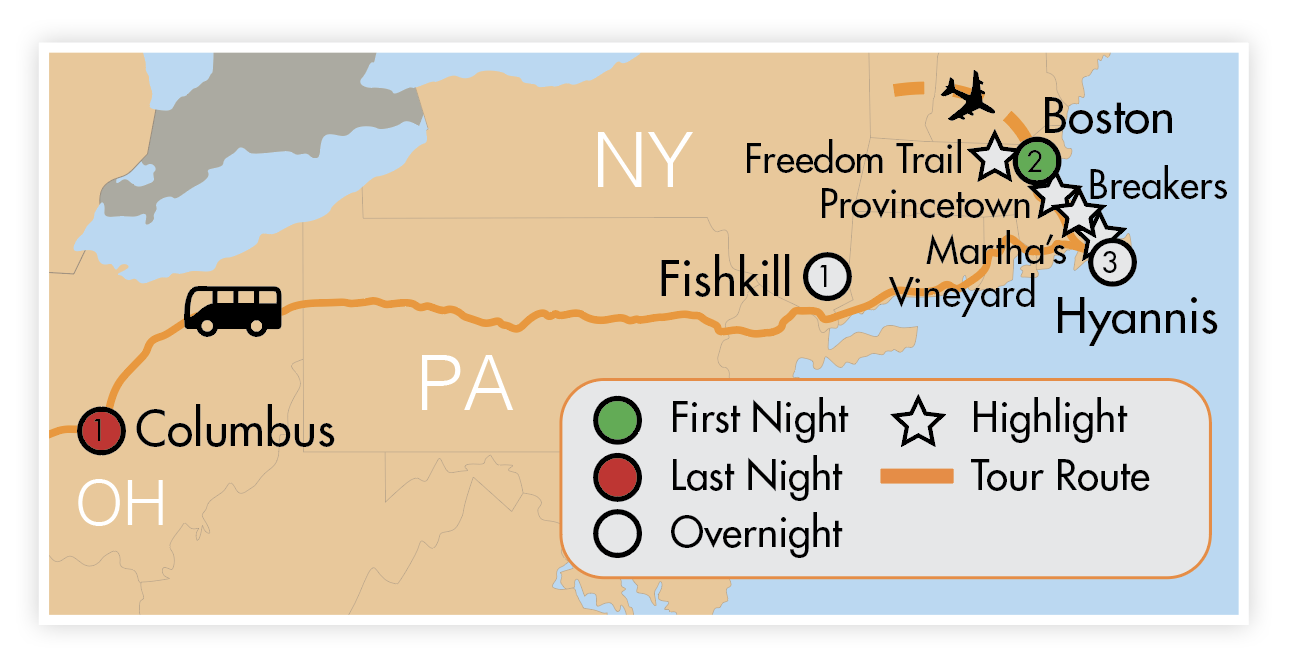 DAY 1: FLY INTO BOSTON
Fly into Boston for dinner and a two-night stay. D
DAY 2: BOSTON
Join an 18th-century costumed actor-historian guide to explore historic downtown Boston. Experience some of America's most historic sites along Boston's world-famous Freedom Trail, including the Boston Commons, the Massachusetts State House, Park Street Church, King's Chapel, and the Boston Massacre site. B, D
DAY 3: PLYMOUTH AND CAPE COD
Travel to historic Plymouth for a guided tour and visit to the "rock." Board a Lobster Tales Cruise to learn about the many creatures that live in Plymouth Harbor and experience a hands-on approach to see how lobsters are harvested. Visit Pilgrim Hall Museum, an unmatched collection of pilgrim possessions revealing the stories of ordinary, but determined men and women building new lives in the New World. Enjoy dinner at the historic Daniel Webster Inn. B, D
DAY 4: CAPE COD
Experience a historical perspective of Cape Cod during a guided tour with our local expert. Travel Route 6A, a scenic byway winding through centuries of Cape Cod history. Visit Cape Cod National Seashore Visitor Center. In Provincetown, enjoy free time to enjoy the wonderful variety of restaurants, shops, and galleries that make this village so unique. Choose to board an excursion vessel for a whale watching experience in the natural habitat of a diverse marine environment with an on-board naturalist offering commentary. OR you may choose to stay on land for a dune tour excursion through the protected lands of Cape Cod National Seashore to see the "dune shacks" where famous artists and writers became inspired to create their art. B, D
DAY 5: MARTHA'S VINEYARD
Board a ferry for a ride to the timeless and enchanting Martha's Vineyard; rich in history, inspiration, creativity, and beauty. Accompanied by a local guide, experience the island's treasures during a full-day tour with free time to explore the picturesque whaling community of Edgartown and the Victorian gingerbread cottages of Oak Bluffs. After the return ferry ride, end the evening with a delicious lobster dinner. B, D
DAY 6: NEWPORT, RI
Visit the coastal town of Newport, RI, the onetime summer home of America's millionaires. Tour one of these opulent "cottages," The Breakers, a symbol of the Vanderbilt family's social and financial pre-eminence during turn-of-the-century America. Enjoy some free time in historic downtown before beginning our journey home with an overnight stay in Fishkill, NY. B, D
DAY 7: EASTERN OHIO
Travel across Pennsylvania for an overnight in eastern Ohio. B, D
DAY 8: RETURN HOME B
Dates:
Departure: Sep 6, 2023
Return: Sep 13, 2023
Pricing:
Double: $2559
Triple/Quad: $2329
Single: $3139
*Price per person
*Price includes departure flight from STL
Average Temperatures:
Boston, MA: 73° / 58°
Hyannis, MA: 72° / 56°
Fishkill, NY: 76° / 53°
Columbus, OH: 78° / 54°

Luggage:
Orange luggage tags are provided and are to be placed on your "checked luggage" (large bag). You do not need a tag for your carry-on bag, for which you will be responsible for taking on and off the coach. There is limited space in the cabin of the coach, so unless you require your carry-on bag while traveling, we will stow it in the luggage compartment.
Important Information:
Each reservation requires a $250 per person deposit planning fee (exceptions may apply) to be credited toward your final payment. Some or all of your deposit may be non-refundable per our cancellation schedule noted in these Terms & Conditions below. We are happy to accept cash, check (preferred) or credit card (Visa, Mastercard, Discover) for your deposit.
Throughout 2021 we limited capacity on all our tours. This policy was so overwhelmingly popular by Sunrise travelers, we have made it permanent. In 2022 and beyond, we will limit the capacity on our motorcoaches to 80%. Most Sunrise Tours travel on 50-seat coaches with extra legroom, which means guests will enjoy extra legroom AND at least 6-8 empty seats. In the rare cases when we charter a 55-seat coach, there will be at least 10 open seats on the bus.
Our popular on-board refreshment service on travel days will feature a variety of soda, beer, wine spritzers, juices and sparkling water choices served in recyclable aluminum cans. This is a safe and eco-conscious way for us to deliver the ever-popular Sunrise Tours "happy hour" on tour. We do not typically serve bottled water and ask that while on tour you be responsible for your own hydration and consider the Sunrise Tours drink service a welcome refreshment.
Terms and Conditions:
Please refer to our policies HERE for more information on our terms and conditions.
Share it
---