Visit the best Christmas Markets along the Danube and explore delightful river towns on this winter fairytale. Embrace the aroma of roasting chestnuts and seasonal pastries. Warm up with a delicious glass of mulled wine as we immerse ourselves in the splendid traditions of the Christmas holidays.
Sunrise has chartered the entire ship, exclusively for our travelers
Discover 6 festive Christmas Markets in historic towns
Included sightseeing tours of Wurzburg, Rothenburg, Nuremburg, Passau, Vienna and more
Fascinating river cruise with large, outside river-view staterooms, most with floor to ceiling windows.
Modern, larger staterooms with more space than many Viking and AMA cabins
Professional, English-speaking crew-to-passenger ratio of 1 to 3
Complimentary state-of-the-art audio headsets for excursions
Gourmet dining with all meals included (buffet breakfast, lunch, dinner and midnight snack) in the elegant Panorama-Restaurant, which accommodates all guests in one seating
Included quality red & white wines from Europe's famous wine regions (as well as beer and soda) with every dinner on board
Cocktail Reception, Welcome Dinner and Captain's Gala Dinner
Special onboard entertainment including professional locals entertaining, cooking demonstration, festive meals, and music by the Amadeus Duo
Services of experienced cruise director throughout the cruise
Onboard Concierge Service, dedicated to the independent experience seeker
Non-smoking environment (smoking permitted in small outside area of the Sun Deck)
Entrance fees for included attractions
Exclusive on board Bavarian and Vienna Orchestra Quartet performance
Round-trip air from U.S. to Europe, with European airport transfers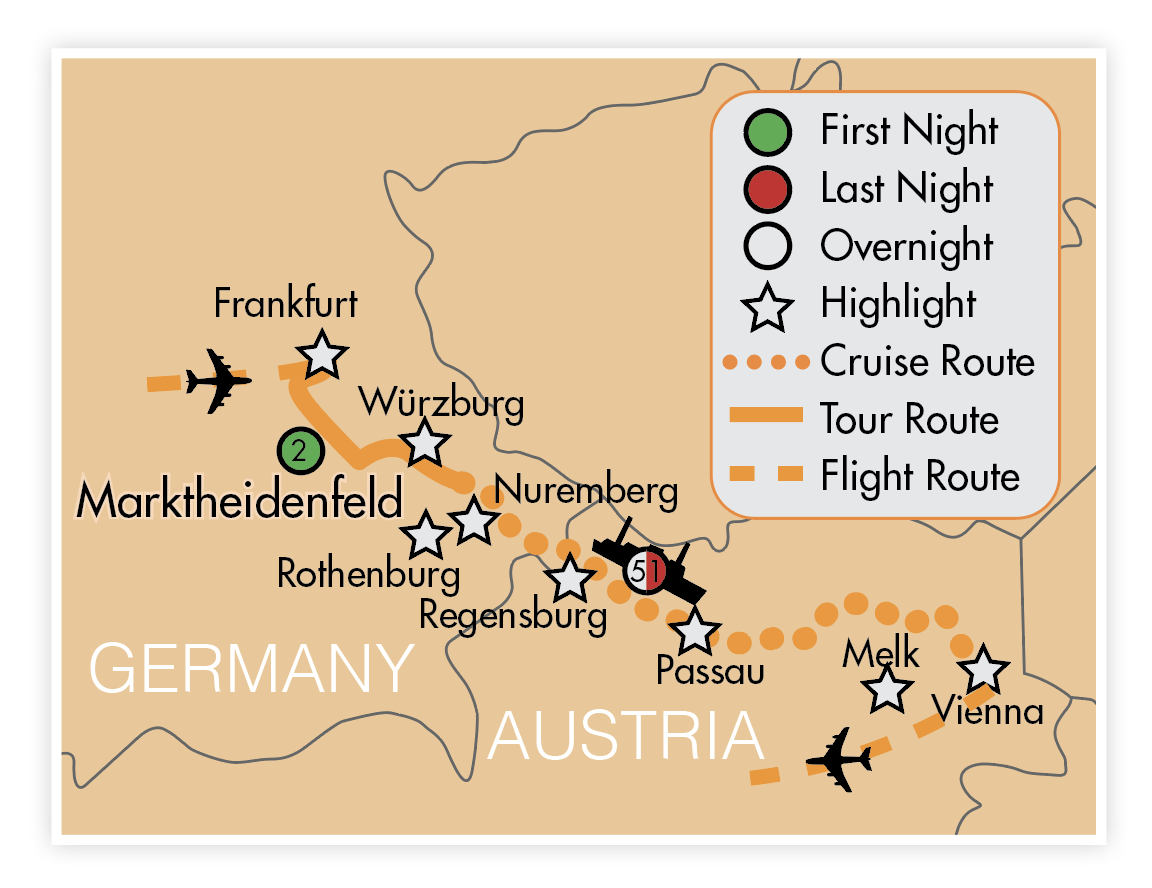 DAYS 1-2: WELCOME TO FRANKFURT!
Welcome to the energetic city of Frankfurt! We'll travel to the town of Schweinfurt and settle into our hotel for the next two evenings, centrally located within a stone's throw of the Main River. Tonight we gather together for a welcome dinner. L, D
DAY 3: WÜRZBURG
This morning, travel to the magical town of Wurzburg to revel in the opulent baroque and rococo architecture of this charming city. No visit to Würzburg is complete without a visit to the Würzburg Residence and gardens on the UNESCO World Heritage list. We'll also visit the celebrated Juliusspital for lunch, followed by a stroll through its storied wine cellar. Afterwards, enjoy free time to explore and discover the charismatic Wurzburg Christmas Market. B, L, D
DAY 4: ROTHENBURG/MS AMADEUS STAR
In Rothenburg, the local Cellar Master welcomes us with a 1600's reception, after which we take a guided stroll within the storied walls of this medieval town. Then explore the town's 500-year-old Christmas market, the Reiterlesmarkt. Enjoy roasted chestnuts and perhaps special white mulled cider while browsing the traditional local gifts. Before leaving we'll be treated to coffee and a Schneeballen pastry, a favorite of this region. Later a real "wow" moment strikes as we board our home for the next six nights in Nuremburg, the MS Amadeus Star. B, D
DAY 5: NUREMBERG
Our magical Advent journey to the most beautiful Christmas markets along the Danube commences with an introductory sightseeing tour through a festively decorated Nuremberg, home to famous lebkuchen (gingerbread)! The highlight follows—the famous Nuremberg Christmas market, where culinary specialties, artisan crafts and regional products fill the air. This afternoon, we set sail for Regensburg. B, L, D
DAY 6: REGENSBURG
As you enjoy breakfast, we reach the Bavarian town of Regensburg, which boasts one of the best-preserved medieval old towns in Germany. A guided city walking tour will showcase the city's highlights. In the afternoon, we'll visit the Thurn and Taxis Castle and its renown Christmas Market. On board before dinner, a local Bavarian group entertains as we dine and depart for Passau. B, L, D
DAY 7: PASSAU
We arrive in Passau, the romantic "City of Three Rivers." After breakfast, enjoy your morning relaxing on board the MS Amadeus Star, decorated up for the Yuletide season, or join a guided walking tour through this picturesque town where the Danube, Inn and Ilz Rivers meet. After lunch, visit the festively decorated Christmas market in Passau. Later our ship weighs anchor and sets sail for Austria. B, L, D
DAY 8: MELK ABBEY/VIENNA
We begin our day with a visit to the spectacular Melk Abbey. Past travelers have consistently raved about this moving experience. Later this morning, we'll return to our ship and cruise this afternoon amongst one of the most beautiful landscape regions in Austria —the Wachau Valley. Following dinner, you'll be in awe as we take a ride into the heart of Vienna's City Centre to experience its illuminated parliament and museums. B, L, D
DAY 9: VIENNA
Today will be devoted exclusively to the magical Danube city of Vienna. Enjoy a sightseeing trip around town to take in the beautiful sights. This afternoon, you may wish to return to the famous Christmas village on Maria-Theresien- Platz to enjoy the aromas of Lebkuchen (gingerbread) and roasted almonds. Tonight, our Captain's Gala Dinner takes place, capped off by an exclusive on-board quartet holiday performance by members of Vienna's Philharmonic Orchestra. B, L, D
DAY 10: AUF WIEDERSEHEN
After breakfast on board, we head to the airport for our included flight home. We are sure you will depart with long-lasting memories of our travels amongst the most festive Christmas Markets in the world! B
ACCOMMODATIONS:
Nights 2-3: Panorama Hotel, Schweinfurt
Nights 4-9: MS Amadeus Star

Dates:

Departure: December 1, 2023
Return: December 10, 2023
Pricing:

Haydn Deck (lower) - $4447
Strauss Deck (middle) - $4997
Mozart Deck (upper) - $5397
Suite (upper) - $5847
*Price person
*Includes roundtrip flights from STL or MCI (includes early booking discount, must be booked before March 31st, 2023)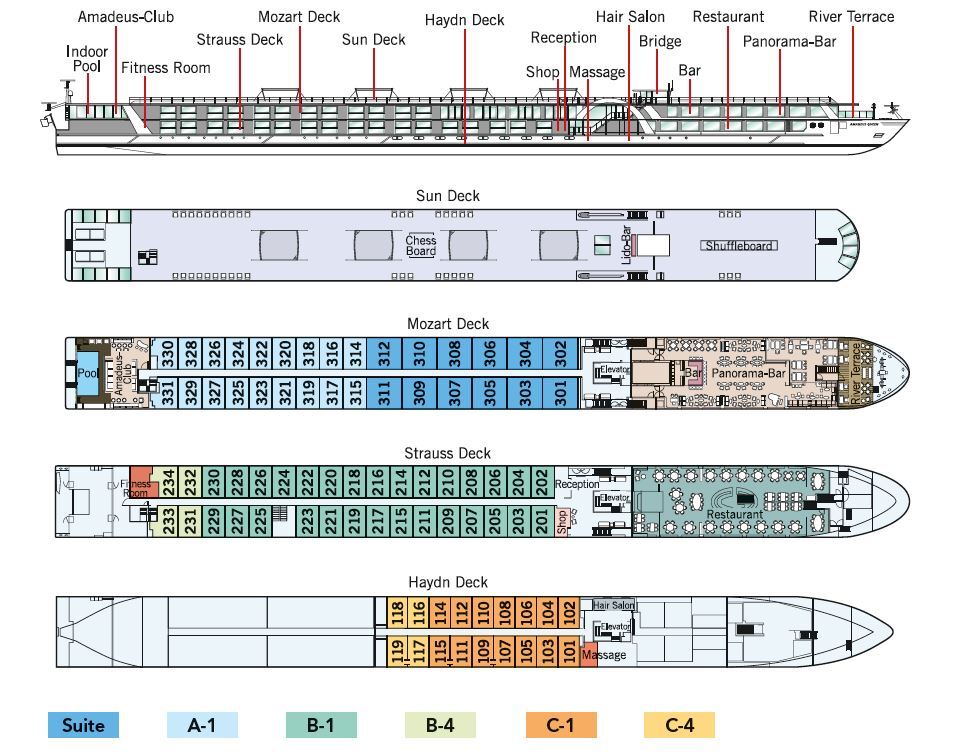 WHAT is a CHRISTMAS MARKET?
More than 2,500 Christmas markets around Germany offer magical wonderlands with decorated booths that sell handcrafted gifts and regional
specialties. In December of 2023, we'll visit the best Christmas markets throughout our journey along the Danube. Originally held centuries ago, Christmas markets began in the German-speaking parts of Europe. Local townsfolk would gather to buy and sell supplies to help survive the long winters.
Now Christmas markets have become a social event for each town and village to focus on the joys of the Advent season. Most markets feature numerous wooden chalets clustered together with local handmade items, mulled wine, delicious gingerbread, festive ornaments, and more.
Average Temps

highs low to mid 40's/ lows low to mid 30's

Time Zone
+7 hours from Central Time

Airport Info
Pre/Post Hotel offers complimentary shuttle service.

Walking Distance
Moderate to extended walking is required to fully enjoy this tour. Some walking will be on uneven paths.
Currency
Euro

Hotel Amenities
Hair dryers, TV/cable, telephone, coffee makers, laundry available at hotels.
Ship Amenities Include
Sun Deck, Two Bars, Swimming Pool, Large Chess Board on Sun Deck, Gourmet Dining, Fitness Room, Massage, Hairdresser, Lift (except to Sun Deck), Gift Shop. In all rooms: Flat screen TV, Safe, Hair Dryer. All rooms except Haydn Deck have French Balcony. Suites have balcony.

Luggage:
Orange luggage tags are provided and are to be placed on your "checked luggage" (large bag). You do not need a tag for your carry-on bag, for which you will be responsible for taking on and off the coach. There is limited space in the cabin of the coach, so unless you require your carry-on bag while traveling, we will stow it in the luggage compartment.
Terms and Conditions:
Please refer to our policies HERE for more information on our terms and conditions.
Share it
---