From the Mediterranean-style stretch of Santa Barbara coastline nicknamed "the American Riviera" to the epic grandeur of Big Sur, this region of picturesque hamlets, jagged sea cliffs, and rolling wine country will mesmerize you by its dreamlike beauty.
Channel Island cruise
Coast Starlight train ride along Pacific Ocean shoreline
Hearst Castle tour
Pinnacles National Park
Oceanside hotel in Morro Bay
Monterey guided tour
Free time in Carmel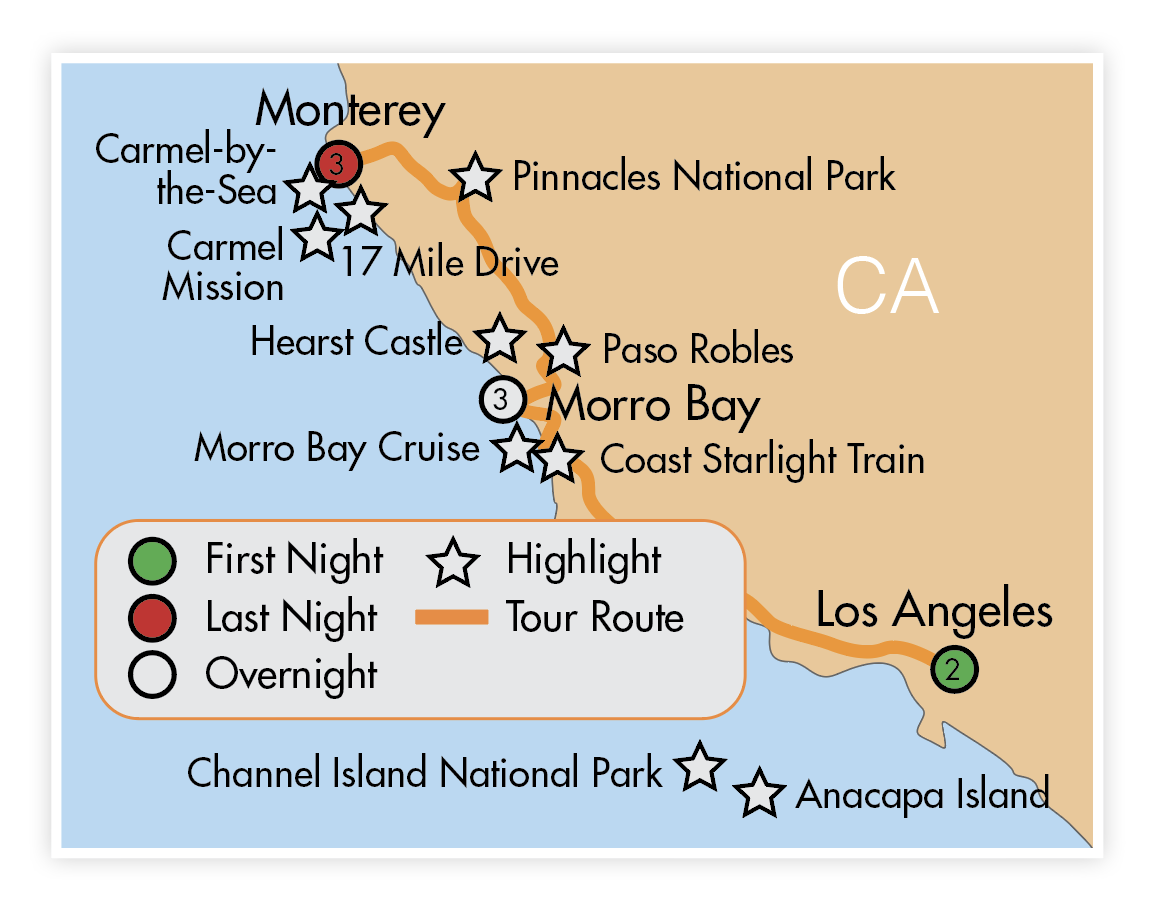 DAY 1: FLY TO LOS ANGELES AND UNPACK FOR A 2-NIGHT STAY. D
DAY 2: CHANNEL ISLANDS
Enjoy a 3.5-hour wildlife cruise through the waters of Santa Barbara Channel, Channel Islands National Marine Sanctuary and the Channel Islands National Park which has more marine mammals in its waters than any other area on the planet. Over 28 species of whales and dolphins have been identified within these waters. Traveling from the mainland to the island of Anacapa it is possible to see Harbor Seals, California Sea Lions, Humpback whales, dolphins, or sharks as well as the famous Arch Rock and a working lighthouse atop the island. B, D
DAY 3: COASTAL STARLIGHT AND MORRO BAY
Board the legendary Coast Starlight train and gaze in wonder at the coastal views along the Pacific Ocean shoreline to San Luis Obispo. Widely regarded as one of the most spectacular of all train routes, the scenery along the Coast Starlight route is unsurpassed providing a stunning backdrop for our journey. Unpack for a three-night stay in this picturesque seaside village at the oceanside Inn at Morro Bay. B, D
DAY 4: HEARST CASTLE
Perched atop a hill overlooking the Pacific Ocean, experience what life was like as a guest of W. R. Hearst while exploring his personal collection of rare and ancient works of art, encounter the majesty and beauty of this historical treasure first-hand with a guided Hearst Castle tour. At the Piedras Blancas elephant seal rookery, see the largest seals in the northern hemisphere as we observe the extraordinary northern elephant seals during their time onshore during molting season. Dinner is aboard the Chablis cruising Morro Bay, treated to stunning views with a delicious local dinner! B, D
DAY 5: CAYUCOS AND PASO ROBLES
With the Santa Lucia Mountains in the background spend the day in beautiful Paso Robles (means Pass of the Oaks) and named a must-visit region by the New York Times. Enjoy world- class wineries and free time to explore this charming town. Visit the historic pier in beautiful Cayucos on Estero Bay. B, D
DAY 6: PINNACLES PARK - CONDORS AND SPIRES
Say goodbye to beautiful Morro Bay as we head to Pinnacles National Park. At the Nature Center in Bear Gulch learn the history of how the towering rock spires were formed. Be on the lookout for a California Condor! Once an endangered species these magnificent birds are frequently seen, Pinnacles Park is the only national park that is a release site for captive bred California Condors. An interpretive short walk leads us to the historic Bacon Ranch to glimpse early California ranching life in 1894 and beautiful Bear Valley. Unpack for a three-night stay in Monterey. B, D
DAY 7: MONTEREY AND 17 MILE DRIVE
Join our local guide as we follow the old 17-mile carriage route offered by the Hotel Del Monte in 1880 to show their wealthy guests the most spectacular vistas the Monterey Peninsula had to offer. From historic Monterey the drive takes you along the shoreline of Monterey Bay, past Cannery Row, immortalized by John Steinbeck, to Pacific Grove with its beautiful Victorian architecture. In Pebble Beach the 17 Mile Drive passes some of the world's most prestigious golf courses along the rocky Pacific shoreline: Pebble Beach, Spyglass and Cypress Point. We will visit the unique village of Carmel-by-the-Sea and learn cultural and natural history of this area with fabulous vistas and scenic stops. B, D
DAY 8: MONTEREY
Visit the Carmel Mission, a US National Historic Landmark and the only California Mission that has its original bell tower. The rest of the day is yours to explore scenic Carmel, an artist colony turned chic coastal community that claims Clint Eastwood as a former mayor. Walk on the beach, shop, or visit art galleries and historic sites. B
DAY 9: FLY HOME. B
Dates:
Departure: July 1, 2023
Return: July 9, 2023
Pricing:

Double: $3599
Triple/Quad: $3189
Single: $4669
*Per person rates
* Includes roundtrip airfare from STL or MCI (call for other gateway cities)
Luggage:

Orange luggage tags are provided and are to be placed on your "checked luggage" (large bag). You do not need a tag for your carry-on bag, for which you will be responsible for taking on and off the coach. There is limited space in the cabin of the coach, so unless you require your carry-on bag while traveling, we will stow it in the luggage compartment.
Important Information:
Each reservation requires a $250 per person deposit planning fee (exceptions may apply) to be credited toward your final payment. Some or all of your deposit may be non-refundable per our cancellation schedule noted in these Terms & Conditions below. We are happy to accept cash, check (preferred) or credit card (Visa, Mastercard, Discover) for your deposit.
Throughout 2021 we limited capacity on all our tours. This policy was so overwhelmingly popular by Sunrise travelers, we have made it permanent. In 2022 and beyond, we will limit the capacity on our motorcoaches to 80%. Most Sunrise Tours travel on 50-seat coaches with extra legroom, which means guests will enjoy extra legroom AND at least 6-8 empty seats. In the rare cases when we charter a 55-seat coach, there will be at least 10 open seats on the bus.
Our popular on-board refreshment service on travel days will feature a variety of soda, beer, wine spritzers, juices and sparkling water choices served in recyclable aluminum cans. This is a safe and eco-conscious way for us to deliver the ever-popular Sunrise Tours "happy hour" on tour. We do not typically serve bottled water and ask that while on tour you be responsible for your own hydration and consider the Sunrise Tours drink service a welcome refreshment.
Terms and Conditions:
Please refer to our policies HERE for more information on our terms and conditions.
Share it
---