In historic San Antonio, cruise the River Walk, tour the Alamo, and experience live professional rodeo. Shop at Magnolia Market, soak in the beauty of Texas Hill country and explore vibrant Austin!
Tour the Alamo
Visit the National Museum of the Pacific War
Enjoy an authentic Tejas Rodeo
Experience the famous Magnolia Market
Two night stay on the famous River Walk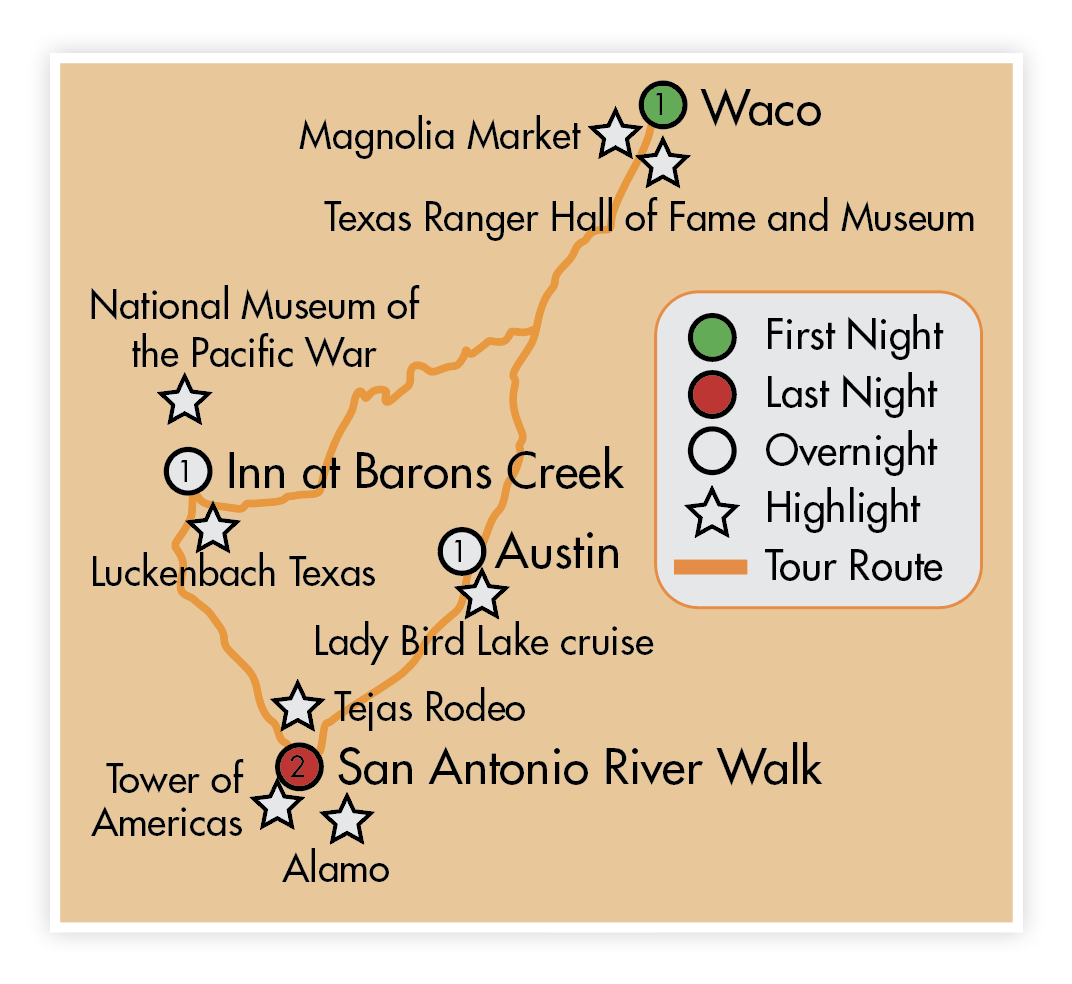 DAY 1: MAGNOLIA MARKET AND MUSEUMS
Fly into Austin, TX and depart for Waco to tour Homestead Heritage farm, gardens and working craft shops. Explore the Texas Ranger Hall of Fame and Museum, symbolic of the Lone Star State documenting the service of Texas Rangers past and present. At the Dr. Pepper Museum, follow the history of this iconic soft drink created in Waco in 1885! Browse Magnolia Market, home to HGTV's power duo, Chip & Joanna Gaines. Overnight in Waco, TX. D
DAY 2: HILL COUNTRY AND LUCKENBACH TEXAS
In quaint Fredericksburg, tour the National Museum of the Pacific War and discover the vast collection of unique artifacts honoring the men and women who served. As the song says, "Let's go to Luckenbach Texas" for rustic fun and live music. See brilliant colors of wildflower fields at Wildseed Farms, the nation's largest working wildflower farm. Tonight, authentic German cuisine in historic downtown Fredericksburg. Overnight at scenic Inn on Barons Creek. B, D
DAY 3: SAN ANTONIO RODEO
Arrive in San Antonio for a guided city tour and check into Drury Inn on famed River Walk. Enjoy first class dining at the Chart House Restaurant and ascend the 750-foot-tall Tower of Americas! Step into 1836 watching "Alamo: The Price of Freedom" at Imax theatre before touring the Texas treasure, the Alamo. Tonight, Tejas Rodeo, live action- packed bull riding, team roping, barrel racing and much more! B, L, hot apps
DAY 4: SAN ANTONIO RIVER WALK
Morning at leisure to enjoy River Walk. This afternoon, experience a narrated cruise on the Paseo de Rio ("walk of the river"). Visit The Saga to take a visual journey through the history of San Antonio projected on the façade of the San Fernando Cathedral. B, hot apps
DAY 5: AUSTIN, LONE STAR STATE CAPITAL
Enjoy a guided tour of Austin including the state Capitol, and sunset cruise on Lady Bird Lake for the famous bat watching tour, one of the most incredible wildlife spectacles in the world! B, D
DAY 6: RETURN HOME. B
Dates:

Departure: May 18, 2023

Return: May 23, 2023
Pricing:
Double: $1999
Triple/Quad: $1799
Single: $2449
*Price per person + roundtrip airfare from STL or MCI (call for other gateway cities)
Luggage:
Orange luggage tags are provided and are to be placed on your "checked luggage" (large bag). You do not need a tag for your carry-on bag, for which you will be responsible for taking on and off the coach. There is limited space in the cabin of the coach, so unless you require your carry-on bag while traveling, we will stow it in the luggage compartment.
Important Information:
Each reservation requires a $250 per person deposit planning fee (exceptions may apply) to be credited toward your final payment. Some or all of your deposit may be non-refundable per our cancellation schedule noted in these Terms & Conditions below. We are happy to accept cash, check (preferred) or credit card (Visa, Mastercard, Discover) for your deposit.
Throughout 2021 we limited capacity on all our tours. This policy was so overwhelmingly popular by Sunrise travelers, we have made it permanent. In 2022 and beyond, we will limit the capacity on our motorcoaches to 80%. Most Sunrise Tours travel on 50-seat coaches with extra legroom, which means guests will enjoy extra legroom AND at least 6-8 empty seats. In the rare cases when we charter a 55-seat coach, there will be at least 10 open seats on the bus.
Our popular on-board refreshment service on travel days will feature a variety of soda, beer, wine spritzers, juices and sparkling water choices served in recyclable aluminum cans. This is a safe and eco-conscious way for us to deliver the ever-popular Sunrise Tours "happy hour" on tour. We do not typically serve bottled water and ask that while on tour you be responsible for your own hydration and consider the Sunrise Tours drink service a welcome refreshment.
Terms and Conditions:
Please refer to our policies HERE for more information on our terms and conditions.
Share it
---