While Manhattan garners the most attention, New York City is composed of five unique boroughs: Manhattan, Brooklyn, the Bronx, Queens, and Staten Island. Visit each borough and discover charming neighborhoods and diverse cultures.
Visit the 5 boroughs of New York City
4- night stay in Manhattan/Times Square
Reserved seating at Broadway Show
Guided tours of NYC and Brooklyn
Visit the poignant 9/11 Memorial and Museum
Ascend to the top of the tallest building in the Western Hemisphere, One World Observatory at One World Trade Center
Guided tour of the most important borough of New York City, Manhattan
Take a walk in Central Park and see Rockefeller Center, St. Patrick's Cathedral, Chinatown and much more!
Visit Ellis Island and the Statue of Liberty
Shop Madison Avenue, visit the eateries in Greenwich Village, rise to the top of the Empire State Building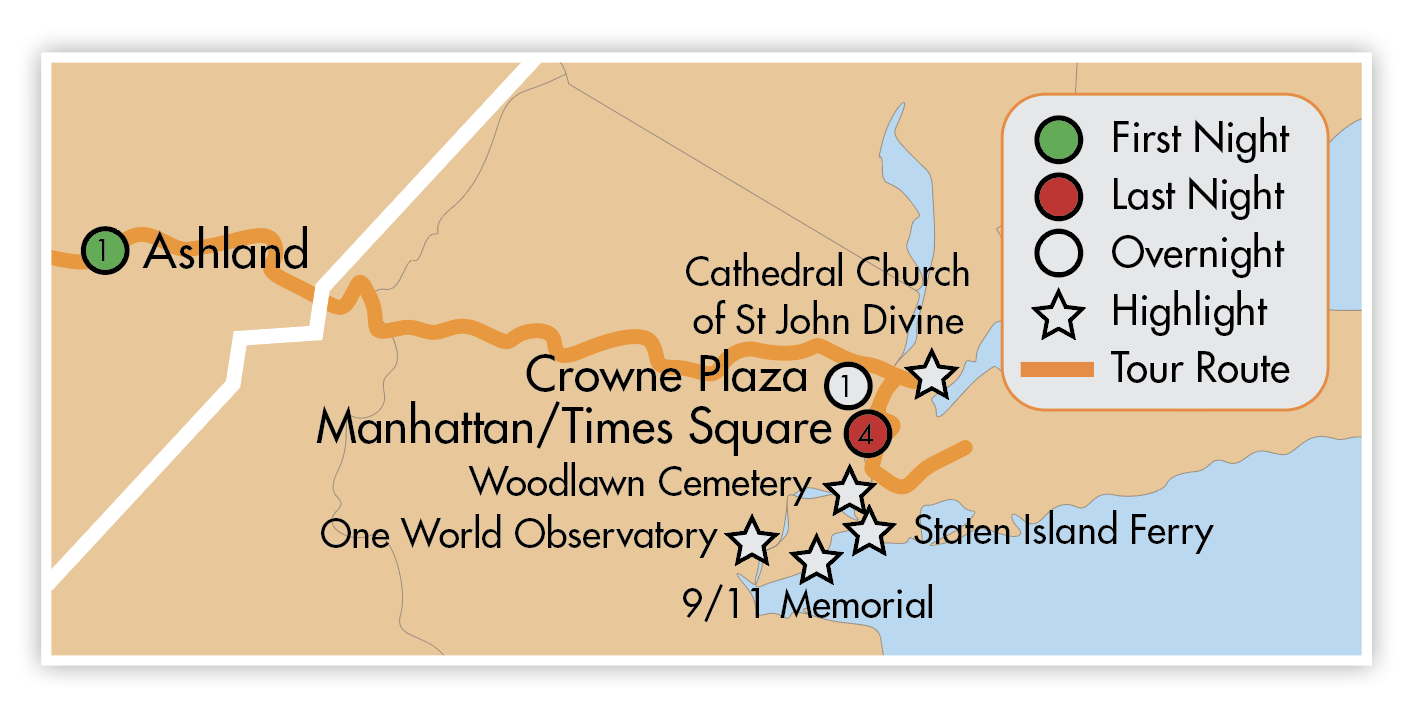 DAY 1: MID-OHIO
Begin your trip eastward to Ohio for an overnight stay. D
DAY 2: NEW JERSEY
Travel across Pennsylvania and enjoy dinner at a classic Jersey restaurant before checking into our hotel for an overnight stay. B, D
DAY 3: THE BRONX AND BROADWAY
Visit picturesque Woodlawn Cemetery, the eternal resting place of NYC luminaries including author Herman Melville, songwriter Irving Berlin, and musicians Miles Davis and Duke Ellington, a National Historic Landmark located in the Bronx. See famous Yankee Stadium and grab a slice in Little Italy. Cross the East River into Manhattan and tour the Cathedral Church of St. John Divine, the 4th largest Christian church in the world, and learn why it is nicknamed "St. John the Unfinished." Check in for a 4- night stay at the Hampton Inn, Manhattan/Times Square hotel. After dinner, head to the Great White Way to see the new Broadway hit, A Beautiful Noise, featuring the timeless music of Neil Diamond. B, D
DAY 4: MANHATTAN
Explore New York City with a local guide. Spend the day exploring beautiful Central Park, St. Patrick's Cathedral, Fifth Avenue, Rockefeller Center and the unique neighborhoods of Greenwich Village and Chinatown in lower Manhattan. The rest of the day is free to explore New York City on your own. Your Sunrise Tour manager is available to assist with planning. B
DAY 5: NYC AND 9/11 MEMORIAL
A visit to the poignant 9/11 Memorial at Ground Zero, our country's principal institution examining the events and aftermath of September 11, 2001. Ascend to the top of the tallest building in the Western Hemisphere, the One World Observatory at One World Trade Center, for an incredible panoramic view of the city. Board the iconic Staten Island Ferry for a scenic ride across Upper New York Bay to Staten Island, cruising past the Statue of Liberty! B, D
DAY 6: BROOKLYN
A local guide will show us the highlights of trendy Brooklyn including the iconic Brooklyn Bridge, Grand Army Plaza, nostalgic Coney Island, Prospect Park, and charming 19th century row houses in historic Park Slope. Free time to explore Brooklyn's unique shops, eclectic restaurants, and beautiful architecture. B, L
DAY 7: QUEENS
Queens, our last borough! Did you know that Queens holds the title for the place where there are the most languages spoken in the world? Tour the fascinating Museum of the Moving Image, a one-of-a-kind destination and country's only museum dedicated to the art, history, and technology of the moving image in all its forms. See Citi Field, home of the NY Mets and enjoy lunch in diverse Astoria before flying home. B
Dates:
Departure: Aug 15, 2023
Return: Aug 21, 2023
Pricing:
Double: $2499
Triple/Quad: $2229
Single: $3199
*Travel prices per person

Average Temperatures:

NYC, NY: 84° / 69°

Luggage:
Pack your comfortable walking shoes! On Day 3, we take the subway to Battery Park and explore Ellis Island and the Statue of Liberty with the rest of the day free to explore the Big Apple .
Orange luggage tags are provided and are to be placed on your "checked luggage" (large bag). You do not need a tag for your carry-on bag, for which you will be responsible for taking on and off the coach. There is limited space in the cabin of the coach, so unless you require your carry-on bag while traveling, we will stow it in the luggage compartment.
Important Information:
Each reservation requires a $250 per person deposit planning fee (exceptions may apply) to be credited toward your final payment. Some or all of your deposit may be non-refundable per our cancellation schedule noted in these Terms & Conditions below. We are happy to accept cash, check (preferred) or credit card (Visa, Mastercard, Discover) for your deposit.
Throughout 2021 we limited capacity on all our tours. This policy was so overwhelmingly popular by Sunrise travelers, we have made it permanent. In 2022 and beyond, we will limit the capacity on our motorcoaches to 80%. Most Sunrise Tours travel on 50-seat coaches with extra legroom, which means guests will enjoy extra legroom AND at least 6-8 empty seats. In the rare cases when we charter a 55-seat coach, there will be at least 10 open seats on the bus.
Our popular on-board refreshment service on travel days will feature a variety of soda, beer, wine spritzers, juices and sparkling water choices served in recyclable aluminum cans. This is a safe and eco-conscious way for us to deliver the ever-popular Sunrise Tours "happy hour" on tour. We do not typically serve bottled water and ask that while on tour you be responsible for your own hydration and consider the Sunrise Tours drink service a welcome refreshment.
Terms and Conditions:
Please refer to our policies HERE for more information on our terms and conditions.
Share it
---