Join Sunrise Tours for an adventure in quaint towns with great theater, gorgeous fall foliage, and 2 nights at the Martha Washington Inn and Spa Resort, a AAA 4-diamond Historic Hotel of America!
Two-night stay at historic Martha Washington Inn
Two Broadway inspired shows
Travel the picturesque Cumberland Gap during peak fall color
Clue at the Barter Theater
Million Dollar Quartet at StudioTenn Theater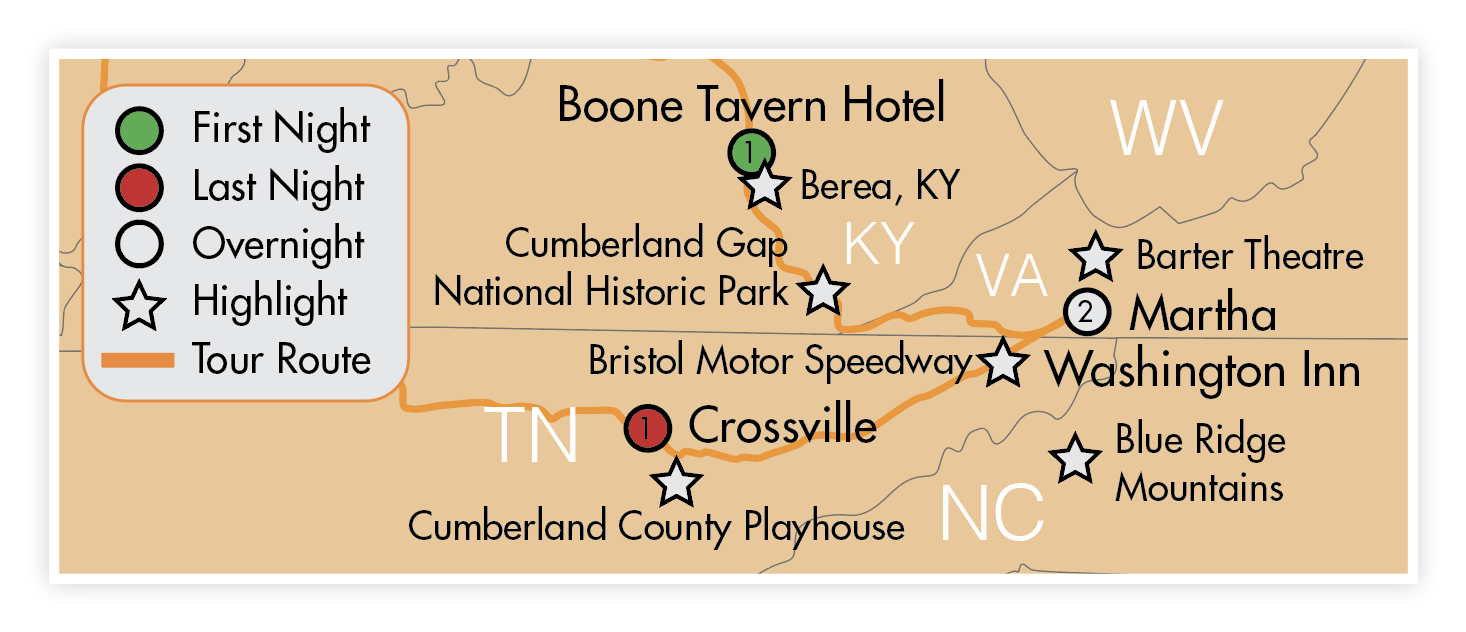 DAY 1: BEREA, KY
Enjoy the bright palette of fall foliage out the window while traveling to the folk arts and crafts capital of KY. Learn about Berea's history and unique approach to higher education tuition. Dine at the historic Boone Tavern Hotel as guests have for over a century before settling down for the night in this charming Appalachian town. D
DAY 2: BARTER THEATRE
Drive through Cumberland Gap National Historic Park with a stop at the Visitor Center to take in the spectacular fall foliage views from 2,440 feet at the Pinnacle Overlook! Reach Abingdon, VA, one of the oldest English-speaking towns in the foothills of the Blue Ridge Mountains to arrive at the Barter Theatre, whose best-known alumni include Gregory Peck and Patricia Neal. The theatre opened in 1933, at the height of the depression, taking its name from the practice of bartering where the price of admission was 35 cents or the equivalent in food! This evening at the Barter enjoy the "hilarious comedy-meets-murder mystery" production based on the hit movie and classic board game, Clue. Check into the award-winning Martha Washington Inn and unpack for a 2-night stay where each room features it own unique character and personality. B, D
DAY 3: ABINGDON, VA
Soak in the natural beauty of the fall color of the Blue Ridge Mountains while exploring the charming town of Abingdon with our personal local guide. After leisure time for lunch and shopping on Main Street, rev up for a private tour at Bristol Motor Speedway including a lap around the high banks of the Speedway track! Dinner will be at The Tavern, the oldest of Abingdon's historic buildings and host of historical dignitaries such as Henry Clay; Louis Philippe, King of France; and President Andrew Jackson. Return to "the Martha" and before retiring, enjoy a complimentary glass of goodnight port wine to guarantee "sweet dreams!" B, D
DAY 4: FRANKLIN, TN
Continue the exploration of the Blue Ridge foothills before arriving in Franklin TN, for the Broadway-quality show, Million Dollar Quartet. This smash-hit musical tells the story of a recording session between Elvis Presley, Carl Perking, Jerry Lee Lewis, and Johnny Cash at the StudioTenn Theatre! Overnight in Franklin, TN. B, D
DAY 5: RETURN HOME
En route home, a special visit is planned to the National Quilt Museum in Paducah, KY. Explore this enthusiastic quilt art museum that is recognized by USA Today as one of the world's top quilt displays! B
Dates:
Departure: Oct 16, 2023
Return: Oct 20, 2023
Pricing:
Double: $1449
Triple/Quad: $1249
Single: $1969
*Price per person

Luggage:

Orange luggage tags are provided and are to be placed on your "checked luggage" (large bag). You do not need a tag for your carry-on bag, for which you will be responsible for taking on and off the coach. There is limited space in the cabin of the coach, so unless you require your carryon bag while traveling, we will stow it in the luggage compartment.
On the first and last nights of this tour, you are welcome to pack your carryon bag with essentials that would enable us to leave your "checked bag" on the coach. This will facilitate faster check-in and luggage delivery. This is not a requirement, merely a suggestion; we will deliver your "checked bag" to your room on the first and last nights if you desire, just like every other night of the tour.
Important Information:
Each reservation requires a $250 per person deposit planning fee (exceptions may apply) to be credited toward your final payment. Some or all of your deposit may be non-refundable per our cancellation schedule noted in these Terms & Conditions below. We are happy to accept cash, check (preferred) or credit card (Visa, Mastercard, Discover) for your deposit.
Throughout 2021 we limited capacity on all our tours. This policy was so overwhelmingly popular by Sunrise travelers, we have made it permanent. In 2022 and beyond, we will limit the capacity on our motorcoaches to 80%. Most Sunrise Tours travel on 50-seat coaches with extra legroom, which means guests will enjoy extra legroom AND at least 6-8 empty seats. In the rare cases when we charter a 55-seat coach, there will be at least 10 open seats on the bus.
Our popular on-board refreshment service on travel days will feature a variety of soda, beer, wine spritzers, juices and sparkling water choices served in recyclable aluminum cans. This is a safe and eco-conscious way for us to deliver the ever-popular Sunrise Tours "happy hour" on tour. We do not typically serve bottled water and ask that while on tour you be responsible for your own hydration and consider the Sunrise Tours drink service a welcome refreshment.
Terms and Conditions:
Please refer to our policies HERE for more information on our terms and conditions.
Share it
---