Explore 5 National Parks in Red Rock Country - including the Grand Canyon! See towering rock formations in Sedona, explore the natural rock bridges of Arches National Park, and see vast canyons in Zion. You'll also stop at Bryce Canyon National Park and get up close to the radiant cliffs at Capitol Reef National Park.
Discover Five National Parks: Grand Canyon, Zion, Bryce Canyon, Arches and Capitol Reef
Experience WWII's famed "Code Talkers"
Enjoy an optional off-road Hummer adventure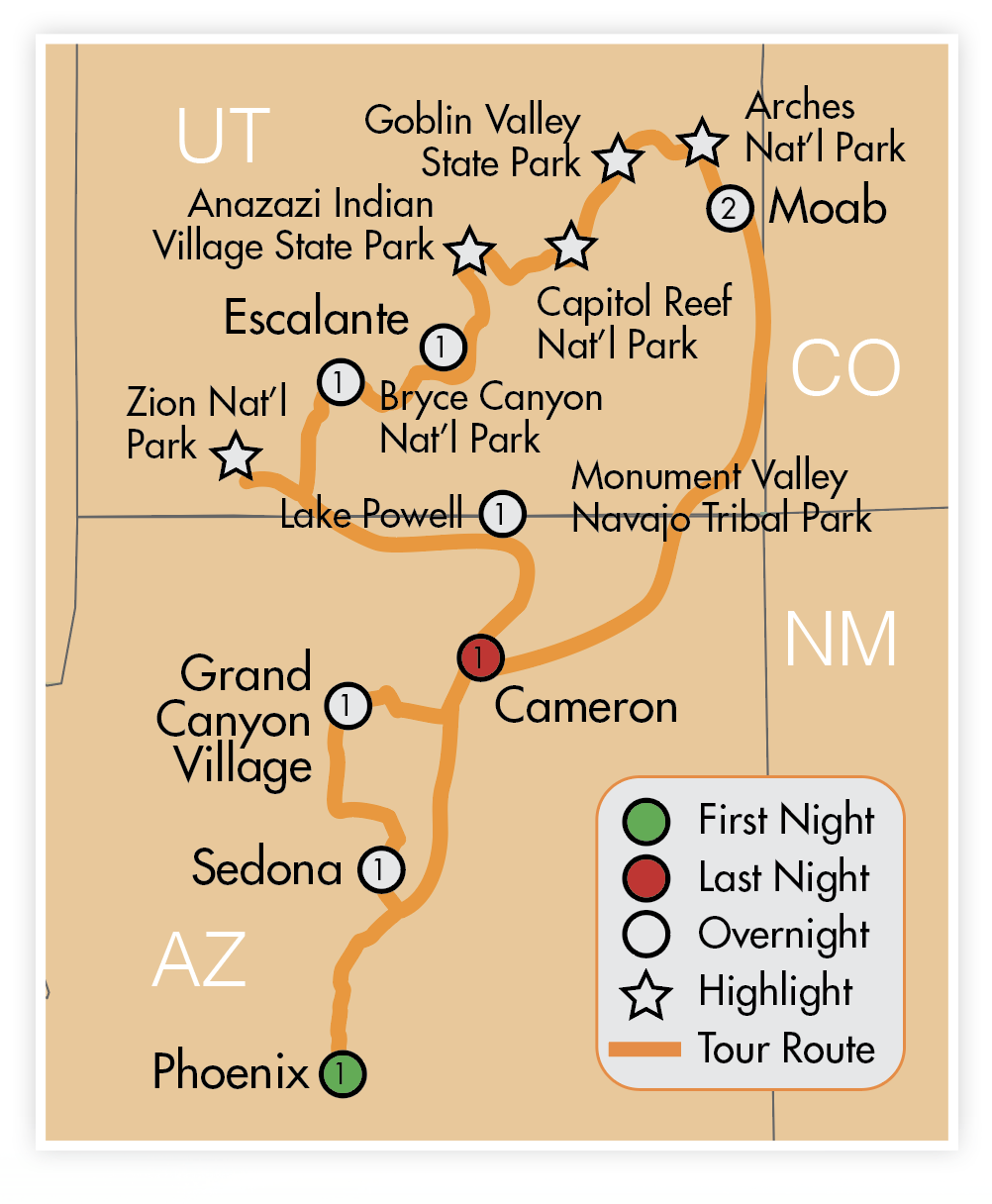 DAY 1: WELCOME TO ARIZONA!
This evening, meet your friendly travel companions for a welcome dinner in Phoenix. D
DAY 2: SEDONA
We start our canyon experience by visiting the historic Indian ruins of Montezuma Castle. Then, enjoy a scenic desert drive to Sedona, a city surrounded by unbelievable towering rock formations. Enjoy a visit to Tlaquepaque Arts and Crafts Village to explore the eclectic shops and galleries on your own. Join us on the optional Sedona Trolley tour where you will get an up-close view of the desert! Later relax at our hotel in Sedona. B
Option—Sedona Trolley Take in all the best places around town on a fun-filled trolley tour, including a stop at the remarkable Chapel of the Holy Cross. Price: $38 per person.
DAY 3: GRAND CANYON NATIONAL PARK
This morning, travel through Oak Creek Canyon, a steep and very colorful gorge, then get ready for our visit to the south rim of the Grand Canyon! After receiving a detailed history of the park at Mather Observation Point, enjoy some free time at the rim and maybe even do some hiking if you choose. Cap off the day with the Park's famed Sunset Tour to catch the canyon sunset. B, L
DAY 4: GRAND CANYON/LAKE POWELL
Venture on to Desert View Watchtower for a last breathtaking look at the Grand Canyon before heading north. After lunch we'll tour Glen Canyon Dam, a vital link in the Colorado River Storage Project, which is a series of dams and reservoirs crucial to life in several southwestern states. This afternoon, try an optional cruise on the brilliant blue waters of Lake Powell. B, L
Option—Lake Powell Cruise Enjoy the beautiful rock formations, painted walls, and amazing colors of Lake Powell. Price: $60 per person.
DAY 5: ZION NATIONAL PARK
Today at Utah's spectacular Zion National Park, we see an unusual combination of plummeting canyons, wide plateaus, and soaring multicolored sandstone cliffs. Relax as we ride along on a guided tram tour along the park's Scenic Drive. Then enjoy a peaceful evening stay near Bryce Canyon. B, L, D
DAY 6: BRYCE CANYON NATIONAL PARK/COWBOY NIGHT
In Bryce Canyon National Park, pinnacles of limestone, sandstone and mudstone shoot toward the sky in fanciful formation. Then, in the desert town of Escalante, meet Shannon and Jenifer Steed who will share with you the town's unique history over a home cooked dinner. B, D
DAY 7: CAPITOL REEF NATIONAL PARK/MOAB
Start the day with the grand mesas, buttes and pinnacles of Escalante National Monument and explore a replica of a six-room, 1,000 A.D. dwelling in an Anasazi Indian Village. Next, we'll admire the radiant cliffs of Capitol Reef National Park followed by the rock sculptures of Goblin Valley. Tonight, you're free to explore downtown in Moab, where we unpack for the next two nights. B, L
DAY 8: ARCHES NATIONAL PARK
With more than 2,000 arches, this geographic wonder of the world awaits! We have a chance to see and photograph dozens of these sandstone arches during our tour of the park. In the afternoon, relax or take a swim at the hotel or take an optional Hummer tour. B, L
Option—Off-Road Hummer Adventure Experience a two-hour ride through the beautiful remote back-country. Although these trips are off the main road, the guides are well-versed on these trails, and your Hummer, the ultimate 4x4, provides an exciting yet comfortable ride. Price: $145 per person.
DAY 9: NAVAJO NATION/WWII "CODE TALKERS"
Today, head to the heart of Navajo Country. Get your camera ready for a picture postcard view of Monument Valley. Learn about the "Code Talkers" of World War II and the important role they played in military communications. B, L
DAY 10: PHOENIX
This morning return to Phoenix where we say farewell to the Southwest's rugged beauty. B

ACCOMMODATIONS:
Night 1: Radisson Hotel, Phoenix
Night 2: Best Western Plus Arroyo Roble, Sedona
Night 3: Red Feather Lodge, Grand Canyon
Night 4: Lake Powell Resort & Marina
Night 5: Bryce Canyon Pines, Bryce
Night 6: Canyon Country Lodge, Escalante
Nights 7-8: Moab Valley Inn or similar
Night 9: Cameron Trading Post


Dates:


Departure: Sep 24, 2023
Return: Oct 3, 2023
AND
Departure: Oct 15, 2023
Return: Oct 24, 2023
Pricing:
Double $3149
Triple/Quad $2757
Single $4015
*Per person rates
* Includes round-trip airfare from STL or MCI (call for other gateway cities)
Average Temperatures:
Phoenix, AZ: 94° / 67°
Sedona, AZ: 86° / 53°
Grand Canyon, AZ: 93° / 63°
Bryce Canyon: 69° / 37°

Moab, UT: 83° / 50°

Luggage:
Orange luggage tags are provided and are to be placed on your "checked luggage" (large bag). You do not need a tag for your carry-on bag, for which you will be responsible for taking on and off the coach. There is limited space in the cabin of the coach, so unless you require your carry-on bag while traveling, we will stow it in the luggage compartment.
Important Information:
Each reservation requires a $250 per person deposit planning fee (exceptions may apply) to be credited toward your final payment. Some or all of your deposit may be non-refundable per our cancellation schedule noted in these Terms & Conditions below. We are happy to accept cash, check (preferred) or credit card (Visa, Mastercard, Discover) for your deposit.
Throughout 2021 we limited capacity on all our tours. This policy was so overwhelmingly popular by Sunrise travelers, we have made it permanent. In 2022 and beyond, we will limit the capacity on our motorcoaches to 80%. Most Sunrise Tours travel on 50-seat coaches with extra legroom, which means guests will enjoy extra legroom AND at least 6-8 empty seats. In the rare cases when we charter a 55-seat coach, there will be at least 10 open seats on the bus.
Our popular on-board refreshment service on travel days will feature a variety of soda, beer, wine spritzers, juices and sparkling water choices served in recyclable aluminum cans. This is a safe and eco-conscious way for us to deliver the ever-popular Sunrise Tours "happy hour" on tour. We do not typically serve bottled water and ask that while on tour you be responsible for your own hydration and consider the Sunrise Tours drink service a welcome refreshment.
Terms and Conditions:
Please refer to our policies HERE for more information on our terms and conditions.
Share it
---