Meet innovative Iowans like Bruce Arant and Robby Pederson, take festive steps back in time to the 50's and 60's, and be dazzled at Brown's Family Theater--just a few of the highlights of this unique trip.
Visit Robby Pederson's 1875 furniture making shop
Watch the award-winning theater show at The Brown's Theater in Le Mars
Enjoy a cruise on West Okobjoi Lake aboard the Queen II
Tour the Templeton Rye distillery
Back in time with Donna Reed, Glenn Miller, KMA Radio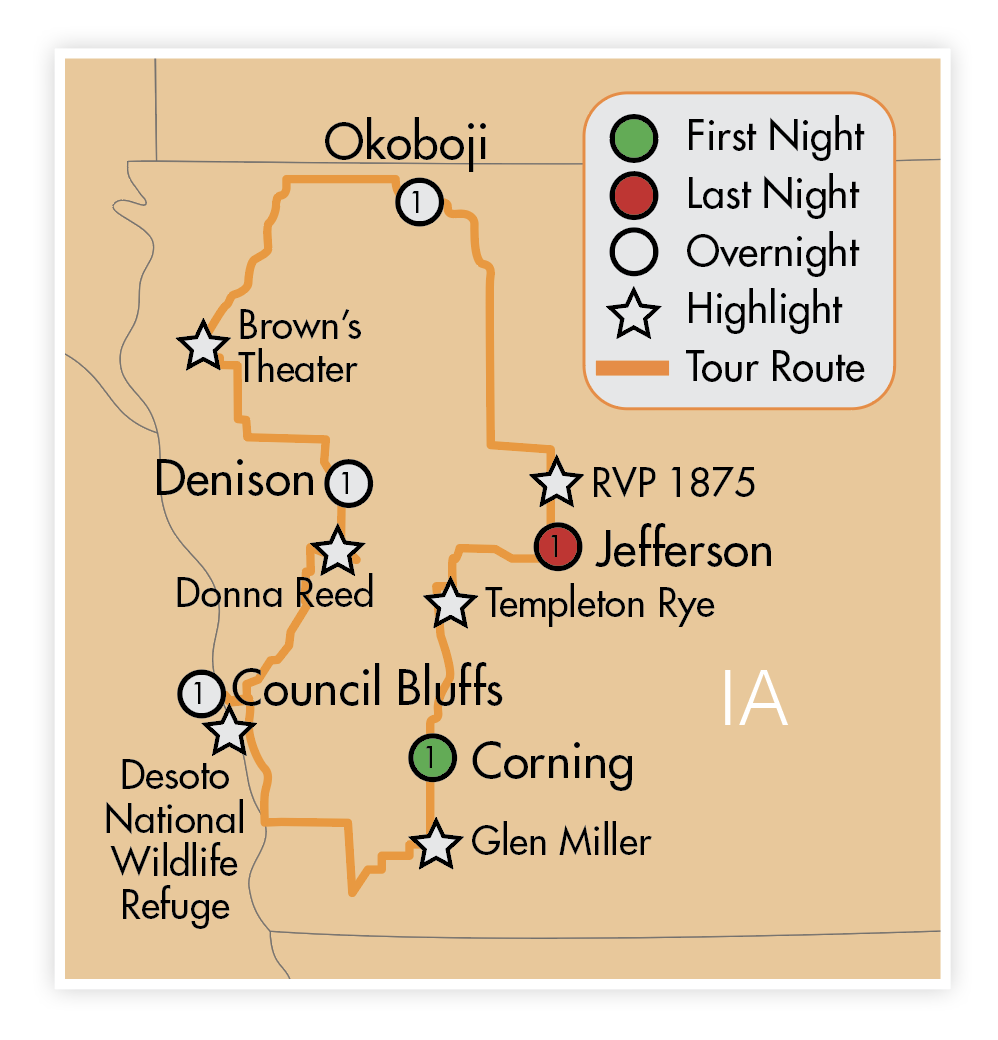 DAY 1: WELCOME TO IOWA!
Travel to Corning, IA, best known as the birthplace of Johnny Carson. We enjoy a Welcome Dinner this evening. D
DAY 2: GLEN MILLER/KMA/LOCAL FAVORITES
You'll be immersed into the life of Glenn Miller with a walk through his Birthplace home and museum. Founded by seed salesman Earl May in 1925, and frequented by the Everly Brothers (hometown boys), KMA radio station continues its long tradition of agricultural reports and the famous "Elephant Shop"…and the station's General Manager welcomes us. We're next greeted at one of the most iconic churches in Iowa, and then stop for a farewell ice cream cone at a local stomping ground. In Council Bluffs, iconic railroad history is shared through the lens of the Union Pacific Railroad at it's museum housed in a vintage Carnegie Library building. B, L
DAY 3: CARTOONS/STEAMBOAT/DONNA REED
Inspiration kicks off our tour as we visit self-taught American author and illustrator Bruce Arant. His work has delighted kids and adults of all ages through over 20 custom-published books that have garnered him multiple awards and honors. One hundred years after the Steamboat Bertrand sunk in the Missouri River, half of its cargo was recovered—you'll be in awe as we experience the recovery and enjoy lunch at the DeSoto National Wildlife Refuge. Later this afternoon, learn about the life and career of Donna Reed, most notable for her work in "It's a Wonderful Life," with a guided tour of the Donna Reed Museum in Denison. We'll get an exclusive, behind-the-scenes look at items rarely shown to the public! A visit to one of Our Iowa's Prettiest Farms caps off the afternoon. B, L, D
DAY 4: WOODEN SKATE RINK/ BROWN'S FAMILY THEATER
We take a nostalgic trip down memory lane at an old time wooden floored skate palace in Ida Grove (yes, you can even take a trip around the rink if you'd like). Then, you're in for a treat with a delicious lunch and award-winning theater show at The Brown's Theater in Le Mars. Tonight is spent in Okoboji. B, L
DAY 5: BACK TO THE 60'S/ QUEEN II/OKOBOJI
This morning, we take a ride back to the 1960's with an "evening" stroll through the immaculately restored streets of Spencer and Arnold's Park Okoboji Classic Cars. Next, we relax with a cruise on beautiful West Okobjoi Lake aboard the Queen II. After free time to enjoy main street of Arnold's Park (thrill seekers might ride the wooden roller coaster), we head toward Jefferson, Iowa, stopping along the way for a warm Iowa welcome. B, D
DAY 6: FURNITURE/ TOWER/RYE
Start out today at Robby Pederson's 1875 furniture making shop, located in a century-old lumber building. Robby and his apprentices build historically accurate furniture using only the tools, techniques, and finishes found in Iowa back in 1875. We'll take a ride up top of Jefferson's Carillon Tour (and listen to its beautiful bells), before a behind the scenes visit to the vintage, yet state-of-the-art, Templeton Rye distillery. Lunch on the way home caps off a memorable visit to the Hawkeye State. B, L
Dates:
Departure: September 10, 2023
Return: September 15, 2023
Pricing:
Double: $1799
Triple/Quad: $1739
Single: $2149
*Price per person
Luggage:

Orange luggage tags are provided and are to be placed on your "checked luggage" (large bag). You do not need a tag for your carry-on bag, for which you will be responsible for taking on and off the coach. There is limited space in the cabin of the coach, so unless you require your carry-on bag while traveling, we will stow it in the luggage compartment.
Important Information:
Each reservation requires a $250 per person deposit planning fee (exceptions may apply) to be credited toward your final payment. Some or all of your deposit may be non-refundable per our cancellation schedule noted in these Terms & Conditions below. We are happy to accept cash, check (preferred) or credit card (Visa, Mastercard, Discover) for your deposit.
Throughout 2021 we limited capacity on all our tours. This policy was so overwhelmingly popular by Sunrise travelers, we have made it permanent. In 2022 and beyond, we will limit the capacity on our motorcoaches to 80%. Most Sunrise Tours travel on 50-seat coaches with extra legroom, which means guests will enjoy extra legroom AND at least 6-8 empty seats. In the rare cases when we charter a 55-seat coach, there will be at least 10 open seats on the bus.
Our popular on-board refreshment service on travel days will feature a variety of soda, beer, wine spritzers, juices and sparkling water choices served in recyclable aluminum cans. This is a safe and eco-conscious way for us to deliver the ever-popular Sunrise Tours "happy hour" on tour. We do not typically serve bottled water and ask that while on tour you be responsible for your own hydration and consider the Sunrise Tours drink service a welcome refreshment.
Terms and Conditions:
Please refer to our policies HERE for more information on our terms and conditions.

Share it
---