Designed to showcase the favorite attractions of The Buckeye State, this tour has been thoughtfully curated with private tours, exclusive meals, and access to unique attractions throughout Ohio's beautiful cities and charming small towns. Timed to enjoy the colors of spring, the itinerary features outstanding local accommodations, delectable cuisine, and distinctive sites.
Tour the filming location of The Shawshank Redemption
Private lunch at the McKinley Presidential Library and Museum
Private tour of the John Rankin House
Exclusive off-hours visit to Serpent Mound State Memorial
Local eats and hotel stays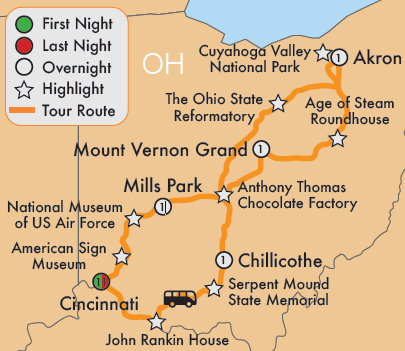 DAY 1: WELCOME TO CINCINATTI OHIO!
The "Queen City" is well known for many things, one of which is their uniquely flavored chili! Enjoy this Ohio specialty during our group welcome dinner. D
DAY 2: SIGN MUSEUM/MUSEUM OF U.S. AIR FORCE
This morning, your Tour Director will introduce you to Cincinnati as you stand high above the Ohio River at Eden Park Overlook, hidden away in the local Mount Adams neighborhood. Then it's off to the American Sign Museum for a private tour through 100 years of neon sign history. A delicious lunch will be served today at The Golden Lamb, Ohio's longest continually operating business. Throughout its 215-year history, The Golden Lamb has hosted notable guests including twelve U.S. Presidents, Neil Armstrong, and Mark Twain. After lunch, explore the National Museum of the U.S. Air Force, featuring the Apollo 15 Command Module Endeavour (which orbited the moon 74 times) and the Boeing 707 Air Force One where Lyndon Johnson took the Presidential Oath of Office beside Jackie Kennedy in 1963. The day ends with an overnight at the charming Mills Park Hotel in Yellow Springs. B, L
DAY 3: ANTHONY THOMAS CHOCOLATE/FRANKLIN PARK CONSERVATORY
Visit the capital of Ohio, Columbus, and enjoy a sweet treat at Anthony Thomas Chocolate Factory and a behind-the-scenes tour to see how they make their famous chocolate and peanut butter buckeyes. Then it's off to the Franklin Park Conservatory to see one of the largest collections of Chihuly glass in the country intertwined with world-class horticultural and butterfly exhibits. This evening, stay at the charming Mount Vernon Grand Hotel. B, L

DAY 4: AGE OF STEAM ROUNDHOUSE/MCKINLEY PRESIDENTIAL LIBRARY/CUYAHOGA VALLEY NATIONAL PARK
Calling all train buffs! This morning, travel to the Age of Steam Roundhouse to see the largest private collection of steam locomotives in the world along with a 115-foot turntable. Later, relish in a private lunch at the McKinley Presidential Library and Museum after we explore parts of the Memorial not on display to the public. Finish the day in Cuyahoga Valley National Park to see Brandywine Falls before staying at Akron's downtown BLU-tique hotel. B, L, D
DAY 5: SHAWSHANK TOUR/MOTTS MILITARY MUSEUM
Venture to The Ohio State Reformatory today for a self-guided tour of the intact set of the 1994 classic, The Shawshank Redemption. Come walk through this 1800's prison and see the filming locations of Andy's cell block, the Warden's office, and even Brooks' apartment. Then you're off to the eclectic Motts Military Museum in Groveport, a local gem founded with Warren Motts' personal collection of historic artifacts which includes a Higgins Boat from World War II. The museum is in possession of the largest collection of 9/11 memorabilia outside of New York, including a fire truck that was crushed from the World Trade Center collapse. B, L
DAY 6: SERPENT MOUND/JOHN RANKIN HOUSE
Today travel through the beautiful countryside to Serpent Mound State Memorial, a National Historic Landmark built by the ancient American Indian cultures of Ohio. The curator of this effigy mound (a mound in the shape of an animal) is privately opening just for our Sunrise Tours! Then it's off to the John Rankin House in Ripley for another private visit. Minister John Rankin, a conductor on the Underground Railroad, is famous for signaling to freedom seekers in Kentucky with a lantern to let them know it was safe to cross the Ohio River. The Rankin Home sits atop a three hundred foot high bluff overlooking the Ohio River - breathtaking! This evening, say goodbye to Ohio with a special farewell dinner. B, L, D
DAY 7: WILLIAM HOWARD TAFT NATIONAL HISTORIC SITE/FAREWELL
This morning, travel to the heart of Cincinnati to visit the William Howard Taft National Historic Site. This location is the birthplace and childhood home of Howard Taft, the only person in history to serve as both President and Chief Justice of the United States. Return home filled with a new appreciation for the great state of Ohio. B ✹
Dates:
Departure: April 24, 2024
Return: April 30, 2024
Pricing:
Double: $1999
Single: $2559
*Price per person
Luggage:

Orange luggage tags are provided and are to be placed on your "checked luggage" (large bag). You do not need a tag for your carry-on bag, for which you will be responsible for taking on and off the coach. There is limited space in the cabin of the coach, so unless you require your carry-on bag while traveling, we will stow it in the luggage compartment.
Important Information:
Each reservation requires a $250 per person deposit planning fee (exceptions may apply) to be credited toward your final payment. Some or all of your deposit may be non-refundable per our cancellation schedule noted in these Terms & Conditions below. We are happy to accept cash, check (preferred) or credit card (Visa, Mastercard, Discover) for your deposit.
Throughout 2021 we limited capacity on all our tours. This policy was so overwhelmingly popular by Sunrise travelers, we have made it permanent. In 2022 and beyond, we will limit the capacity on our motorcoaches to 80%. Most Sunrise Tours travel on 50-seat coaches with extra legroom, which means guests will enjoy extra legroom AND at least 6-8 empty seats. In the rare cases when we charter a 55-seat coach, there will be at least 10 open seats on the bus.
Our popular on-board refreshment service on travel days will feature a variety of soda, beer, wine spritzers, juices and sparkling water choices served in recyclable aluminum cans. This is a safe and eco-conscious way for us to deliver the ever-popular Sunrise Tours "happy hour" on tour. We do not typically serve bottled water and ask that while on tour you be responsible for your own hydration and consider the Sunrise Tours drink service a welcome refreshment.
Terms and Conditions:
Please refer to our policies HERE for more information on our terms and conditions.

Share it
---