Discover the diverse cultures, landscapes, and attractions of the upper Midwest - from the pristine shores of Lake Superior to America's Cranberry Capital, from the Northwoods to the Apostle Islands. You'll discover the agricultural bounty of Northern Wisconsin and Minnesota while experiencing the warm spirit of folks who call this region home.
Spend the day on Madeline Island
See America's Cranberry Capital
Tour Split Rock Lighthouse
and Glensheen Mansion
Visit the Freshwater Fishing Hall of Fame
Guided tour of Stillwater, MN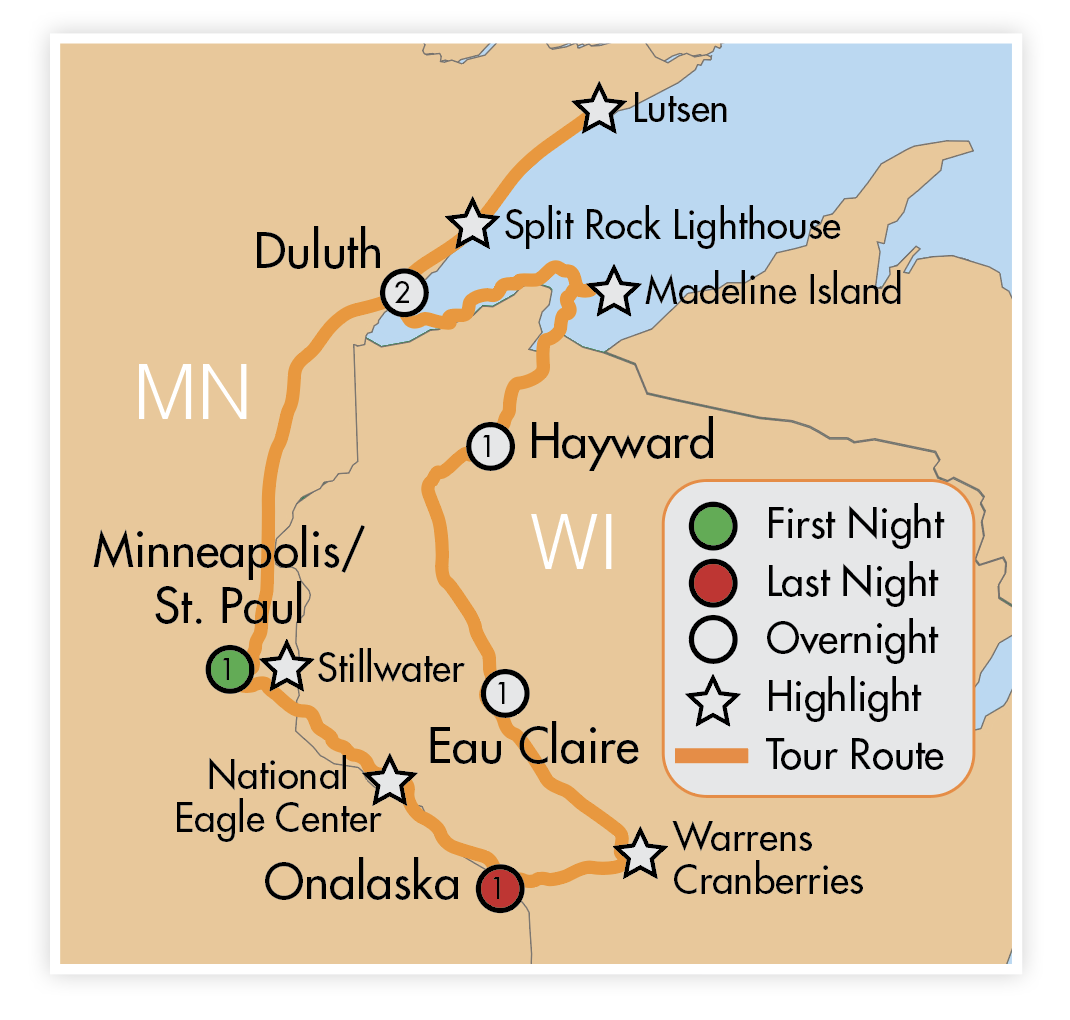 DAY 1: WELCOME TO MINNEAPOLIS!
Fly to Minneapolis, the "City of Lakes," and enjoy a visit to the Mall of America (flight schedule permitting) before a hearty welcome dinner with new Sunrise friends. D
DAY 2: STILLWATER/INTERSTATE STATE PARK/GLENSHEEN MANSION
Start your exciting day with a guided tour of historic Stillwater as we learn the history and enjoy the charm of this fascinating town on the banks of the St. Croix River. We'll follow the St. Croix River north and visit Interstate State Park where you'll see a deep gorge with glacial potholes and other unique rock formations. After lunch, we tour the amazing 39 room Glensheen Mansion on the shores of Lake Superior before settling in for two nights in Duluth. B, L
DAY 3: LUTSEN GONDOLA/ SPLIT ROCK LIGHTHOUSE/LAKE SUPERIOR RAILROAD MUSEUM
This morning, take a thrilling ride on the Midwest's only mountain gondola. Enjoy the panoramic view as you glide over the Poplar River valley to the top of Moose Mountain, weather permitting. We'll have a delicious lunch in Lutsen before heading to Two Harbors where you'll see the nostalgic Split Rock Lighthouse, restored to its 1920s grandeur. This afternoon it's "all aboard" at the Lake Superior Railroad Museum! Housed in the restored Duluth Union Depot, you'll be able to walk around and sit in unique trains. B, L
DAY 4: MADELINE ISLAND/BAYFIELD
Long-lasting memories are in store in beautiful Bayfield where you'll board the Madeline Island Ferry. Sail over to Madeline Island to see views of the 22 Apostle Islands. With a local guide, we'll tour the Madeline Island Museum, historic Catholic Mission Cemetery, and Woods Hall craft shop. You'll also have a delicious lunch at a local restaurant before some time perusing the unique shops on the island. Tonight, we will overnight in Hayward, host of the Lumberjack World Championships. B, L, D
DAY 5: FRESHWATER FISHING HALL OF FAME/LEINENKUGEL'S BEER TOUR
Fishing fans are in for a treat at the National Freshwater Fishing Hall of Fame in Hayward. It boasts massive collections of world-record mounted freshwater fish and lures, plus classic fishing boats. Next "on tap" is Leinenkugel Brewery in Chippewa Falls where we'll see firsthand how award-winning beers are made in this old-world Germanic brewery. Tonight, settle into your hotel in Eau Claire. B, L
DAY 6: AMERICA'S CRANBERRY CAPITAL
This morning it's off to Warrens Americas Cranberry Capital. After lunch, we'll visit a Cranberry bog where you will learn how cranberries are grown and harvested. Then we will stop at the Wisconsin Cranberry Discovery Center, taste some cranberry products, and learn what makes Wisconsin the nation's leading cranberry producer. Tonight, we will have a delicious Farewell dinner in Onalaska. B, L, D
DAY 7: LARK TOYS/ NATIONAL EAGLE CENTER/ HOME
Today journey back to your childhood at LARK toys for a visit. Next, we will head north along the Mississippi River and meet some magnificent birds at the National Eagle Center. Here you can get up close with these beautiful creatures and learn all there is to know about both Bald Eagles and Golden Eagles from an expert. B
Dates:
Departure Date: Aug 6, 2023
Return Date: Aug 12, 2023
Pricing:

Double: $2599
Triple/Quad: $2459
Single: $3199
*Per person rates
*Includes roundtrip airfare from STL or MCI (call for other gateway cities)
Luggage

Orange luggage tags are provided and are to be placed on your "checked luggage" (large bag). You do not need a tag for your carry-on bag, for which you will be responsible for taking on and off the coach. There is limited space in the cabin of the coach, so unless you require your carry-on bag while traveling, we will stow it in the luggage compartment.
On the first and last nights of this tour, you are welcome to pack your carry-on bag with essentials that would enable us to leave your "checked bag" on the coach. This will facilitate faster check-in and luggage delivery. This is not a requirement, merely a suggestion; we will deliver your "checked bag" to your room on the first and last night if you desire, just like every other night of the tour.
Important Information:
Each reservation requires a $250 per person deposit planning fee (exceptions may apply) to be credited toward your final payment. Some or all of your deposit may be non-refundable per our cancellation schedule noted in these Terms & Conditions below. We are happy to accept cash, check (preferred) or credit card (Visa, Mastercard, Discover) for your deposit.
Throughout 2021 we limited capacity on all our tours. This policy was so overwhelmingly popular by Sunrise travelers, we have made it permanent. In 2022 and beyond, we will limit the capacity on our motorcoaches to 80%. Most Sunrise Tours travel on 50-seat coaches with extra legroom, which means guests will enjoy extra legroom AND at least 6-8 empty seats. In the rare cases when we charter a 55-seat coach, there will be at least 10 open seats on the bus.
Our popular on-board refreshment service on travel days will feature a variety of soda, beer, wine spritzers, juices and sparkling water choices served in recyclable aluminum cans. This is a safe and eco-conscious way for us to deliver the ever-popular Sunrise Tours "happy hour" on tour. We do not typically serve bottled water and ask that while on tour you be responsible for your own hydration and consider the Sunrise Tours drink service a welcome refreshment.
Terms and Conditions:
Please refer to our policies HERE for more information on our terms and conditions.
Share it
---