The wonders of Yellowstone have never felt so close. Under feet of snow the roads remain off limits to private vehicles, allowing for a uniquely intimate experience with nature from the warmth of your heated snow coach. Experience two full days touring the park and a third to choose your own adventure. In the 150 years that visitors have been coming to Yellowstone National Park, only a hardy and intrepid handful have ever seen it in its winter glory.
Winter sleigh ride through Gallatin National Forest
Heated snow coach tour through Yellowstone including stop at Old Faithful
Free day to choose among many optional activity opportunities
Guided tour of the Lamar Valley - "America's Serengeti" – and Mammoth Hot Springs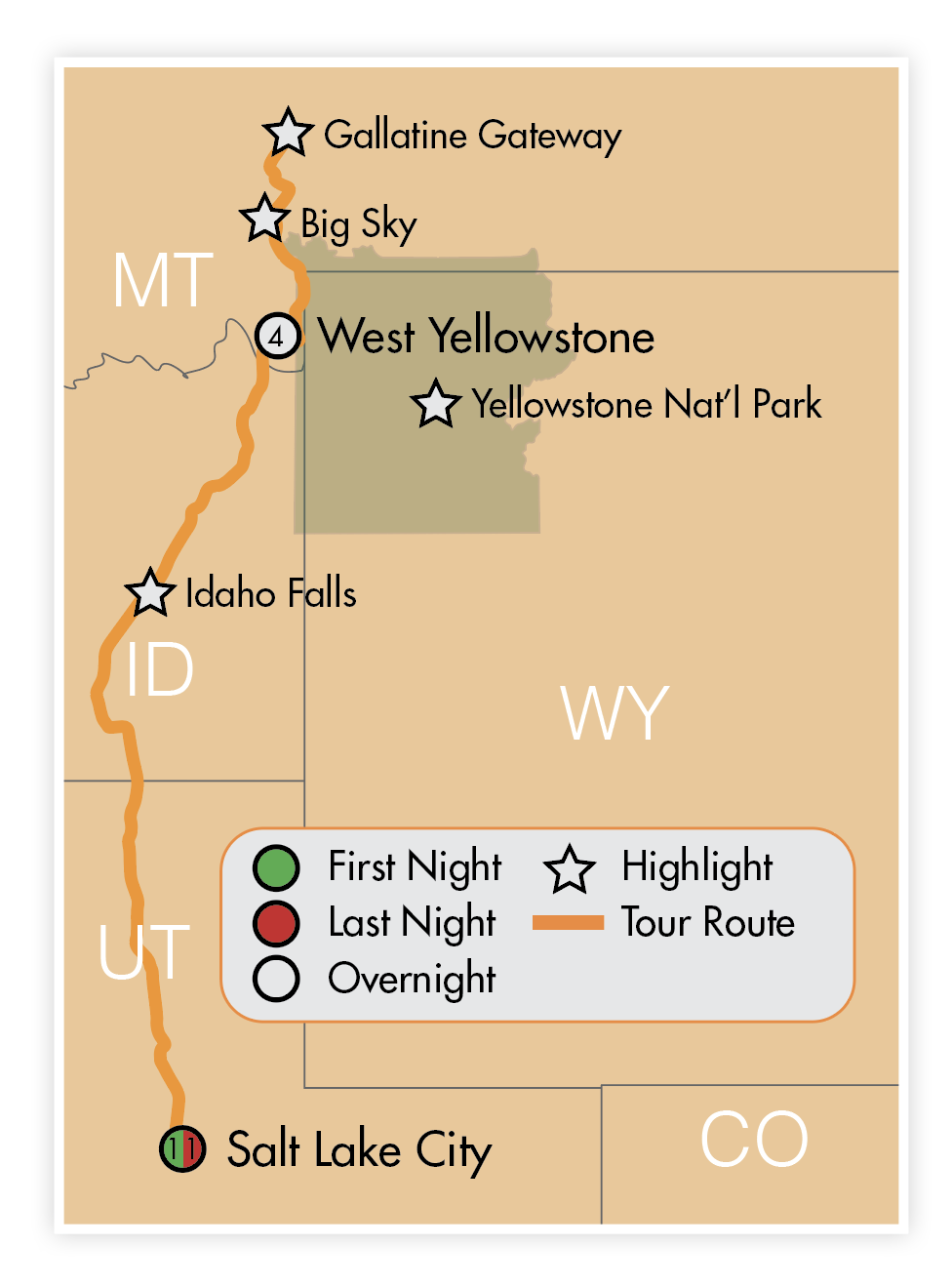 DAY 1: ARRIVE
Arrive for dinner and an overnight stay in Salt Lake City. D
DAY 2: WEST YELLOWSTONE
Visit the town of Idaho Falls and the Museum of Idaho to learn about one of the least commonly visited states in the country. Continue to West Yellowstone, and check into Holiday Inn for an extended 4-night stay just beyond the gates of the world's first National Park. B, D
DAY 3: YELLOWSTONE BY SNOWCOACH
You've never seen Yellowstone like this. Board a private heated snow coach for an all-day tour through a landscape transformed by snow and ice. Travel next to herds of bison and search for coyotes, fox, eagles and more as the winter air captures the steam rising from thermal features all around. After time at Old Faithful to see the iconic geyser erupt, return through the park and enjoy dinner at The Branch Restaurant. B, L, D
DAY 4: FREE DAY
Enjoy a free day to make the most of your time in Yellowstone. Options include a full day snow coach tour to the Grand Canyon of the Yellowstone, or for more adventure join a guided snow mobile tour through the park. Other options include renting snowshoes, skis, or a snow mobile for exploring around West Yellowstone, and visiting the Grizzly & Wolf Discovery Center and IMAX presentation. Optional tours at travelers' own expense, more information to be provided upon registration. B
DAY 5: WINTER SLEIGH RIDE
Travel north to Gallatin Gateway for an unforgettable experience. Traverse the winter landscape of Gallatin National Forest aboard a horse-drawn sleigh. Enjoy a western themed lunch at the authentic Elkhorn Ranch, family owned for over 100 years. Enjoy a visit to the community of Big Sky, known for its ski slopes. B, L
DAY 6: SALT LAKE CITY
Depart West Yellowstone for a visit to the Golden Spike National Historical Park in northern Utah. Preserving a 15-stretch of the original Transcontinental Railroad, see where the last spike was driven into the ground in 1869 that transformed the West. Continue to Salt Lake City for an overnight stay. B, D
DAY 7: RETURN
Having seen the world's first National Park in a way many never will, return home on a flight from Salt Lake City. B
Dates:
Departure: January 25, 2023
Return: January 31, 2023
Pricing:
Double: $2999
Triple/Quad: $2829
Single: $3299
*Price per person
*Includes roundtrip airfare from STL or MCI
Temperatures and Dress:
The following are the average temperatures in: Bozeman, 38/18 Gardiner, MT: 30/15, Yellowstone: 29/5
You will want to bring layers and ample gear for winter weather. Please bring along comfortable walking shoes. We also suggest sunglasses, sunblock and an umbrella in case of inclement weather and you may want to pack a swim suit if you would like to swim in the hotel pools.

We recommend bringing cleats (Yaktrax Pro Traction Cleats or something similar), worn over your shoes or boots, to help provide additional traction and navigate the winter terrain in Yellowstone. These may be found at a local sporting goods store, online at amazon.com or other sporting goods store websites. They are also sold inside the park, but supplies are limited and typically more expensive.

Luggage:
Orange luggage tags are provided and are to be placed on your "checked luggage" (large bag). You do not need a tag for your carry-on bag, for which you will be responsible for taking on and off the coach. There is limited space in the cabin of the coach, so unless you require your carry-on bag while traveling, we will stow it in the luggage compartment.
On the first and last nights of this tour, you are welcome to pack your carry-on bag with essentials that would enable us to leave your "checked bag" on the coach. This will facilitate faster check-in and luggage delivery. This is not a requirement, merely a suggestion; we will deliver your "checked bag" to your room on the first and last night if you desire, just like every other night of the tour.
Identification:
Since we are traveling by plane you must bring a valid state-issued ID or passport.

Important Information:
Each reservation requires a $250 per person deposit planning fee (exceptions may apply) to be credited toward your final payment. Some or all of your deposit may be non-refundable per our cancellation schedule noted in these Terms & Conditions below. We are happy to accept cash, check (preferred) or credit card (Visa, Mastercard, Discover) for your deposit.
Throughout 2021 we limited capacity on all our tours. This policy was so overwhelmingly popular by Sunrise travelers, we have made it permanent. In 2022 and beyond, we will limit the capacity on our motorcoaches to 80%. Most Sunrise Tours travel on 50-seat coaches with extra legroom, which means guests will enjoy extra legroom AND at least 6-8 empty seats. In the rare cases when we charter a 55-seat coach, there will be at least 10 open seats on the bus.
Our popular on-board refreshment service on travel days will feature a variety of soda, beer, wine spritzers, juices and sparkling water choices served in recyclable aluminum cans. This is a safe and eco-conscious way for us to deliver the ever-popular Sunrise Tours "happy hour" on tour. We do not typically serve bottled water and ask that while on tour you be responsible for your own hydration and consider the Sunrise Tours drink service a welcome refreshment.
Terms and Conditions:
Please refer to our policies HERE for more information on our terms and conditions.

Share it
---