Discover the rich and complex history of Poland as we tour the region's most important sites before exploring the unique local highlights of Slovakia. Then, board the impeccable MS Amadeus Cara and travel through Hungary, Austria, and Germany. This vacation through five countries will be the trip of a lifetime!
Aboard the MS Amadeus CARA
We have chartered the whole ship with our world-class partner, Amadeus. Their sleek, modern ships offer amazing views with 100% outward facing staterooms ship-wide and loaded with amenities – from spa and fitness facilities, sun deck and viewing platforms, evening entertainment, gourmet meals, and wine/beer/soda with dinner. From our ship, you'll enjoy breathtaking views of dreamy landscapes and romantic villages as you travel with first-class service through the heart of Europe.

Cruise the Magical Danube River in luxury aboard the MS Amadeus Cara
Pre-Cruise option, including a day tour to Auschwitz-Birkenau
Sightseeing tours of Budapest, Vienna, and Passau
Experience UNESCO sites such as the Wachau Valley, Heroes' Square in Budapest, and more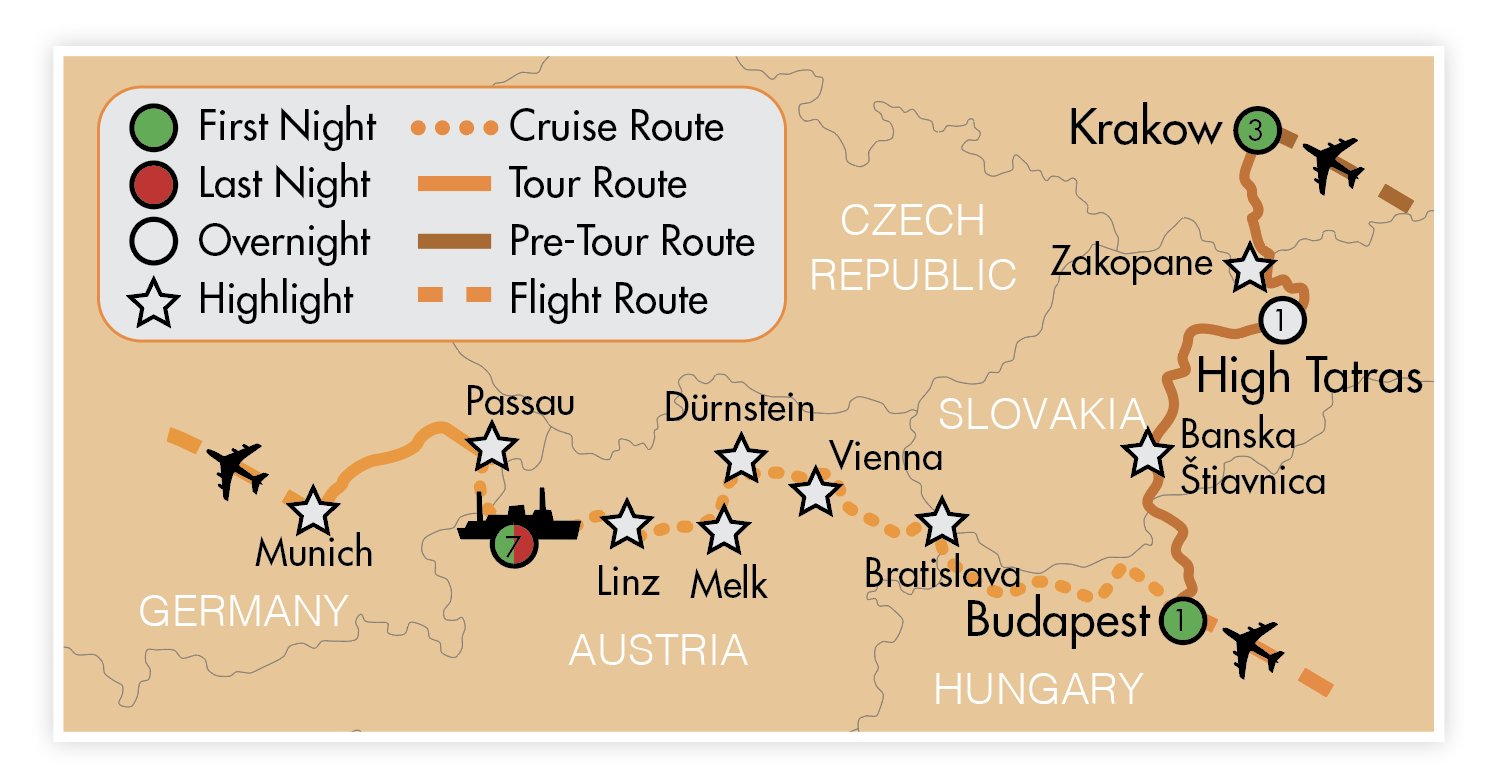 POLAND PRE CRUISE OPTION:

DAYS 1-2: WELCOME TO POLAND!
Following our included overnight flights, we meet our Tour Director and enjoy a short bus tour of Krakow, the capital of Poland. We'll settle in at our hotel for the next 3 nights before continuing our exploration of Krakow with a walking tour followed by dinner together! L, D
DAY 3: WIELICZKA SALT MINE/SCHINDLER'S MUSEUM
After breakfast, enjoy free time to sightsee around Krakow or choose one (or both) of our unique excursion options below. Tonight's dinner will be at a local Polish eatery. B, D
Morning Option—Wieliczka Salt Mine Dating back to the Middle Ages, the Wieliczka Salt Mine is the oldest salt enterprise on Polish land. This stunning UNESCO World Heritage Site hosts labyrinthine passageways, four chapels, crystal chandeliers, and numerous statues carved by miners out of the rock salt. Price: $65 per person. (Moderate to extensive walking is required to fully enjoy this option.)
Afternoon Option—Schindler's Factory Museum You may know Oskar Schindler's story best by the popular Steven Spielberg movie, Shindler's List. This afternoon, tour the famous Schindler's Factory Museum that showcases the gripping history of Krakow during World War II and Schindler's efforts in saving over 1,000 Jews. Price: $37 per person.
DAY 4: KAZIMIERZ/AUSCHWITZ-BIRKENAU
Today, you'll choose from either a whole day excursion to Auschwitz- Birkenau, or a half day excursion to Kazimierz, the Jewish quarter of Krakow. Tonight's dinner will be at an authentic restaurant with festive local music. B, D
Full Day Option—Auschwitz-Birkenau This humbling experience begins at Auschwitz I and continues to Auschwitz II-Birkenau as we remember and honor the victims of the Nazis' genocide. Our tour of these camps will provide the somber details behind Germany's mass extermination of approximately 1 million Jews. Price: $37 per person. (Please note that moderate to extensive walking is required to fully enjoy this option.)
Half Day Option—Kazimierz Explore the Jewish quarter of Kazimierz by foot to see this important cultural region of the Krakow. For many centuries, Kazimierz was a place where ethnic Polish and Jewish cultures coexisted. However, in 1941, the Jews were forcibly relocated by the German occupying forces into the ghetto and most did not survive the war. After this historical tour, return back to your hotel or enjoy free time in the area. Price: $25 per person.
DAY 5: ZAKOPANE/HIGH TATRAS/NORTHERN SLOVAKIA
Travel this morning to Zakopane, where we'll discover the area on a scenic walking tour. Then, head to Zdiar in Northern Slovakia for lunch together in a local restaurant before settling into our High Tatras hotel. Refresh at the hotel or explore the surrounding area around before our evening dinner together. B, L, D
DAY 6: BANSKA ŠTIAVNICA/BUDAPEST
Banska Štiavnica, a UNESCO World Heritage Site, is arguably the most striking and historical towns in Slovakia. Uncover all the highlights on a city walking tour before free time to explore on your own. Savor lunch together before we depart for the MS Amadeus Cara. B, L
DANUBE CRUISE:
DAYS 1-2: MS CARA/FOLKLORE SHOW
Welcome to Hungary following our included overnight flights! A real "WOW" moment strikes as we board our home for the next 7 nights: the MS Amadeus Cara. Enjoy a festive welcome dinner this evening. Next, we invite a traditional Hungarian folklore group aboard while cruising past the brilliantly illuminated architecture in Budapest. B, L, D
DAY 3: HEROES' SQUARE/BUDAPEST TOUR
Today we travel to Hösök tere (Heroes' Square) for views of the Millennium Memorial, a 36m-high pillar topped by the golden Archangel Gabriel. Next, experience the history of Budapest with a tour starting in Pest and ending in Buda's Castle District. Our expedition will include a guided tour of Matthias church before our visit to Fishermen's Bastion. In the afternoon, we set sail for Bratislava. B, L, D
DAY 4: BRATISLAVA/SCHLOSS HOF PALACE
This morning brings excellent views on our route to Bratislava, the capital of Slovakia. Upon arrival, we'll explore Schloss Hof Palace, a seventeenth-century citadel purchased in 1725 by Prince Eugene of Savoy that was transformed into a storied palace and garden estate. Our afternoon in Bratislava is yours to explore at your own pace. B, L, D
DAY 5: VIENNA/NASCHMARKT/KLOSTERNEUBURG MONASTERY
The day starts off with a wonderful city tour. St. Stephen's Cathedral, the Imperial Palace, and the Ringstrasse beckon! After being introduced to its most important sites by our local guide, we'll visit Vienna's Naschmarkt, the city's largest and most vibrant outdoor market and home to Austrian and Viennese specialties. Our afternoon is spent learning the eventful history of Klosterneuburg Monastery, Austria's oldest winery. This evening, a Viennese Quartet boards the MS Amadeus Cara to perform a recital exclusively for us. B, L, D
DAY 6: DÜRNSTEIN/GÖTTWEIG ABBEY/WACHAU VALLEY
We start today in picturesque Dürnstein, noted for its breathtaking scenery, traditional architecture, superb wines, and storied places. It was here in the Kuenringer Castle that the English King Richard the Lionheart was imprisoned. Our afternoon is spent at Göttweig Abbey to immerse ourselves in one of Austria's oldest monasteries. Towering on the edge of the Danube, we'll experience panoramic views of the Wachau Valley, a UNESCO World Heritage Region. Then, sit back deckside as we cruise through the Valley on our way to Linz. B, L, D
DAY 7: LINZ/PÖSTLINGBERG TRAIN
Today, we dock at Linz and drive into the countryside to visit the family farm of Norbert Pankratzhofer, a cultivator of Simmental cattle and producer of award-winning must, a type of fruit cider. You can also enjoy free time to explore the city of Linz, a cultural hub in the region. This afternoon provides a unique experience as we travel the Pöstlingberg Narrow Gauge Train, one of the steepest adhesion railways in the world. Disembark at the top and explore the Seven Sorrows of Virgin Mary church, a cultural and religious icon in Linz. B, L, D
DAY 8: PASSAU/BAVARIAN EVENING
Join us on a gorgeous walk through the old city of Passau where winding streets lead to the heart of Old Town. High above Old Town sits one of the largest fortress complexes in all of Europe—the Veste Oberhaus, which can be discovered on your own. On-board tonight, a local Bavarian group festively entertains us. B, L, D
DAY 9: TRAVEL HOME
After breakfast, disembark in Passau to catch your flight home. B, L, D



Dates:
Pre-Cruise - Aug 9-14, 2023
Departure Date: Aug 13, 2023
Return Date: Aug 21, 2023
Pricing:
Pre-Cruise: Double $1497; Single $1695

Haydn (lower deck): Starting at $3747
Strauss (middle deck): Starting at $4497
Mozart (top deck): Starting at $4797
Suite (top deck): Starting at $5547
*Per person rates (includes early booking discount, must be booked before March 31st, 2023)

*Included airfare from STL or MCI

Booking Information:

Booking requires a valid passport
$250 per person deposit required
Please call for single rates
Please call for a detailed brochure including ship layout and registration form
Includes airfare from St. Louis or Kansas City (call for other gateway cities)
Luggage:
Orange luggage tags are provided and are to be placed on your "checked luggage" (large bag). You do not need a tag for your carry-on bag, for which you will be responsible for taking on and off the coach. There is limited space in the cabin of the coach, so unless you require your carry-on bag while traveling, we will stow it in the luggage compartment.

Terms and Conditions:
Please refer to our policies HERE for more information on our terms and conditions.
Share it
---