New England fall foliage may be one of the prettiest sights in the country! This popular tour showcases a palette of fall color from our hotel on the Maine Coast, a stay in Vermont's Castle Hill Resort and an unforgettable ride across the picturesque Kancamagus Highway.
Visit Cooperstown, NY – home of the Baseball Hall of Fame
Enjoy the fall foliage on your scenic drive through the Kancamagus Highway
Private lobster cruise
Niagara Falls aboard the world famous Maid of the Mist
Trolly Tour in Kennebunkport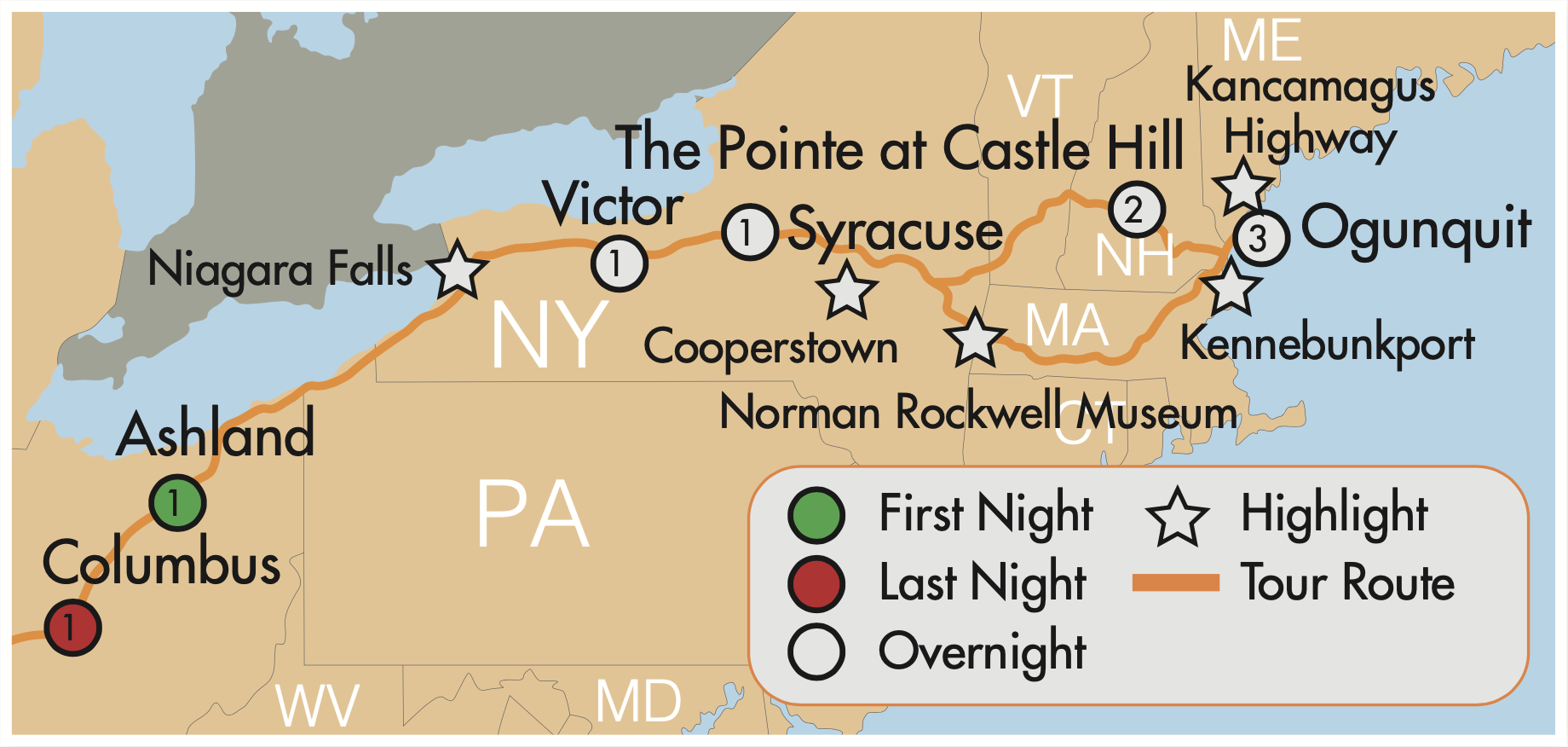 DAY 1: MID-OHIO
Travel to Mid-Ohio for an overnight stay and dinner at a Sunrise Favorite – Der Dutchman. D
DAY 2: THE FINGER LAKES
Head to the Finger Lakes Region of New York and tour the world's oldest photography museum, the George Eastman House and Museum, located on the estate of the founder of Eastman Kodak Company. Overnight stay in Syracuse. B, D
DAY 3: COOPERSTOWN, NY & VERMONT
Batter up! Discover the history of America's favorite pastime at the Baseball Hall of Fame and keep a look out for artifacts and history detailing the 17 former St. Louis Cardinals who have been inducted. After lunch and time to explore Cooperstown, stop at Bennington Battle Monument (weather permitting), a 306-foot-high monument commemorating a turning point in the Revolutionary War. Head to the observation deck at the top for a breathtaking view of Vermont, Massachusetts and New York before traveling through the picturesque Green Mountains for a two-night stay in Vermont. B, D
DAY 4: THE GREEN MOUNTAINS
Spend the day exploring the mountains of Vermont with our local guide. Visit the 1905 Georgian Revival mansion Hildene, the home of the only child of Abraham and Mary Todd Lincoln to survive adulthood, Robert Todd Lincoln. Explore the times of yesteryear during a trip to Vermont's original general store, The Vermont Country Store. Learn about the art of making maple syrup and sample some of their award-winning products. B, D
DAY 5: NEW HAMPSHIRE, OGUNQUIT, ME
Experience one of northern New Hampshire's best fall foliage viewing areas when we drive the famous scenic byway, the Kancamagus Highway. This 34.5-mile scenic drive cuts a path through the White Mountain National Forest with breathtaking views of the Swift River, Sabbaday Falls, and Rocky Gorge. Arrive at Maine's picturesque coast and check into our home for the next three nights, Anchorage by the Sea, Ogunquit's most renowned oceanfront resort. B, D
DAY 6: OGUNQUIT, ME
Enjoy a morning at leisure to explore Ogunquit's downtown area, walk the spectacular Marginal Way or relax at the hotel to take in the coastline views. Visit one of the oldest working lighthouses in the country, Portland Head Light, located at the entrance to Portland Harbor in the Gulf of Maine. Dinner at popular Barnacle Billy's. B, D
DAY 7: OGUNQUIT, ME
After breakfast, head to Perkins Cove to learn how to catch lobster aboard our private lobster cruise along the scenic Ogunquit shoreline (weather permitting). Travel to the quaint town of Kennebunkport for a narrated trolley tour of the history and sites of the town including President Bush's Estate and the Franciscan Monastery. B, D
DAY 8: NORMAN ROCKWELL MUSEUM
Bid farewell to Maine and travel scenic roads into upstate New York. Along the way, tour the largest collection of one America's great artists at the Norman Rockwell Museum. Continue to our overnight stay in Victor, NY. B, L
DAY 9: NIAGARA FALLS, NY
Board the world-famous Maid of the Mist to experience the majestic beauty of Niagara Falls as 2.5 billion gallons of water from four of the five Great Lakes cascade every hour, featuring gorgeous views of Niagara's three waterfalls: American, Bridal Veil and Horseshoe Falls. B, D
DAY 10: RETURN HOME
Arrive home in the early evening with pleasant memories of beautiful sights, new friends and wonderful times. B
Dates:
Departure Date: Sep 27, 2023 - SOLD OUT
Return Date: Oct 6, 2023 - SOLD OUT
AND
Departure Date: Oct 13, 2023 - SOLD OUT
Return Date: Oct 22, 2023- SOLD OUT
Pricing:
Double: $2749

Triple/Quad: $2479
Single: $3499
*Per person rates

Average Temperatures:

Ashland: 63/43
Syracuse: 65/45
Cavendish: 64/35
Ogunquit: 58/35 Victor: 55/41
Luggage
Orange luggage tags are provided and are to be placed on your "checked luggage" (large bag). You do not need a tag for your carry-on bag, for which you will be responsible for taking on and off the coach. There is limited space in the cabin of the coach, so unless you require your carryon bag while traveling, we will stow it in the luggage compartment.
On the first and last nights of this tour, you are welcome to pack your carryon bag with essentials that would enable us to leave your "checked bag" on the coach. This will facilitate faster check-in and luggage delivery. This is not a requirement, merely a suggestion; we will deliver your "checked bag" to your room on the first and last nights if you desire, just like every other night of the tour.
Important Information:
Each reservation requires a $250 per person deposit planning fee (exceptions may apply) to be credited toward your final payment. Some or all of your deposit may be non-refundable per our cancellation schedule noted in these Terms & Conditions below. We are happy to accept cash, check (preferred) or credit card (Visa, Mastercard, Discover) for your deposit.
Throughout 2021 we limited capacity on all our tours. This policy was so overwhelmingly popular by Sunrise travelers, we have made it permanent. In 2022 and beyond, we will limit the capacity on our motorcoaches to 80%. Most Sunrise Tours travel on 50-seat coaches with extra legroom, which means guests will enjoy extra legroom AND at least 6-8 empty seats. In the rare cases when we charter a 55-seat coach, there will be at least 10 open seats on the bus.
Our popular on-board refreshment service on travel days will feature a variety of soda, beer, wine spritzers, juices and sparkling water choices served in recyclable aluminum cans. This is a safe and eco-conscious way for us to deliver the ever-popular Sunrise Tours "happy hour" on tour. We do not typically serve bottled water and ask that while on tour you be responsible for your own hydration and consider the Sunrise Tours drink service a welcome refreshment.
Terms and Conditions:
Please refer to our policies HERE for more information on our terms and conditions.
Share it
---