From rugged cliffs, sandy beaches, wildlife-filled bays, and peaceful coves, Nova Scotia's beauty beckons. Travel the Cabot Trail, among the world's most scenic drives, see picturesque Peggy's Cove Lighthouse, and experience Halifax, Atlantic Canada's largest city. In New Brunswick, discover the dynamic tides of Hopewell Rocks. You'll also roam gorgeous Prince Edward Island, home of Anne of Green Gables and "Birthplace of the Confederation." This vacation is truly a stunning coastal discovery!
Visit three Canadian Provinces
Tour the Anne of Green Gables home
Coastal drive along Cabot Trail
Visit famous Peggy's Cove lighthouse
See Titanic artifacts at Halifax Maritime Museum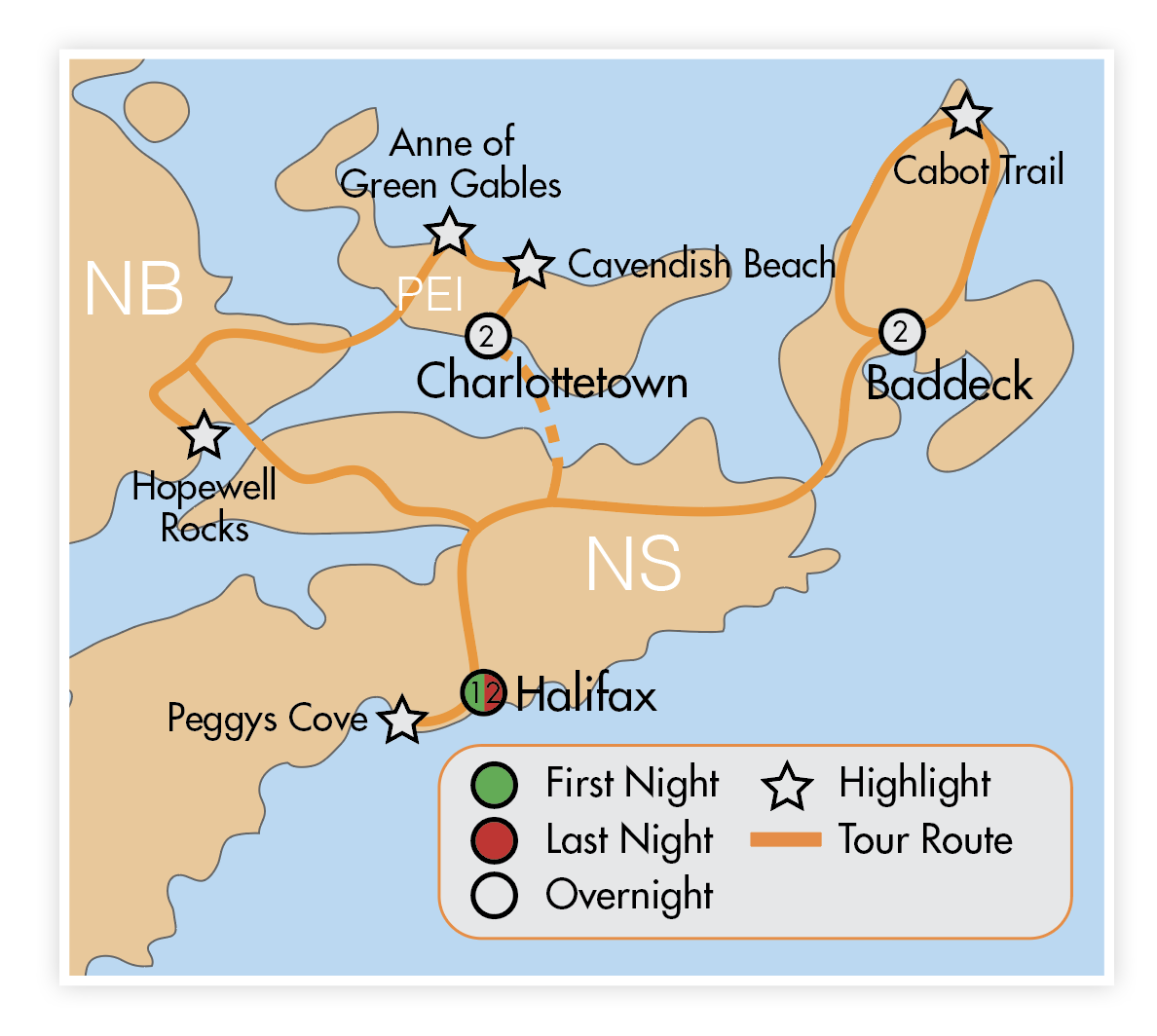 DAY 1: WELCOME TO NOVA SCOTIA!
Fly to Halifax and enjoy a welcome dinner with your friends from Sunrise Tours. D
DAY 2: HALIFAX CITY TOUR/CAPE BRETON ISLAND
This morning, enjoy a city tour of beautiful Halifax. Highlights include the Maritime Museum of the Atlantic, and Fairview Lawn Cemetery, resting place to 121 victims of the Titanic. After time on your own to explore, continue on to Cape Breton Island. En route, we'll find excellent photo opportunities by the Canso Strait and Porcupine Mountain. Upon arrival, we'll unpack for two nights in Baddeck. B, D
Option—Sail the Bras d'Or Lakes: Enjoy a narrated cruise on all of the Bras d'Or Lakes, observing majestic Bald Eagles overhead, Alexander Graham Bell's mansion Beinn Bhreagh, and the beautiful Baddeck shoreline. Price: $35 per person.
DAY 3: CABOT TRAIL/PARK WILDLIFE
Bring your camera for the Cabot Trail, among the world's most scenic drives. The route begins in the Margaree Valley, famed for salmon fishing. Continuing on just past Cheticamp, you'll visit Cape Breton Highlands National Park to witness colorful tapestries of woodlands, tundra, and bogs. Be on the lookout for moose, black bear, and bald eagles too! Enjoy a relaxed evening in Baddeck. B, L
DAY 4: ALEXANDER GRAHAM BELL/CHARLOTTETOWN, PEI
At the Alexander Graham Bell National Historic Site, explore the life and inspiration that drove this pioneer of invention and of deaf education. Later, enjoy a tasty lunch in Antigonish before heading to Caribou to catch the ferry to Prince Edward Island. Crossing the Northumberland Strait, we will see the famous red soil of Canada's smallest province come into view. Settle in for two nights in Charlottetown, the "Birthplace of Confederation." B, L
Option—Anne & Gilbert, A Play: The story begins in the beautiful countryside of Prince Edward Island. Anne is now an independent-minded young woman about to begin her first job teaching at a one-room schoolhouse. Romantic complications unfold when childhood sweetheart Gilbert Blythe proposes marriage-- and he's not her only suitor. Price: $70 per person
DAY 5: PEI NATIONAL PARK/ANNE OF GREEN GABLES HOME
Following breakfast, travel to the PEI National Park and Cavendish Beach area, noted for its sandy shoreline. After a stop at the Anne of Green Gables National Historic Site, it's off to the Fisherman's Wharf Restaurant for a delicious lobster lunch. Then visit PEI Preserves, to learn about the business and enjoy some tasty samples! Returning to Charlottetown, tour highlights of the city before enjoying free time in the area. B, L
DAY 6: CONFEDERATION BRIDGE/HOPEWELL ROCKS
This morning, travel to the community of Borden-Carlton for a photo stop near the Confederation Bridge and Gateway Village before crossing over to New Brunswick. Located on the Bay of Fundy, Hopewell Rocks experiences the highest tides in the world—on average 39 feet. At low tide, we'll have a chance to walk on the ocean floor and learn about the site from park interpreters before our lunch at the Interpretation Centre. The last two evenings are spent in Halifax. B, L
DAY 7: PEGGY'S COVE/PUBLIC GARDENS/CITADEL
Today's scenic drive along Nova Scotia's beautiful Lighthouse Route takes you past picturesque coastal villages and inlets to the rugged fishing community of Peggy's Cove. Set on a narrow, coastal inlet characterized by wave-worn granite boulders and crashing surf, this charming little village is perhaps Canada's most photographed site. A Nova Scotia icon, the lighthouse still serves as a beacon to fishermen. Return to Halifax where you'll stroll the city's Public Gardens, established in 1867, followed by a tour of the Citadel, sitting high on the hill protecting its people dating back to 1749. B, L
DAY 8: FAREWELL
Head home with fond memories of your time in three of Canada's stunning Provinces. B
Dates:
Departure: July 5, 2023
Return: July 12, 2023
Departure: July 19, 2023 - NEW DATE
Return: July 26, 2023 - NEW DATE
Pricing:

Double: $3699
Single: $4549

*Price per person
*Includes roundtrip airfare from STL or MCI (call for other gateway cities)
Luggage:

Orange luggage tags are provided and are to be placed on your "checked luggage" (large bag). You do not need a tag for your carry-on bag, for which you will be responsible for taking on and off the coach. There is limited space in the cabin of the coach, so unless you require your carry-on bag while traveling, we will stow it in the luggage compartment.
Important Information:
Each reservation requires a $250 per person deposit planning fee (exceptions may apply) to be credited toward your final payment. Some or all of your deposit may be non-refundable per our cancellation schedule noted in these Terms & Conditions below. We are happy to accept cash, check (preferred) or credit card (Visa, Mastercard, Discover) for your deposit.
Throughout 2021 we limited capacity on all our tours. This policy was so overwhelmingly popular by Sunrise travelers, we have made it permanent. In 2022 and beyond, we will limit the capacity on our motorcoaches to 80%. Most Sunrise Tours travel on 50-seat coaches with extra legroom, which means guests will enjoy extra legroom AND at least 6-8 empty seats. In the rare cases when we charter a 55-seat coach, there will be at least 10 open seats on the bus.
Our popular on-board refreshment service on travel days will feature a variety of soda, beer, wine spritzers, juices and sparkling water choices served in recyclable aluminum cans. This is a safe and eco-conscious way for us to deliver the ever-popular Sunrise Tours "happy hour" on tour. We do not typically serve bottled water and ask that while on tour you be responsible for your own hydration and consider the Sunrise Tours drink service a welcome refreshment.
Terms and Conditions:
Please refer to our policies HERE for more information on our terms and conditions.
Share it
---