Hudson Valley, a region steeped in history with scenery so magnificent it inspired artists. Dine on the banks of the Hudson River and walk in the quiet elegance of the Roosevelt homes. Tour US Military Academy, West Point, before lunch at the historic Thayer Hotel. Explore exciting NYC with our local guide then visit Ellis Island and the Statue of Liberty. Experience unforgettable Times Square and enjoy a hit Broadway musical.
Dine at Blu Pointe on the Hudson Restaurant featuring great views of the Hudson River
Guided tour of the lifelong home "Springwood", museum, gardens and final resting place of America's longest serving U.S. President, Franklin D. Roosevelt in Hyde Park
Tour the US Military Academy at West Point
Explore New York City with a local guide
9/11 Memorial at Ground Zero and admission to the 9/11 Memorial Museum
Visit Ellis Island and the Statue of Liberty
Spend an evening on the "Great White Way" for dinner and a performance of a hit Broadway musical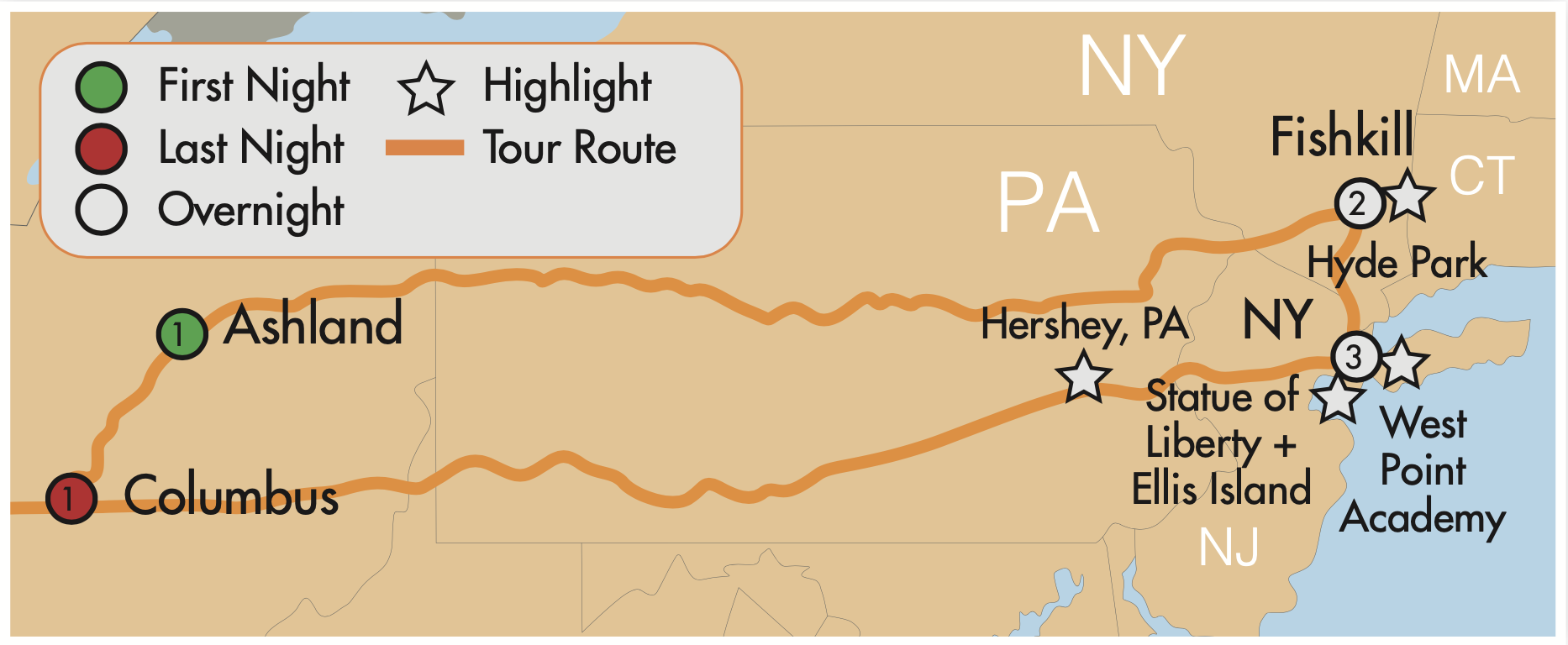 DAY 1: OHIO
Travel east through Ohio for an overnight stay. D

DAY 2: FISHKILL, NY
Journey across Pennsylvania to New York. Dine at Blu Pointe Restaurant featuring picturesque views of the Hudson River. Travel to Fishkill, NY for a two-night stay. B, D
DAY 3: THE ROOSEVELTS
Begin your day at the Franklin D. Roosevelt Presidential Library and Museum, the only Presidential library used by a sitting president, it was conceived under FDR's direction and made open to the public in 1941. Visit Hyde Park, the 54-room Vanderbilt mansion adorned with formal Italian style gardens. Get to know one of the 20th Century's most admired women, Eleanor Roosevelt, in her modest home and private retreat, "Val-Kill," with a guided tour. B, D
DAY 4: WEST POINT AND TIMES SQUARE
Tour the U.S. Military Academy at West Point, the oldest military academy in the country. Walk the paths of generals and presidents as you trace the footsteps of our country's great leaders. Savor lunch at West Point in the historic Hotel Thayer surrounded by Old World charm. Check into our NYC area hotel for a four-night stay. B, L
DAY 5: NEW YORK CITY TOUR
Explore New York City with a local guide. Spend the day exploring Central Park, St. Patrick's Cathedral, Fifth Avenue, Rockefeller Center and the unique areas of Little Italy and China-town in lower Manhattan. A highlight of the tour will be a visit to the poignant 9/11 Memorial at Ground Zero and admission to the 9/11 Memorial Museum. Ascend to the top of One World Observatory, the tallest building in the Western Hemisphere, for incredible panoramic views of New York City! B
DAY 6: STATUE OF LIBERTY AND BROADWAY
See NYC from a different perspective as we visit Ellis Island and the Statue of Liberty while enjoying magnificent views of the New York skyline from across the Hudson River. Next, we are off to the Great White Way for dinner and orchestra seating at a hit Broadway musical (TBD). B, D
DAY 7: FREE DAY TO EXPLORE NYC
The day is yours to explore the best of the Big Apple! (Cost of today's activities are not included.) Arrive early to Rock Center with your sign and a shot to be on The Today Show, stroll the shops on 5th Avenue, see a Broadway show or take the subway downtown for a walk across the Brooklyn Bridge. Grab a slice of pizza from a coal-fired oven, say a prayer at St. Patrick's Cathedral and watch the world go by in Times Square. This evening, reconvene for dinner with your friends from Sunrise Tours to recount tales of your exploits. B, D
DAY 8: FLIGHT HOME FROM NEW YORK. B

Dates:
Departure: August 16, 2022
Return: August 23, 2022
Pricing:
Double: $2299
Triple/Quad: $2069
Single: $2899
*Travel prices per person
*Includes return flight to STL
Average Temperatures:
Columbus, OH: 82° / 60°
Fishkill, NY: 84° / 62°
NYC, NY: 84° / 69°

Luggage:
Pack your comfortable walking shoes to tour Ellis Island, Statue of Liberty and Manhattan!
Orange luggage tags are provided and are to be placed on your "checked luggage" (large bag). You do not need a tag for your carry-on bag, for which you will be responsible for taking on and off the coach. There is limited space in the cabin of the coach, so unless you require your carry-on bag while traveling, we will stow it in the luggage compartment.
Important Information:
New reservations will require a $250 per person deposit unless otherwise noted. As always, your deposit is still fully refundable for any reason until final payment. We are happy to accept cash, check (preferred) or credit card (Visa, Mastercard, Discover) for your deposit.
Throughout 2021 we limited capacity on all our tours. This policy was so overwhelmingly popular by Sunrise travelers, we have made it permanent. In 2022 and beyond, we will limit the capacity on our motorcoaches to 80%. Most Sunrise Tours travel on 50-seat coaches with extra legroom, which means guests will enjoy extra legroom AND at least 6-8 empty seats. In the rare cases when we charter a 55-seat coach, there will be at least 10 open seats on the bus.
Our popular on-board refreshment service on travel days will feature a variety of soda, beer, wine spritzers, juices and sparkling water choices served in recyclable aluminum cans. This is a safe and eco-conscious way for us to deliver the ever-popular Sunrise Tours "happy hour" on tour. We do not typically serve bottled water and ask that while on tour you be responsible for your own hydration and consider the Sunrise Tours drink service a welcome refreshment.
Terms and Conditions:
Please refer to our policies HERE for more information on our terms and conditions.
Share it
---