Delight in the best of Western Georgia and Southern Alabama as we steep ourselves in southern culture. Following the Civil Rights Trail, we'll discover the historical importance of the region and visit the Legacy Museum, the National Memorial for Peace and Justice, and the Birmingham Civil Rights Institute. Our journey from Birmingham to Gulf Shores even includes a relaxing two-night stay on the Gulf of Mexico's white sugar-sand beaches.
Learn the history of the Civil Rights Movement
Stay in The Lodge Hotel in Gulf State Park
Tour the USS Alabama and Callaway Gardens
Explore Providence Canyon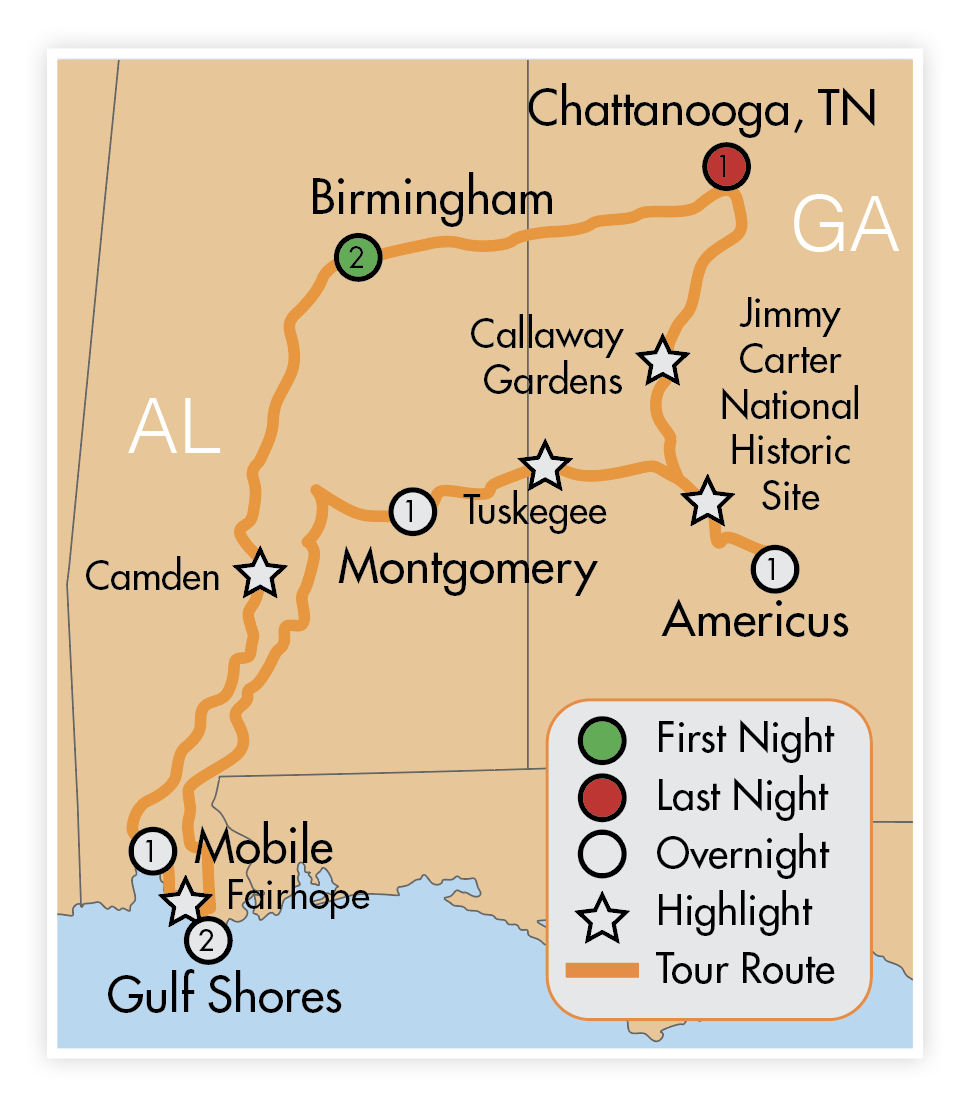 DAY 1: WELCOME TO ALABAMA!
Welcome to Birmingham! Upon arrival, we relax in downtown Birmingham at the 100-year-old Tutwiler Hotel, a National Historic Landmark. D
DAY 2: ARLINGTON HOME AND GARDEN/ CIVIL RIGHTS INSTITUTE
After a satisfying breakfast we tour Arlington Home and Garden. This beautiful and historic home is on the National Register of Historic Places and after our tour we will savor a delicious homemade southern lunch. Next, we are transported back to the 1950s at the Birmingham Civil Rights Institute. Tonight, we spend another night at the Tutwiler Hotel. B, L
DAY 3: SELMA/CAMDEN SHOE SHOPPE/ARTISANS
This morning we meet a local guide for a tour of Selma. See the Brown Chapel AME Church, the George Washington Carver Home, the First Baptist Church, and the Jackson Home where Dr. King stayed when he came to Selma. This afternoon, we visit Camden for a delicious southern lunch and to learn about the internationally-acclaimed Gee's Bend Quilters. After lunch we call on the local Betty Anderson's Camden Shoe Shoppe Museum and the Black Belt Cultural Center. Wilcox County born and raised, Betty Anderson grew up surrounded by heritage arts that were created out of necessity from her family making their own soap and clothing, to furniture and quilts. Visit the nearby Black Belt Cultural Center, where local artisans display their own unique art. B, L
DAY 4: MARDI GRAS MUSEUM/USS ALABAMA/STORYBOOK CASTLE
Feel the excitement of Mardi Gras in the city that started it all at the Mobile Carnival Museum. Next, we tour USS Alabama Battleship Memorial Park which features vintage aircrafts, tanks, the USS Drum submarine, and more. As we head south toward Gulf Shores we will stop at the charming town of Fairhope to see its antebellum homes and quaint downtown with plenty of choices for lunch on your own. After lunch, Pagan and Dean Mosher will lead us on a private tour of their home. We'll be amazed by this storybook castle that was spotlighted on HGTV's "Extreme Homes." Tonight, unpack for two nights and relax gulf side at The Lodge at Gulf State Park, A Hilton Hotel. B
DAY 5: GULF STATE PARK/NATURE CRUISE/GULF SHORES
Today a park naturalist will show us the extensive beaches and unique flora and fauna of Gulf State Park. At 6,150 acres, the park is world-renown for its size and diversity of preserved ecosystems. Gulf State Park is also home to two miles of white sugar-sand Gulf of Mexico beaches, which we can enjoy at our resort. After a delightful seaside lunch, take time to roam Gulf Shores' downtown shops or relax at our pool or beach. Later this afternoon, we embark on a nature cruise along the pristine waters of the Alabama Gulf Coast. Our vessel will allow us to experience up-close viewing of dolphins, sea turtles, and a variety of other marine life. Tonight, we enjoy another night on the shores of the Gulf of Mexico. B, L
DAY 6: ALLIGATORS/LEGACY MUSEUM/NATIONAL MEMORIAL FOR PEACE AND JUSTICE
This morning we depart Gulf Shores as we head back inland to visit Alligator Alley. Here we safely walk on elevated viewing platforms to view over 200 alligators from hatchlings to mature adults. We visit the Legacy Museum which provides the history of slavery in the US. Next, we head to the National Memorial for Peace and Justice. Tonight, we spend the night in Montgomery. B, L
DAY 7: TUSKEGEE AIRMEN/LITTLE GRAND CANYON/CARTER HOME TOWN
After breakfast, we travel to Tuskegee to learn about the famous Tuskegee Airmen, the men and women in the Army Air Corps who taught African Americans to fly combat aircraft. Next, we return to Georgia for a visit to Providence Canyon, also known as the 'Little Grand Canyon'. Here a park naturalist will lead us on a tour around the rim of the canyon. Next, we discover the Plains home of the 39th President of The United States, Jimmy Carter. Our local guide will give us a private tour where we'll see everything from Jimmy Carter's Boyhood farm, to the 1976 Jimmy Carter Presidential Campaign Headquarters. Tonight, we stay in the small historic town of Americus. B, L, D
DAY 8: CALLAWAY GARDENS/FREEDOM RIDERS/HOME SWEET HOME
After breakfast at the beautifully-restored Windsor hotel, we travel to Pine Mountain to take in the beautiful landscapes and colorful blossoms of Callaway Gardens. An experienced guide will take us through their abundant and colorful gardens. After a satisfying lunch we leave Georgia and travel to Anniston, Alabama. Here we meet with a historian at one of the country's newest National Monuments to learn about the Freedom Riders fight for equality. B, L
DAY 9: RETURN HOME B
Dates:
Departure: Sep 26, 2023
Return: Oct 4, 2023
Pricing:
Double: $2349
Single: $2999
*Price per person
Luggage:

Orange luggage tags are provided and are to be placed on your "checked luggage" (large bag). You do not need a tag for your carry-on bag, for which you will be responsible for taking on and off the coach. There is limited space in the cabin of the coach, so unless you require your carry-on bag while traveling, we will stow it in the luggage compartment.
Important Information:
Each reservation requires a $250 per person deposit planning fee (exceptions may apply) to be credited toward your final payment. Some or all of your deposit may be non-refundable per our cancellation schedule noted in these Terms & Conditions below. We are happy to accept cash, check (preferred) or credit card (Visa, Mastercard, Discover) for your deposit.
Throughout 2021 we limited capacity on all our tours. This policy was so overwhelmingly popular by Sunrise travelers, we have made it permanent. In 2022 and beyond, we will limit the capacity on our motorcoaches to 80%. Most Sunrise Tours travel on 50-seat coaches with extra legroom, which means guests will enjoy extra legroom AND at least 6-8 empty seats. In the rare cases when we charter a 55-seat coach, there will be at least 10 open seats on the bus.
Our popular on-board refreshment service on travel days will feature a variety of soda, beer, wine spritzers, juices and sparkling water choices served in recyclable aluminum cans. This is a safe and eco-conscious way for us to deliver the ever-popular Sunrise Tours "happy hour" on tour. We do not typically serve bottled water and ask that while on tour you be responsible for your own hydration and consider the Sunrise Tours drink service a welcome refreshment.
Terms and Conditions:
Please refer to our policies HERE for more information on our terms and conditions.
Share it
---