The "complete" Yellowstone tour, featuring two full days touring the park with a guide for more chances to see erupting geysers, roaring waterfalls, and endless wildlife. Plus, unforgettable experiences in Grand Teton and Rocky Mountain National Parks and plenty of mountain charm in the classic western towns of West Yellowstone, Jackson, and Estes Park.
Guided tours of Yellowstone's Upper and Lower Loops
2 nights in iconic Jackson Lake Lodge
Scenic float in Grand Teton National Park
Guided tour of Rocky Mountain National Park
Visit the world-famous Old Faithful Geyser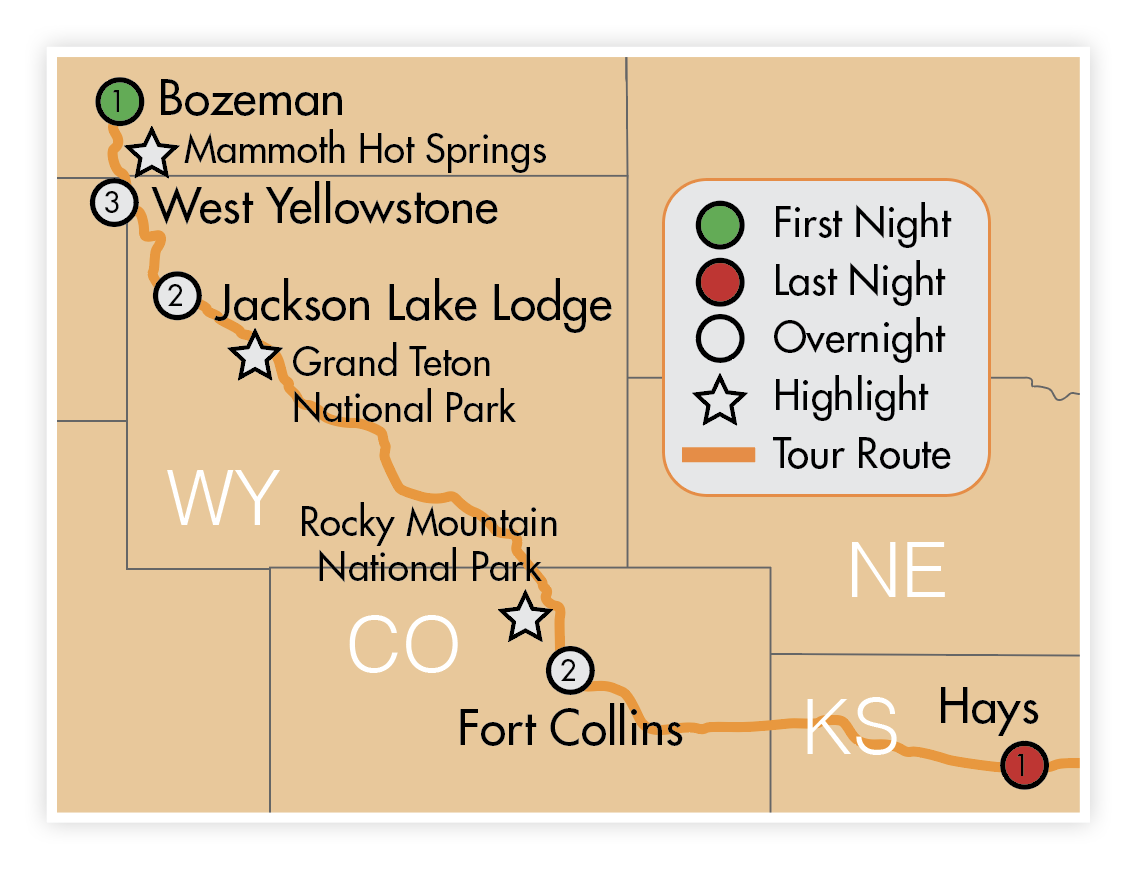 DAY 1: BOZEMAN
Fly to Bozeman and enjoy dinner at a local favorite and an overnight stay. D
DAY 2: WEST YELLOWSTONE
Get up close with the region's prehistoric wildlife at the Museum of the Rockies. Visit Big Sky for a scenic lift ride to the top of ski country. Continue to West Yellowstone and check in for a 3-night stay at the Holiday Inn. B, D
DAY 3: YELLOWSTONE UPPER LOOP
Bring your camera for a great day in the world's first National Park! Journey along the Upper Loop with a local guide to visit Mammoth Hot Springs and the historic Roosevelt Arch. Tour America's wildest stretch of road in the Lamar Valley, where bison, pronghorn, bighorn sheep, grizzly bears, and moose all roam and Yellowstone's most famous residents – gray wolves – are often seen on the prowl. B, D
DAY 4: FREE DAY
Today is yours to choose your own adventure and set your own pace. At leisure, take an optional visit to the Grizzly and Wolf Discovery Center or the Yellowstone IMAX (added expense). Enjoy the downtown strip of shops and restaurants. Looking for more time in the park? Spend your time at Old Faithful to walk the extensive boardwalk trails around the geyser basin, enjoy the visitor center, and have lunch on-your-own. B
DAY 5: GRAND TETON NATIONAL PARK
Depart West Yellowstone and arrive in downtown Jackson with time to explore. As the pristine Teton Mountains as your backdrop, enjoy an unforgettable scenic float down the Snake River. Head deeper into Grand Teton National Park and check-in for a special 2-night stay at the iconic Jackson Lake Lodge, one of the premier lodges in the National Park system. B, L
DAY 6: YELLOWSTONE LOWER LOOP
Yellowstone's Lower Loop is home to some of it's most famous sites, including Old Faithful and the Grand Canyon of the Yellowstone. An in-depth guided tour brings the park's history, ecology, and geology to life as you pass from one remarkable scene to the next. Return to Jackson Lake Lodge for dinner in the Mural Room. B, D
DAY 7: FORT COLLINS
Travel across Wyoming with a stop for a guided tour of the Wyoming Territorial Prison Historic Site, whose colorful past is a remnant of the grizzly old west. Continue across the Colorado border to Fort Collins and check in for a 2-night stay. B, D
DAY 8: ROCKY MOUNTAIN NATIONAL PARK
A naturalist guide will lead the way to alpine meadows and lakes surrounded by towering peaks deep inside Rocky Mountain National Park. Learn about the park's incredible history as you scan the scenery for elk, moose, and bear. Enjoy time in the classic mountain town of Estes Park. B, L
DAY 9: KANSAS
With the mountains in the rearview mirror, travel to central Kansas for an overnight stay. Or take an optional flight home from Denver to return this evening. (+$100 per person) B, D
DAY 10: RETURN HOME B
Dates:
Departure: Aug 17, 2023
Return: Aug 26, 2023
Pricing:
Double: $3999
Triple/Quad: $3449
Single: $5449
*Price per person
*Includes outgoing flight from STL or MCI (call for other gateway cities)
*Optional flight home DENVER to ST. LOUIS - $100 per person
Luggage:

Orange luggage tags are provided and are to be placed on your "checked luggage" (large bag). You do not need a tag for your carry-on bag, for which you will be responsible for taking on and off the coach. There is limited space in the cabin of the coach, so unless you require your carry-on bag while traveling, we will stow it in the luggage compartment.
Important Information:
Each reservation requires a $250 per person deposit planning fee (exceptions may apply) to be credited toward your final payment. Some or all of your deposit may be non-refundable per our cancellation schedule noted in these Terms & Conditions below. We are happy to accept cash, check (preferred) or credit card (Visa, Mastercard, Discover) for your deposit.
Throughout 2021 we limited capacity on all our tours. This policy was so overwhelmingly popular by Sunrise travelers, we have made it permanent. In 2022 and beyond, we will limit the capacity on our motorcoaches to 80%. Most Sunrise Tours travel on 50-seat coaches with extra legroom, which means guests will enjoy extra legroom AND at least 6-8 empty seats. In the rare cases when we charter a 55-seat coach, there will be at least 10 open seats on the bus.
Our popular on-board refreshment service on travel days will feature a variety of soda, beer, wine spritzers, juices and sparkling water choices served in recyclable aluminum cans. This is a safe and eco-conscious way for us to deliver the ever-popular Sunrise Tours "happy hour" on tour. We do not typically serve bottled water and ask that while on tour you be responsible for your own hydration and consider the Sunrise Tours drink service a welcome refreshment.
Terms and Conditions:
Please refer to our policies HERE for more information on our terms and conditions.
Share it
---