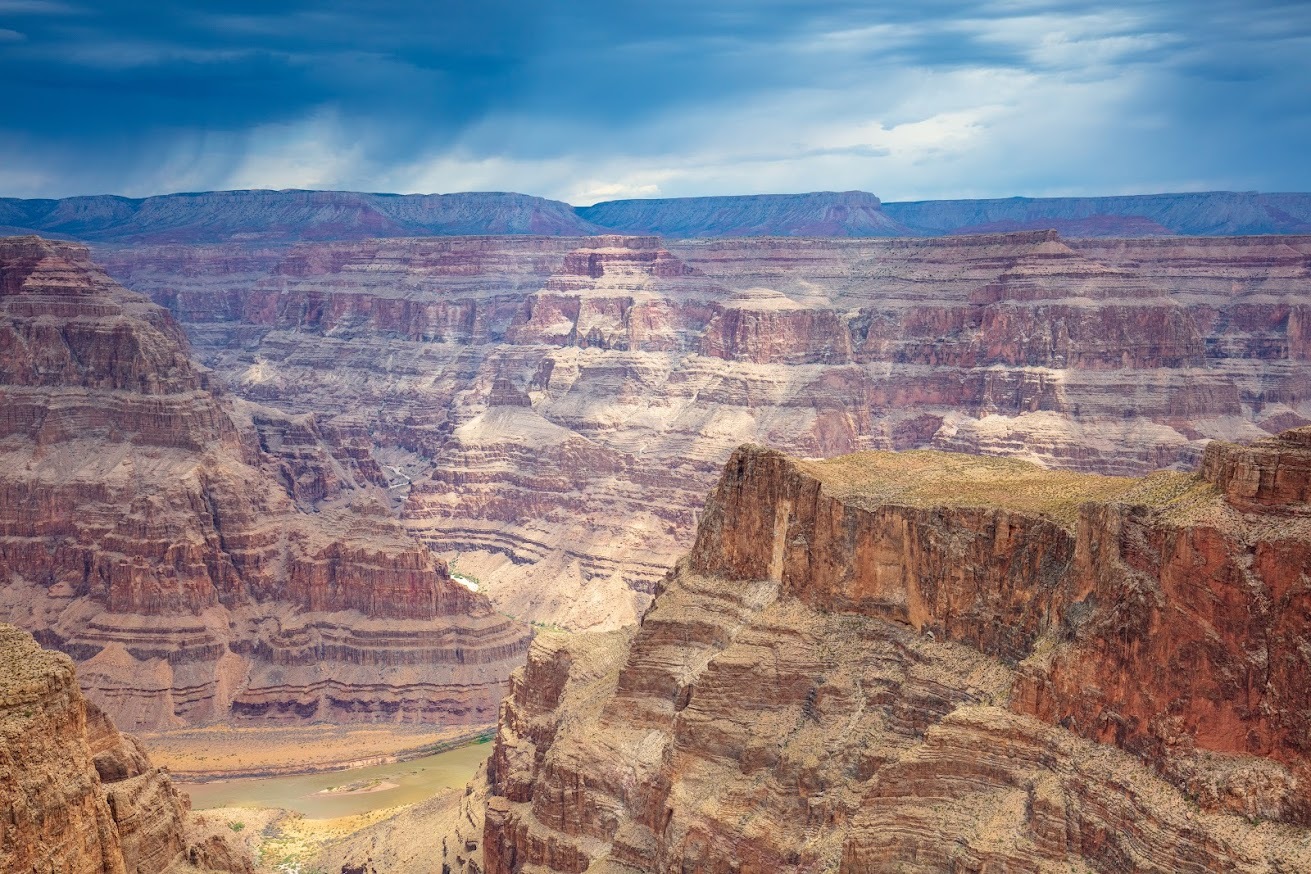 ---
Experience the "Canyonlands" of Grand Canyon & Red Rocks
April 13, 2023
A trip through the "canyonlands" of Southern Utah and Northern Arizona might be the most spectacular road trip our country has to offer. 5 magnificent National Parks, a new natural wonder every day with each one different from the last. Through my experiences leading these trips as a Tour Director for both Sunrise Tours and Country Travel Discoveries, and through my personal journeys as an eager road-tripper myself, here's a detailed look at this area and what our travelers will see and do.

NOTE: While the description below reflects the most up-to-date version of the itinerary, exact tour schedule and inclusions can vary slightly for different departures.
SEDONA
While this tour begins and ends in Phoenix, you could consider Sedona as the official introduction into the area's unique beauty and charm. The magical red cliffs surround the city, popular for its combination of natural scenic beauty and small town charm. The optional trolley tour is a great way to see as much of the town as you can, including great overlooks of the distant hills and historical stops around town. With your second morning on tour I recommend stepping outside early to see morning light hit the colorful cliffs.
GRAND CANYON NATIONAL PARK
From Sedona, the Grand Canyon lies just a couple of hours north and offers the perfect entry point to the iconic South Rim. With endless views for miles along the canyon, the perfect activity for such an immense and dramatic place is simply some time to enjoy it at your own pace. You can walk along the trail on the rim or you can just sit and try to soak it all in. With services and shops scattered throughout the National Park complex, there is no shortage of opportunities for food and shopping as you wander.

But how do you make a visit to the Grand Canyon even better? Going above and beyond to make our tours special is why customers travel with us, so the question had to be asked. And with a guided sunset tour along the rim, we've done just that. A Grand Canyon sunset is a bucket list item for travelers from around the world. But on our tour you don't just see the sun setting in one location, you travel from overlook to overlook as the sun recedes, chasing it westward until it disappears and leaves dazzling colors in the sky. A day filled with beauty at the Grand Canyon.

[PICTURES FROM GRAND CANYON]

GLEN CANYON NATIONAL RECREATION AREA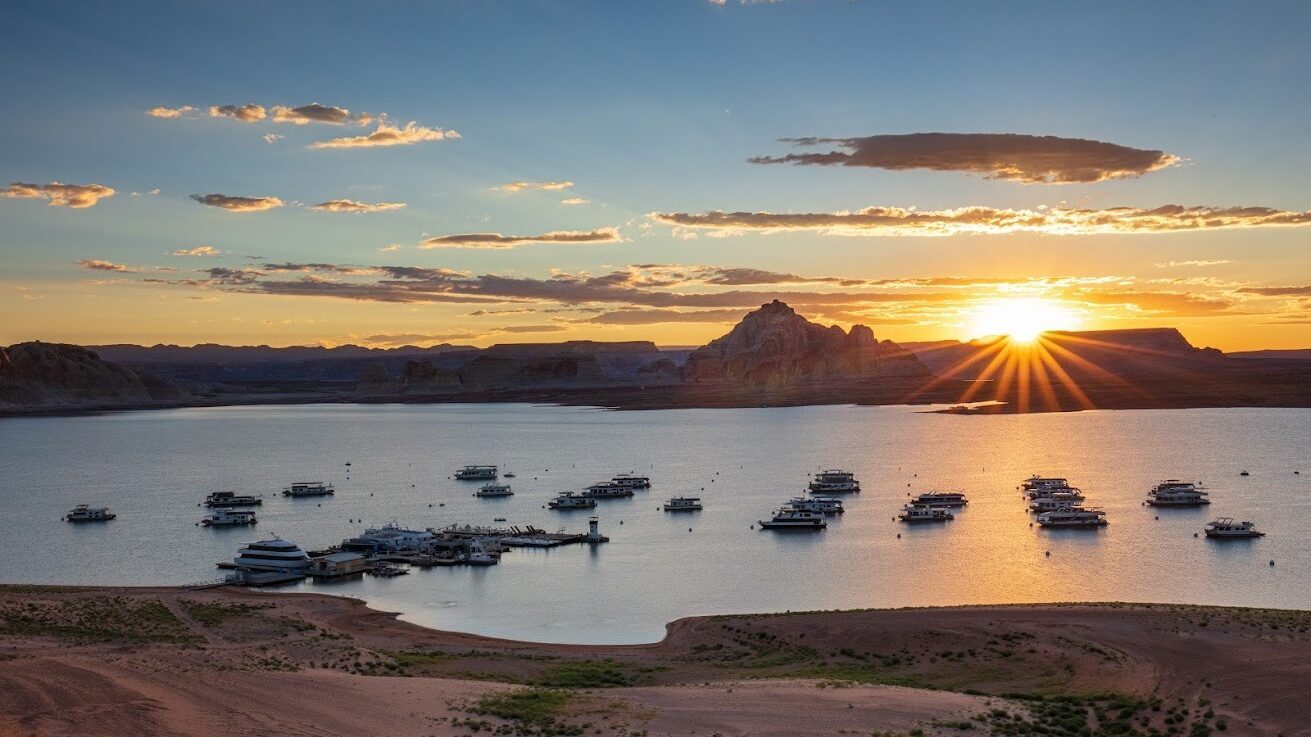 The famous writer of all things Southwest, Edward Abbey, once wrote, "There is no shortage of water in the desert but exactly the right amount, a perfect ratio of water to rock." As the Colorado River winds its way into the Grand Canyon it must first pass through Glen Canyon and into Lake Powell. The power of water is all around you in the Southwest, but nowhere as clear as it is here. The polished cliffs are evidence of water's incredible ability to cut sharply through stone, and the stunning views of Lake Powell are a reminder that civilization hangs by a thread in the desert, relying solely on its ability to capture - and conserve - the most precious resource on earth.

Spanning the cliffs atop the Colorado River is Glen Canyon Dam, the second largest concrete arch dam in the U.S. (after Hoover Dam a few more miles down river). A tour into the belly of this behemoth shows the complex operations behind its critical water retention and hydroelectric electricity. Then, an optional cruise aboard a relaxing ship skims the waters of Lake Powell, the reservoir created by the damming of the river through this narrow canyon.
[PICTURES FROM GLEN CANYON & LAKE POWELL]

ZION NATIONAL PARK
Now off the path of the Colorado, the tour follows one of its tributaries into an area so stunning the Mormon settlers named it after heaven itself. Zion National Park has been referred to as "Yosemite in color" because of its towering red sandstone cliffs that line each side of the Virgin River.
Zion's beauty and proximity to Las Vegas has made it such a popular destination that the park has eliminated the use of private vehicles along its main road. This means that no matter how busy the park may be, a short walk on any trail and you'll feel immersed in nature, with no sounds of cars or the hassle of traffic. In order to see the park, our groups enjoy a private narrated tram tour through Zion Canyon, getting a historical, geological, and ecological education along the way. And with free time at the lodge, travelers can enjoy time to take in a nearby trail, like the moderate Emerald Pools Trail just across the road. But here's an inside tip...take a short walk along the banks of the Virgin River. While everyone else is on established trails, you'll certainly find space here all to yourself and feel the power of Zion.

[PICTURES FROM ZION]


BRYCE CANYON NATIONAL PARK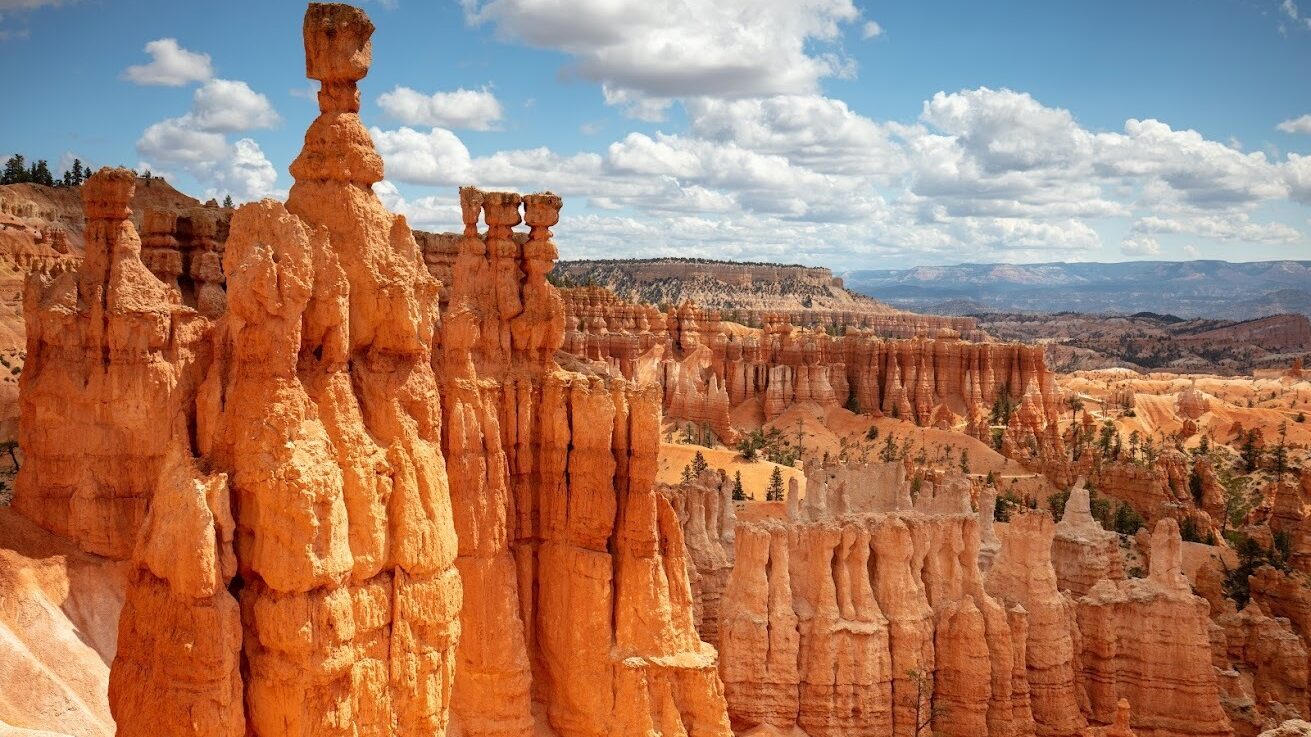 There are some places in this world you just have to see for yourself. Though I've tried many times, I've never found the appropriate words or the perfect camera settings to describe Bryce Canyon to someone who hasn't been. The towering stone hoodoos that cover the landscape in various shades of red and orange, complimented by the pine forest all around is a visual feast that can only be enjoyed in one location on the planet.
But perhaps my favorite part of taking groups to Bryce Canyon isn't visual at all...it's audible. As we park the bus and make the short walk from the lodge to the Rim Trail, there is a moment when you see the breadth of the landscape all at once. In this moment, it seems physically impossible to keep yourself from saying the word "WOW" or at least gasping in amazement. For me, it's an emotional moment that allows me to see this awesome sight again and again through the eyes of others that are seeing it for the very first time.

The stop at Bryce Canyon allows for self-exploration. A short walk along the Rim Trail can take you to both Sunrise and Sunset Points for amazing views. For those wanting to immerse themselves in this mystical land of stone, a descent onto the Navajo Loop Trail takes you up close to the most famous hoodoo, Thor's Hammer. With the help of a local guide, a drive through this relatively small National Park takes you to some of its most awe-inspiring overlooks.
On a tour filled with unforgettable days, my favorite day is an easy choice. There's nowhere else in the world quite like Bryce Canyon National Park.

[PICTURES FROM BRYCE CANYON]

CAPITOL REEF & GOBLIN VALLEY
Traveling east from Bryce Canyon to Moab takes you through some very interesting canyon country with the geology changing as rapidly as the colors. With a stop in Capitol Reef National Park you'll see towering cliffs as deeply red as any in the Southwest, contrasted against the white limestone mountains that settlers compared to the Capitol Dome of Washington. Just a few hundred yards from the busy visitor center, hieroglyphics tell the story of ancient human history dating back thousands of years. It's hard not to notice the almost alien like nature of these drawings and wonder what this ancient civilization was trying to document!
Just down the road, another amazing park shows off its equally unworldly features. At Goblin Valley State Park you walk amongst mushroom shaped hoodoos that range from the size of a child to the size of an elephant; a stone wonderland that I've always thought would be the perfect place for my young daughters to play "hide-&-seek."
It's this point in the tour when you start to take note of all that you've seen so far in just a few days and within just a few hours (at most) between each stop. It's when you realize that the term "red rocks" is not nearly enough to cover the diversity of what you've seen, and when you wonder what more could possibly lie ahead.

[PICTURES FROM CAPITOL REEF & GOBLIN VALLEY]


MOAB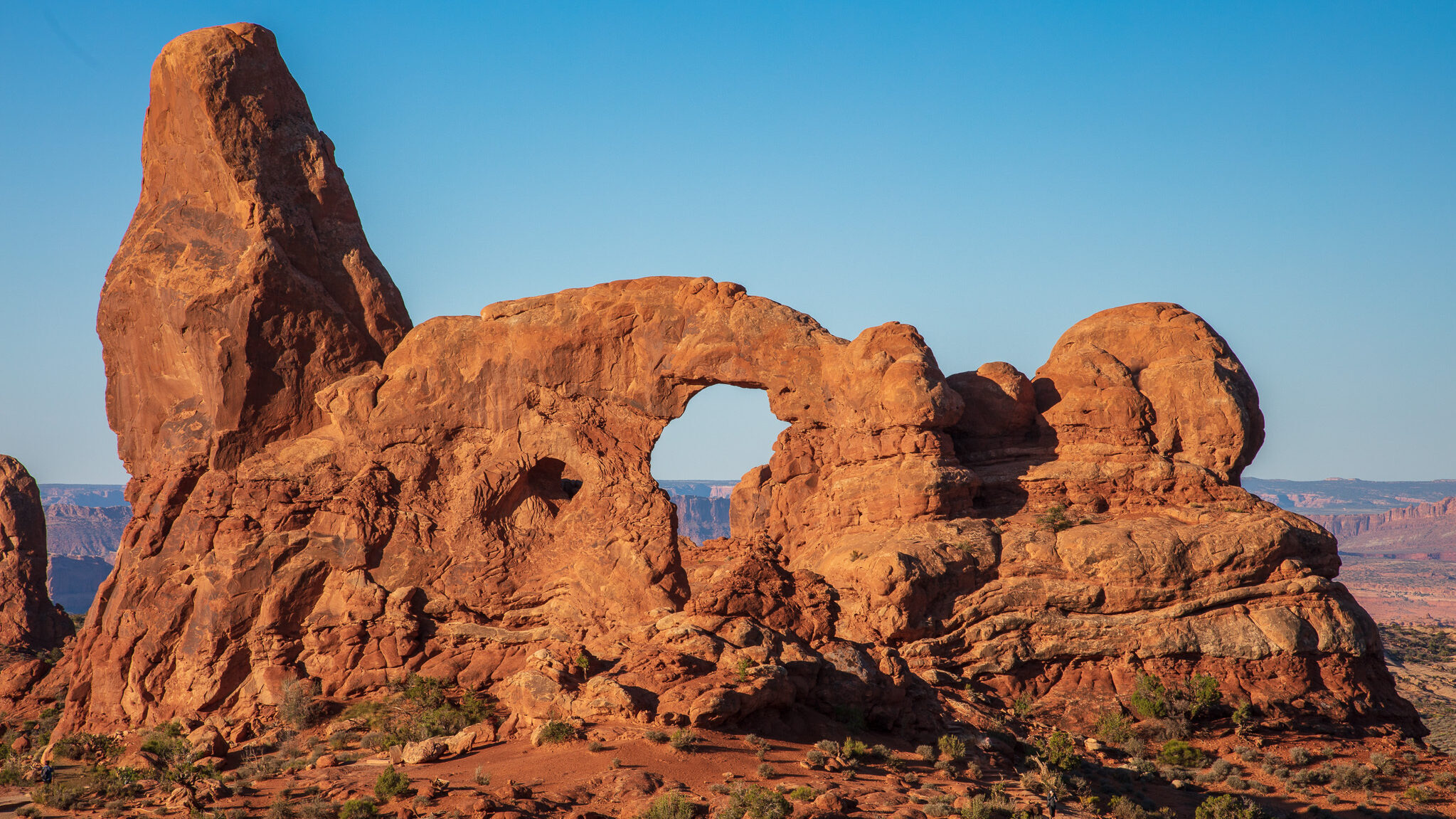 Eastern Utah is a much different place than Western Utah. The desert here is lower, drier, and flatter, creating a totally different landscape than where you were just hours earlier. Perhaps the most unique part of this region is a rare geological combination that creates natural arches. The red Navajo Sandstone has been carved out by intense temperature swings, constantly freezing and thawing, that eat away at grooves in the rock until they hollow out completely. Natural arches appear all around the world, but no where are they more common or more spectacular than Arches National Park. With our longtime partners at "Canyonlands by Night & Day," an extensive guided tour shows you many of the more than 2,000 arches plus other incredible features like Balanced Rock and Park Avenue. Arches is a great park for bus tours, with many sights available from the road, and several stops with short, flat walks to rewarding views.

It's a place like Arches that makes me feel like a child again. Not just because the huge rocks are an inviting playground, but because no matter how many times the geology is explained to me, I still can't believe a place like this can be real. It's bizarre and beautiful; something out of a sci-fi movie on a far away planet.
With 2 nights in Moab, there is extra time to explore this outdoor-oriented city, lined with shops and restaurants and teeming with ways to enjoy the red rocks all around. One of those ways is an optional hummer tour, a thrilling experience with professional drivers across the rocky terrain and alongside the Colorado River. Looking for a place to eat? You'll have no shortage of options but I love going back to local spots like Dewey's Restaurant or The Spoke on Main. And while I'm not much of a shopper, one of my favorite items brought home from any tour is a mini sandstone arch that you can find in all different shapes and sizes at many stores in downtown Moab.

[PICTURES FROM MOAB]

NAVAJO NATION
Now heading south on this grand loop back towards Arizona, you first pass through a different nation. This is the nation of the Navajo and the Hopi, Native American tribes that have called the lands of the Southwest home for thousands of years. The land is vast with population centers being few and far between. Geologic structures like Mexican Hat dot the landscape, and you drive down roads pulled straight from movie scenes in Monument Valley.

One prominent resident of Navajo Nation has been kind enough to visit with our groups on many recent tours. Peter MacDonald is a 95 year old World War II veteran that participated in the famous Code Talkers program. This code used the native Navajo language as the building blocks for key communication behind enemy lines. It was so reliable it is said to be the only code not broken by the Japanese. He shares his incredible life story and the story of his fellow Navajo Code Talkers in the Pacific War. Even at 95, MacDonald's mind and speech are sharp, but his ability to participate in our tours is determined by his health and capabilities moving forward. We hope that our guests are able to take part in this special experience for years to come.

[PICTURES FROM NAVAJO NATION]

PHOENIX
After an action packed tour, the loop around Arizona and Utah is complete with a return to Southwest's capital city, Phoenix. The natural thing for anyone to do upon completion of such a trip is to reflect. It's simply hard to comprehend all the things you've seen and done, from hoodoos to canyons, from National Parks to Indian Nations. Each time I lead this tour I ask my travelers to take a vote at the end of the tour for their favorite stop, and what I've found are two wonderful pieces of information:
There is no common favorite throughout the group. Answers are spread out evenly, truly highlighting how diverse this tour is and how each location touches people in a different way.
The answer someone gives is almost always different than the reason they took the tour to begin with. Something amazed them that they weren't expecting, and perhaps they never even knew existed.
A tour with highlights everyday in a part of the world that never stops amazing me. This is one you'll never forget.
---
Caleb Lawson is the Operations Manager for Sunrise Tours, as well as a Tour Director for both Sunrise and Country Travel Discoveries. All photos by Caleb Lawson.
Back to Blog