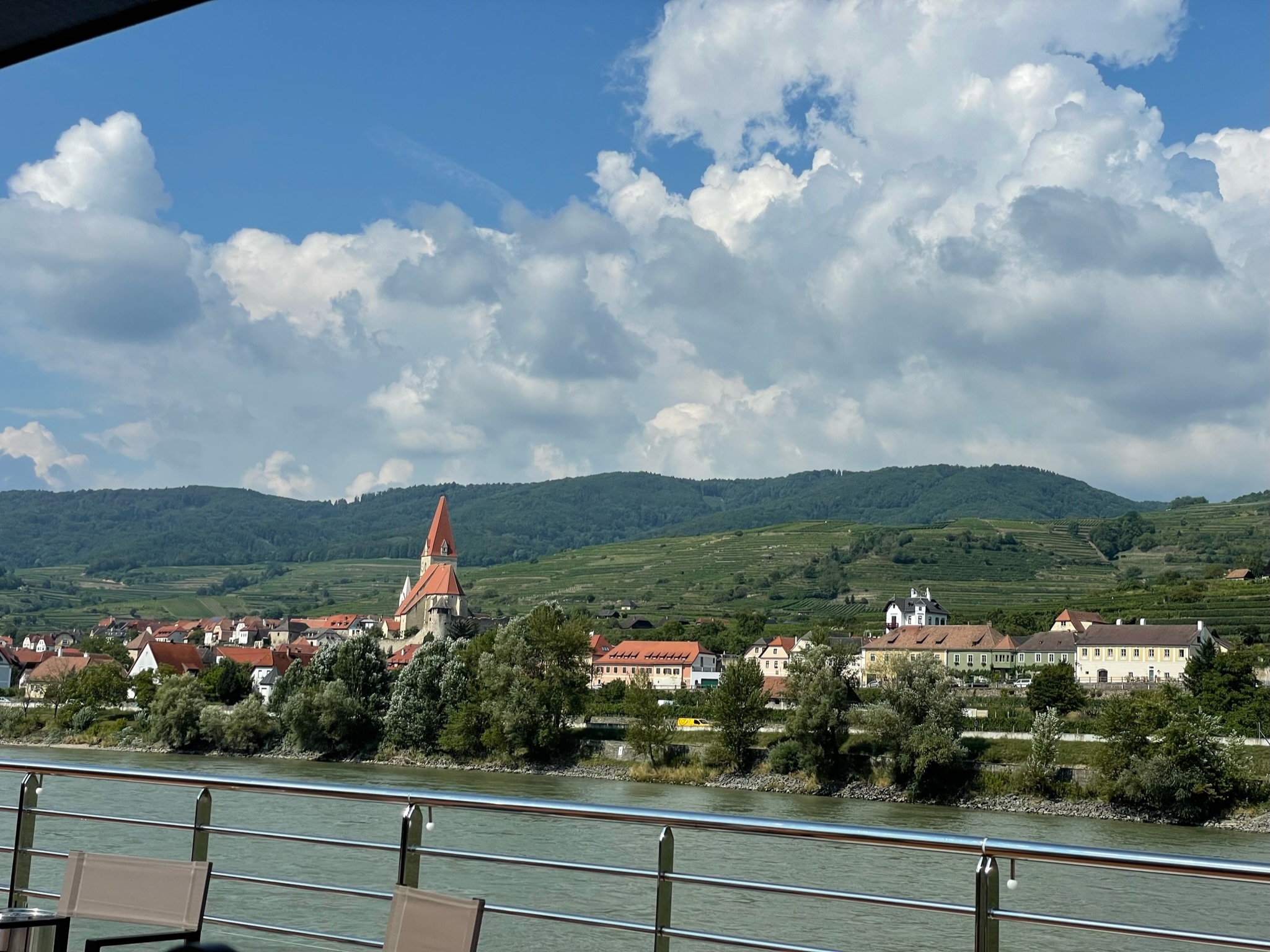 ---
On Board the Danube River Cruise
October 9, 2024
Hear from Emma Collins, Sunrise Tours Reservation Specialist, as she shares fun moments and exclusive tips from her time on the Magical Danube Cruise!
What a special treat it was to join our travelers on the Danube River Cruise! I enjoyed meeting and mingling with the fantastic travelers that take our tours, whether it was their first tour or their 10th tour. We had amazing accommodations aboard the MS Amadeus Cara where you could tell they cared about their passengers. It was so helpful to get a feel aboard the ship and the excursions to better answer some of those burning questions that I get over the phone each day. So, with this new knowledge, here are some of our most commonly asked questions about the River Cruises we offer:
What's the difference between cabin types?
On the Amadeus cruise lines, the decks are split between the Mozart, Strauss, and Haydn. The Mozart suites include a small balcony and larger sitting area. The remaining Mozart cabins and Strauss cabins have a panoramic window that slides down about halfway, and the Haydn cabins have smaller windows that sit just above water level. The room was comfortable, well designed, and we were even on a first name basis with our steward who came and checked our room about twice a day. (While we may not always cruise with Amadeus, we do make sure to offer a similar variety of rooms to choose from on all of our offerings.)
What are mealtimes like?
The food aboard the Amadeus Cara was top-notch. The breakfast buffet was always well-stocked and a chef was preparing made-to-order items right in the dining room that changed each day, from crepes to waffles and more. I couldn't resist the mini chocolate croissants among all the baked goods. Lunch was always available to order in the dining room, or you could enjoy a lighter lunch in the lounge at the buffet. Dinner was a 3-4 course meal that offered a variety of choices for even the pickiest eater (like my husband), followed by evening entertainment. It was always free-seating and casual dress code, aside from dinner that was a bit more formal so "resort-casual" is suggested. The staff were always quick to make sure you had everything you needed, no matter what time of day!
How do excursions work? Do I have to go on all of them?
The great thing about river cruises is the flexibility! There were about two guided excursions per day, one in the morning and one in the afternoon as listed in the itinerary. We were split into groups and assigned a color so we knew which guide to follow and coach to board. You were more than welcome to stay and relax on the ship or go out and choose your own adventure. With such a rich history in that part of the world, the excursions were always amazing and led by warm local guides. My husband and I especially loved Vienna (Tip: Vienna, and most of Europe for that matter, are very biker-friendly, so if you are able, definitely take advantage of the bicycles on board with an afternoon bike ride along the river or even into the city centers, it was so easy!) International tours usually involve a lot of walking and this tour was no exception, (we logged 3+ miles per day including stairs, hills, etc.) but it was certainly worth it to see the sights along the Danube!
All in all, the Danube River Cruise truly was magical. Do not pass up an opportunity to take a river cruise because it is a vacation unlike any other! If you happen to have any other questions about the river cruises we offer or any of our other tours, please don't hesitate to call us! I'd be happy to help. 
---
Emma Collins is a Reservations specialist for Sunrise Tours. For more about Sunrise Tours, click here. 
Back to Blog