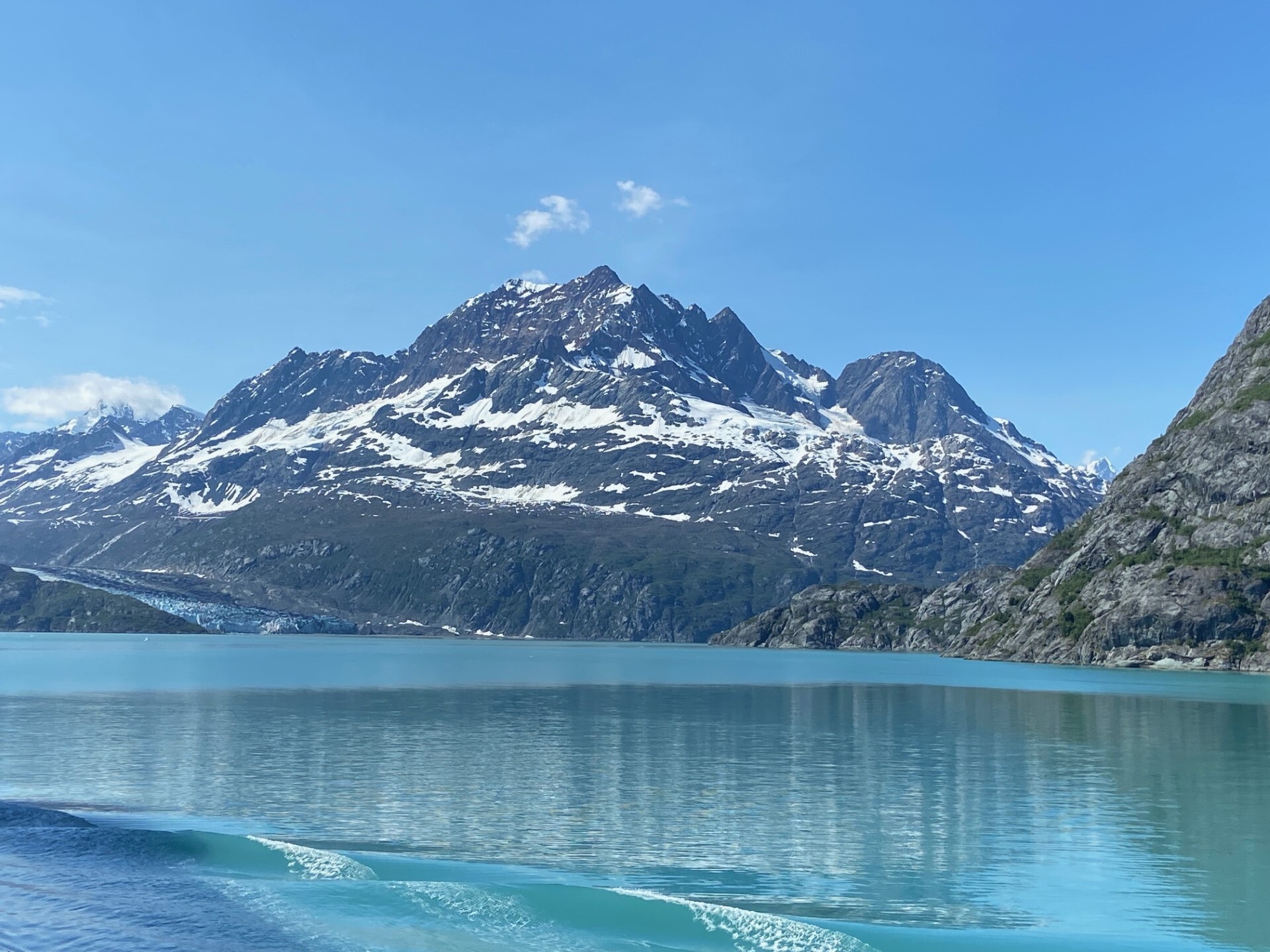 ---
Staff On Tour: Best of Alaska
August 4, 2023
Follow along with Margie as she tells of her thrilling journey through Alaska:
Since the U.S. purchased Alaska in March of 1867, the state has drawn visitors for a multitude of reasons: to seek their fortunes in gold (or oil and minerals), for hunting and fishing, for the wildlife, for extreme adventuring (like conquering Denali) or just to marvel at the breathtaking scenery and mountain views. In July 2023, I was fortunate enough to experience some of the incredible offerings of the state of Alaska.
Our first adventure was the Portage Glacier Cruise, a serene Portage Lake cruise in the Chugach National Forest, to see the magnificent Portage Glacier up close. There are pieces of ice floating in the lake from the glacier calving in the past, and the staff brought a large piece onboard to allow us to taste the pure ice from the glacier as we marveled at the beautiful glacier in front of us!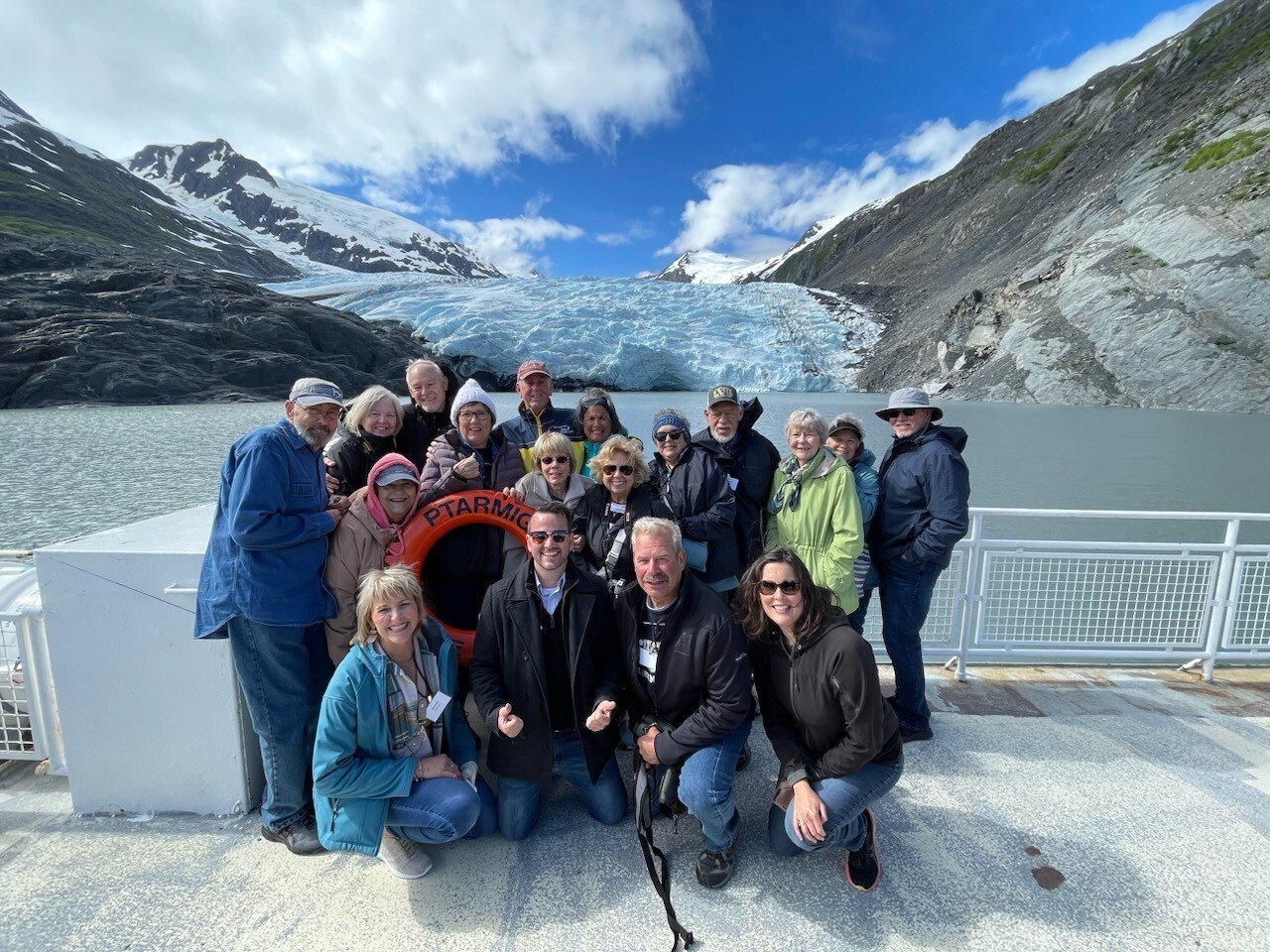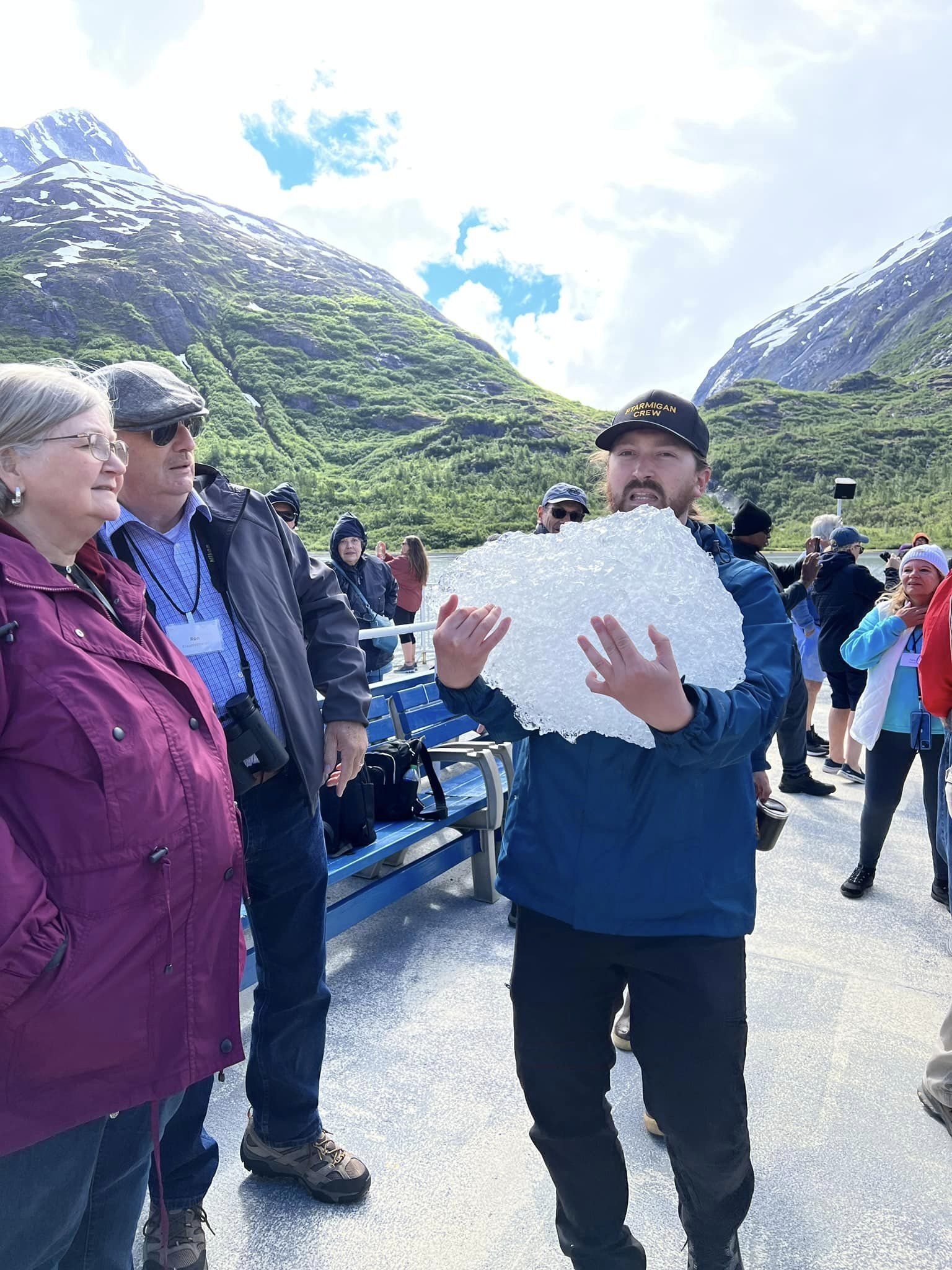 Next, we were off to the Alaska Wildlife Conservation Center, a non-profit organization that cares for orphaned and injured animals and educates visitors about Alaska's wildlife. In a very natural, up-close setting, we saw bears, musk ox, bison, moose, wolves, caribou (reindeer), and many more. A fascinating photo opportunity! Our journey also included a visit to the Happy Trails Kennels to learn about the Iditarod and the history of sled dog racing in Alaska. After a demonstration of their racing skills, petting the puppies was a must!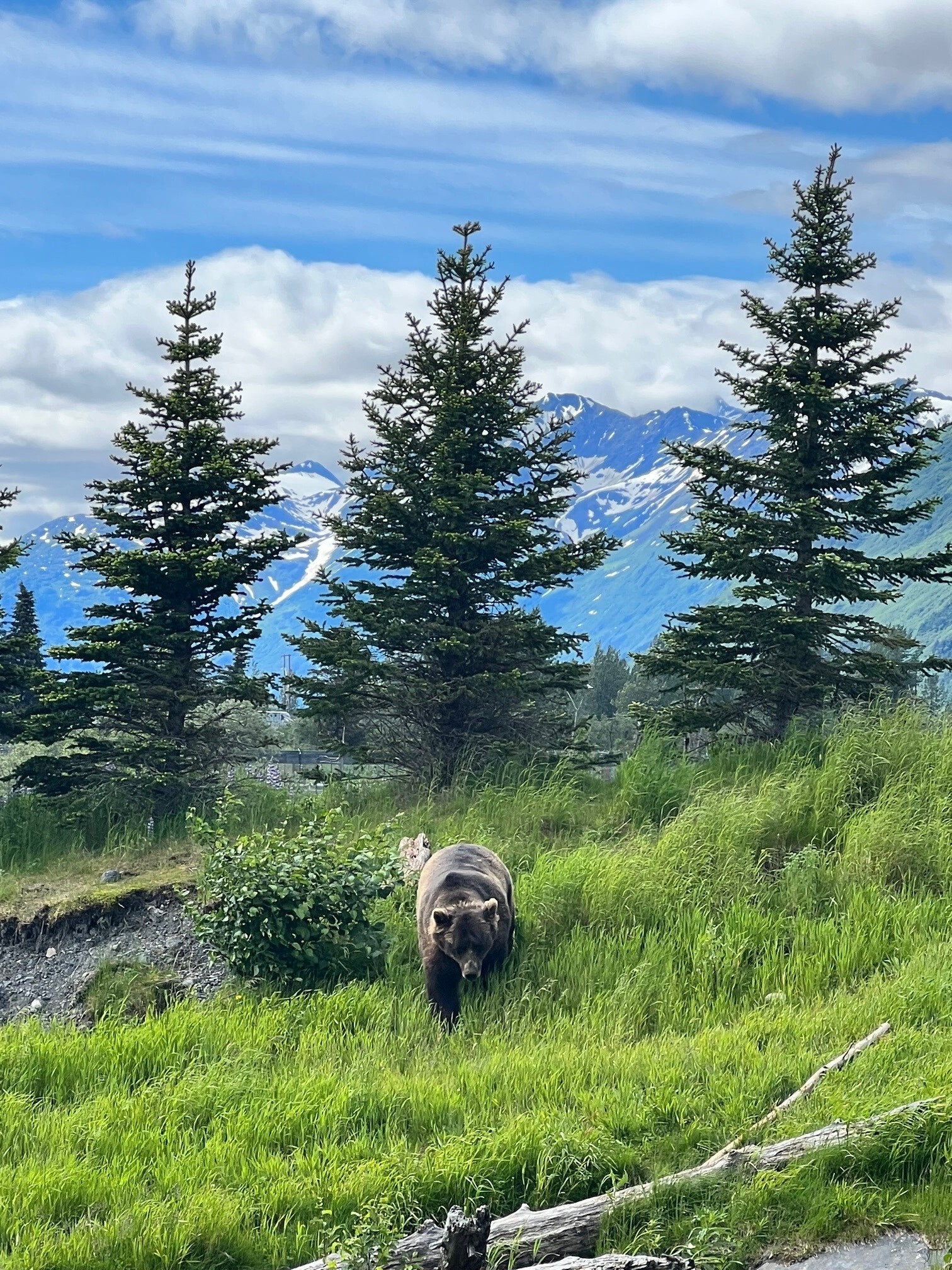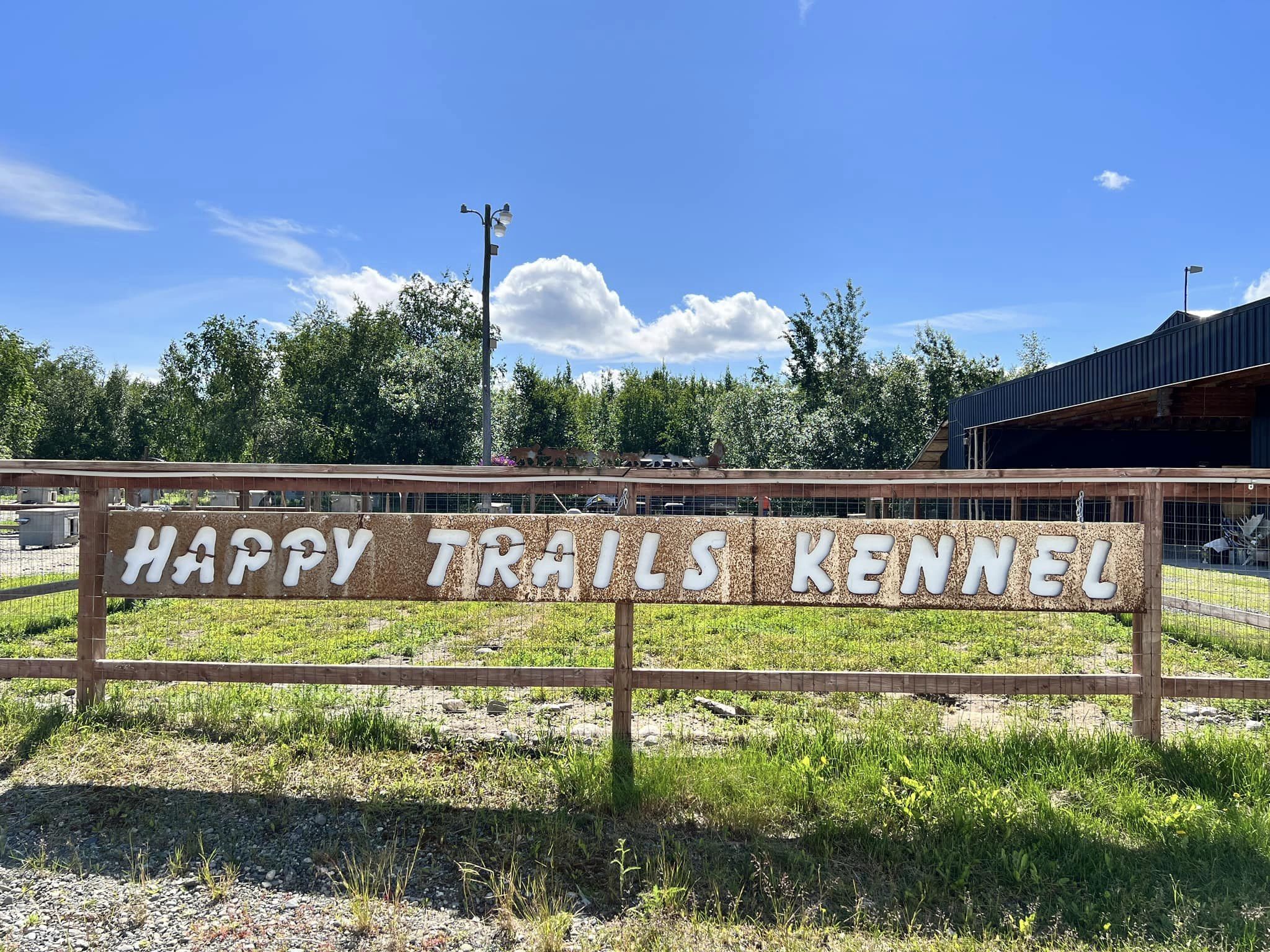 Denali National Park and Preserve (formerly Mt. McKinley National Park) was one of the highlights of this trip. The mountain itself (the highest in North America at 20,310') has drawn adventurers seeking to scale the summit since it was first conquered in 1913. It sits a scant 200 miles below the Arctic Circle and has been described as "the coldest mountain in the world" with record temperatures of -60°F. Our hotel for the first night in this area, the Mt. McKinley Princess Wilderness Lodge, had an outdoor deck with an amazing view of Denali. Only a lucky 30% of visitors to Denali will see the whole mountain, as it is often shrouded in clouds. Lucky for us, our group was in that incredible 30% of visitors, and the mountain did not disappoint – it was glorious!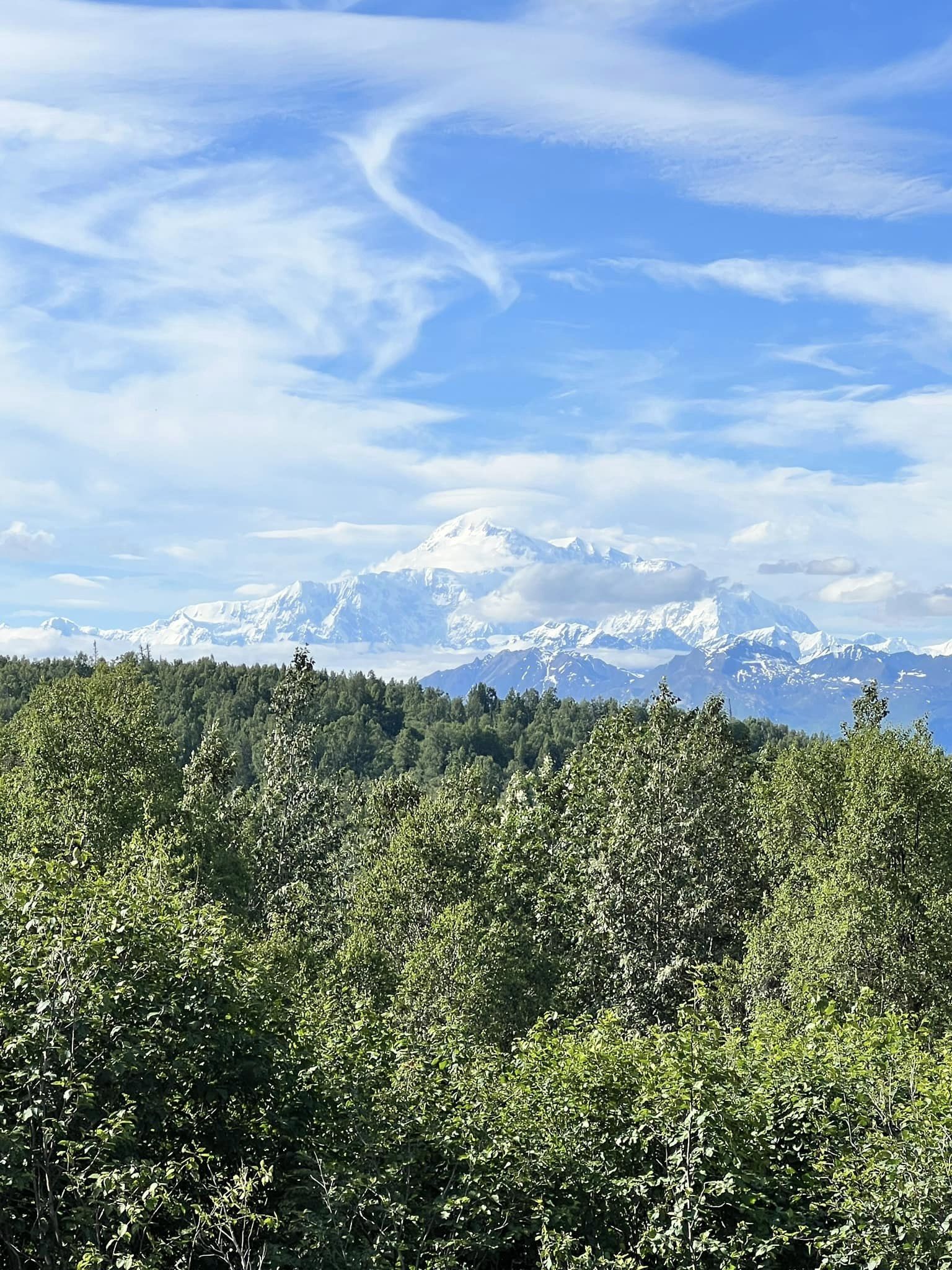 The next day, after an interesting visit to the Kahiltna Birchworks to taste some freshly made Alaskan birch syrup, we embarked on the first of two wonderful train rides on this trip. We enjoyed a leisurely lunch in the dining car while admiring the wonderful scenery on our way to the entrance of Denali National Park and an in-depth tour of the park and its wildlife. Multiple optional excursions are available at Denali during your free time such as flightseeing, canyon wave tours, ATV rides, hiking, helicopter rides or a dinner and musical theatre presentation about the first explorers to reach the summit. Since the evening light lasts until midnight, there's plenty of time to explore!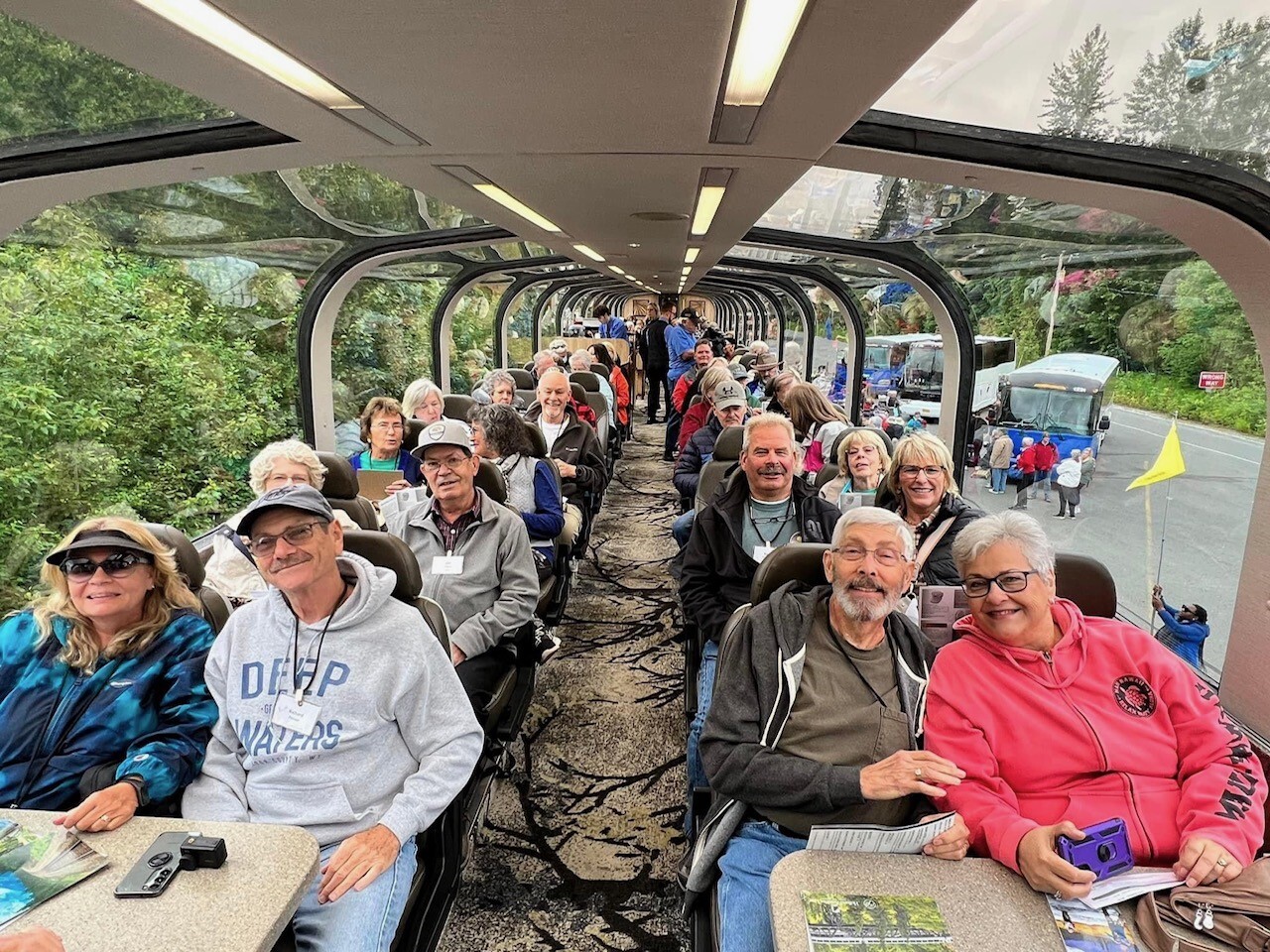 On the way to Fairbanks, we stopped to get up close and personal with the Alaskan Pipeline, then we headed for our cruise on the sternwheeler Riverboat Discovery. This was a wonderful opportunity to learn about the native Alaskan people and their heritage and lifestyle in a replica of an Athabascan Indian village. We learned how they survived and thrived for centuries in this harsh and challenging environment -- catching, smoking and drying salmon, and trapping for furs. Our evening included a fun theater presentation of songs, stories and highlights of life in Fairbanks, as well as a salmon bake!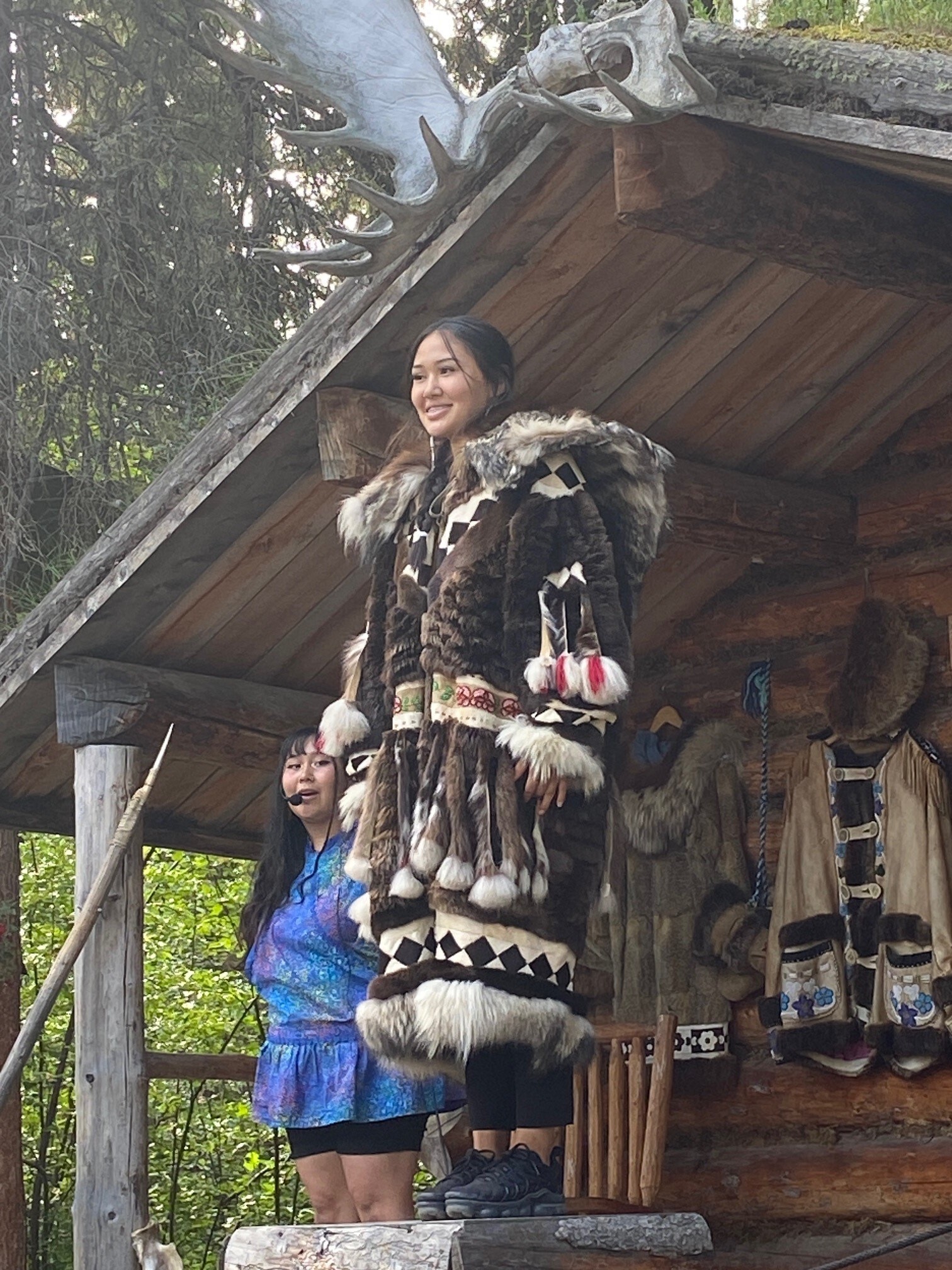 Fly from Fairbanks into Whitehorse, Canada's majestic Yukon Territory. You absolutely realize that you are in the wilderness here. Enjoy the evening in Whitehorse before experiencing more beautiful scenery outside Carcross, Yukon...emerald lakes and mountain passes on our drive to gold panning! I have a new respect for the gold rushers now, panning for gold is not as easy as it looks. It takes a lot of work to get just a few specks of gold, but once unveiled, it does give you a thrill to see the gold pieces in the bottom of your pan! In Skagway we enjoyed our second train ride, on the White Pass and Yukon Railroad–more gorgeous mountain views! Spend two nights in Skagway before boarding your ship, and enjoy some mountain hiking, or just some relaxing time shopping in the quaint little town.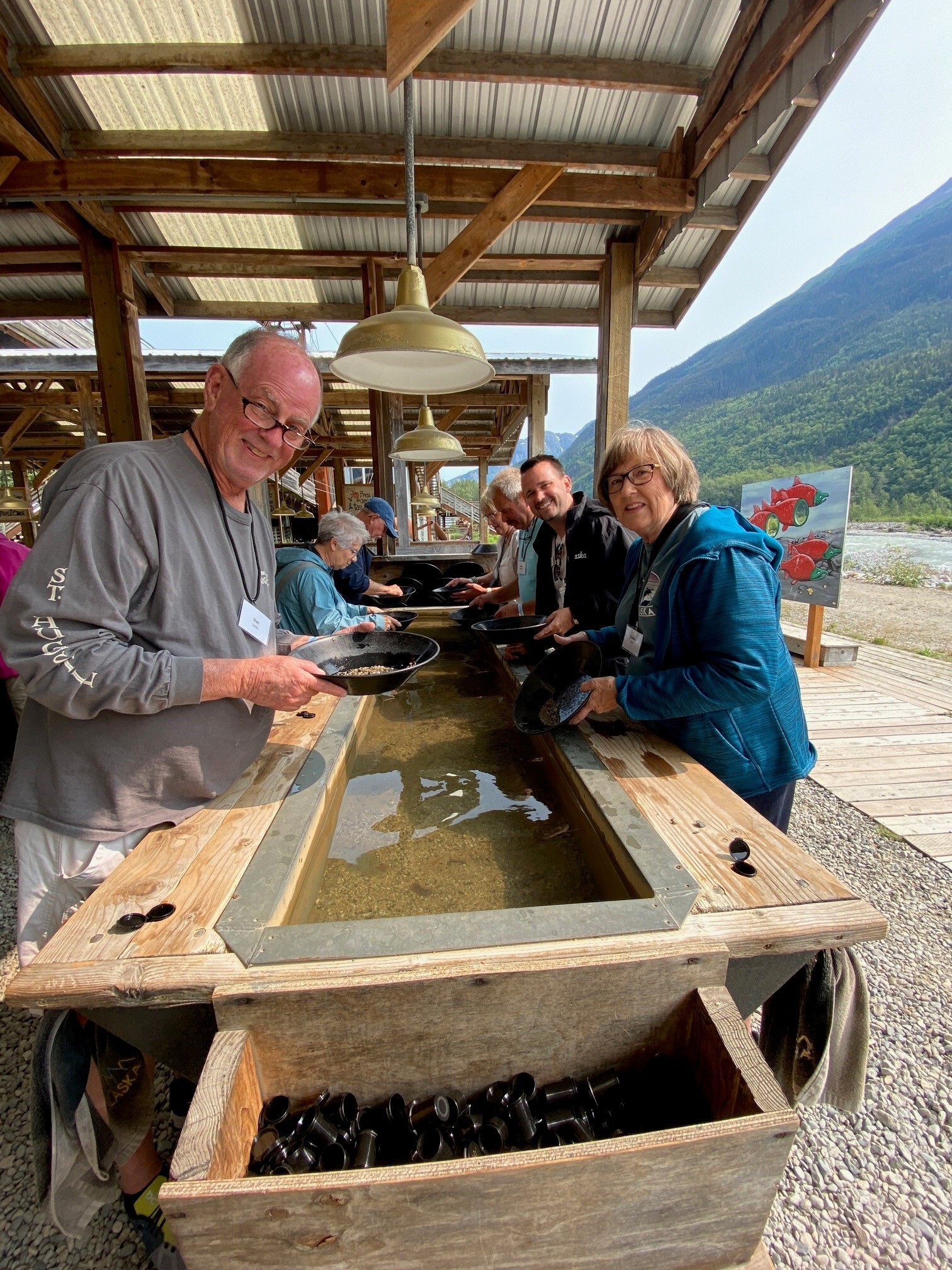 Ready for some relaxation, excellent food and an amazing time at sea? We were, so we were thrilled to settle in on the Volendam, our home for the next four nights–a beautiful ship, with a friendly and helpful crew. Cruising Glacier Bay National Park, with a park service ranger narrating onboard, is one of greatest cruising experiences to be had anywhere! We saw sea lions, sea otters, and at least the tail of a whale or two. Maybe you'll be lucky enough to see the whole whale!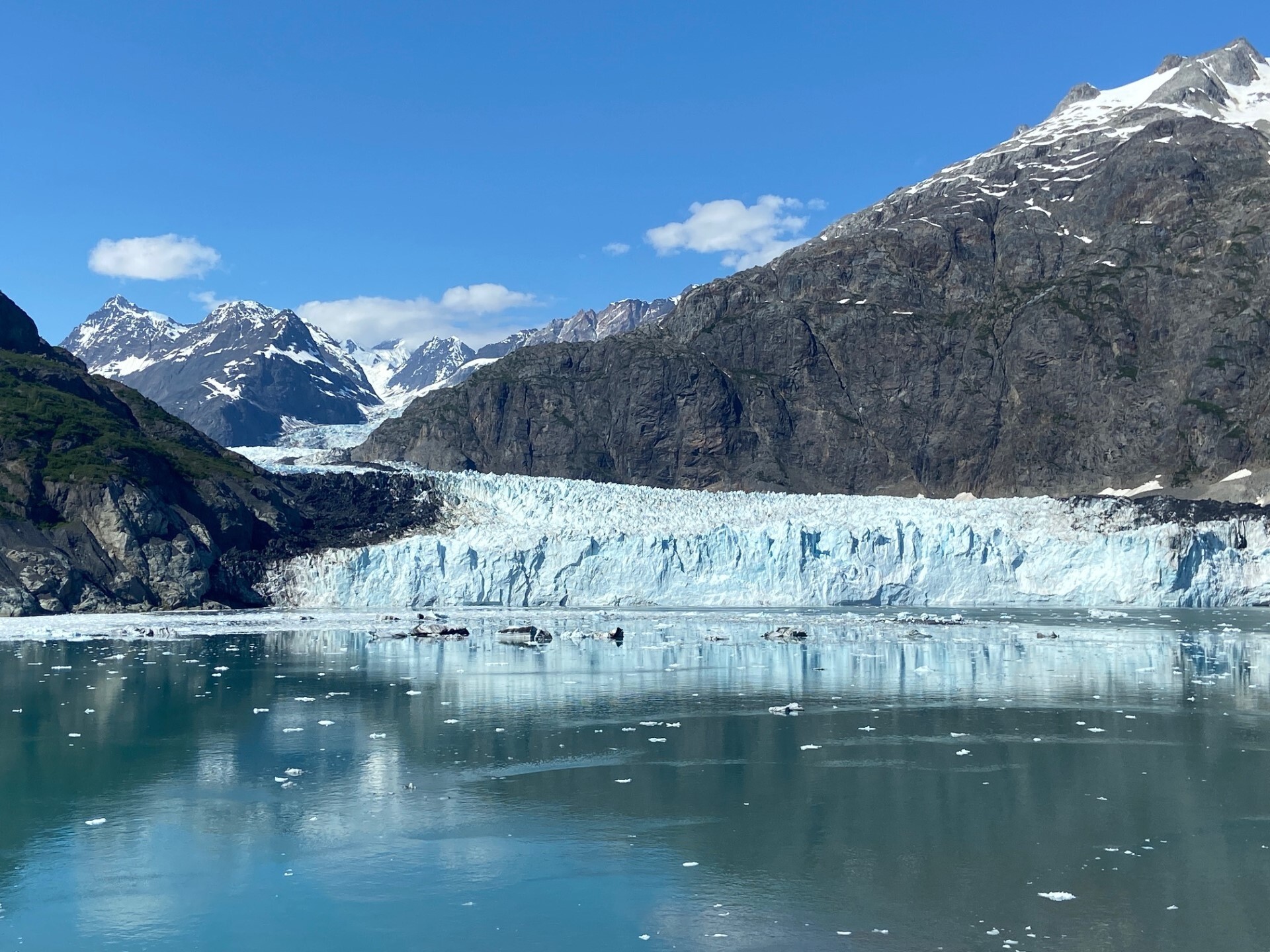 Our day in port at Ketchikan was spent doing some great shopping and an optional excursion to an outer island. Here, we roasted our own reindeer sausage hotdogs and s'mores over a wood fire while listening to some young Alaskan natives explain their culture and way of life. They are so proud of their ancestral way of life, but also currently attend college in Colorado. We enjoyed the boat ride and saw bald eagles and salmon jumping out of the water on the way to the island. Ketchikan is also known for its totem poles, so walk around and enjoy them!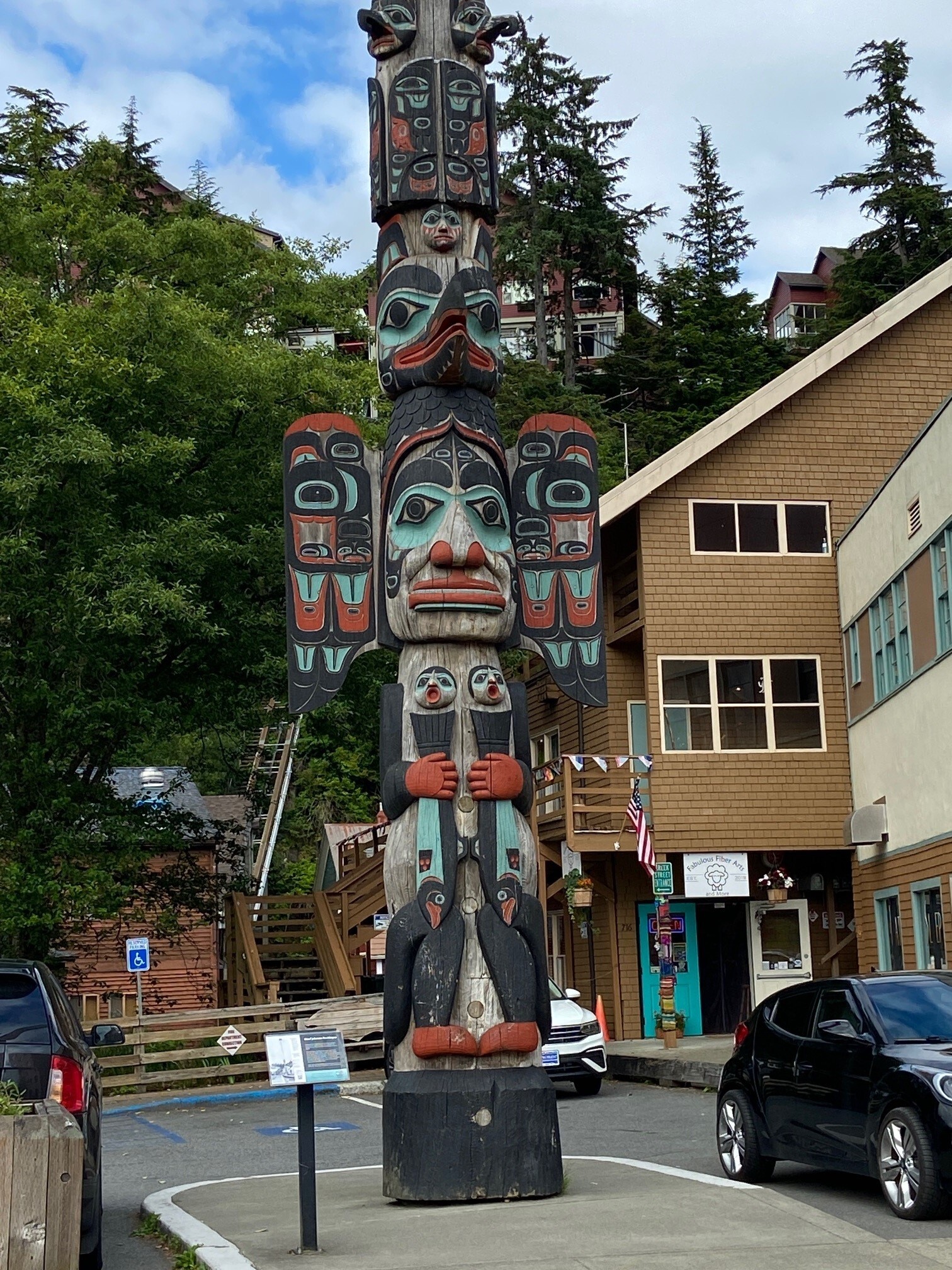 Spend your last day at sea admiring the views, playing bingo, exploring the shops or maybe doing a little gambling. And of course, the food, food, and more food! After dinner, enjoy some music in one of the many lounges, or take in the evening's entertainment with a live show in the World Theater. Just relax and reflect on the amazing experience you've had in our 49th state, one of the most beautiful places on earth!
Interested in our Best of Alaska Tour? Give us a call today to learn more, or visit us online at www.travelsunrise.com.
---
Margie Oldeg is a Reservations Specialist and Office Assistant at Sunrise Tours. For more about Sunrise Tours, click here.
Back to Blog