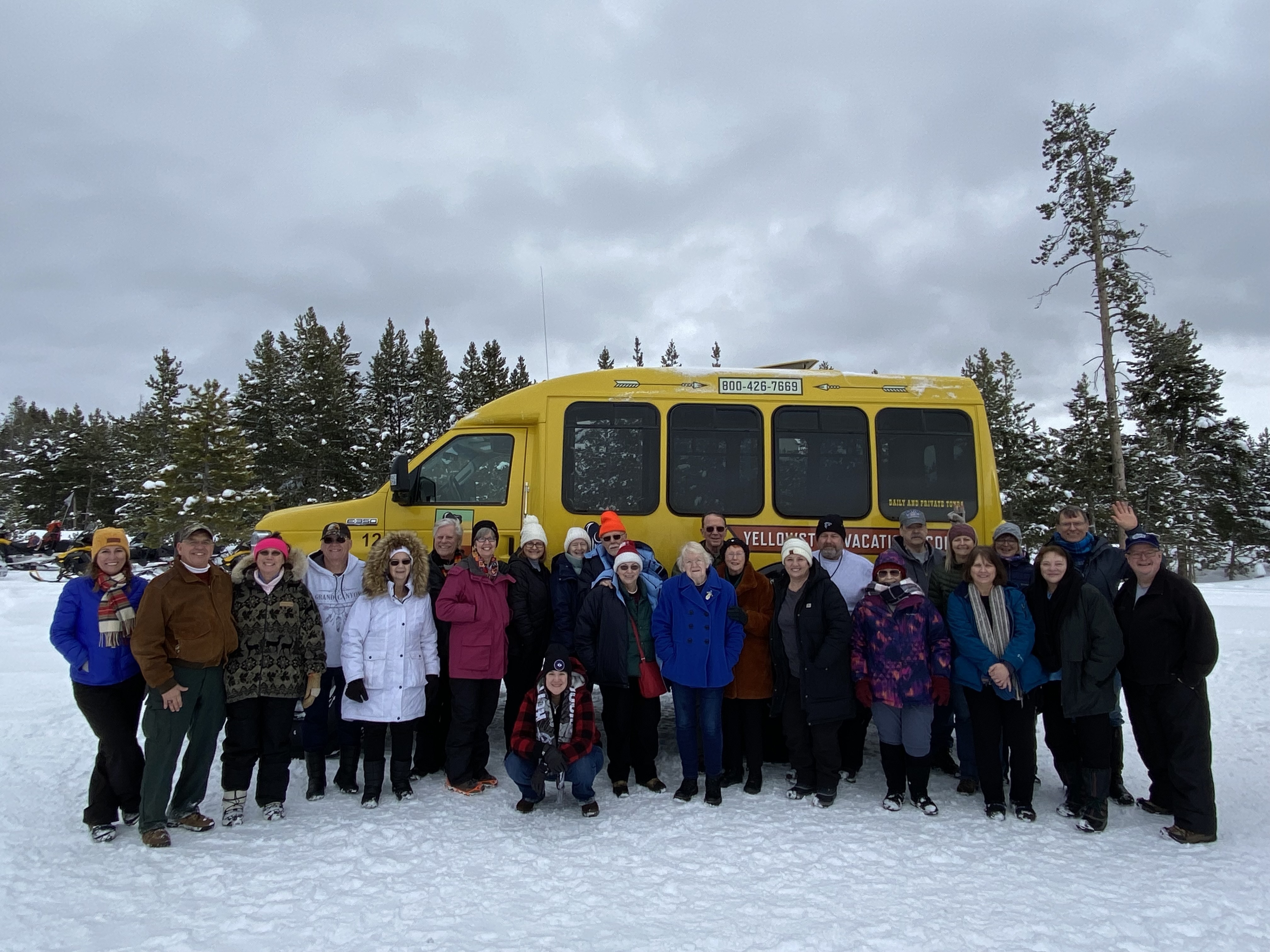 ---
Winter in Yellowstone: A Unique Experience in the First National Park
August 14, 2023
Check out Debbie's travels as Tour Director of our Winter in Yellowstone tour...she might just convince you to join her next year!
Yellowstone National Park was established in 1872 when President Ulysses S. Grant signed the Yellowstone National Park Protection Act into law, causing it to become the world's first national park. This remarkable park experiences winter seasons characterized by heavy snowfall, freezing temperatures, and a beautiful transformation of its diverse landscapes, creating a serene winter wonderland that attracts fewer tourists compared to the bustling summer months! Fewer tourists mean an intimate experience with the park's geothermal features, snow-covered forests, and abundant wildlife.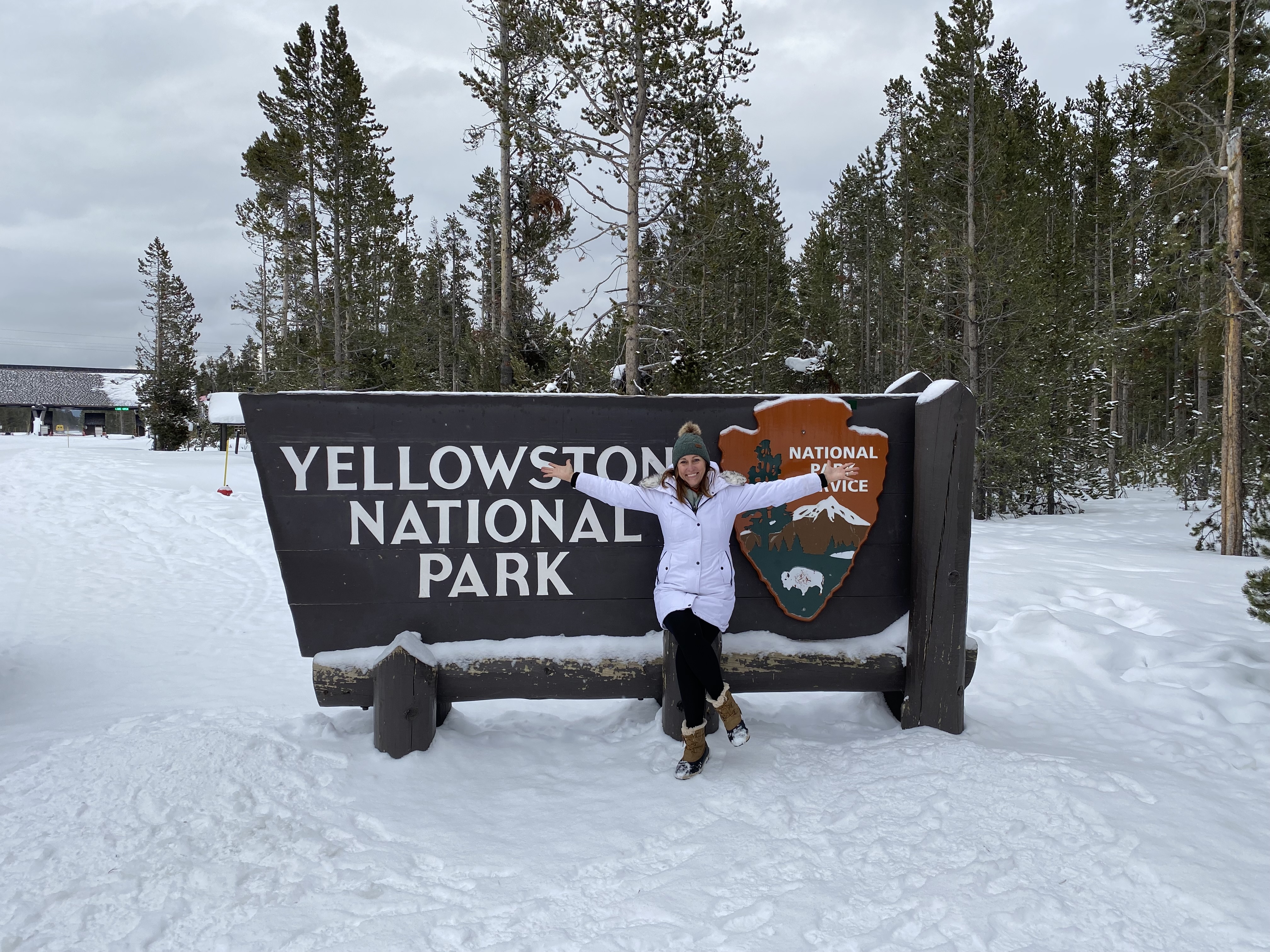 As a nature enthusiast, I was offered the opportunity to direct a winter tour to Yellowstone National Park and I said "YES" immediately. I had heard that Yellowstone National Park, a land of geothermal wonders and rugged wilderness, transforms into a magical world during winter. Everything I had heard was confirmed as promotion photos came to life right before my eyes! I was in awe of the breathtaking combination of fire and ice, geysers shooting steaming water into frigid air creating surreal mists, and hot springs glowing against the pure white snow.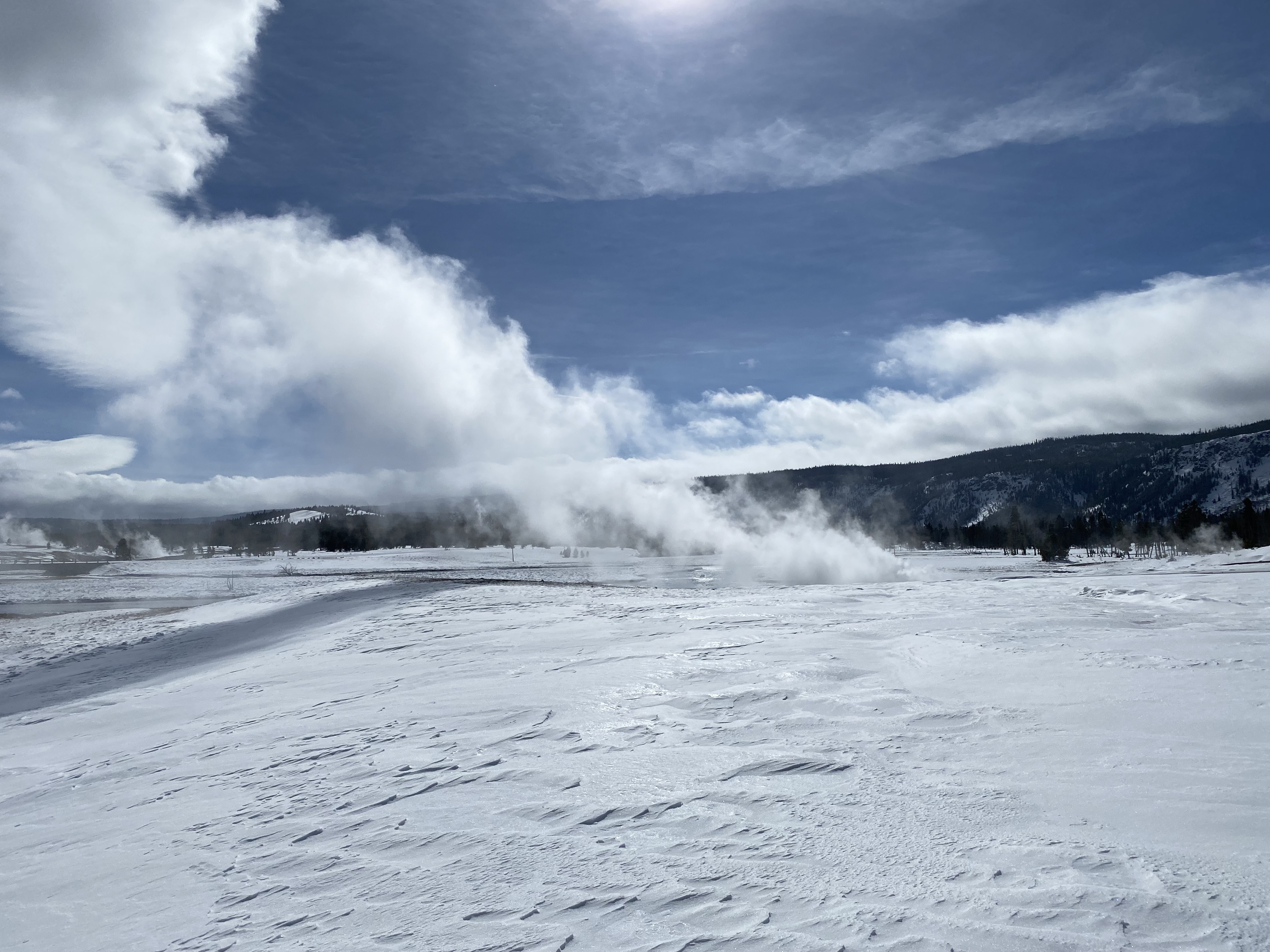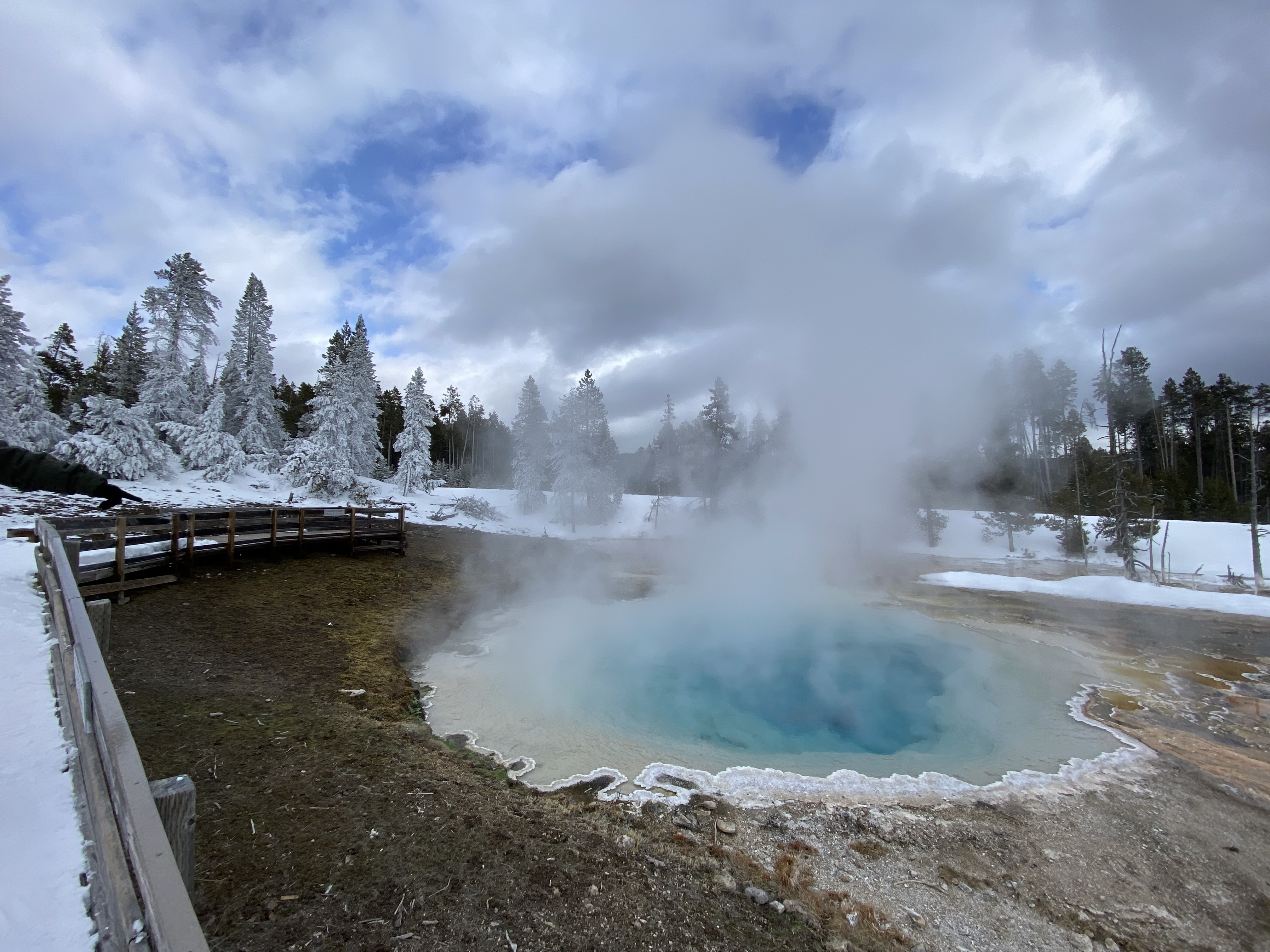 With my Yaktrax packed (traction cleats which make walking on snow and ice safer), we fly into Bozeman's charming mountain-themed airport which sets the scene for the upcoming tour. Boarding a deluxe motorcoach, we head south to West Yellowstone through the stunning Gallatin Canyon where the Gallatin Range and River unfold into a picturesque scene hugging the highway. The animals pop off of the glistening snow; it has always been exciting to find moose and pronghorn sheep foraging for food! Along the way, we visit a national historic site, Elkhorn Dude Ranch, for a sleigh ride pulled by Percheron horses through their winter wonderland of lodge pole pines before gathering for a homestyle meal in the ranch house.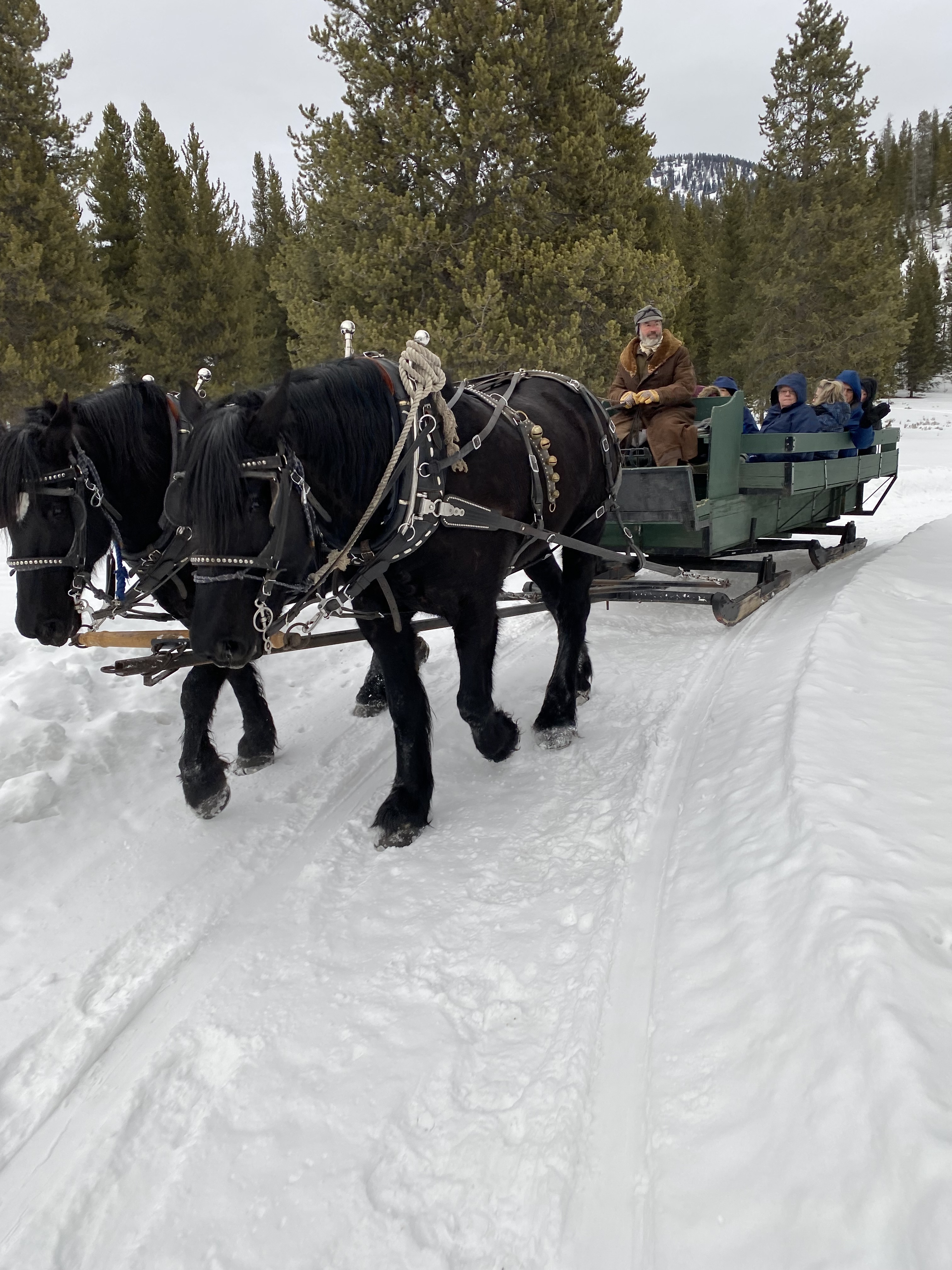 One of the many benefits of a group tour is that the itinerary features unique experiences. Our VIP full-day guided tour of Yellowstone's lower loop aboard our private heated snow coaches is truly magical! Our experienced guides are local experts who prefer Yellowstone to the city life, and it is fascinating to embrace their breadth of knowledge all day long. The roads are groomed each night, so embarking on our heated coach which glides effortlessly through snow-covered meadows and dense forests is unforgettable! 
As we learn about YNP's history, geology, and horticulture, our guides are in constant contact with one another sharing wildlife spottings so that no one misses an animal sighting. The numerous bison are easy to spot and often times walk right alongside of our heated coach, making for unforgettable photos and videos! The wildlife literally pop into view against the glistening snow. It is amazing that year after year we have spotted flying osprey, numerous eagles, moose, elk, pronghorn sheep, red dogs, trumpeter swans, a blue heron, and last year we spotted a river otter being filmed by a National Geographic photographer!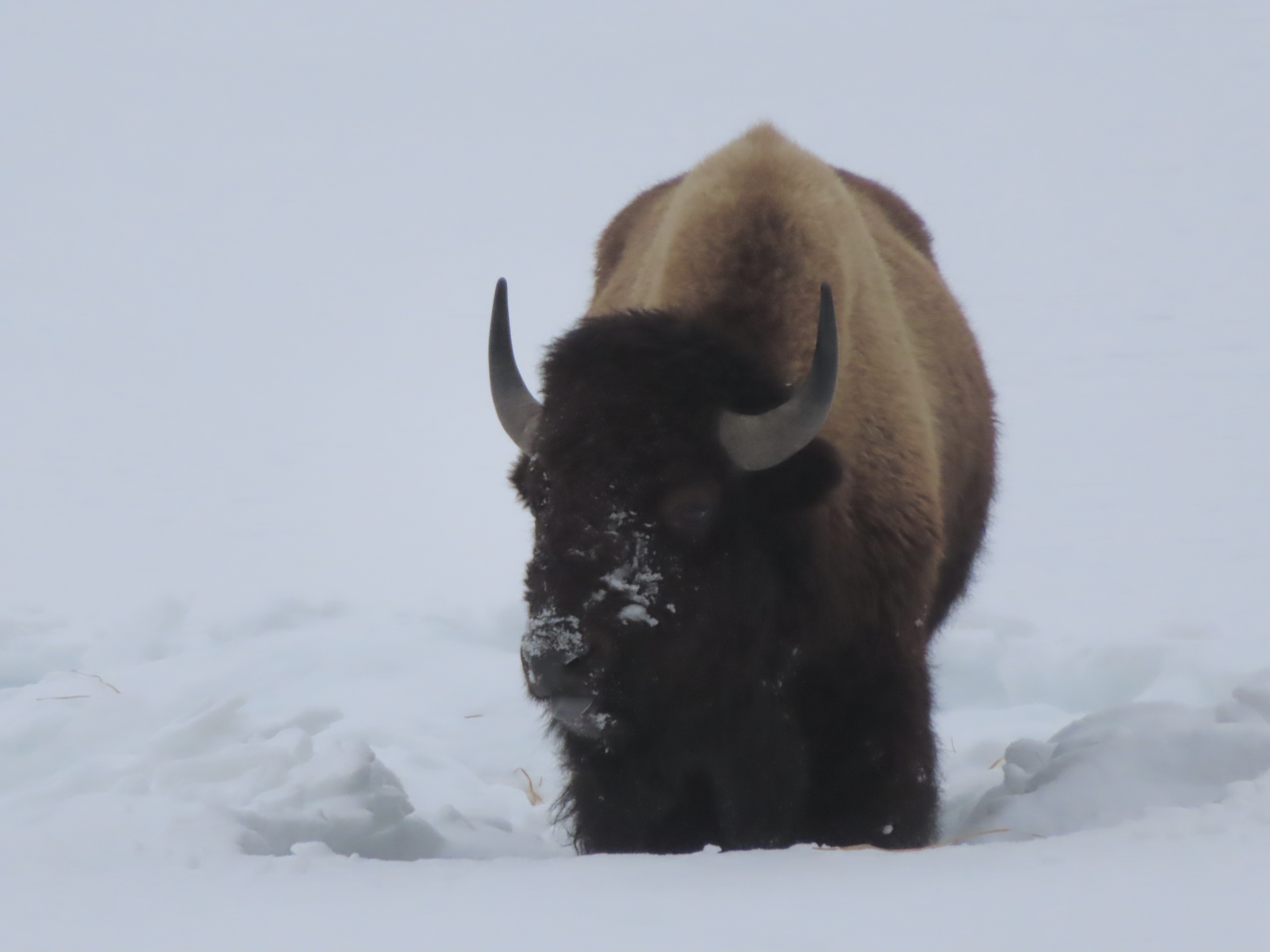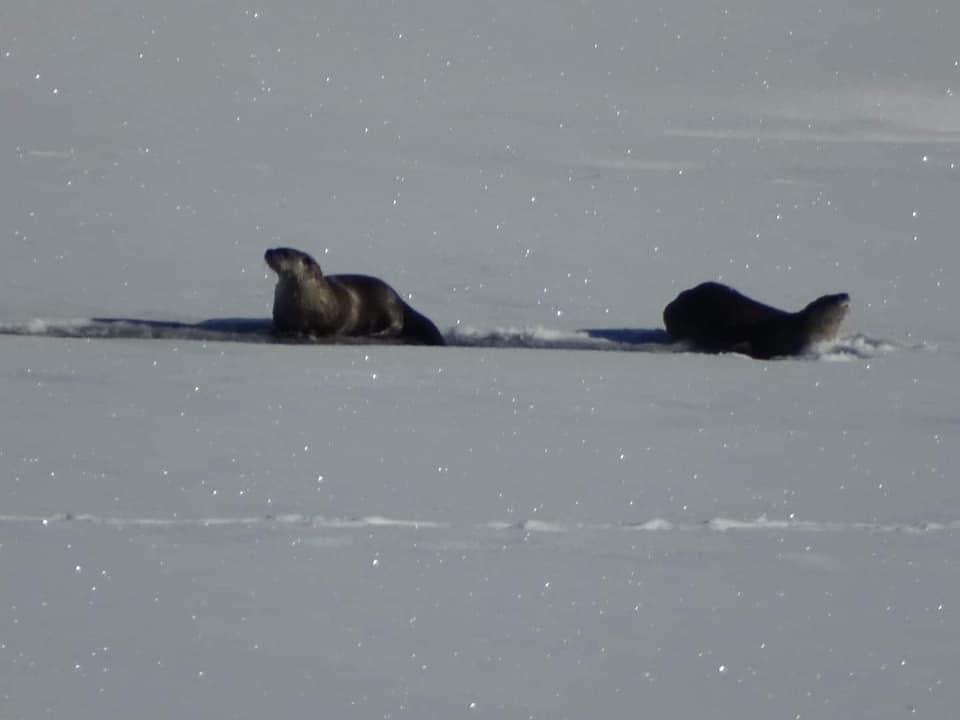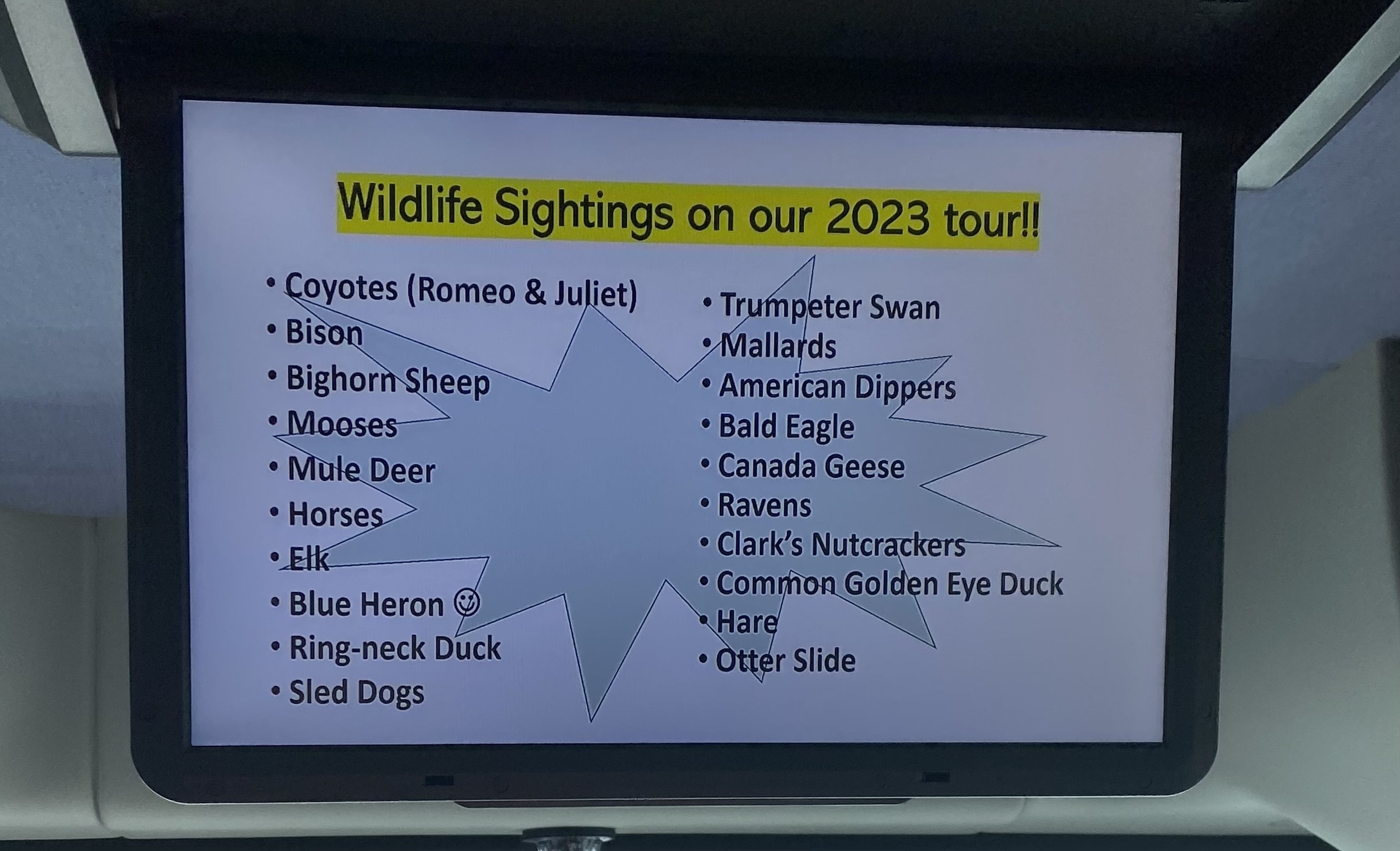 We stop to see many geysers in the caldera erupting with ferocity then dissolving into mist in the icy air. Grand Prismatic Spring with its vibrant colors piercing through the snow was a contrast that took my breath away. Fountain Paint pots, Firehole Falls and Black Sand Basin were picture perfect. At Old Faithful Visitor Center, we always get to see Old Faithful erupt since our guides ensure we are there on time. Another benefit of a winter visit is that you are literally front row at an Old Faithful eruption without the crowds to block your view!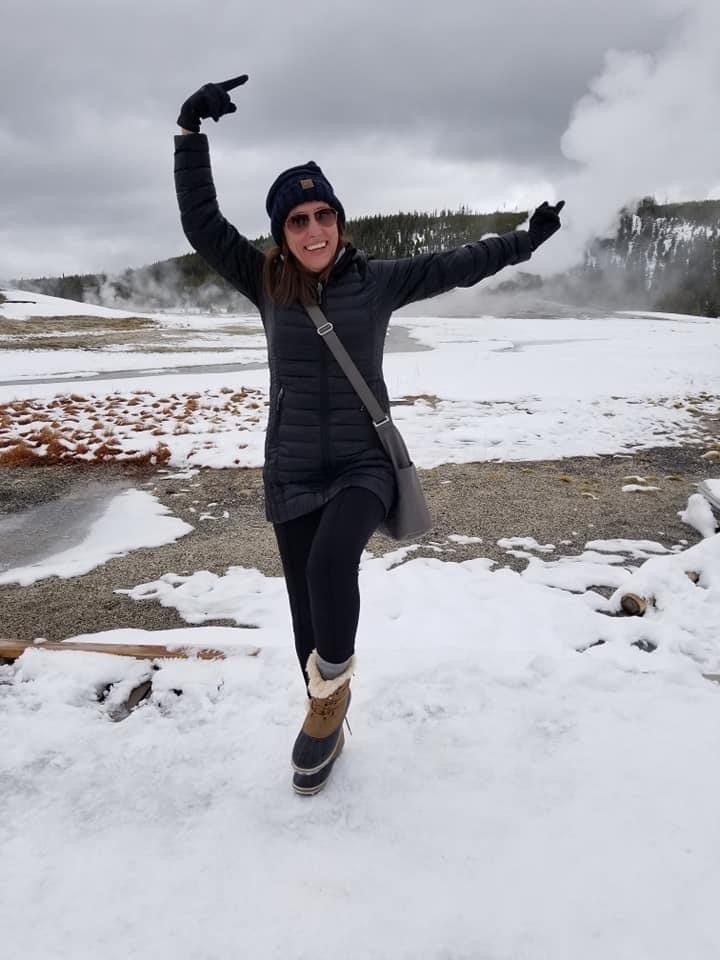 This tour includes a free day which becomes a highlight for many guests since they have the choice to embark on snowmobiles, guided snowcoach tours to Canyon, snow shoeing or visiting the Grizzly and Wolf Discovery Center wildlife park (all on your own expense). 
A couple nights north of YNP allows us to strategically explore Lamar Valley. In 1903, Roosevelt embarked on a tour of the American West, which included a visit to Yellowstone National Park. He spent several weeks exploring, and during this trip, he famously laid the cornerstone for the Roosevelt Arch, the north entrance to the park. The arch bears an inscription: "For the Benefit and Enjoyment of the People." Lamar Valley offers the tranquility and beauty of the northern section of the park which includes wildlife spottings of grey wolves (reintroduced to the park in 1995), antelope, moose sightings, as well as an exploration of the incredible terraces and thermal pools of Mammoth Hot Springs!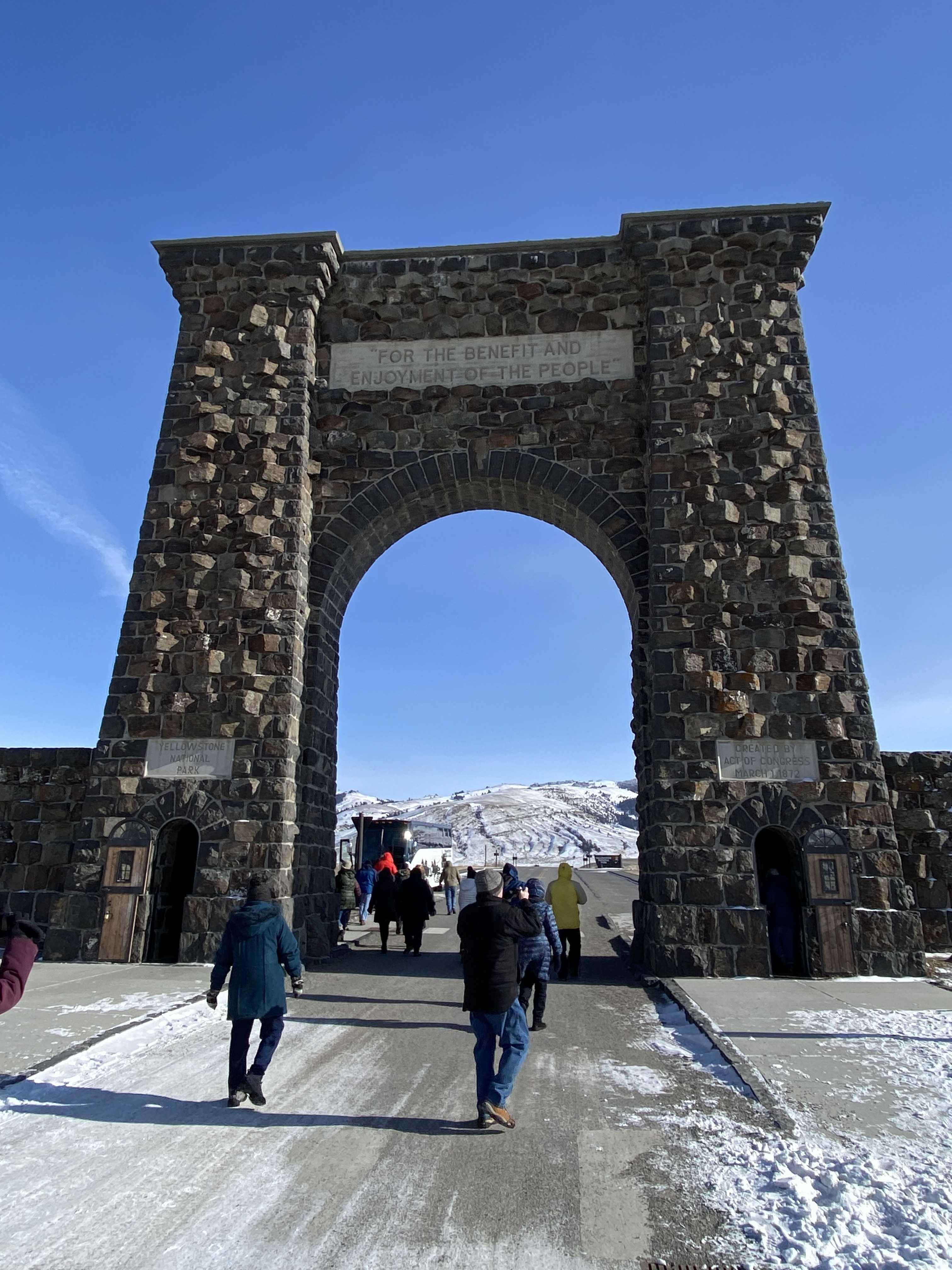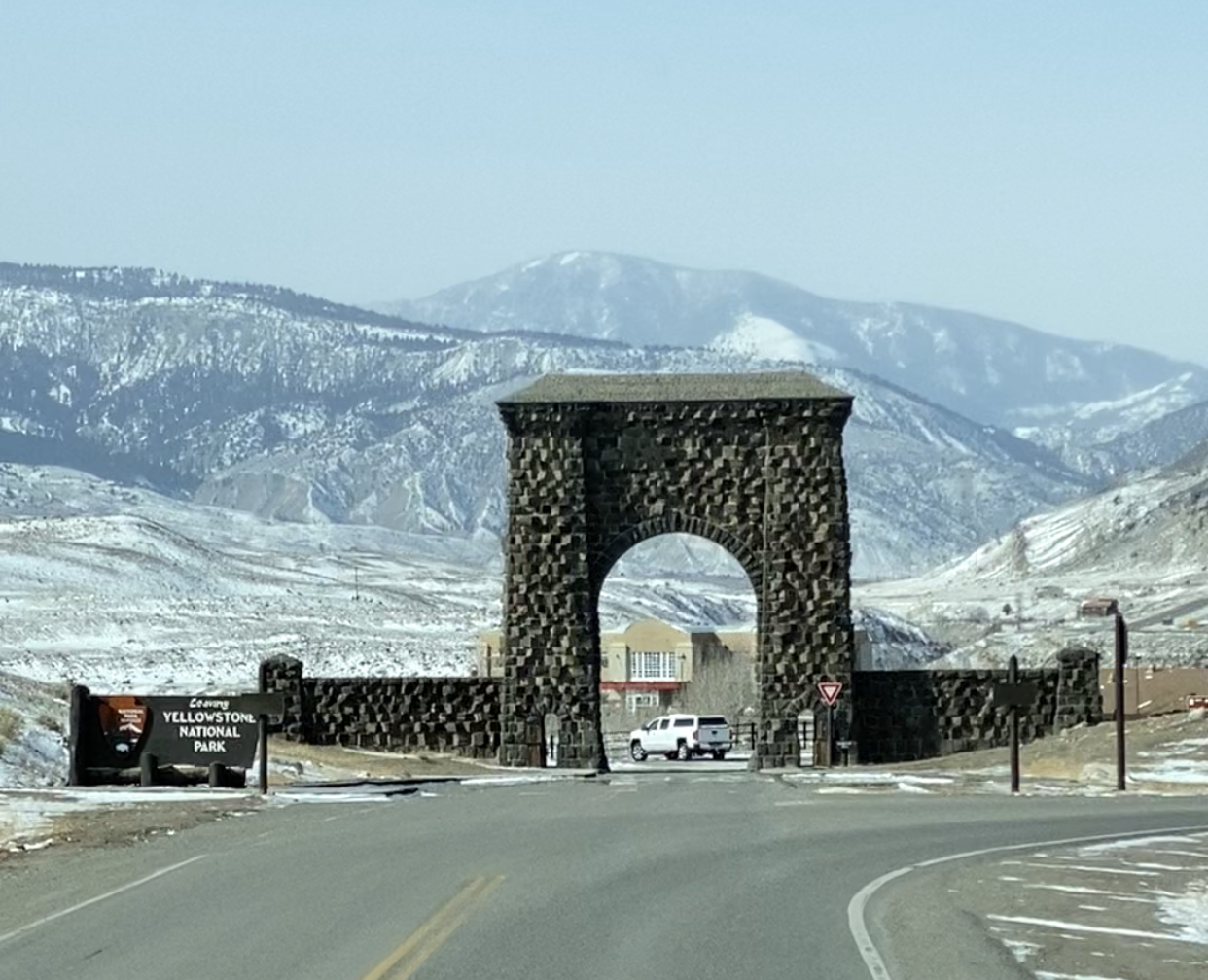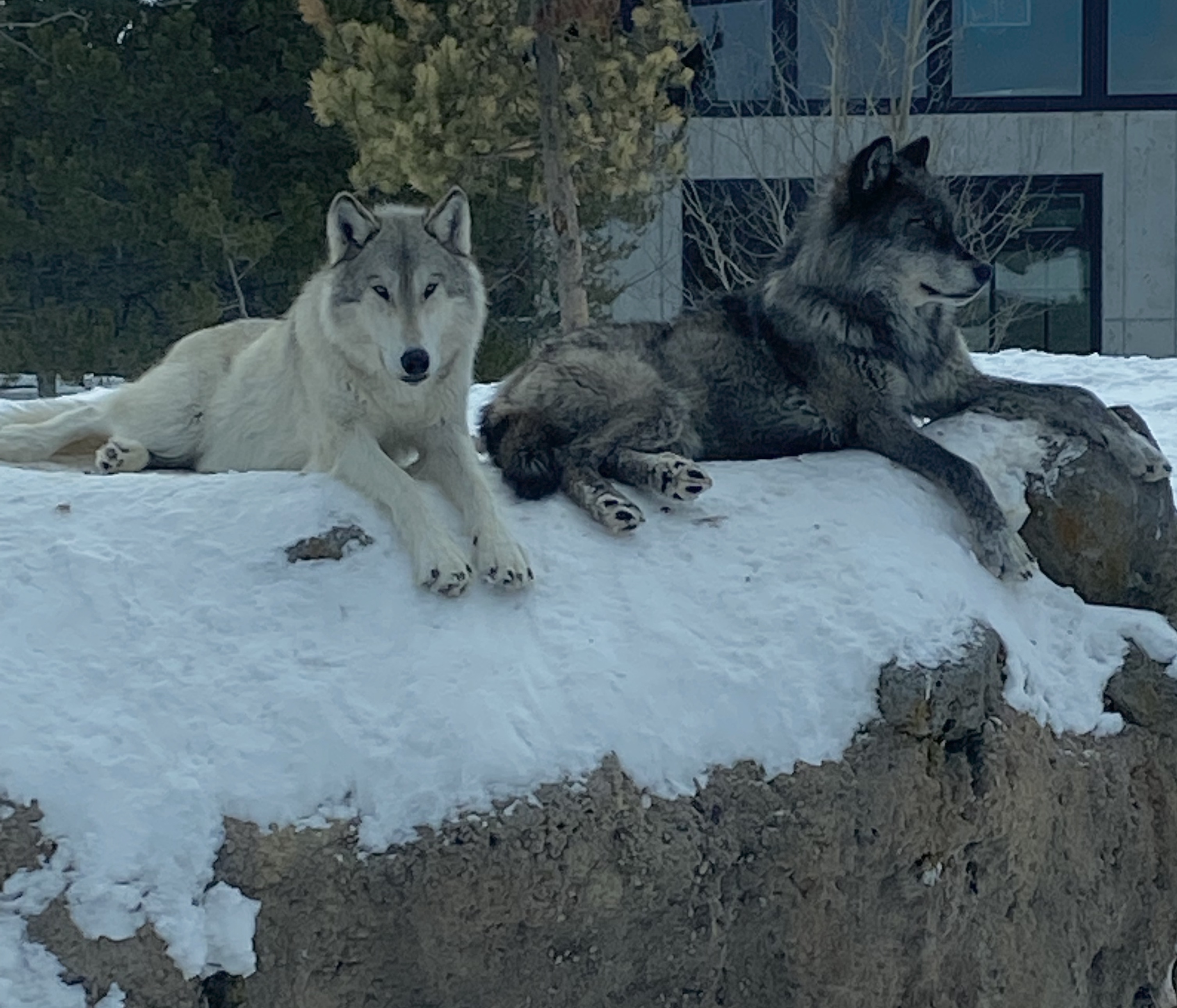 Everyone always asks me, "Isn't it cold?"  Well, yes, it is cold, but we tour Yellowstone on a heated coach, dress warmly, and we are never really out in the elements for very long. An insider tip…be sure to purchase the coffee/hot chocolate delicious drink from the Madison Hut. It will warm your soul and your body! Visiting Yellowstone in winter is one of the quietest, most beautiful, and most peaceful ways to experience the world's first national park. I hope to experience this tour with YOU next year!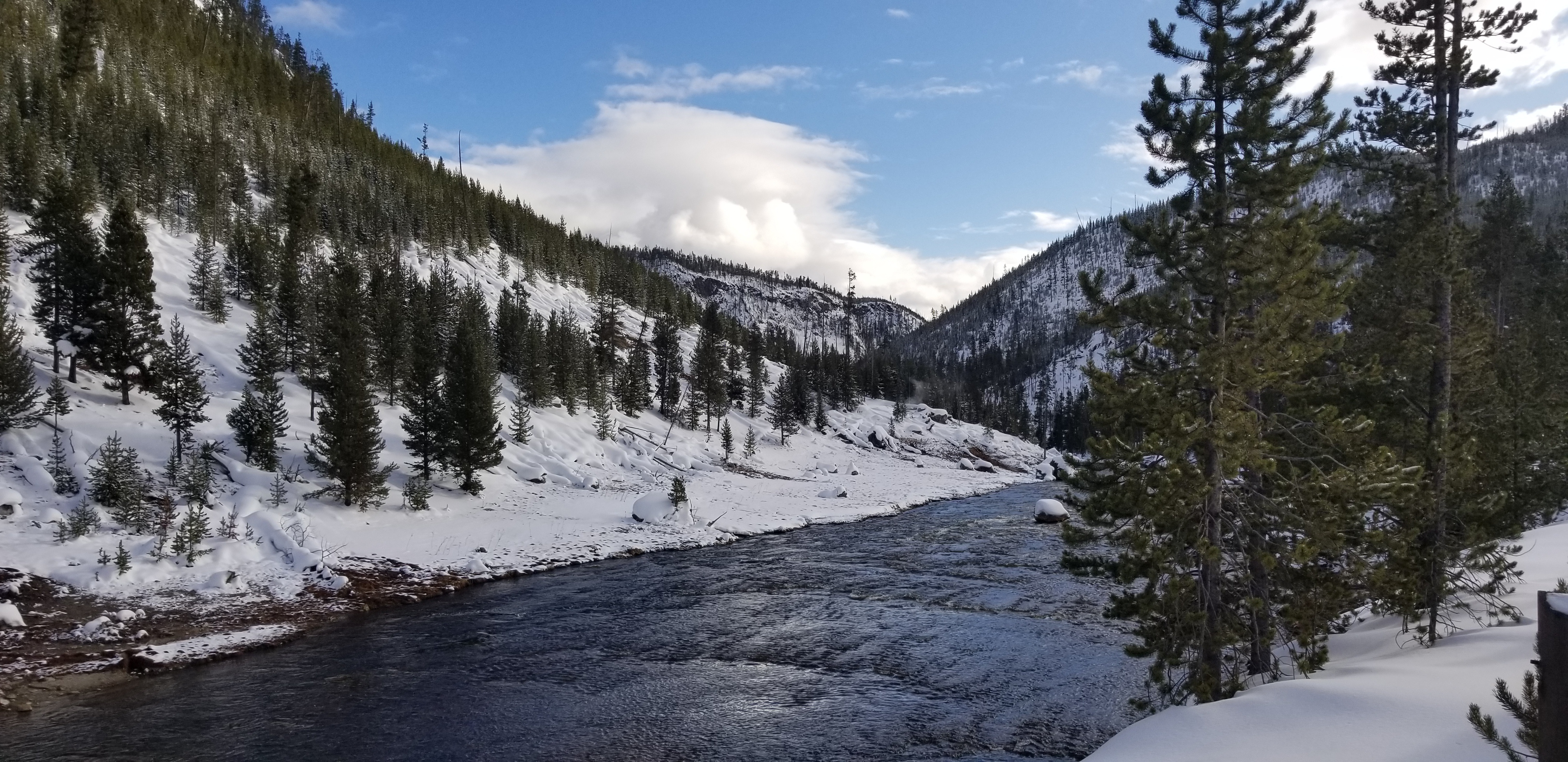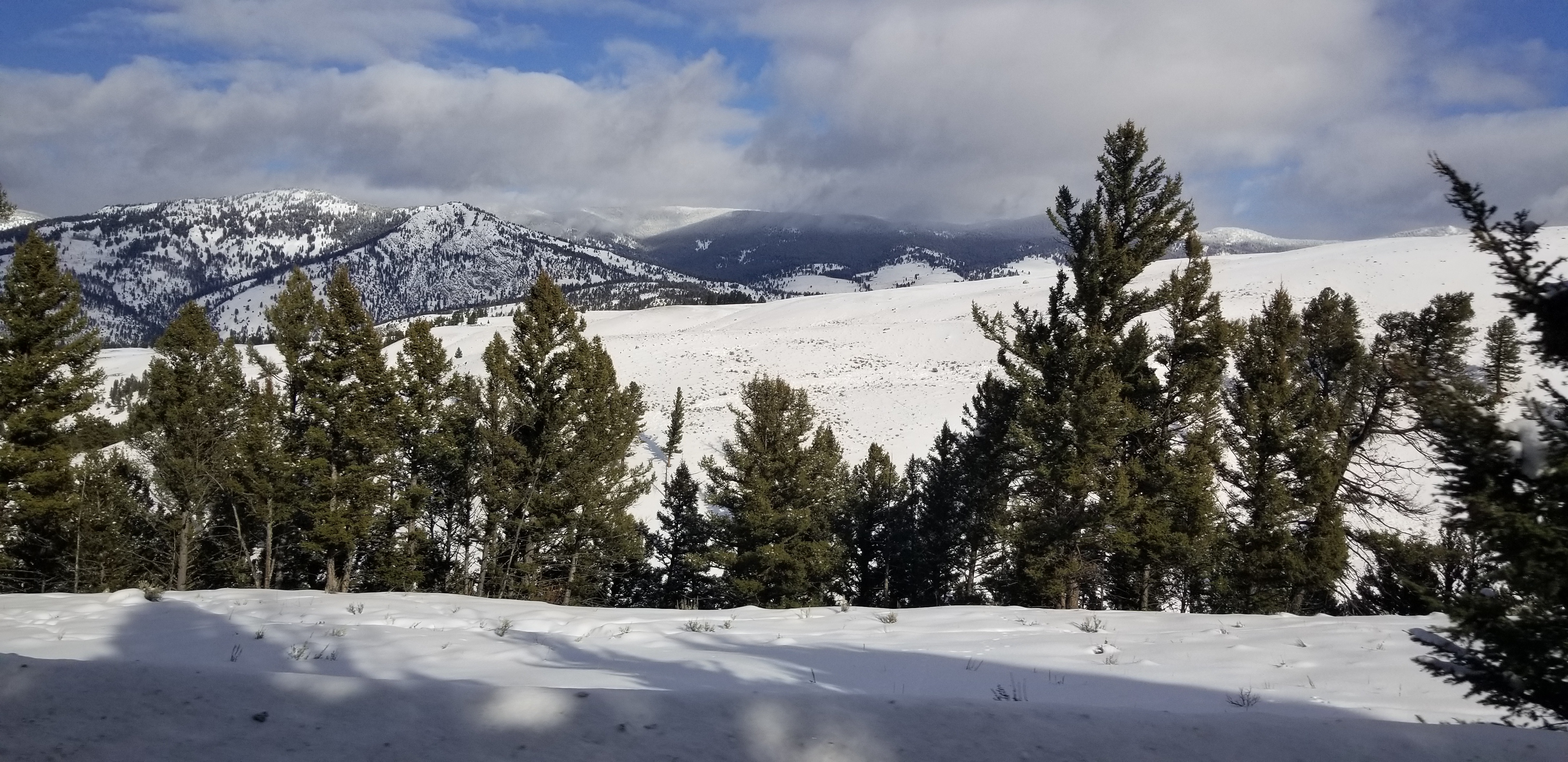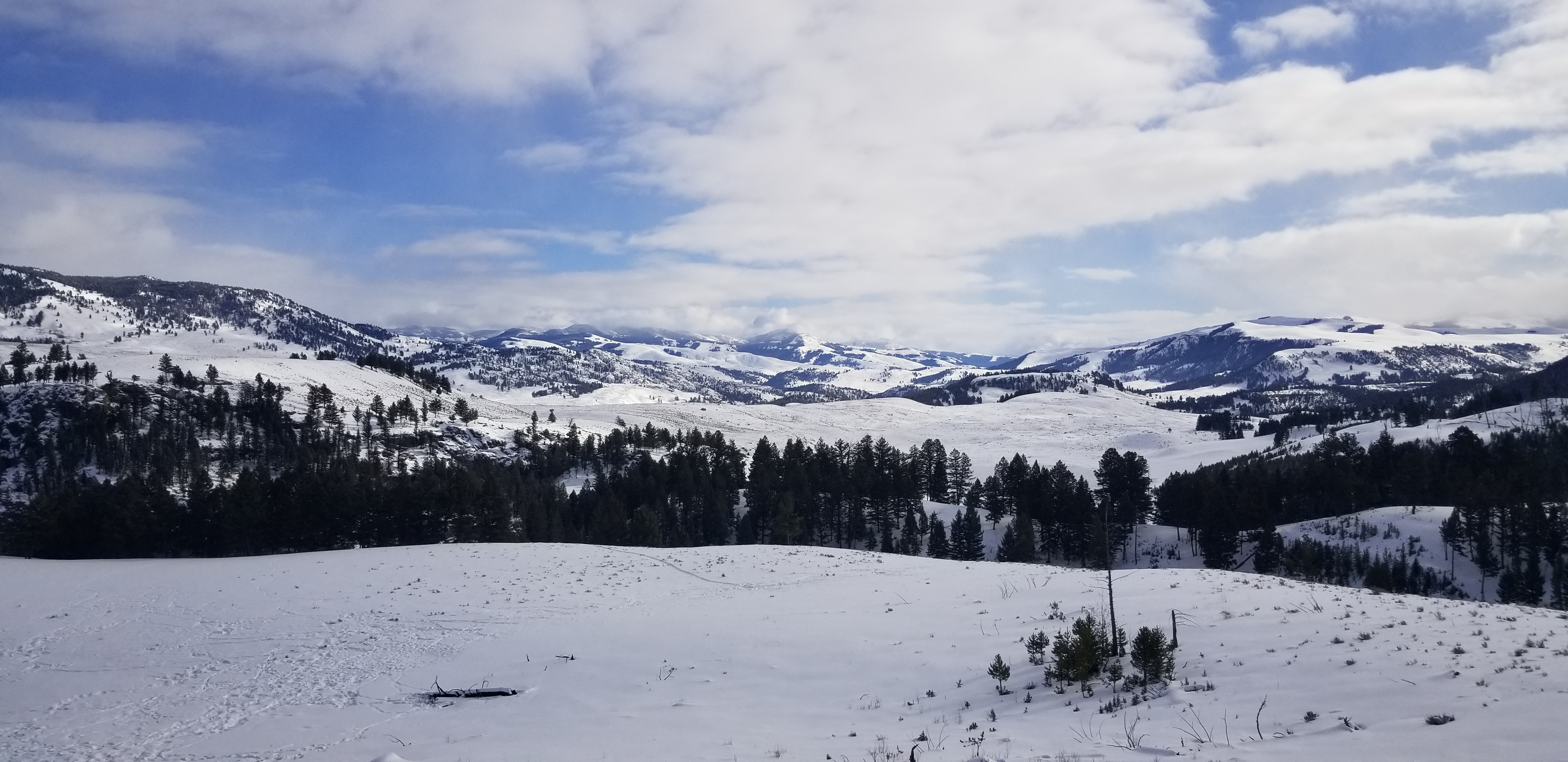 ---
Debbie Robertson is a Senior Tour Planner and Tour Director at Sunrise Tours. For more about Sunrise Tours, click here.
Back to Blog