Gorgeous scenes and fascinating sights ring the shores of beautiful Lake Ontario. Join us on this around the lake adventure as you cruise the enchanting 1000 Islands, travel through picturesque forests, visit romantic castles, experience the majestic Niagara Falls, and more. It's a relaxing vacation getaway you'll never forget!
Loop the entirety of Lake Ontario
Cruise the 1000 Islands and visit Boldt Castle
Explore both the Canadian and U.S. sides of Niagara Falls
Luxurious stays at the Fairmont Royal York, 1000 Island Harbor Hotel, and Marriott on the Falls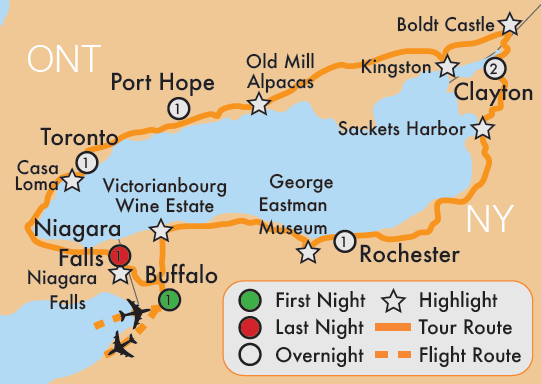 DAY 1: WELCOME TO BUFFALO!
Our adventure begins with a flight to Buffalo for dinner and an overnight stay. D
DAY 2: WINE ESTATE/GEORGE EASTMAN MUSEUM
Come along for the ride as we tour the Buffalo Transportation Pierce Arrow Museum where Jim Sandoro houses his extensive collection of vintage cars and memorabilia. Jim will tell you all about his collection and the stories behind the impressive vehicles. Next, we will make our way north to Victorianbourg Wine Estate. Here Dan and Victoria made their dream a reality by growing classic European wine grapes of Germany and Northern France to make fine wines on the shores of Lake Ontario. We will have a guided tour with a wine expert followed by a delicious tasting. After lunch we will visit the George Eastman Museum in Rochester, NY. George Eastman, the Pioneer of popular photography and motion picture film is showcased here. Not only will we browse the amazing photography collections we'll also walk through George Eastman's estate and garden. Tonight, we overnight in Rochester, NY. B, L
DAY 3: MARITIME MUSEUM/SACKETS HARBOR
This morning we learn all about the maritime history that took place on Lake Ontario. We will have a guided tour of a steam boat and see the Oswego Harbor Lighthouse. This afternoon you will have some time to explore Sackets Harbor, New York and have lunch on your own in the inviting downtown area. Then we will enjoy a guided tour of this historic town overlooking Lake Ontario. Tonight, settle into our hotel for the next two nights near 1000 Islands where you will be able to enjoy the sunset on the St. Lawrence River. B
DAY 4: ANTIQUE BOATS/1000 ISLANDS CRUISE/BOLDT CASTLE
After breakfast we tour the beautifully decorated La Duchesse, a 1903 house boat built by George Bolt. Following our tour, we'll explore the Antique Boat Museum filled with a collection of over 300 antique boats and artifacts. This afternoon we will have a tasty lunch cruise between the U.S. and Canada as we pass through "The Thousand Islands" and learn about the homes and people that inhabit these private land masses. We'll end the day at the historic Boldt Castle where you can explore all levels of the castle, walk the gardens, and see the Yacht House. We will return to the 1000 Island Harbor Hotel for the night. B, L
DAY 5: KINGSTON/ALPACAS/SCULPTURES
This morning, we'll tour the restored British stronghold of Fort Henry where hosts in 19th century dress will tell us all about the fort's intriguing history. This afternoon you will meet some friendly alpacas at Old Mill Alpacas. Pet, feed, and take pictures with the friendly alpacas plus enjoy a tour of the farm and time to shop for handmade souvenirs. Before heading to our hotel, we will head to Primitive Designs. This unique store has large sculptures made of recycled materials and handmade crafts from around the world. B, L, D
DAY 6: CASA LOMA/WINTER GARDEN THEATRE TOUR
Today, we head to the big city of Toronto to our first stop of Casa Loma. This enchanting castle is straight out of a fairytale! Explore three floors, the stable, gardens, secret passage ways and even climb up to the top of the many soaring towers if you choose. We will enjoy a tasty lunch before heading to CN Tower for 360-degree views from 1,815 feet above the Toronto skyline and Lake Ontario coastline. This afternoon we tour the Elgin and Winter Garden Theatre Centre. These theatres are the last surviving Edwardian stacked theatre in the world. The winter garden feels like you stepped right into a fairytale. Tonight, you will have free time to explore Toronto, visit a museum, or relax at our beautiful historic hotel the Fairmont Royal York. B, L

DAY 7: WELLAND CANAL/NIAGARA FALLS, CANADA
After a tasty breakfast at the Fairmont Royal York we head to the St. Catharines Museum and Well and Canals Center. This afternoon we will visit an unforgettable sight – the Magnificent Niagara Falls. Enjoy a 3-course lunch with an incredible view of the horseshoe falls right from your table. Next, journey behind the falls as we descend 125 feet below ground to walk through a series of tunnels to enjoy views of the thundering water and step out on an observation deck for a thrilling up close view of the falls. Tonight, enjoy a unique sound and light show inside the Niagara Power Station. This is a one-of-a-kind experience that reawakens the iconic power plant machinery through imagery, color, lights, sound, and a breathtaking musical score. B, L

DAY 8: NIAGARA FALLS, USA/HOME

This morning head back into the U.S. and get a new perspective of Niagara Falls from the American side. Take the renowned Maid of the Mist excursion boat cruise to the base of the Falls, followed by a visit to Goat Island State Park to get one last view before heading back to Buffalo. We'll say goodbye to new friends and head home with lots of new memories of our time traveling around Lake Ontario. B
Dates:
Departure: July 10, 2024
Return: July 17, 2024
Pricing:
Double: $3399
Single: $4249

*Price per person
*Passport Required
Identification:

Valid passport required to travel.
Luggage:
Orange luggage tags are provided and are to be placed on your "checked luggage" (large bag). You do not need a tag for your carry-on bag, for which you will be responsible for taking on and off the coach. There is limited space in the cabin of the coach, so unless you require your carry-on bag while traveling, we will stow it in the luggage compartment.
Important Information:
Each reservation requires a $250 per person deposit planning fee (exceptions may apply) to be credited toward your final payment. Some or all of your deposit may be non-refundable per our cancellation schedule noted in these Terms & Conditions below. We are happy to accept cash, check (preferred) or credit card (Visa, Mastercard, Discover) for your deposit.
Throughout 2021 we limited capacity on all our tours. This policy was so overwhelmingly popular by Sunrise travelers, we have made it permanent. In 2022 and beyond, we will limit the capacity on our motorcoaches to 80%. Most Sunrise Tours travel on 50-seat coaches with extra legroom, which means guests will enjoy extra legroom AND at least 6-8 empty seats. In the rare cases when we charter a 55-seat coach, there will be at least 10 open seats on the bus.
Our popular on-board refreshment service on travel days will feature a variety of soda, beer, wine spritzers, juices and sparkling water choices served in recyclable aluminum cans. This is a safe and eco-conscious way for us to deliver the ever-popular Sunrise Tours "happy hour" on tour. We do not typically serve bottled water and ask that while on tour you be responsible for your own hydration and consider the Sunrise Tours drink service a welcome refreshment.
Terms and Conditions:
Please refer to our policies HERE for more information on our terms and conditions.
Share it
---