From Maine, we cross the border to visit our Canadian cousins. Prepare for whale sightings as we cruise the coast, stopping at picturesque towns. Discover the beauty of the Maritimes, and understand why Lucy Maud Montgomery, author of Anne of Green Gables said, "You never know what peace is until you walk on the shores or along the winding red roads of Prince Edward Island."
Visit Acadia National Park and Cadillac Mountain
Cruise Across the Bay of Fundy
Historic Halifax
Alexander Graham Bell Museum
Anne of Green Gables sites
Performance at Confederation of the Arts Centre Theatre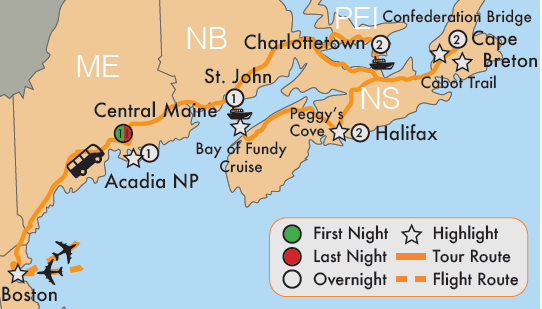 DAY 1: FLY TO BOSTON AREA
Board a flight for Boston and travel north to southern Maine for a one-night stay. D
DAY 2: BAR HARBOR
Travel "down east" to picturesque Bar Harbor, Maine. Nowhere along the Atlantic seaboard is the "stern and rockbound coast" more picturesque than Acadia National Park! With a local expert, explore the Loop Road, including stops for pictures of Cadillac Mountain and more. Overnight on the coast of Maine. B, D
DAY 3: BAY OF FUNDY FERRY
With passports in hand, we are off to St. John, New Brunswick, to board a ferry for a cruise across the Bay of Fundy, one of Canada's Natural Wonders. You may spot a whale playing in the high tides before arriving in coastal Digby, Nova Scotia. Travel across scenic Nova Scotia to Halifax for a two-night stay near the Harbor Waterfront. B, D
DAY 4: PEGGY'S COVE AND HALIFAX
Today is full of history and fun, so bring your cameras and sunglasses! Make the journey to picturesque Peggy's Cove to visit the rustic charm of this famous fishing village and lighthouse. Our local guide will lead us back to Halifax to explore its legacy and charm. B, D
DAY 5: BADDECK
After a leisurely breakfast, take time to explore more of historic downtown Halifax on your own. Continue to Baddeck, Nova Scotia, for a two-night stay and experience their warm Cape Breton hospitality. B, D
DAY 6: CABOT TRAIL
Spend the day on one of Canada's most famous scenic drives – The Cabot Trail. Stop to visit the "hookers" making rugs and take many photos from viewpoint high above the Atlantic Ocean. B, L
DAY 7: PRINCE EDWARD ISLAND
Visit one of Canada's most popular sites, the impressive Alexander Graham Bell Museum, overlooking Bras d'Or Lake. Cross the Northumberland Strait to Prince Edward Island aboard MV Holiday Island Ferry, featuring outdoor seating with stunning views and indoor seating with music and entertainment for a two-night stay in Charlottetown, PEI. B, D
DAY 8: PRINCE EDWARD ISLAND
Explore this intriguing island and visit Anne of Green Gables sites, beautiful coastlines and quaint villages. Enjoy Cavendish Boardwalk before dinner and a performance at Confederation of the Arts Centre Theatre (Show TBD). B, D
DAY 9: SAINT JOHN, NB
Cross the picturesque, 9-mile Confederation Bridge into New Brunswick to see a natural phenomenon – the Hopewell Rocks – you must see them to believe them! After dinner, check into the luxurious Chateau Saint John. B, D
DAY 10: ST. ANDREWS
Visit the seaside town of St. Andrews, with its charming atmosphere and breathtaking vistas, before continuing on to Portland, Maine, and a farewell dinner and overnight stay. B, D
DAY 11: RETURN FLIGHT HOME B
Dates:
Departure: August 21, 2024
Return: August 31, 2024
Pricing:
Double: $3999
Triple/Quad: $3699
Single: $4959
*Travel prices per person
*Includes roundtrip flight from STL or MCI
*Passport Required
Identification:

Valid passport required to travel.
Average Temperatures:
Bar Harbor, ME: 68° / 50°
St. John, MB: 66° / 47°
Charlottetown, CA: 64° / 50°
Cape Breton, CA: 60° / 40°
Halifax, CA: 66° / 53°


Identification:
Passport Required to visit Canada

Luggage:
Orange luggage tags are provided and are to be placed on your "checked luggage" (large bag). You do not need a tag for your carry-on bag, for which you will be responsible for taking on and off the coach. There is limited space in the cabin of the coach, so unless you require your carry-on bag while traveling, we will stow it in the luggage compartment.
Important Information:
Each reservation requires a $250 per person deposit planning fee (exceptions may apply) to be credited toward your final payment. Some or all of your deposit may be non-refundable per our cancellation schedule noted in these Terms & Conditions below. We are happy to accept cash, check (preferred) or credit card (Visa, Mastercard, Discover) for your deposit.
Throughout 2021 we limited capacity on all our tours. This policy was so overwhelmingly popular by Sunrise travelers, we have made it permanent. In 2022 and beyond, we will limit the capacity on our motorcoaches to 80%. Most Sunrise Tours travel on 50-seat coaches with extra legroom, which means guests will enjoy extra legroom AND at least 6-8 empty seats. In the rare cases when we charter a 55-seat coach, there will be at least 10 open seats on the bus.
Our popular on-board refreshment service on travel days will feature a variety of soda, beer, wine spritzers, juices and sparkling water choices served in recyclable aluminum cans. This is a safe and eco-conscious way for us to deliver the ever-popular Sunrise Tours "happy hour" on tour. We do not typically serve bottled water and ask that while on tour you be responsible for your own hydration and consider the Sunrise Tours drink service a welcome refreshment.
Terms and Conditions:
Please refer to our policies HERE for more information on our terms and conditions.
Share it
---