Experience bucket-list highlights and hidden gems of "The Last Frontier" by rail, sail, and coach! From Anchorage to Vancouver, you'll travel the beautiful Alaskan landscape on the Yukon railroad, aboard Holland America's gorgeous MS Zaandam, and by coach through sites like Denali National Park. En route, meet mushers and fishermen, discover native cultures, and marvel at agriculture in the "Land of the Midnight Sun".
Visit the Alaska Wildlife Conservation Center
Cruise across Portage Lake on the mv Ptarmigan
Tram ride to the top of Mt. Alyeska
Meet the champion dogs at Happy Trails Kennels and Iditarod Champion Martin Buser
Climb aboard the luxurious domed rail cars of the McKinley Explorer as we head to Denali
Full day guided tour of Denali National Park
Ride along the Chena River on The Riverboat Discovery, an authentic sternwheeler
Travel on the captivating White Pass Trail aboard an old-fashioned narrow-gauge train
Cruise the ice-studded fjords of Glacier Bay, a national treasure
Explore Ketchikan, famous for its rich native culture
Cruise through Alaska's spectacular Inside Passage, one of the most scenic sea-lanes in the world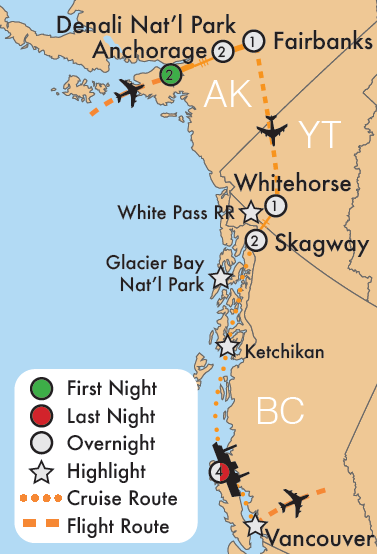 DAY 1: WELCOME TO ANCHORAGE!
Fly to Alaska where you'll enjoy a complimentary transfer to our hotel. Later, meet your fellow travelers for a welcome dinner in Anchorage. D
DAY 2: AWCC/PORTAGE GLACIER CRUISE/ALYESKA RESORT
Travel south along Turnagain Arm and the Chugach Mountain Range on your way to the Alaska Wildlife Conservation Center. Learn how this facility takes in orphaned and injured animals. Next, cruise across Portage Lake on the mv Ptarmigan. You'll stand just 300 yards from a relic of the Ice Age, watch for fractures of ice to break off from the glacier and crash into the water below. A delicious lunch awaits us at Alyeska Resort followed by a tram ride to the top of Mt. Alyeska. We return to Anchorage for our overnight. B, L
DAY 3: HAPPY TRAILS KENNELS/MCKINLEY EXPLORER/DENALI
An Alaskan visit wouldn't be complete without seeing sled dogs in action! Meet the champion dogs at Happy Trails Kennels, where veteran Iditarod racer Martin Buser will share stories of his races, and give a dog sled demonstration. Then, climb aboard the luxurious domed rail cars of the McKinley Explorer as we head to Denali for a two-night stay at this magnificent national treasure. See the wide open tundra and watch out for wildlife such as eagles and bears. The remainder of the day is yours to relax or choose an optional excursion, such as a nature walk, rafting trip down the Nenana River, a flight-seeing tour over Denali, or a Ranger talk. B, L
DAY 4: DENALI NATIONAL PARK
You'll be snapping plenty of photos during a spectacular five-hour guided tour of Denali National Park, home of majestic Denali (formerly Mt. McKinley), lush forests and crystal-clear waters. Be on the lookout for wildlife, such as "The Big 5" mammals: moose, caribou, Dall sheep, wolf, and grizzlies. B, L

DAY 5: RIVERBOAT DISCOVERY/ALASKA PIPELINE/SALMON BAKE & SALOON SHOW
Today, coach to Fairbanks for a ride along the Chena River on The Riverboat Discovery, an authentic sternwheeler. Then get up close to the famous Alaska pipeline. Tonight you're in for a treat at Pioneer Park. Enjoy generous portions of prime rib, beer battered cod and grilled salmon grilled over an outdoor alder wood fire and rounded out with roasted potatoes, baked beans, salad and blueberry cake. Then sit back and enjoy songs, stories, and historical highlights of Fairbanks, also known as "The Golden Heart City". B, L, D
DAY 6: WHITEHORSE/MACBRIDE MUSEUM
This morning, fly from Fairbanks into Canada's majestic Yukon Territory. This afternoon visit MacBride Museum, a nod to all things Yukon. Learn the fascinating stories, see gold rush equipment, and more. Our home this evening is Whitehorse, the capital of the Yukon. B
DAY 7: SKAGWAY/GOLD PANNING
Travel from Whitehorse to Skagway passing Emerald Lake and Carcross in the Yukon. Upon arrival into Skagway, we'll be treated to an authentic barbecue lunch including ribs, chicken and various side-dishes. Then, get ready to find your own fortune! Experience a glimpse of the life of a prospector when you join a colorful cast of characters to learn the art of gold panning. Practice your technique in warm-water troughs -- gold is guaranteed in every pan. Haul your swag into the Gold Shack to have it weighed and browse among a collection of gold-nugget jewelry and miningrelated souvenirs. We spend the next two evenings in Skagway. B, L
DAY 8: WHITE PASS & YUKON RAILROAD
Today we travel on the captivating White Pass Trail aboard an old-fashioned narrow-gauge train roundtrip from Skagway. Relax in vintage passenger coaches as you retrace the original route to the White Pass Summit, passing Bridal Veil Falls, Inspiration Point and Dead Horse Gulch. Enjoy breathtaking views of mountains, glaciers, gorges, waterfalls, tunnels, trestles and historic sites. Afterwards, the afternoon is yours to explore more of Skagway, perhaps visit the Klondike Gold Rush National Historic Park, have a bite to eat at the famous Red Onion Saloon or browse the shops for souvenirs. Later, we gather for dinner. B, D
DAY 9: SKAGWAY/MS ZAANDAM
Stroll the wooden sidewalks of this famous Gold Rush town, do some last minute souvenir shopping, or take in a Ranger-led walking tour before embarking on our home away from home the next four nights, the MS Zaandam. Get acquainted with the ship's amazing amenities before dinner; and don't miss the evening entertainment, which includes everything from Broadway reviews to stand-up comedians. B, D
DAY 10: GLACIER BAY NATIONAL PARK
Cruise the ice-studded fjords of this national treasure for a full eight hours as a Park Service Ranger narrates on board the ship. Alaska's Inside Passage is a protected network of waterways that wind through glacier-cut fjords and lush temperate rain forests along the rugged coast of Southeast Alaska. Arguably one of the greatest cruising routes in the world, the Inside Passage stretches through stunning landscapes, from Misty Fjords National Monument to famed Glacier Bay National Park & Preserve. B, L, D
DAY 11: KETCHIKAN
Explore this uniquely Alaskan port, famous for its rich native culture, salmon fishing, and scenic Misty Fjords. Ketchikan is one of the best spots along the Inside Passage to explore the rich cultural sights of Native Alaskan nations like the Tlingit, Haida and Tsimshian. You can see intricately carved totem poles at the Totem Heritage Center and Totem Bight State Park. And leave time to explore the sights in the town itself, including historic Creek Street, a boardwalk built over the Ketchikan Creek, where you can shop for souvenirs, smoked salmon and local art. B, L, D
DAY 12: INSIDE PASSAGE AND SHIPBOARD FUN
Today, glide through Alaska's spectacular Inside Passage, one of the most scenic sea-lanes in the world. You'll see steep mountain walls on both sides of the ship, brilliantly colored forests, blue glaciers and seaside villages dotting the coastline. Take a break from the beautiful sights and partake in one of the ship's many activities such as bingo, cooking demonstrations and naturalist talks. B, L, D

DAY 13: VANCOUVER
Alas, we must say farewell as we disembark in Vancouver, British Columbia, and head for home—carrying enough "midnight sun" memories to last a lifetime! B
Dates:
Departure: July 12, 2024 SOLD OUT
Return: July 24, 2024 SOLD OUT
AND
Departure: August 2, 2024
Return: August 14, 2024
AND
Departure: August 16, 2024
Return: August 28, 2024
Pricing:
*Price per person
*Includes roundtrip airfare from STL or MCI (call for other gateway cities)
*Passport Required
Temperatures:
Anchorage: 62° / 55°
Denali: 69° / 46°
Talkeenta: 68° / 50°
Fairbanks: 73° / 52°
Seward: 62° / 50°
Whitehorse: 62° / 50°
Skagway: 64° / 52°
Identification:

Valid passport required to travel.

Luggage:
Orange luggage tags are provided and are to be placed on your "checked luggage" (large bag). You do not need a tag for your carry-on bag, for which you will be responsible for taking on and off the coach. There is limited space in the cabin of the coach, so unless you require your carry-on bag while traveling, we will stow it in the luggage compartment.
Important Information:
Each reservation requires a $250 per person deposit planning fee (exceptions may apply) to be credited toward your final payment. Some or all of your deposit may be non-refundable per our cancellation schedule noted in these Terms & Conditions below. We are happy to accept cash, check (preferred) or credit card (Visa, Mastercard, Discover) for your deposit.
Throughout 2021 we limited capacity on all our tours. This policy was so overwhelmingly popular by Sunrise travelers, we have made it permanent. In 2022 and beyond, we will limit the capacity on our motorcoaches to 80%. Most Sunrise Tours travel on 50-seat coaches with extra legroom, which means guests will enjoy extra legroom AND at least 6-8 empty seats. In the rare cases when we charter a 55-seat coach, there will be at least 10 open seats on the bus.
Our popular on-board refreshment service on travel days will feature a variety of soda, beer, wine spritzers, juices and sparkling water choices served in recyclable aluminum cans. This is a safe and eco-conscious way for us to deliver the ever-popular Sunrise Tours "happy hour" on tour. We do not typically serve bottled water and ask that while on tour you be responsible for your own hydration and consider the Sunrise Tours drink service a welcome refreshment.
Terms and Conditions:
Please refer to our policies HERE for more information on our terms and conditions.
Share it
---