From Shenandoah National Park to the Great Smoky Mountains and Jefferson's Monticello to Vanderbilt's Biltmore Estate, this Appalachian adventure will introduce you to the natural wonders of this lush mountain region at the height of fall foliage.
Experience Great Smoky Mountains and Shenandoah National Parks during fall foliage
See the Biltmore Estate
Ride the rails along the beautiful Nantahala River
Tour Thomas Jefferson's Monticello
Walk through Luray Caverns, a U.S. National Landmark
Visit Woodrow Wilson Presidential Library & Museum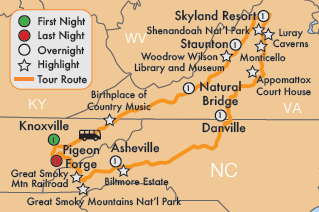 DAY 1: WELCOME TO KNOXVILLE!
Begin this Blue Ridge Country adventure with a trip to Knoxville, TN, for dinner and an overnight stay. D
DAY 2: BUC-EE'S/BIRTHPLACE OF COUNTRY MUSIC
This morning, stop at the iconic Buc-ee's convenience store and see how co-owners Arch ("Beaver") Aplin and Don Wasek set out to make their travel stops the best in the world. See their largest store to date! Continue across the border into Virginia for the Birthplace of Country Music Museum and explore the history of recordings at this Smithsonian affiliate. We then travel to Damascus, a popular stop on the Appalachian Trail for thru-hikers. See the Trail Center and have a delicious lunch at the Old Mill Inn as you hear adventures from hikers who've done the trail. B, L, D
DAY 3: NATURAL BRIDGE/TIFFANY GLASS/WOODROW WILSON PRESIDENTIAL LIBRARY
Today experience Natural Bridge State Park, where a short stroll brings you to a 215-foot-high natural arch with a span of 90 feet. Then we're off to Staunton, named one of the top 10 mountain towns by Southern Living. We'll tour the sanctuary of Trinity Episcopal Church, featuring more than a dozen Tiffany stained-glass windows. Then visit the Woodrow Wilson Presidential Library and Museum to experience the history of the 28th President's tumultuous term that included the Spanish Flu pandemic and the first World War. B, L
DAY 4: VIRGINIA QUILT MUSEUM/LURAY CAVERNS/SKYLAND RESORT
Spend this morning at the Virginia Quilt Museum to learn the painstaking process for preservation of historical quilts. Then it's off to Luray Caverns, the largest cavern in the eastern U.S.! We'll explore this magnificent wonder and hear the Great Stalacpipe Organ, which is the world's largest musical instrument. Afterwards, ride "up" mountain for beautiful views as we continue to Skyland Resort in Shenandoah National Park. B, L, D
DAY 5: SKYLINE DRIVE/JEFFERSON'S MONTICELLO/APPOMATTOX COURT HOUSE
This morning, drive portions of one of America's most scenic routes, Skyline Drive, on our way to Big Meadows Visitors Center. Then it's off to Monticello, home of Thomas Jefferson—author of the Declaration of Independence. Monticello was a working plantation and we'll learn about the people, enslaved and free, who lived and worked on the mountaintop. This afternoon, enjoy a true southern lunch at Michie Tavern. Then we'll visit Appomattox Court House to learn more about Robert E. Lee's surrender to Ulysses S. Grant in 1865. B, L
DAY 6: BILTMORE ESTATE
Today we travel to North Carolina and spend the afternoon at George and Edith Vanderbilt's extraordinary Biltmore Estate. Take a self-guided visit inside the luxurious family home and stroll their famous gardens designed by America's foremost landscape architect, Frederick Law Olmsted. Afterwards, have a tasty lunch at the Stable Café located on the grounds of the estate. B, L
DAY 7: GREAT SMOKY MOUNTAIN NATIONAL PARK
We continue our tour to Bryson City, where it's "all aboard" our thrilling rail excursion along the beautiful Nantahala River. Then, relish a breathtaking ride through Great Smoky Mountain National Park, named for the bluish mist that clings to the mountainsides. This evening, relive the great memories of the "Golden Age of Television" at the Red Skelton Tribute Show. B, L
DAY 8: RED SKELTON SHOW/FAREWELL
This morning we head home, filled with appreciation of Blue Ridge Country. B
Dates:

Departure Date: October 15, 2024
Return Date: October 22, 2024
Pricing:
Double: $2599
Single: $3299
*Per person rates

Luggage
Orange luggage tags are provided and are to be placed on your "checked luggage" (large bag). You do not need a tag for your carry-on bag, for which you will be responsible for taking on and off the coach. There is limited space in the cabin of the coach, so unless you require your carryon bag while traveling, we will stow it in the luggage compartment.
On the first and last nights of this tour, you are welcome to pack your carryon bag with essentials that would enable us to leave your "checked bag" on the coach. This will facilitate faster check-in and luggage delivery. This is not a requirement, merely a suggestion; we will deliver your "checked bag" to your room on the first and last nights if you desire, just like every other night of the tour.
Important Information:
Each reservation requires a $250 per person deposit planning fee (exceptions may apply) to be credited toward your final payment. Some or all of your deposit may be non-refundable per our cancellation schedule noted in these Terms & Conditions below. We are happy to accept cash, check (preferred) or credit card (Visa, Mastercard, Discover) for your deposit.
Throughout 2021 we limited capacity on all our tours. This policy was so overwhelmingly popular by Sunrise travelers, we have made it permanent. In 2022 and beyond, we will limit the capacity on our motorcoaches to 80%. Most Sunrise Tours travel on 50-seat coaches with extra legroom, which means guests will enjoy extra legroom AND at least 6-8 empty seats. In the rare cases when we charter a 55-seat coach, there will be at least 10 open seats on the bus.
Our popular on-board refreshment service on travel days will feature a variety of soda, beer, wine spritzers, juices and sparkling water choices served in recyclable aluminum cans. This is a safe and eco-conscious way for us to deliver the ever-popular Sunrise Tours "happy hour" on tour. We do not typically serve bottled water and ask that while on tour you be responsible for your own hydration and consider the Sunrise Tours drink service a welcome refreshment.
Terms and Conditions:
Please refer to our policies HERE for more information on our terms and conditions.
Share it
---