Spend 3 days in the charming Ozark city of Branson to experience live world-class Christmas performances.
2 night stay at the charming Savannah House minutes from historic downtown Branson
Enjoy dinner reminiscent of Grandma's house
Evening performance of spectacular Top 40, Country, Gospel, and rock & roll music and comedy at the Grand Jubilee show
Student-guided tour of the College of the Ozarks
Enjoy The Haygoods Christmas Show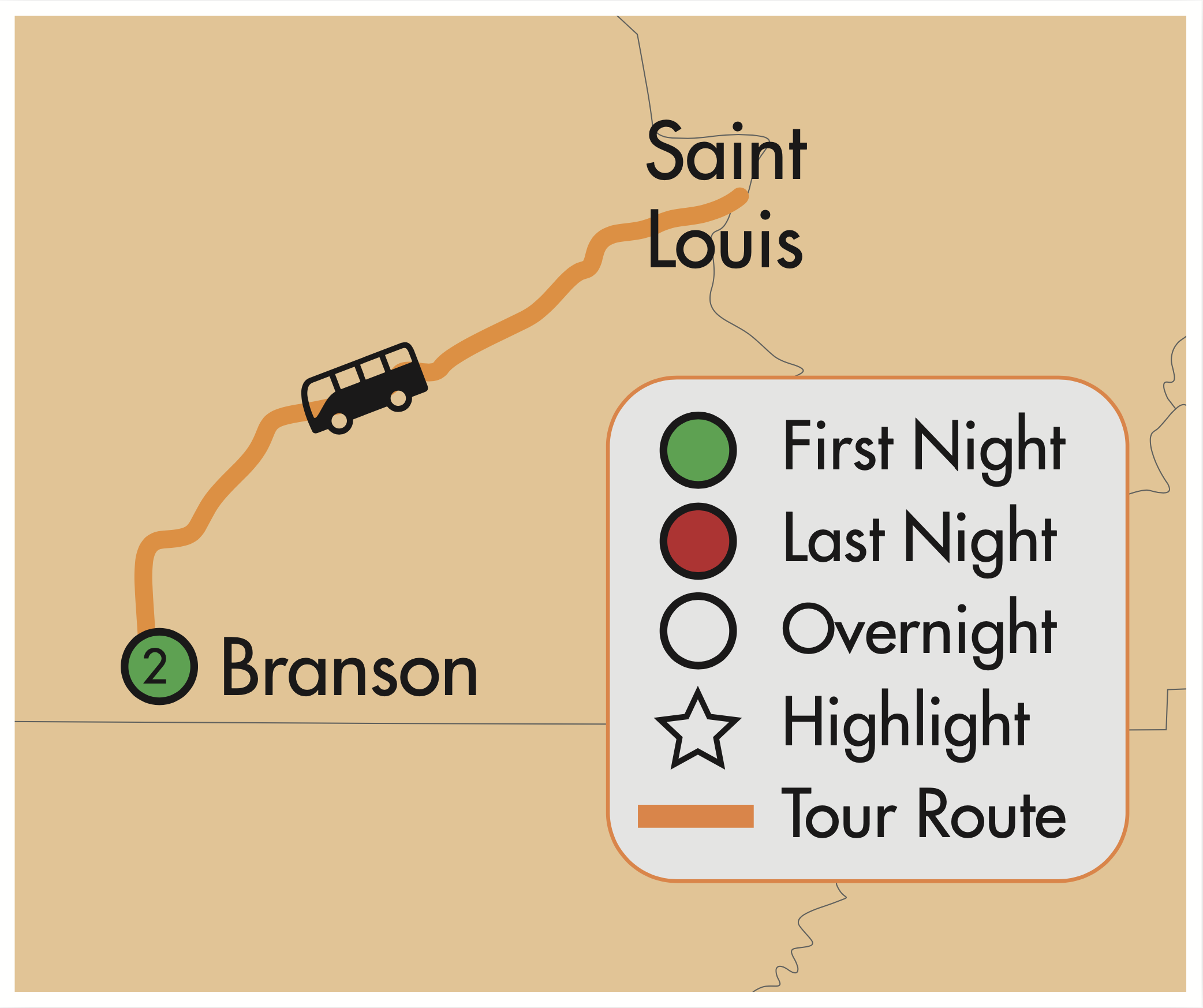 DAY 1: GRAND JUBILEE
Arrive in Branson for two nights at the Savannah House, where you will appreciate Ozark hospitality and county-western flair. Enjoy dinner reminiscent of Grandma's house followed by an evening performance of spectacular Top 40, Country, Gospel, and rock & roll music and comedy at the Grand Jubilee show. D
DAY 2: CHRISTMAS WITH DANIEL O'DONNELL SHOW AND MORE
Experience what the Wall Street Journal described as "one of the most unusual little liberal arts colleges in the country" during a student-guided tour of the College of the Ozarks. Enjoy some free time to get started on holiday shopping at Branson Landing and enhance our holiday spirit at the Christmas with Daniel O'Donnell Show. Daniel O'Donnell and his wonderful, authentic Irish tunes have made this one of the most popular shows in Branson! Following dinner, we visit The Haygoods Christmas Show, with unique arrangements of music from the 60s through modern day, complemented by stunning special effects. This evening, drive through a beautiful and festive Christmas light display at Lights of Joy. B, D
DAY 3: DOGWOOD CANYON
Journey to nearby Lampe, Missouri, to explore the beauty of Dogwood Canyon Nature Park. Here, take in the fall colors and unbeatable views, and encounter amazing wildlife during a narrated tour of the park on an open-air tram. B
Dates:
Departure: November 04, 2022
Return: November 06, 2022
Pricing:

Double: $659
Triple/Quad: $629
Single: $739
*Price per person
Average Temperatures:
The weather will be in the lower to mid-60's during the day and could drop to the 40's at night.
Luggage
Orange luggage tags are provided and are to be placed on your "checked luggage" (large bag). You do not need a tag for your carry-on bag, for which you will be responsible for taking on and off the coach. There is limited space in the cabin of the coach, so unless you require your carryon bag while traveling, we will stow it in the luggage compartment.
Important Information:
New reservations will require a $250 per person deposit unless otherwise noted. As always, your deposit is still fully refundable for any reason until final payment. We are happy to accept cash, check (preferred) or credit card (Visa, Mastercard, Discover) for your deposit.
Throughout 2021 we limited capacity on all our tours. This policy was so overwhelmingly popular by Sunrise travelers, we have made it permanent. In 2022 and beyond, we will limit the capacity on our motorcoaches to 80%. Most Sunrise Tours travel on 50-seat coaches with extra legroom, which means guests will enjoy extra legroom AND at least 6-8 empty seats. In the rare cases when we charter a 55-seat coach, there will be at least 10 open seats on the bus.
Our popular on-board refreshment service on travel days will feature a variety of soda, beer, wine spritzers, juices and sparkling water choices served in recyclable aluminum cans. This is a safe and eco-conscious way for us to deliver the ever-popular Sunrise Tours "happy hour" on tour. We do not typically serve bottled water and ask that while on tour you be responsible for your own hydration and consider the Sunrise Tours drink service a welcome refreshment.
Terms and Conditions:
Please refer to our policies HERE for more information on our terms and conditions.
Share it
---