Spend 3 days in the charming Ozark city of Branson to experience live world-class Christmas performances.
2 night stay at the charming Savannah House minutes from historic downtown Branson
The Miracle of Christmas at Sight and Sound Theater
Grand Shanghai Theater (Branson's top performing arts theater) to take in the charm of the Texas Tenors
Enjoy the All Hands on Deck! Show at the Dutton Family Theatre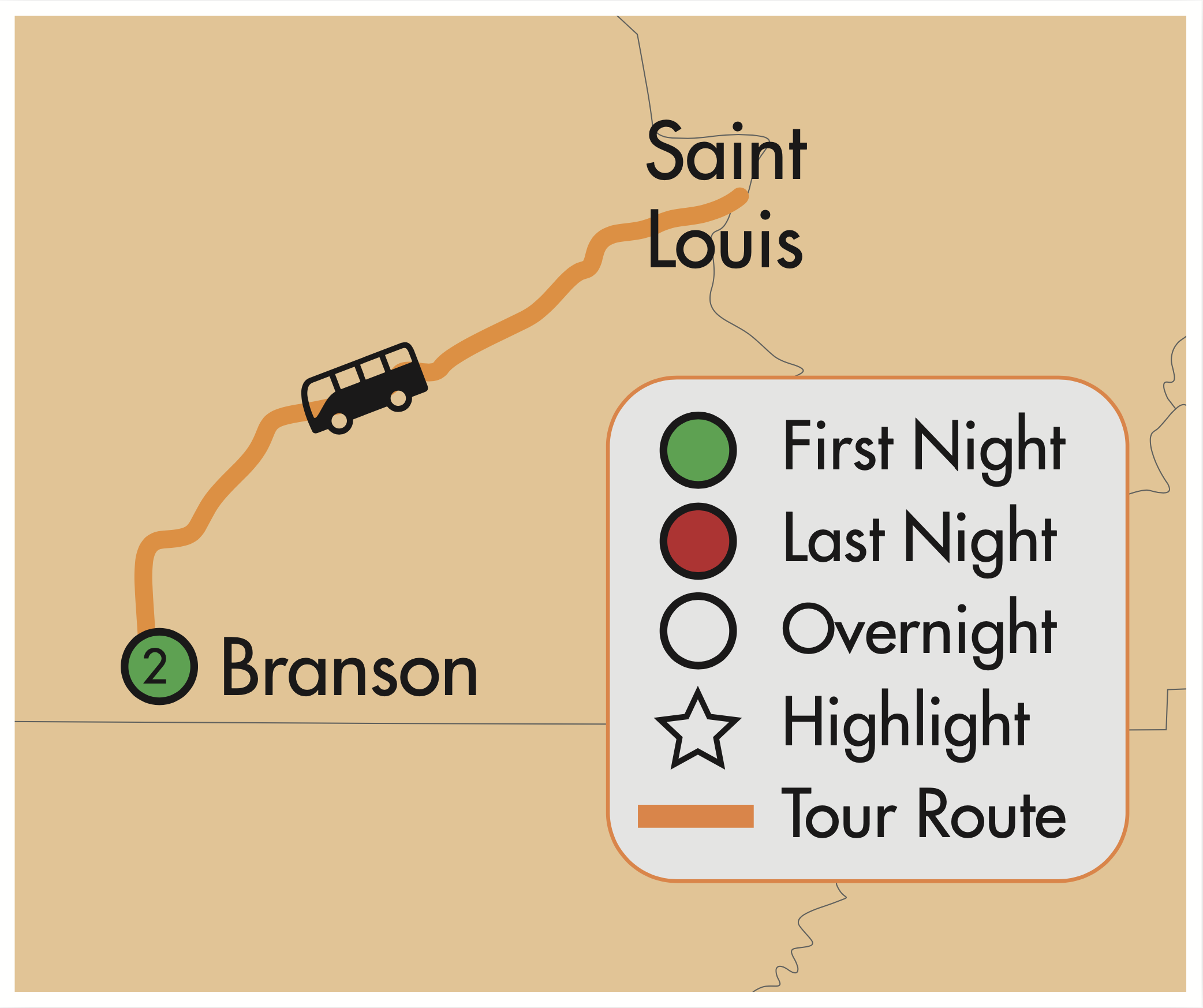 DAY 1: THE MIRACLE OF CHRISTMAS
This evening, the story of Christmas comes to life in an unforgettable way. The Miracle of Christmas at Sight and Sound Theater is an immersive, state-of the-art production featuring spectacular special effects, a beautiful stage production, and live animals! The show has been described as a "true sensory experience" that combines edge-ofyour-seat action with heartfelt drama. Check into the welcoming Savannah House for a two-night stay. D
DAY 2: TEXAS TENORS
After a deluxe breakfast, experience a cast of 24 incredible entertainers perform country, rock & roll, gospel, and patriotic music, plus dancing and comedy, at Clay Cooper's Country Express. Enjoy time on your own for shopping in lively downtown Branson, then after dinner, head to the Grand Shanghai Theater (Branson's top performing arts theater) to take in the smooth harmonies and cowboy charm of the Texas Tenors. B, D
DAY 3: ALL HANDS ON DECK!
You wouldn't want to leave Branson without catching one more show! This morning, enjoy the All Hands on Deck! Show at the Dutton Family Theatre. Celebrate with the festive music of the 40s, featuring swing and big band numbers, before you head for home. B
Dates:
Departure: November 16, 2022
Return: November 18, 2022
AND
Departure: November 29, 2022
Return: December 1, 2022
Pricing:

Double: $659
Triple/Quad: $629
Single: $739
*Price per person
Average Temperatures:
The weather will be in the lower to mid-60's during the day and could drop to the 40's at night.
Luggage
Orange luggage tags are provided and are to be placed on your "checked luggage" (large bag). You do not need a tag for your carry-on bag, for which you will be responsible for taking on and off the coach. There is limited space in the cabin of the coach, so unless you require your carryon bag while traveling, we will stow it in the luggage compartment.
Important Information:
New reservations will require a $250 per person deposit unless otherwise noted. As always, your deposit is still fully refundable for any reason until final payment. We are happy to accept cash, check (preferred) or credit card (Visa, Mastercard, Discover) for your deposit.
Throughout 2021 we limited capacity on all our tours. This policy was so overwhelmingly popular by Sunrise travelers, we have made it permanent. In 2022 and beyond, we will limit the capacity on our motorcoaches to 80%. Most Sunrise Tours travel on 50-seat coaches with extra legroom, which means guests will enjoy extra legroom AND at least 6-8 empty seats. In the rare cases when we charter a 55-seat coach, there will be at least 10 open seats on the bus.
Our popular on-board refreshment service on travel days will feature a variety of soda, beer, wine spritzers, juices and sparkling water choices served in recyclable aluminum cans. This is a safe and eco-conscious way for us to deliver the ever-popular Sunrise Tours "happy hour" on tour. We do not typically serve bottled water and ask that while on tour you be responsible for your own hydration and consider the Sunrise Tours drink service a welcome refreshment.
Terms and Conditions:
Please refer to our policies HERE for more information on our terms and conditions.
Share it
---