From the granite cliffs of Yosemite and massive trees of Sequoia to the desert landscape of Death Valley, experience the enormity of California's National Parks with up close tours and park lodging. Enjoy additional time to explore at your own pace.
Spend the day in picturesque Napa Valley
2-night stay on the western edge of Yosemite at the comfortable Yosemite View Lodge
Learn about Yosemite's history as America's first protected park
Hop aboard the Yosemite Mountain Sugar Pine Railroad
Explore Sequoia and Kings Canyon National Parks
Overnight at The Ranch at Death Valley
Guide from the Field Institute of Death Valley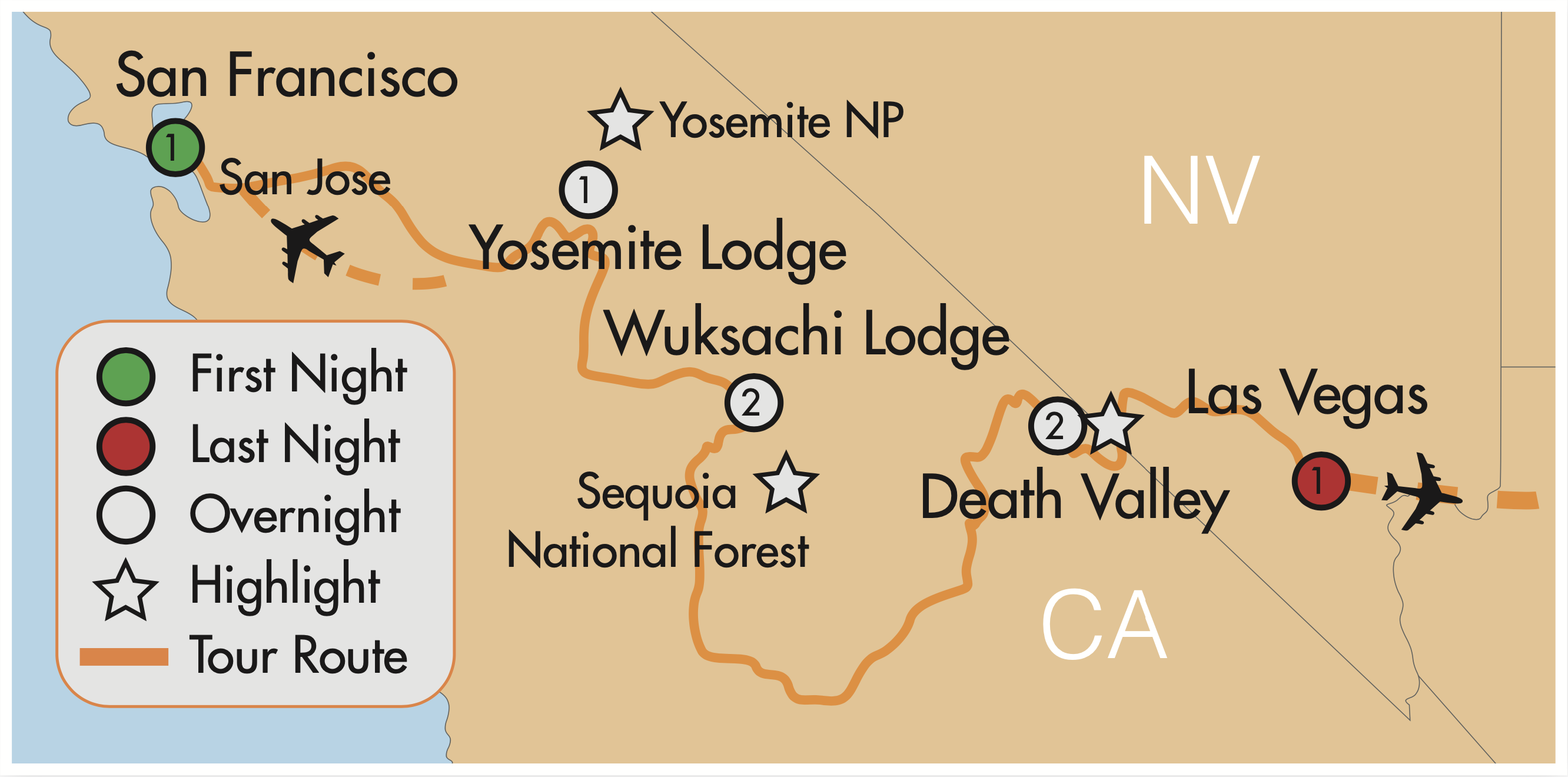 DAY 1: FLY INTO BAY AREA, CA D
DAY 2: NAPA VALLEY
Spend the day in picturesque Napa Valley, including a wine tasting and lunch at a storied family winery. B, L
DAY 3: YOSEMITE NATIONAL PARK
Travel east towards El Portal, CA and Yosemite National Park. Get your first glimpse at the towering granite, magnificent forests, and beautiful waterfalls that make up the High Sierra. First protected as a state park by President Lincoln in 1864, Yosemite became our nation's third designated national park in 1890 and has been captivating intrepid travelers ever since. Unpack your bags for a two-night stay on the western edge of Yosemite at the comfortable Yosemite View Lodge featuring rooms overlooking the scenic Merced River. B, D
DAY 4: YOSEMITE VALLEY
Awake to impressive scenery and travel into the park for an unforgettable day in the Sierra Nevada. Lush valleys and the unmistakable granite cliffs of Half-Dome and El Capitan greet you on an extensive tour with leisure time to explore at your own pace. Learn about Yosemite's history as America's first protected park and the people that have found inspiration here including John Muir, Teddy Roosevelt, and Ansel Adams. Return to the lodge having experienced one of nature's most incredible landscapes. B, L
DAY 5: SEQUOIA NATIONAL PARK
The sounds and scenes from the era of steam powered railroad logging come to life aboard the Yosemite Mountain Sugar Pine Railroad. After a delicious lunch, travel south to Sequoia National Park; the second US national park designated in 1890. Unpack for two nights in the park at Wuksachi Lodge. Surrounded by the sequoia forest and soaring Sierra peaks, the alpine, rustic mountain lodge promises a distinctive relaxing stay. Perhaps a "walk in the park" in the fresh air this evening? B, L
DAY 6: SEQUOIA & KINGS CANYON NATIONAL PARKS
After breakfast, it's time to explore Sequoia and Kings Canyon National Parks. These parks are home to giants: immense mountains, deep canyons and huge trees. Take a deep breath of the pine-scented fresh air and behold one of the oldest living things in the world, the General Grant Tree, named the Nation's Christmas Tree by Calvin Coolidge in 1926. Return to the hotel for dinner. B, L, D
DAY 7: DEATH VALLEY
Cross the edge of the Mojave Desert into Death Valley National Park. Named by Native Americans as "Tumpisa" meaning rock paint for its clay bottom, the Valley is known as having the lowest point in the western hemisphere. Our overnight stay puts us right in the center of the Park at the newly renovated and re-branded The Ranch at Death Valley! Take a swim in a spring fed pool and enjoy the stars which blanket the brilliant sky. B, D
DAY 8: DEATH VALLEY NATIONAL PARK
Embark on a journey of a wonderland that stretches as far as the eye can see on a guided tour of Death Valley National Park. Our guide from the Field Institute will share all the interesting features and stories of the Park including the stunning Mesquite Flats, Stovepipe Wells, Zabriski Point and Badwater. This evening, travel to Las Vegas, NV and The Golden Nugget for an overnight stay. B, D
DAY 9: RETURN FLIGHT HOME B
Dates:

Departure: September 13, 2022
Return: September 21, 2022
Pricing:

Double $3189
Tpl/quad $2879
Single $3999
*Per person rates
* Includes roundtrip airfare from STL or MCI
Average Temperatures:
San Francisco, CA: 71° / 56°
Yosemite Lodge, CA: 84° / 50°
Death Valley, CA: 107° / 76°
Las Vegas, NV: 96° / 57°

Luggage:
Orange luggage tags are provided and are to be placed on your "checked luggage" (large bag). You do not need a tag for your carry-on bag, for which you will be responsible for taking on and off the coach. There is limited space in the cabin of the coach, so unless you require your carry-on bag while traveling, we will stow it in the luggage compartment.
Important Information:
New reservations will require a $250 per person deposit unless otherwise noted. As always, your deposit is still fully refundable for any reason until final payment. We are happy to accept cash, check (preferred) or credit card (Visa, Mastercard, Discover) for your deposit.
Throughout 2021 we limited capacity on all our tours. This policy was so overwhelmingly popular by Sunrise travelers, we have made it permanent. In 2022 and beyond, we will limit the capacity on our motorcoaches to 80%. Most Sunrise Tours travel on 50-seat coaches with extra legroom, which means guests will enjoy extra legroom AND at least 6-8 empty seats. In the rare cases when we charter a 55-seat coach, there will be at least 10 open seats on the bus.
Our popular on-board refreshment service on travel days will feature a variety of soda, beer, wine spritzers, juices and sparkling water choices served in recyclable aluminum cans. This is a safe and eco-conscious way for us to deliver the ever-popular Sunrise Tours "happy hour" on tour. We do not typically serve bottled water and ask that while on tour you be responsible for your own hydration and consider the Sunrise Tours drink service a welcome refreshment.
Terms and Conditions:
Please refer to our policies HERE for more information on our terms and conditions.
Share it
---