Embark on an amazingly scenic journey from Stampede City Calgary to beautiful Vancouver, the jewel of British Columbia. You'll board the Rocky Mountaineer Railway and travel through scenic valleys, along the mighty Fraser River, through Hell's Gate, and past the majestic Pyramid Falls. This rail route, only accessible by train, also features the majestic Mount Robson, the highest peak in the Canadian Rockies.
Experience Gold Leaf Service aboard the Rocky Mountaineer from Jasper to Vancouver
Ride an all-terrain vehicle onto Athabasca Glacier
Enjoy lunch at the historic Lake Louise Railway Station
Sail across Maligne Lake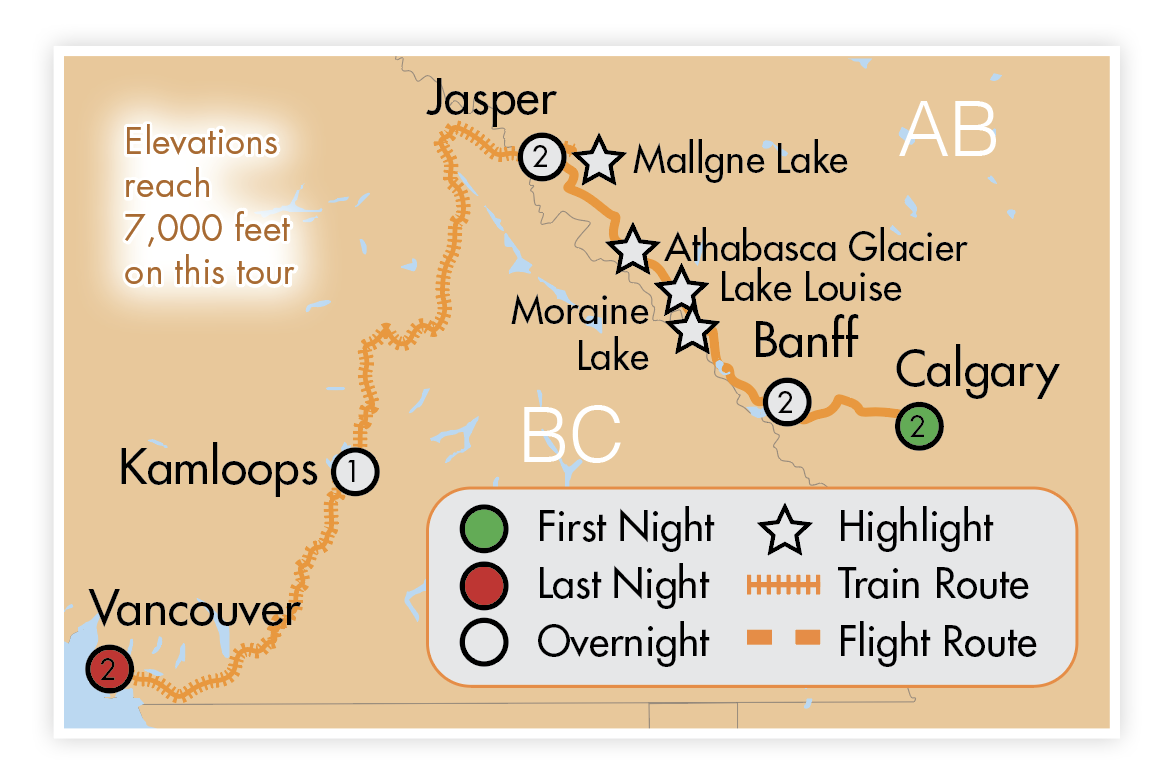 DAY 1: WELCOME TO CANADA!
Travel to Calgary for a festive Welcome Dinner at your hotel. D
DAY 2: CALGARY/HERITAGE PARK HISTORICAL VILLAGE AND GASOLINE ALLEY/BANFF
Begin with a tour of downtown Calgary before ascending Calgary Tower for your first glimpse of the Canadian Rockies. Then, you'll visit the old fashioned Heritage Park Historical Village and Gasoline Alley Museum. Continue aboard the motorcoach to Banff, with stops along the way at the Surprise Corner and Bow Falls viewpoints. The next two nights you will call Banff your home away from home. B, D
DAY 3: MORAINE LAKE/YOHO NATIONAL PARK/LAKE LOUISE
Morning sightseeing takes us to Yoho National Park where we gaze in awe at Emerald Lake and Natural Bridge. A feat to behold are the Spiral Railway tunnels - engineers circled the track to gain elevation, which results in freight trains rossing over themselves! Enjoy an included lunch at historic Lake Louise Rail Station, and see stunning Moraine Lake set in the rugged valley of Ten Peaks. This afternoon, take part in an optional tour to the Banff Gondola & Interpretive Centre, or simply enjoy wandering the quaint streets of the town before a relaxing dinner on your own. B, L
Option—Banff Gondola & Interpretive Centre: Ride to the gondola summit overlooking Banff for unparalleled views of six mountain ranges and the sweep of Bow Valley below. The Interpretive Centre provides interactive displays about Banff National Park. Price: $45 PP
DAY 4: ICEFIELDS PARKWAY/COLUMBIA ICEFIELD
Ice is the theme of today's touring as you travel north along the scenic Icefields Parkway from Banff to Jasper. Numerous photos stops will be made along the way as you pass Crowfoot Glacier, the Wapta Icefield, Bow Glacier, and Mount Thompson. Visit the Saskatchewan River Crossing where three rivers meet and stop at the Weeping Wall to see the impressive waterfall. Explore the Columbia Icefield Discovery Centre and ride an all-terrain Ice Explorer onto the surface of Athabasca Glacier. Conclude touring with a walk on the glass-floored Columbia Icefield Skywalk before checking in to your Jasper hotel. Enjoy dinner together as a group tonight. B, D
DAY 5: MALIGNE LAKE CRUISE AND CANYON
After breakfast, travel to the impressive Medicine Lake viewpoint. Then, continue to Maligne Lake for a guided cruise to Spirit Island, where you can ramble on a nature walk. Later, enjoy an included lunch at The Lakehouse Café and then travel to Maligne Canyon for a leisurely hike. This afternoon, stroll through the quaint shops of downtown Jasper or travel on an optional excursion aboard the Jasper SkyTram. Discover one of the charming Jasper restaurants for dinner on your own this evening. B, L
Option—Jasper SkyTram: An experience unlike any other in Canada, the SkyTram whisks guests more than 7,000 feet above the valley floor and provides easy access to a boardwalk and hiking trails in the alpine zone of the Canadian Rockies. Price: $45 Per Person
DAY 6: ROCKY MOUNTAINEER RAILWAY TO KAMLOOPS
All aboard! Prepare to experience some of North America's most stunning scenery while indulging in luxurious Gold Leaf service on the famed Rocky Mountaineer train. Highlights include Mount Robson (tallest peak in the Canadian Rockies), Pyramid Falls, the North Thompson River, teal-green lakes, stunning glaciers, and snow-capped peaks. Your day concludes as the Rocky Mountaineer glides into Kamloops. B, L
DAY 7: ROCKY MOUNTAINEER RAILWAY TO VANCOUVER
Start this morning with a delicious breakfast aboard the Rocky Mountaineer. Passing into British Columbia's interior towards the Pacific coast, today's journey features dramatic changes in scenery, as the desert-like environment of the interior gradually gives way to lush green fields of the Fraser River Valley. Scenic highlights include the rushing waters of Hell's Gate in the Fraser Canyon and the steep slopes along the Thompson River. At the end of the day disembark in the amazing city of Vancouver. B, L
DAY 8: CHINATOWN/GASTOWN/STANLEY PARK/PUBLIC MARKET
This morning, bring all your senses to life by experiencing Dr. Sun Yat-Sen Classical Chinese Garden, a National Geographic World Top City Garden. In Gastown, see the marvelous steam-powered clock, and Vancouver's Olympic legacy at the Olympic Cauldron. At Granville Island's Public Market, you can choose from a variety of local food vendors for lunch. Afterward, enjoy a drive past Vancouver's most iconic buildings. This evening, you'll enjoy our Farewell to Canada dinner at a local eatery. B, D
DAY 9: FAREWELL
Following one final delectable breakfast, transfer to the Vancouver International Airport for your homeward bound flight, taking with you countless memories of your Canadian Rockies Rail Adventure! B
Dates:
Departure Date: Oct 3, 2023
Return Date: Oct 11, 2023
Pricing:
Double: $5497

Single: $6745
*Per person rates
*Includes round-trip airfare from STL or MCI (call for other gateway cities)

Average Temperatures:

Vancouver: 59/44
Kamloops: 60/40
Jasper: 68/31
Lake Louise: 59/32
Banff: 62/36
Calgary: 62/40


Luggage:
Sunrise Tours luggage straps (that go around the entire exterior of your piece of luggage) are available in our office that can assist with ensuring your luggage stays securely closed throughout the air transport process. If you would like a complimentary luggage strap, please stop by our office during regular office hours.
Identification:
Since we are flying into Canada, you must bring along a valid passport for the duration of the tour.
Canadian Trip Information:
The currency is the Canadian Dollar. Although credit cards are recommended for ease in monetary transactions, there will be places where you may convert your US currency to Canadian Dollars. The current exchange rate is $0.80 USD = $1 CAD. Gratuities should be paid in the local currency whenever possible. Like the USA, Canada uses 110 volts, 60 Hz. It is not necessary to use an adaptor or converter with appliances and devices that you use in the US. Please check with your carrier regarding cell phone service and fees.

Important Information:
Reservations will require $350 per person deposit for this tour. Some or all of your deposit may be non-refundable per our cancellation schedule noted in these Terms & Conditions below. We are happy to accept cash, check (preferred) or credit card (Visa, Mastercard, Discover) for your deposit.
Throughout 2021 we limited capacity on all our tours. This policy was so overwhelmingly popular by Sunrise travelers, we have made it permanent. In 2022 and beyond, we will limit the capacity on our motorcoaches to 80%. Most Sunrise Tours travel on 50-seat coaches with extra legroom, which means guests will enjoy extra legroom AND at least 6-8 empty seats. In the rare cases when we charter a 55-seat coach, there will be at least 10 open seats on the bus.
Our popular on-board refreshment service on travel days will feature a variety of soda, beer, wine spritzers, juices and sparkling water choices served in recyclable aluminum cans. This is a safe and eco-conscious way for us to deliver the ever-popular Sunrise Tours "happy hour" on tour. We do not typically serve bottled water and ask that while on tour you be responsible for your own hydration and consider the Sunrise Tours drink service a welcome refreshment.
Terms and Conditions:
Please refer to our policies HERE for more information on our terms and conditions.
Share it
---