Embark on a visit to Maine and prepare to be mesmerized by the state's awe-inspiring natural wonders and charmed by friendly locals, the "Mainers". The rugged coastline, adorned with charming fishing villages and iconic lighthouses, offers breathtaking views at every corner. At Acadia National Park, majestic mountains, crystal-clear lakes, and picturesque trails await your discovery.
See the Garden Trolls at the Coastal Maine Botanical Garden
Visit a working blueberry farm
Explore the enchanting seaside town of Belfast, Maine
Journey into Acadia National Park, the only National Park in the Northeast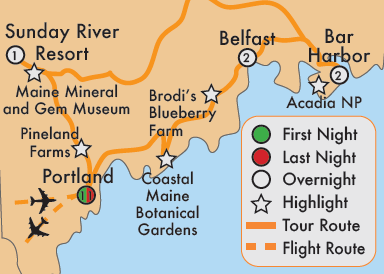 DAY 1: PORTLAND MAINE
Travel to the coastal city of Portland, ME for dinner and an overnight stay. D
DAY 2: BELFAST, MAINE
Embark on an adventure through coastal Maine, beginning with a visit to the Maine Maritime Museum. Immerse yourself in the maritime history of the region before continuing to the Coastal Maine Botanical Gardens. Marvel at the breathtaking gardens and discover the delightful trolls that inhabit the grounds. Enjoy a peaceful two-night stay in the charming town of Belfast, where you can unwind and soak in the coastal ambiance. B, L
DAY 3: BELFAST, MAINE
Experience the enchantment of Brodi's Blueberry Farm. In Belfast, prepare to be enchanted by the impressive craftmanship on display at the Front Street Shipyard, and be captivated by skilled artisans shaping masterpieces through a mesmerizing glass blowing demonstration. B, D
DAY 4: BAR HARBOR, MAINE
Explore the historic Fort Knox, admiring its impressive architecture and scenic views. Then, delve into the world of transportation history at the Cole Land Transportation Museum, where you'll encounter fascinating exhibits and vintage vehicles. Relax this evening and enjoy Maine's picturesque Bar Harbor. B, L
DAY 5: BAR HARBOR AND ACADIA NATIONAL PARK
Begin your day with a guided tour of Bar Harbor, learning about its fascinating history and iconic landmarks. Then, venture into the breathtaking landscapes of Acadia National Park, where you'll witness stunning vistas and immerse yourself in the park's tranquility. Afterwards, you'll have the opportunity to explore the town at your leisure. As the day unfolds and the sun begins to set, set sail on an evening nature cruise around Frenchmen Bay and Acadia National Park – keeping a lookout for bald eagles, harbor porpoise, seals and other marine life! B, L, D
DAY 6: BETHEL, MAINE
Discover the hidden treasures at the Maine Mineral and Gem Museum. Immerse yourself in a world of vibrant gemstones, rare minerals, and be amazed as you hold a piece of Mars and the Moon in your hands. Learn about Maine's geological heritage and appreciate the natural beauty on display. B, D
DAY 7: PORTLAND, MAINE
Start your day with a ride up to the top of North Peak on a chondola ride for sweeping views of the Sunday River Valley and Mahoosuc Mountains. Enjoy a guided tour at Pineland Farms, to learn about sustainable agriculture practices, interact with farm animals, and experience the beauty of the farm's landscapes. Continue your adventure in Portland, exploring charming streets and soak up the rich maritime atmosphere. B, D
DAY 8: HOME
As this memorable tour comes to a close, it's time to bid farewell to the friends you've made along the way. B
Dates:
Departure Date: September 1, 2024
Return Date: September 8, 2024
Pricing:
Double: $2,999
Triple/Quad: $2,699
Single: $3,799
*Price per person
*Includes round-trip airfare from STL or MCI (call for other gateway cities)
Luggage:
Orange luggage tags are provided and are to be placed on your "checked luggage" (large bag). You do not need a tag for your carry-on bag, for which you will be responsible for taking on and off the coach. There is limited space in the cabin of the coach, so unless you require your carry-on bag while traveling, we will stow it in the luggage compartment.
Important Information:
Each reservation requires a $250 per person deposit planning fee (exceptions may apply) to be credited toward your final payment. Some or all of your deposit may be non-refundable per our cancellation schedule noted in these Terms & Conditions below. We are happy to accept cash, check (preferred) or credit card (Visa, Mastercard, Discover) for your deposit.
Throughout 2021 we limited capacity on all our tours. This policy was so overwhelmingly popular by Sunrise travelers, we have made it permanent. In 2022 and beyond, we will limit the capacity on our motorcoaches to 80%. Most Sunrise Tours travel on 50-seat coaches with extra legroom, which means guests will enjoy extra legroom AND at least 6-8 empty seats. In the rare cases when we charter a 55-seat coach, there will be at least 10 open seats on the bus.
Our popular on-board refreshment service on travel days will feature a variety of soda, beer, wine spritzers, juices and sparkling water choices served in recyclable aluminum cans. This is a safe and eco-conscious way for us to deliver the ever-popular Sunrise Tours "happy hour" on tour. We do not typically serve bottled water and ask that while on tour you be responsible for your own hydration and consider the Sunrise Tours drink service a welcome refreshment.
Terms and Conditions:
Please refer to our policies HERE for more information on our terms and conditions.
Share it
---