All aboard! Travel back to the Old West and the days of the "Iron Horse" set against the awe-inspiring backdrop of Colorado's Rocky Mountains. You'll journey on five vintage trains over high mountain passages and through breathtaking gorges. Along the way, see history come to life with stops at an old stagecoach town (where you'll explore the last coal tipple in the country), a mining camp, and the Durango & Silverton Narrow Gauge Railroad Museum. Plus, spend free time exploring the renowned Vail Mountain Resort. A "must-do" epic adventure for nostalgia and train buffs alike!
Visit the stunning Garden of the Gods in Colorado Springs
Enjoy the magical town of Manitou Springs, home to nine mineral springs fed by the snows of Pikes Peak
Ride "North America's most scenic railroad"—the world-famous Royal Gorge Route
Visit the Durango & Silverton Narrow Gauge Railroad Museum
Enjoy the world-famous Vail Mountain Resort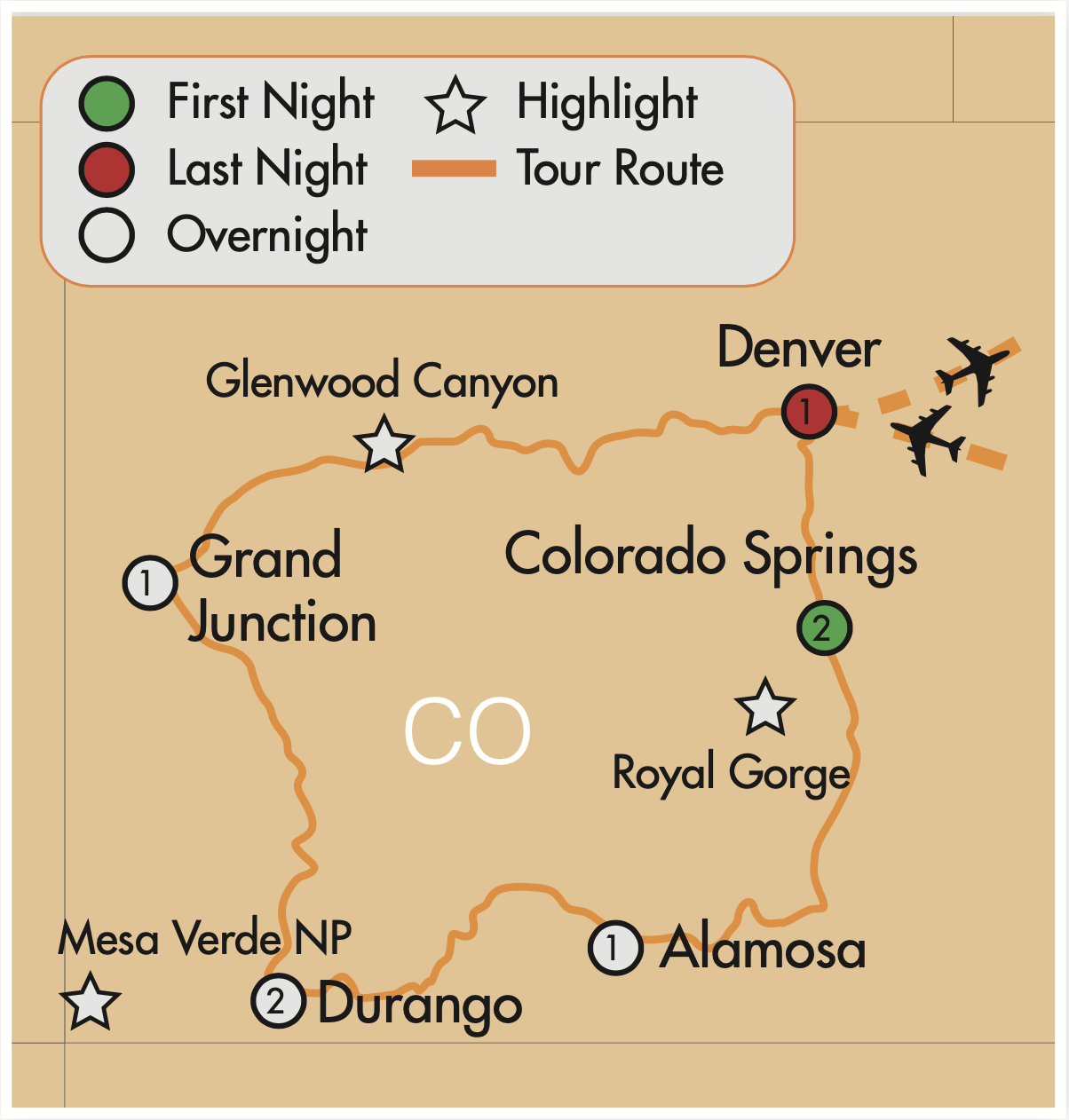 DAY 1: "ALL ABOARD" THE RAIL ADVENTURE OF A LIFETIME!
Relive the thrill and excitement of that historic era starting today, when you arrive in Denver for a welcome dinner with your fellow travelers. D
DAY 2: GARDEN OF THE GODS/MANITOU SPRINGS
This morning we visit the stunning Garden of the Gods in Colorado Springs. This 1,367-acre park at the base of Pikes Peak is where the Great Plains meet the Rockies—and is like a little piece of heaven! You'll be amazed by the abundance of plant and animal life here, as well as the magnificent red sandstone formations. You'll also enjoy the magical town of Manitou Springs, home to nine mineral springs fed by the snows of Pikes Peak. Many native Americans considered this area sacred—and you'll see why. B, L
Option—Pikes Peak Cog Railway If you're feeling extra adventurous, sign up for a thrilling 8,000-foot ascent to the top of majestic Pikes Peak (14,110 ft.), taking in miles of mountainous scenery along the way. Price: $75 per person
DAY 3: ROYAL GORGE RAILROAD/GREAT SAND DUNES N.P.
Today, ride "North America's most scenic railroad"—the world-famous Royal Gorge Route! From the comfort of your enclosed coach seat or open-air observation car, enjoy fabulous scenery and wildlife. This classic, old-time diesel engine chugs along the Arkansas River and winds its way through the steep granite cliffs of the gorge, passing under the Royal Gorge Bridge, suspended more than 1,000 feet above the tracks. Marvel at N. America's tallest dunes in Great Sand Dunes National Park & Preserve. B, L
DAY 4: CUMBRES & TOLTEC RAILROAD
Return to the exciting days of the Frontier West aboard this stately steam engine the moment it blows its horn! Relax in your comfortable coach or open-air observation car during an unforgettable journey from Antonito to the old stagecoach town of Chama, New Mexico, home to one of the last coal tipples in the country. Mid-way enjoy a delicious lunch stop in the small mining town of Osier. B, L
DAY 5: DURANGO YOUR WAY
Enjoy a leisurely day in the western town of Durango, which was founded in 1880 by the Denver & Rio Grande Railroad. You may choose to explore this historic downtown on a walking tour, stroll the Animas River trail, browse the shops or take an exciting optional excursion. B
Option—Mesa Verde National Park Travel deep into Mesa Verde National Park to learn about Anasazi Indians. L Price: $55 per person.
DAY 6: DURANGO & SILVERTON NARROW GAUGE RAILROAD
Immerse yourself in yesteryear with the Durango & Silverton Narrow Gauge Railroad Museum's memorabilia, including full-size locomotives, maps, photos and artwork. Then the 1880s-era coal-fired, steam powered locomotives to travel the same track miners, cowboys and settlers did over a century ago. Gaze in awe while chugging through portions of the magnificent two million acres of remote wilderness that make up the San Juan National Forest! B, D
DAY 7: VAIL FREE TIME
The junction of the Colorado and Gunnison Rivers formed the fertile soils around Grand Junction. Enjoy the world-famous Vail Mountain Resort on your own and at your own pace. There are countless things to do in this quaint, historic, European-influenced town nestled amongst the Rocky Mountains. En route to Dillon, travel the engineering marvel that is I-70, considered by many the most scenic highway in the U.S. Tonight, we share a farewell dinner together in Dillon. B, D
DAY 8: FRONTIER MINING TOWN/TALES OF YORE/GEORGETOWN LOOP R.R.
Your day begins in charming Georgetown, which started as a mining camp in 1859 and still maintains much of its 19th century architecture. After a bountiful breakfast, storyteller Leon Joseph Littlebird will perform tales of mountain life and indigenous music. Afterward, experience your final rail adventure aboard the Georgetown Loop Railroad, a narrow gauge line that forms a grand loop high in the Rocky Mountains. Then you'll say good-bye to new friends and take home happy railroading memories! B
Dates:
Departure: September 18, 2022
Return: September 25, 2022
Pricing:

Double: $2497
Triple/Quad: $2357
Single: $3015
*Per person rates* +travel protection TBD
* Includes roundtrip airfare from STL or MCI
Average Temperatures:
Denver: 82° / 50°
Colorado Springs: 75° / 48°
Alamosa: 76° / 38°
Durango: 77° / 41°
Grand Junction: 81° / 53°

Luggage:
Orange luggage tags are provided and are to be placed on your "checked luggage" (large bag). You do not need a tag for your carry-on bag, for which you will be responsible for taking on and off the coach. There is limited space in the cabin of the coach, so unless you require your carry-on bag while traveling, we will stow it in the luggage compartment.
Important Information:
New reservations will require a $250 per person deposit unless otherwise noted. As always, your deposit is still fully refundable for any reason until final payment. We are happy to accept cash, check (preferred) or credit card (Visa, Mastercard, Discover) for your deposit.
Throughout 2021 we limited capacity on all our tours. This policy was so overwhelmingly popular by Sunrise travelers, we have made it permanent. In 2022 and beyond, we will limit the capacity on our motorcoaches to 80%. Most Sunrise Tours travel on 50-seat coaches with extra legroom, which means guests will enjoy extra legroom AND at least 6-8 empty seats. In the rare cases when we charter a 55-seat coach, there will be at least 10 open seats on the bus.
Our popular on-board refreshment service on travel days will feature a variety of soda, beer, wine spritzers, juices and sparkling water choices served in recyclable aluminum cans. This is a safe and eco-conscious way for us to deliver the ever-popular Sunrise Tours "happy hour" on tour. We do not typically serve bottled water and ask that while on tour you be responsible for your own hydration and consider the Sunrise Tours drink service a welcome refreshment.
Terms and Conditions:
Please refer to our policies HERE for more information on our terms and conditions.
Share it
---