Crème de la Crème, "the best of the best," is the perfect description for this tour. Spend eight nights in four historic and luxurious Fairmont Canadian hotels, each with their own unique world class character. Informative local guides share historical anecdotes and stories about these Canadian gems!
2 days at Niagara Falls from both sides
Eight nights at four 5-star Fairmont Hotels
Guided tour of the most European of North American cities, Quebec City
Visit Canada's largest and most popular cultural institution, The Canadian Museum of History
Discover the sites of Ottawa and the Tulip Festival, featuring more than three million tulips
Board a 100% electric boat for a cruise tour on the Rideau Canal, UNESCO World Heritage Site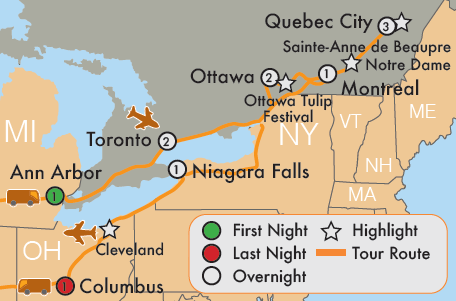 DAY 1: TORONTO
Welcome to trendy Toronto, where you'll enjoy a two-night stay in the centrally located 4-star Fairmont Royal York with hand-painted ceilings and glamorous chandeliers that harken back to its opening in 1929. This evening, rise 1136 feet in 58 seconds for dinner and an eagle's eye view of Toronto at the CN tower. B, D
DAY 2: TORONTO
Explore the bustling city of Toronto with a local expert, including a stop at The Distillery District – home to the Love Locks and over 40 boutiques and one-of-a-kind shops! After dinner, attend a production of Les Misérables at the Historic Princess of Wales Theater in the Toronto Theatre District. Set against the backdrop of 19th century France, Les Misérables tells an enthralling story of broken dreams and unrequited love, passion, sacrifice and redemption – a timeless testament to the survival of the human spirit. This epic and uplifting story has become one of the most celebrated musicals in theatrical history. B, D
DAY 3: QUEBEC CITY
Travel to Quebec and enjoy a rustic and traditional sugar shack dinner experience with live entertainment and poured "taffy on snow" for dessert. Check into our hotel for the next three nights. Standing grand on a bluff overlooking the mighty St. Lawrence River, 5-star Fairmont Le Château Frontenac is not merely a hotel located in the heart of Old Québec - it IS the heart of Old Québec! B, D
DAY 4: QUEBEC CITY
Relax in our impressive hotel this morning before we visit to Montmorency Falls and St. Anne de Beaupre, where you'll be captivated by the majestic waterfall and the spiritual ambiance of the basilica. Afterward, enjoy free time in Quebec City to immerse yourself in its charm. Wander through the historic streets of Old Quebec, savor delectable cuisine at local restaurants, shop for unique souvenirs, or simply soak up the atmosphere of this French Canadian city. B
DAY 5: QUEBEC CITY
Join our local guide for informative exploration of the most European of North American cities, Quebec City. See the massive stone architecture, the heavily fortified walls and the charm of Old Quebec City. This afternoon is free to explore, shop and acclimate into the local culture before dinner at the historic Aux Anciens, known for traditional Québécois cuisine! B, D
DAY 6: MONTREAL
Enjoy breakfast before we travel to Montreal for a stay at the 4-star Fairmont Queen Elizabeth. This afternoon, our local tour guide will acquaint us with Montreal's cultural heritage and cosmopolitan blend of old and new as we see all the "must-see sights" including Montreal's crown jewel, the Notre-Dame Basilica. B, D
DAY 7: OTTAWA
Journey to Canada's beautiful capital city of Ottawa for a two-night stay at the 4-star Fairmont Château Laurier, a magnificent limestone edifice with turrets and masonry reminiscent of a French Château. Visit Canada's largest and most popular cultural institution, The Canadian Museum of History. B, D
DAY 8: CANADIAN TULIP FESTIVAL
With a local guide, discover the sites of Ottawa and the Tulip Festival, featuring more than three million tulips. Visit Commissioner's Park, Parliament Hill and Sussex Drive, view the official residences of the Prime Minister and Governor General and many other sights. Board a 100% electric boat for a cruise tour on the Rideau Canal, a UNESCO World Heritage Site, to learn about its historic engineering and enjoy views of Ottawa's highlights. The evening is free for you to explore. B
DAY 9: NIAGARA FALLS
Journey along the shores of Lake Ontario into Niagara Falls, Ontario. Dine at the prominent Skylon tower revolving dining room, located 775 feet above the falls with incredible views. This evening, check in for an overnight stay at the Four Points by Sheraton Niagara Falls Fallsview. B, D
DAY 10: NIAGARA FALLS
Board the Hornblower Niagara boat for a cruise past American Falls, Bridal Veil Falls and into the very heart of Horseshoe Falls for an exhilarating up-close encounter with the famous natural wonder, Niagara Falls. After crossing the border into the USA, enjoy lunch at Templeton Landing – with water views of the Erie Basin. This afternoon, travel west to Ohio for an overnight stay. B, L
DAY 11: AU REVOIR
Merci for a trip filled with extraordinary memories! Note: Fly tour returns home from Cleveland, OH. B

Dates:
Departure: May 8, 2024
Return: May 18, 2024
Pricing:
Double: $4999
Triple/Quad: $4399
Single: $6649
*Price per person includes airfare from STL or MCI (call for other gateway cities)
*Passport Required
Identification:

Valid passport required to travel.
Average Temperatures:

Ann Arbor, MI: 71°/49°
Toronto, CA: 62°/41°
Ottawa, CA: 64°/44°
Quebec, CA: 61°/40°
Montreal, CA: 65°/44°
Niagara Falls, NY: 68°/46°
Columbus, OH: 74°/50°

Luggage:
Orange luggage tags are provided and are to be placed on your "checked luggage" (large bag). You do not need a tag for your carry-on bag, for which you will be responsible for taking on and off the coach. There is limited space in the cabin of the coach, so unless you require your carry-on bag while traveling, we will stow it in the luggage compartment.
Important Information:
Each reservation requires a $250 per person deposit planning fee (exceptions may apply) to be credited toward your final payment. Some or all of your deposit may be non-refundable per our cancellation schedule noted in these Terms & Conditions below. We are happy to accept cash, check (preferred) or credit card (Visa, Mastercard, Discover) for your deposit.
Throughout 2021 we limited capacity on all our tours. This policy was so overwhelmingly popular by Sunrise travelers, we have made it permanent. In 2022 and beyond, we will limit the capacity on our motorcoaches to 80%. Most Sunrise Tours travel on 50-seat coaches with extra legroom, which means guests will enjoy extra legroom AND at least 6-8 empty seats. In the rare cases when we charter a 55-seat coach, there will be at least 10 open seats on the bus.
Our popular on-board refreshment service on travel days will feature a variety of soda, beer, wine spritzers, juices and sparkling water choices served in recyclable aluminum cans. This is a safe and eco-conscious way for us to deliver the ever-popular Sunrise Tours "happy hour" on tour. We do not typically serve bottled water and ask that while on tour you be responsible for your own hydration and consider the Sunrise Tours drink service a welcome refreshment.
Terms and Conditions:
Please refer to our policies HERE for more information on our terms and conditions.
Share it
---