Experience the incredible ecosystems, wildlife, and history that make up Florida's National Parks with up close tours and expert local guides. Plus, enjoy fun in the sun with time to explore the bustling vacation hotspots of Key West and Ft. Lauderdale.
3 guided excursions in Everglades National Park
2 nights in Key West
Optional tour to Dry Tortugas or free time in Key West
City tours of Ft Lauderdale and Key West
Sunset Boat Tour in the Florida Bay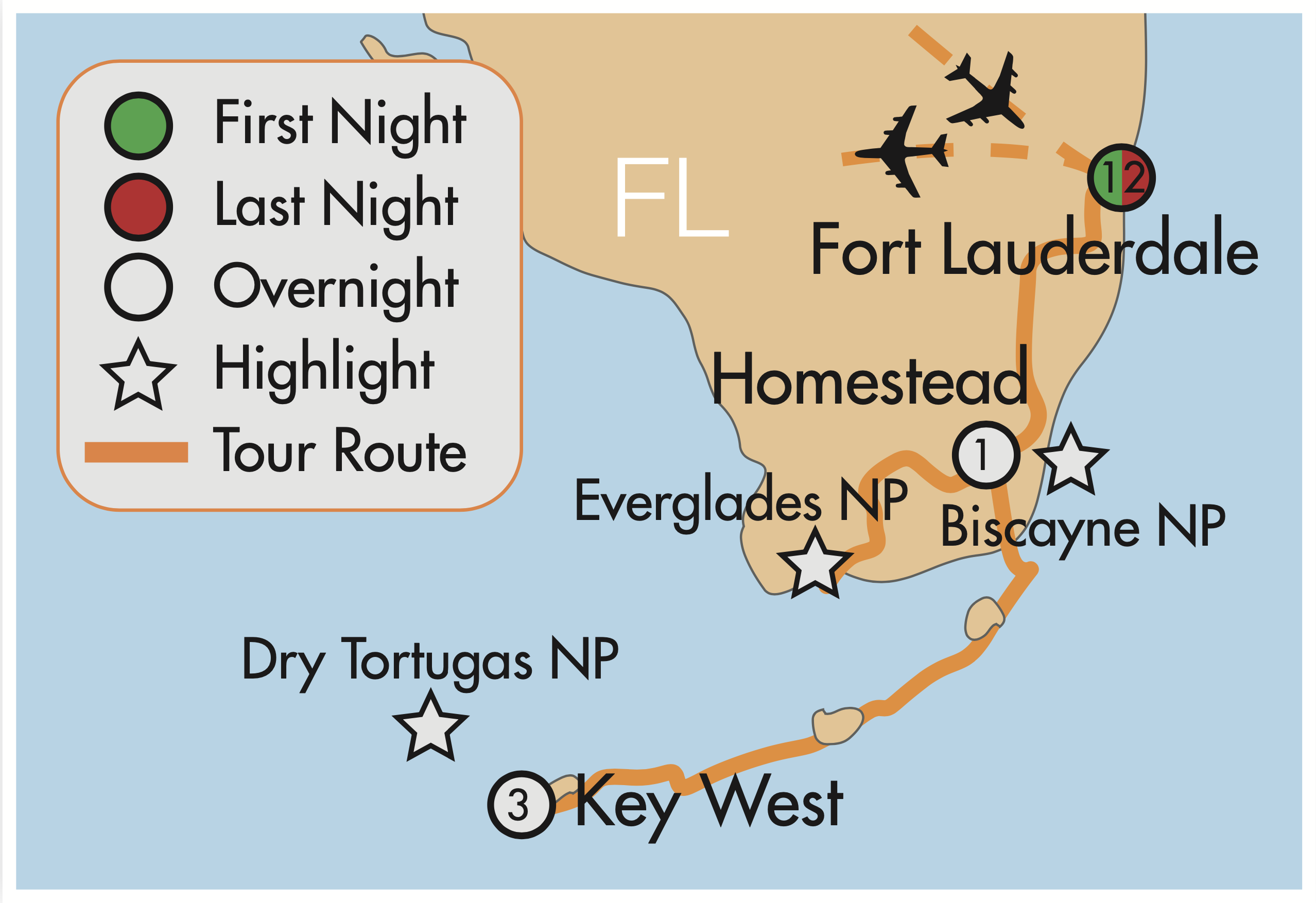 DAY 1: ARRIVE
Arrive in Ft. Lauderdale and check in for a 2-night stay. D
DAY 2: FT. LAUDERDALE
See the "Venice of America" with a guided city tour of Ft. Lauderdale. Enjoy an afternoon sightseeing cruise aboard the Carrie B. and dinner at local favorite, Tropical Acres Steakhouse. B, D
DAY 3: EVERGLADES
Get up close with America's largest subtropical wilderness in Everglades National Park. Take a thrilling airboat ride through the "river of grass" and search for the American Alligator during a tram ride through Shark Valley. Continue to Homestead for a 2-night stay. B, L
DAY 4: BISCAYNE
Learn about the complex marine ecosystem protected at Biscayne National Park with a ranger presentation before a journey to the southern tip of the Everglades for a special sunset boat tour on the Florida Bay. Look for dolphins, manatees, crocodiles, and exotic birds that all make their home along the saltwater coast. B, L
DAY 5: KEY WEST
Enjoy the scenic drive along US-1 through the Florida Keys to its last stop - Key West. Tour the vacation mecca aboard a narrated trolley and enjoy free time to visit the museums and attractions that pique your interest. A local seafood dinner awaits along the harbor at Conch Republic Seafood before checking in for a 2-night stay. B, D
DAY 6: KEY WEST
Select your choice of island adventures. Take the Yankee Freedom ferry to Dry Tortugas National Park aboard an all-day tour to see historic Fort Jefferson with expert guides plus free time to enjoy the island. Or spend the day exploring Key West on your own with an unlimited hop-on/hop-off ticket aboard the Old Town Trolley. Attractions include the Hemingway Home & Museum, Shipwreck Museum, Little Truman Whitehouse, and much more! B
Option – Dry Tortugas Day Trip. This all-day tour includes a 2-hour ferry ride aboard the Yankee Freedom, a guided tour of Fort Jefferson, and free time to explore the island. Lunch included.
Price - $190 per person
Option – Old Town Trolley Access. Enjoy an unlimited hop-on/ hop-off ticket to explore Key West at your own pace. Travel to any attraction on the island using the Old Town Trolley and its many stops. Price - $48 per person
DAY 7: FT. LAUDERDALE
After a relaxing morning in Key West, return along scenic US-1 to mainland Florida. Stop in Marathon Key at the Turtle Hospital to learn about how injured sea turtles are rehabilitated, and what is being done to protect this iconic species of South Florida. Enjoy a farewell dinner and overnight stay in Ft. Lauderdale. B, D
DAY 8: RETURN HOME. B
Dates:

Departure: November 8, 2023 - SOLD OUT
Return: November 15, 2023 - SOLD OUT
AND

Departure: February 8, 2024
Return: February 15, 2024
AND
Departure: November 11, 2024
Return: November 18, 2024
Pricing:
Double: $3,100
Triple/Quad: $2,755
Single: $3,989
*Price per person
*Includes roundtrip flight from STL or MCI (call for other gateway cities)
Average temperatures:

Fort Lauderdale: 78° / 62°
Key West: 76° / 68°

Luggage:
Orange luggage tags are provided and are to be placed on your "checked luggage" (large bag). You do not need a tag for your carry-on bag, for which you will be responsible for taking on and off the coach. There is limited space in the cabin of the coach, so unless you require your carry-on bag while traveling, we will stow it in the luggage compartment.

Important Information:
Each reservation requires a $250 per person deposit planning fee (exceptions may apply) to be credited toward your final payment. Some or all of your deposit may be non-refundable per our cancellation schedule noted in these Terms & Conditions below. We are happy to accept cash, check (preferred) or credit card (Visa, Mastercard, Discover) for your deposit.
Throughout 2021 we limited capacity on all our tours. This policy was so overwhelmingly popular by Sunrise travelers, we have made it permanent. In 2022 and beyond, we will limit the capacity on our motorcoaches to 80%. Most Sunrise Tours travel on 50-seat coaches with extra legroom, which means guests will enjoy extra legroom AND at least 6-8 empty seats. In the rare cases when we charter a 55-seat coach, there will be at least 10 open seats on the bus.
Our popular on-board refreshment service on travel days will feature a variety of soda, beer, wine spritzers, juices and sparkling water choices served in recyclable aluminum cans. This is a safe and eco-conscious way for us to deliver the ever-popular Sunrise Tours "happy hour" on tour. We do not typically serve bottled water and ask that while on tour you be responsible for your own hydration and consider the Sunrise Tours drink service a welcome refreshment.
Terms and Conditions:
Please refer to our policies HERE for more information on our terms and conditions.
Share it
---