In 1932 the United States and Canada unified Glacier and Waterton Lakes National Parks into an International Peace Park to commemorate peace and goodwill between the nations. Together, they form one of the most beautiful regions of mountains and alpine lakes on earth. See this awe-inspiring area from both sides of the border on this exciting new tour.
Dinner cruise on Lake Coeur d'Alene
2 nights within Waterton Lakes National Park of Canada
Sightseeing cruise on Waterton Lakes
Red Bus Tour in Glacier National Park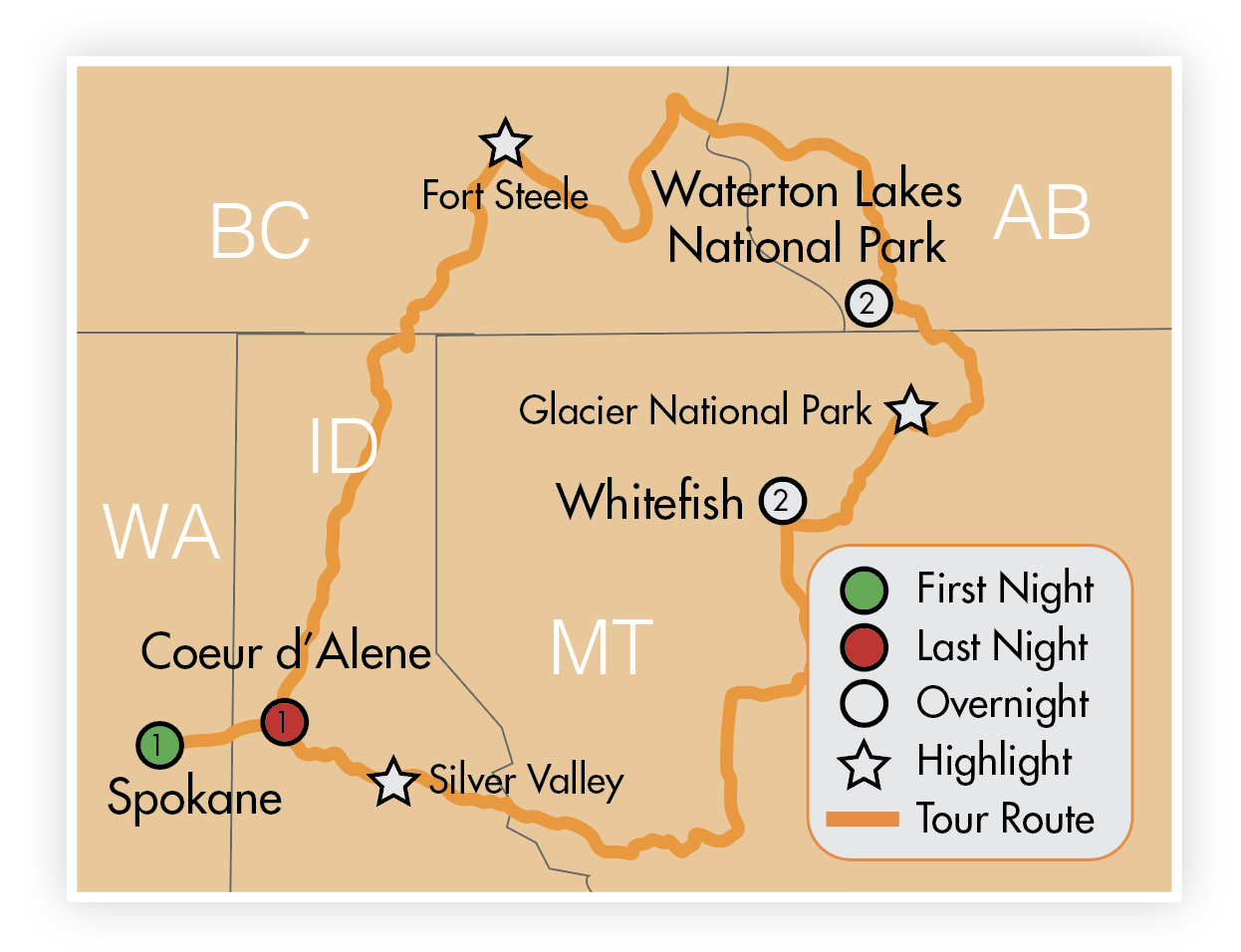 DAY 1: FLY TO SPOKANE
Arrive and board the motorcoach to scenic Coeur d'Alene, ID. Spend the evening on Lake Coeur d'Alene enjoying a gourmet dinner aboard a sunset cruise. D
DAY 2: CANADA'S FRONTIER
Head north and across the border into British Columbia and the Eastern Kootenay Mountains. Discover what the Old West looked like in Canada at Fort Steele Heritage Town. Historical guides and activities take you back to the height of the gold rush that ushered in this boom town in 1864. Protected as a historic site by British Columbia, the town includes 98 preserved or renovated structures. Overnight in nearby Fernie, BC. B, L
DAY 3: GLACIER-WATERTON INTERNATIONAL PEACE PARK
The full splendor of the Canadian Rockies awaits as you enter Waterton Lakes National Park, along with Glacier, Waterton Lakes forms the International Peace Park, a UNESCO World Heritage Site shared by the United States and Canada to commemorate the continued peace and goodwill between the two nations. Experience Afternoon Tea at the historic Prince of Wales hotel overlooking Upper Waterton Lake and check-in for 2-night stay at Waterton Lakes Lodge Resort, a short walk from water's edge and gorgeous mountain views! B, High Tea
DAY 4: WATERTON LAKES NATIONAL PARK
Spend the morning at leisure to bask in one of Canada's most beautiful parks. Take a stroll along the shoreline trail or sit and enjoy the mountain views that go on for miles. Feeling adventurous? Take on one of many trails for a hike into Waterton's pristine wilderness. After lunch, journey through crystal clear water and into the mountains aboard the Waterton Shoreline Cruise. B, D
DAY 5: GLACIER NATIONAL PARK
Say goodbye to the Canadian Rockies and hello to Glacier National Park. Travel through the park and enjoy stunning views of high peaks, alpine lakes, and colorful wildflowers. Look for some of the park's famous wildlife, including mountain goats, bighorn sheep, and of course, grizzly bears. Continue to Whitefish, MT and check into your home at the edge of Glacier for 2 nights, Grouse Mountain Lodge. B, D
DAY 6: RED BUS TOUR
Head back into Glacier for its famous Red Bus Jammer tour along Going-to-the-Sun Road. Nicknamed the Rubies of the Rockies, these historic style vehicles have been providing scenic and educational tours of Glacier for generations. After lunch in the park, return to Whitefish with time to explore its classic Western downtown area for dinner and shopping. B, L
DAY 7: SILVER VALLEY
Travel west into Idaho and tour its historic Silver Valley, home to a robust mining industry dating back to the earliest days of westward expansion. Visit a working mine and learn about the methods of hard-rock mining. See the oldest building in Idaho at Old Mission State Park, constructed by Catholic missionaries and the Coeur d'Alene Tribe. Continue to Spokane. B, D
DAY 8: FLY HOME B
Dates:
Departure Date: Aug 1, 2023
Return Date: Aug 8, 2023
Pricing:
Double: $3299

Triple/Quad: $2999
Single: $4019
*Per person rates
*Includes round-trip airfare from STL or MCI (call for other gateway cities)

Luggage:

Sunrise Tours luggage straps (that go around the entire exterior of your piece of luggage) are available in our office that can assist with ensuring your luggage stays securely closed throughout the air transport process. If you would like a complimentary luggage strap, please stop by our office during regular office hours.
Identification:
Since we are flying into Canada, you must bring along a valid passport for the duration of the tour.
Canadian Trip Information:
The currency is the Canadian Dollar. Although credit cards are recommended for ease in monetary transactions, there will be places where you may convert your US currency to Canadian Dollars. The current exchange rate is $0.80 USD = $1 CAD. Gratuities should be paid in the local currency whenever possible. Like the USA, Canada uses 110 volts, 60 Hz. It is not necessary to use an adaptor or converter with appliances and devices that you use in the US. Please check with your carrier regarding cell phone service and fees.

Important Information:
Reservations will require $250 per person deposit for this tour. Some or all of your deposit may be non-refundable per our cancellation schedule noted in these Terms & Conditions below. We are happy to accept cash, check (preferred) or credit card (Visa, Mastercard, Discover) for your deposit.
Throughout 2021 we limited capacity on all our tours. This policy was so overwhelmingly popular by Sunrise travelers, we have made it permanent. In 2022 and beyond, we will limit the capacity on our motorcoaches to 80%. Most Sunrise Tours travel on 50-seat coaches with extra legroom, which means guests will enjoy extra legroom AND at least 6-8 empty seats. In the rare cases when we charter a 55-seat coach, there will be at least 10 open seats on the bus.
Our popular on-board refreshment service on travel days will feature a variety of soda, beer, wine spritzers, juices and sparkling water choices served in recyclable aluminum cans. This is a safe and eco-conscious way for us to deliver the ever-popular Sunrise Tours "happy hour" on tour. We do not typically serve bottled water and ask that while on tour you be responsible for your own hydration and consider the Sunrise Tours drink service a welcome refreshment.
Terms and Conditions:
Please refer to our policies HERE for more information on our terms and conditions.
Share it
---