Breathe in the Lake Michigan air, see magical sunsets and experience picturesque, charming towns on our way to northern Michigan's Mackinac Island. Step back in time with an overnight stay at the beautiful and historic Grand Hotel, embracing old-world hospitality with first-class accommodation.
Mac Woods Dune Ride at Silver Lake Sand Dunes
Overnight at luxurious Grand Hotel
Two-night stay on Grand Traverse Bay
Sleeping Bear Dunes National Lakeshore
Mission Point Lighthouse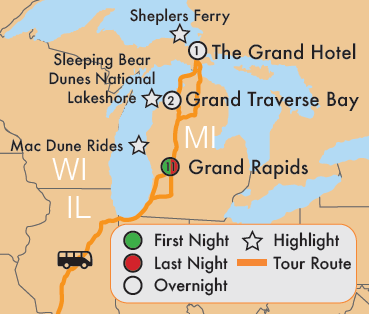 DAY 1: MID-MICHIGAN
Travel north to mid-Michigan for dinner and an overnight stay. D
DAY 2: GRAND TRAVERSE BAY
Explore the magnificent Silver Lake Sand Dunes with Mac Woods Dune Rides. A Michigan tradition for 30 years, be thrilled as you learn the history and environment of the constantly moving sand mountains. Continue to Traverse City with dinner at a local favorite before checking into our lakefront hotel, The Bayshore Resort, with beautiful views on the shores of Grand Traverse Bay for a two-night stay. B, D
DAY 3: SLEEPING BEAR DUNES AND GRAND TRAVERSE BAY
Join our local guide for a scenic drive past cherry orchards and around picturesque Old Mission Peninsula with unparalleled views both east and west of Grand Traverse Bay from hillside vistas. Continue along Pierce Stocking Scenic Drive in Sleeping Bear Dunes National Lakeshore, named the "Most Beautiful Place in America" on ABC's Good Morning America. Sample local and unique cherry items at the Cherry Republic beforeenjoying lunch on the Peninsula and a visit to the historic Old Mission Lighthouse. B, L
DAY 4: MACKINAC ISLAND AND GRAND HOTEL
Travel along Lake Michigan for a ferry ride to Mackinac Island. Feel like you have stepped back in time when you take a horse and carriage to the world-renowned Grand Hotel, the island's premier luxury resort, where the longest porch in the world overlooks the Straits of Mackinac. Enjoy a five-course dinner in the Grand Hotel's elegant dining room. B, D
DAY 5: MACKINAC ISLAND AND GRAND RAPIDS
After a restful night in one of the Grand's beautiful rooms, enjoy a morning at leisure to relax at the hotel or take an optional horse drawn carriage tour of Mackinac Island State Park (additional expense). Before the return ferry ride, we have our third delectable meal at the Grand Hotel: lunch at the incomparable Grand Buffet! Travel to Grand Rapids area for an overnight stay. B, L

DAY 6: RETURN HOME
Return to St. Louis having had a very "Grand" vacation! B
Dates:
Departure: June 2, 2024
Return: June 7, 2024
AND
Departure: June 22, 2024
Return: June 27, 2024
AND
Departure: September 16, 2024
Return: September 21, 2024
Pricing:
Double: $1939
Triple/Quad: $1799
Single: 2459
*Price per person
About Mackinac Island and Grand Hotel:
The Grand Hotel opened its doors in 1887 and has 397 unique rooms. No two rooms are alike! Mackinac Island was our nation's second national park for 20 years. When the land was given to Michigan in 1895, it became its first state park.
Attire:
The Grand Hotel enforces a dress code. Because every evening at Grand Hotel is a special occasion, after 6:30 PM in main areas of the hotel dresses, skirts, blouses, dress sweaters, and dress slacks for ladies are preferred, while gentlemen are required to wear a suit or sport coat, necktie, and dress pants (no denim or shorts). This applies for all areas inside the hotel including the Parlor, Lobby, Terrace, and Main Dining Room, with the exception of the Cupola Bar.
Luggage:
Orange luggage tags are provided and are to be placed on your "checked luggage" (large bag). You do not need a tag for your carry-on bag, for which you will be responsible for taking on and off the coach. There is limited space in the cabin of the coach, so unless you require your carry-on bag while traveling, we will stow it in the luggage compartment.
Important Information:
Each reservation requires a $250 per person deposit planning fee (exceptions may apply) to be credited toward your final payment. Some or all of your deposit may be non-refundable per our cancellation schedule noted in these Terms & Conditions below. We are happy to accept cash, check (preferred) or credit card (Visa, Mastercard, Discover) for your deposit.
Throughout 2021 we limited capacity on all our tours. This policy was so overwhelmingly popular by Sunrise travelers, we have made it permanent. In 2022 and beyond, we will limit the capacity on our motorcoaches to 80%. Most Sunrise Tours travel on 50-seat coaches with extra legroom, which means guests will enjoy extra legroom AND at least 6-8 empty seats. In the rare cases when we charter a 55-seat coach, there will be at least 10 open seats on the bus.
Our popular on-board refreshment service on travel days will feature a variety of soda, beer, wine spritzers, juices and sparkling water choices served in recyclable aluminum cans. This is a safe and eco-conscious way for us to deliver the ever-popular Sunrise Tours "happy hour" on tour. We do not typically serve bottled water and ask that while on tour you be responsible for your own hydration and consider the Sunrise Tours drink service a welcome refreshment.
Terms and Conditions:
Please refer to our policies HERE for more information on our terms and conditions.
Share it
---