Explore the breathtaking volcanic islands of Hawaii on this exclusive trip limited to only 25 travelers! Featuring exclusive attractions unique to Sunrise Tours, travel with us to Hawaii and see why this land full of history, beauty, and culture is a world-renowned tropical paradise.
Wander the grand halls of Iolani Palace, the only royal palace in the United States
Peer into one of the world's most active volcanoes
Ascend 10,000 feet to the top of Haleakala "house of the sun" dormant volcano
Savor a traditional Hawaiian luau and Polynesian musical and dance review
Visit the Aquarium of Hawaii
Unique small group itinerary limited to 25 guests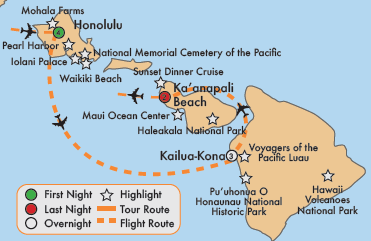 DAY 1: ALOHA TO OAHU: THE GATHERING PLACE!
Arrive in Honolulu where you will be greeted at the airport with a traditional flower lei before transferring to your luxury hotel in Waikiki Beach. Enjoy a festive welcome dinner with your fellow travelers at Tiki's Grill overlooking the Pacific Ocean. D
DAY 2: PINEAPPLE EXPRESS TRAIN/MOHALA FARMS
Today we embark on a historical and agricultural tour of Oahu starting with a two-mile excursion aboard the Pineapple Express Train. Continue to the sugar cane fields at Mohala Farms, a 6-acre organic farm and non-profit organization in Hawaii. Continue along the eastern shore to our next stop – the Byodo-In Temple. The lush gardens and serene koi ponds make it a true "paradise on earth." B, L
DAY 3: PEARL HARBOR/THE HANGER
Venture to Pearl Harbor for a day of historic sightseeing. Begin with a brief film about the infamous attack on December 7, 1941. Then, board an excursion boat to take you on a narrated tour to the USS Arizona Memorial. Returning to shore, tour the USS Bowfin Submarine Museum then travel by coach across the floating bridge to Ford Island and the Pearl Harbor Aviation Museum. Enjoy a delicious lunch at The Hangar Café, a World War II themed restaurant. Take an audio-guide tour of the museum, named the "#1 historical spot worth traveling for." Conclude the afternoon with a docent-led tour aboard the battleship USS Missouri. Dinner tonight at the famous Tanaka of Tokyo Hibachi Restaurant. B, L, D
DAY 4: NATIONAL MEMORIAL CEMETERY OF THE PACIFIC/IOLANI PALACE
This morning, travel to the National Memorial Cemetery of the Pacific, formed during the Honolulu Volcanic Series. The massive extinct volcano is one of the most notable landmarks on the island of Oahu! Next, drive past the Hawaii State Capitol. The columns around the building's perimeter resemble royal palm trees! Arriving at Iolani Palace, embark on an historic audio-guide tour of the only royal palace in the U.S. Continue on a driving tour of historic Honolulu to see Ali'iolani Hale, the State Supreme Court building. B, L
DAY 5: THE BIG ISLAND/KAILUA-KONA
Travel to the Honolulu Airport for our short flight to the Big Island of Hawaii, the biggest and most volcanically active of the Hawaiian island chain. Upon arrival, ride to the charming seaside town of Kailua-Kona where we'll enjoy lunch and a relaxing afternoon alongside the Pacific Ocean. B, L
DAY 6: PU'UHONUA O HONAUNAU NATIONAL HISTORIC PARK/KONA COFFEE FARM/LUAU
Travel along the coast to the Pu'uhonua o Honaunau National Historical Park. From the park, we journey to Bay View Kona Coffee Farm. Take a fascinating tour of the farm, concluding with tasty samples. Next, enjoy a typical Hawaiian picnic lunch on the scenic hillside overlooking Kealakekua Bay. This evening, join fellow travelers for the spectacular Voyagers of the Pacific Luau at the Royal Kona Resort. B, L, D
DAY 7: HAWAII VOLCANOES NATIONAL PARK
Journey to Hawaii Volcanoes National Park and see Kilauea, the most active volcano in the Hawaii Volcanoes National Park and the most visited volcano in the world. Lunch will be served in the famous Kilauea Lodge Restaurant, which overlooks the Kilauea caldera and the billowing Halema'uma'u Crater. B, L
DAY 8: MAUI/HALEAKALA
We are off to Maui aboard a short inter-island flight. Arrive on Maui midday, taking a scenic ride across the sugar cane fields, before ascending the more than 10,000-foot-high dormant volcano – Haleakala. We'll experience stark volcanic landscapes and sub-tropical rain forest with unforgettable views above the clouds! B, L
DAY 9: SUNSET DINNER CRUISE
Today is a day to relax your mind, body, and spirit! Walk along the spectacular sandy Ka'anapali Beach or engage in an array of cultural activities at the resort – possibly a hula class or lei making. This evening, join your fellow travelers for the final highlight of your Hawaiian holiday – a sunset dinner cruise aboard a beautiful sailing vessel. Beverages, gourmet meal, and scrumptious dessert will be enjoyed while watching the sun set over the western Pacific Ocean. B, D
DAY 10: MAUI OCEAN CENTER/HOME
Travel to the Maui Ocean Center, The Aquarium of Hawaii, and enjoy a self-guided tour of this world-renowned center. After lunch, transfer to the Maui International Airport (Kahului), to board your overnight flight back home to the U.S. mainland. B, L
Dates:

Departure Date: November 7, 2024
Return Date: November 17, 2024
Pricing:
Double: $6,799
Single: $8,429
*Per person rates
*Price includes roundtrip airfare from STL or MCI (call for other gateway cities)
Luggage
Orange luggage tags are provided and are to be placed on your "checked luggage" (large bag). You do not need a tag for your carry-on bag, for which you will be responsible for taking on and off the coach. There is limited space in the cabin of the coach, so unless you require your carryon bag while traveling, we will stow it in the luggage compartment.
On the first and last nights of this tour, you are welcome to pack your carryon bag with essentials that would enable us to leave your "checked bag" on the coach. This will facilitate faster check-in and luggage delivery. This is not a requirement, merely a suggestion; we will deliver your "checked bag" to your room on the first and last nights if you desire, just like every other night of the tour.
Important Information:
Each reservation requires a $250 per person deposit planning fee (exceptions may apply) to be credited toward your final payment. Some or all of your deposit may be non-refundable per our cancellation schedule noted in these Terms & Conditions below. We are happy to accept cash, check (preferred) or credit card (Visa, Mastercard, Discover) for your deposit.
Throughout 2021 we limited capacity on all our tours. This policy was so overwhelmingly popular by Sunrise travelers, we have made it permanent. In 2022 and beyond, we will limit the capacity on our motorcoaches to 80%. Most Sunrise Tours travel on 50-seat coaches with extra legroom, which means guests will enjoy extra legroom AND at least 6-8 empty seats. In the rare cases when we charter a 55-seat coach, there will be at least 10 open seats on the bus.
Our popular on-board refreshment service on travel days will feature a variety of soda, beer, wine spritzers, juices and sparkling water choices served in recyclable aluminum cans. This is a safe and eco-conscious way for us to deliver the ever-popular Sunrise Tours "happy hour" on tour. We do not typically serve bottled water and ask that while on tour you be responsible for your own hydration and consider the Sunrise Tours drink service a welcome refreshment.
Terms and Conditions:
Please refer to our policies HERE for more information on our terms and conditions.
Share it
---