Discover Iceland's most awe-inspiring landscapes, abundant wildlife, local culture, and national treasures on this unique itinerary that circumnavigates the whole of Iceland. Experience the famous Golden Circle featuring Gullfoss Waterfall, Þingvellir (Thingvellir) National Park, and marvel at Europe's largest glacier, Vatnajökull, covering 3,100 square miles with an average thickness of 1,250 feet!
LAVA Experience
Visit the Sturlureykir horse farm to see iconic Icelandic horses up close
Whale watching cruise in Hauganes
Take a relaxing dip in the Mývatn Nature Bath
Boat tour on the impressive Jökulsárlón Glacier lagoon
Skógar Folk museum
Farm to table presentation at Efstidalur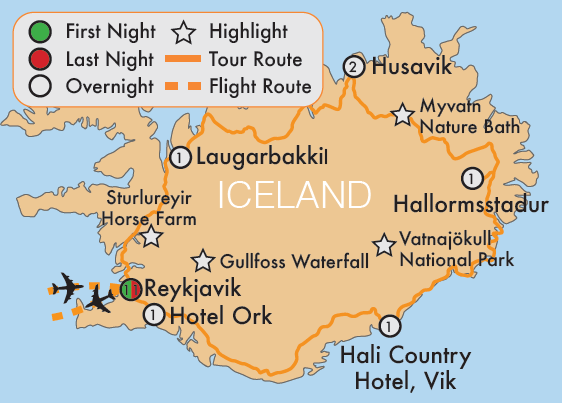 DAY 1: OVERNIGHT FLIGHT TO REYKJAVÍK, THE CAPITAL OF ICELAND Meal in flight
DAY 2: WELCOME TO ICELAND
Enjoy a welcome tour of Reykjavik and entrance to the interactive LAVA experience before free time to explore this cosmopolitan city of 140,000 proud Viking descendants. Your local guide will provide ideas about how to explore before a restful night at Fosshotel Reykjavík (or similar). B, D
DAY 3: LAND OF SAGAS
Visit the Settlement Centre in Borgarnes and learn about the Viking Age and the Icelandic Sagas. In the afternoon, join an optional hike up the Grábrók Volcano crater from where you will have a perfect view of the region's vast lava fields. Stop at the most powerful hot spring in Europe, Deildartunguhver, to learn about geothermal energy. Continue to Hraunfossar, a unique waterfall that drains from under vast lava fields into a glacier river. Visit Sturlureyir Horse Farm and get to know the iconic Icelandic horse. Overnight at Hotel Laugarbakki (or similar). B, D
DAY 4: NORTHERN ICELAND
Drive over mountain passes, lava fields, green pastures, fertile farmlands, and stunning fjord landscapes to Northern Iceland. Enjoy whale and dolphin watching, and sea angling in Eyjafjörður, Iceland's longest fjord. Finish the afternoon at Akureyri, Iceland's second-largest city, before reaching the picturesque village of Húsavík. Overnight at Fosshotel Húsavík. B, D
DAY 5: GEOLOGIC WONDERS AND NATURAL MINERAL BATHS
Start the day at Goðafoss, one of Iceland's most famed waterfalls. Tour the area around Lake Mývatn with its abundant birdlife and volcanic landscapes. Stroll through the lava labyrinth of Dimmuborgir and see volcanic craters at Skútustaðir and Hverfjall. Our last stop is the Mývatn Nature Baths, which contain abundant minerals like alkaline, for a perfect opportunity to relax and rejuvenate. Overnight at Fosshotel Húsavík. B, D
DAY 6: VOLCANOS AND EASTERN ICELAND
In the morning visit the hot springs, fumaroles, and bubbling mud pools of Námaskarð, and see the impacts of volcanic activity at Krafla. Continue the journey to the 144-foot high Dettifoss, Europe's most powerful waterfall. Head through the uninhabited highlands to East Iceland with a stop at Möðrudalur to visit a local farm church. Enjoy the view of Herðubreið Mountain before arriving in the fertile region of Fljótsdalshérað in East Iceland. Overnight at Hotel Hallormsstaður. B, D
DAY 7: FJORDS AND GLACIERS
Today, admire the green valleys, high mountains, dramatic fjord landscapes, and tiny fishing villages in the East Fjords. Stop at the charming village of Djúpivogur, then gaze upon the magnificent Vatnajökull, Europe's largest glacier. Embark on a boat ride upon the floating icebergs in the Jökulsárlón glacial lagoon, before walking along the black sands of the famous Diamond Beach. Overnight at Hali Country Hotel. B, D
DAY 8: VATNAJÖKULL NATIONAL PARK AND SOUTHERN ICELAND
In the morning, explore the wonderous Vatnajökull National Park where you will see the highest peak in Iceland, Hvannadalshnjúkur. Walk close to a glacier, cross a sandy desert, and admire the beautiful lava field of Eldhraun covered with blue-green moss. Learn about Iceland's early modern history at the Skógar folk museum with its iconic turf houses. Travel along the famous Eyjafjallajökull Glacier and stop at the picturesque Seljalandsfoss waterfall. Overnight at Hotel Örk. B, D
DAY 9: GOLDEN CIRCLE
Begin the day with a horseshow at Friðheimar and learn more about Icelandic agriculture. Spend the rest of the day travelling along the famous Golden Circle to see Gullfoss Waterfall, the active geothermal area of Geysir, and Þingvellir National Park, birthplace of the first Parliament (930 AD) and now a UNESCO world heritage site. End this amazing day with a farm to table meal at Efsti-Dalur Farms. B, D
DAY 10: DEPART FOR HOME
Our private coach will pick you up at the hotel for your departure home from Reykjavík airport with fond memories and more knowledge of beautiful Iceland! B

ACCOMMODATIONS:
Night 2: Grand Hotel Reykjavik
Night 3: Hotel Laugarbakki
Night 4-5: Hotel Kjarnalundur
Night 6: Hotel Hallormsstaður
Night 7: Hotel Skógafoss
Night 8: Hotel Ork
Night 9: Grand Hotel Reykjavik

Dates:
Departure: July 16, 2024
Return: July 25, 2024
Pricing:
Double: $5,899
Single: $7,599
*Price per person
*Includes round-trip airfare from STL or MCI, call for other gateways
*Passport Required
Identification:

Valid passport required to travel.
Luggage:
Orange luggage tags are provided and are to be placed on your "checked luggage" (large bag). You do not need a tag for your carry-on bag, for which you will be responsible for taking on and off the coach. There is limited space in the cabin of the coach, so unless you require your carry-on bag while traveling, we will stow it in the luggage compartment.
Important Information:
Each reservation requires a $250 per person deposit planning fee (exceptions may apply) to be credited toward your final payment. Some or all of your deposit may be non-refundable per our cancellation schedule noted in these Terms & Conditions below. We are happy to accept cash, check (preferred) or credit card (Visa, Mastercard, Discover) for your deposit.
Throughout 2021 we limited capacity on all our tours. This policy was so overwhelmingly popular by Sunrise travelers, we have made it permanent. In 2022 and beyond, we will limit the capacity on our motorcoaches to 80%. Most Sunrise Tours travel on 50-seat coaches with extra legroom, which means guests will enjoy extra legroom AND at least 6-8 empty seats. In the rare cases when we charter a 55-seat coach, there will be at least 10 open seats on the bus.
Our popular on-board refreshment service on travel days will feature a variety of soda, beer, wine spritzers, juices and sparkling water choices served in recyclable aluminum cans. This is a safe and eco-conscious way for us to deliver the ever-popular Sunrise Tours "happy hour" on tour. We do not typically serve bottled water and ask that while on tour you be responsible for your own hydration and consider the Sunrise Tours drink service a welcome refreshment.
Terms and Conditions:
Please refer to our policies HERE for more information on our terms and conditions.
Share it
---