Embark on a once-in-a-lifetime scenic adventure with amazing animal sightings including beavers, moose, bison, and a horse drawn sleigh ride on the glistening snow. A free day is featured to satisfy your spirit on a snowmobile tour or see a wolf pack at the Grizzly and Wolf Discovery Center. Famous for its geysers and hot springs, Yellowstone will live up to its reputation.
Travel through the Gallatin Gateway to West Yellowstone
Board our private heated snow coaches for an incredible excursion through Yellowstone Park
See the eruption at Old Faithful
Trek on a guided tour with a local park expert deep into Yellowstone
Enjoy a sleigh ride pulled by horses
Travel to Lamar Valley, the "American Serengeti" and see abundant wildlife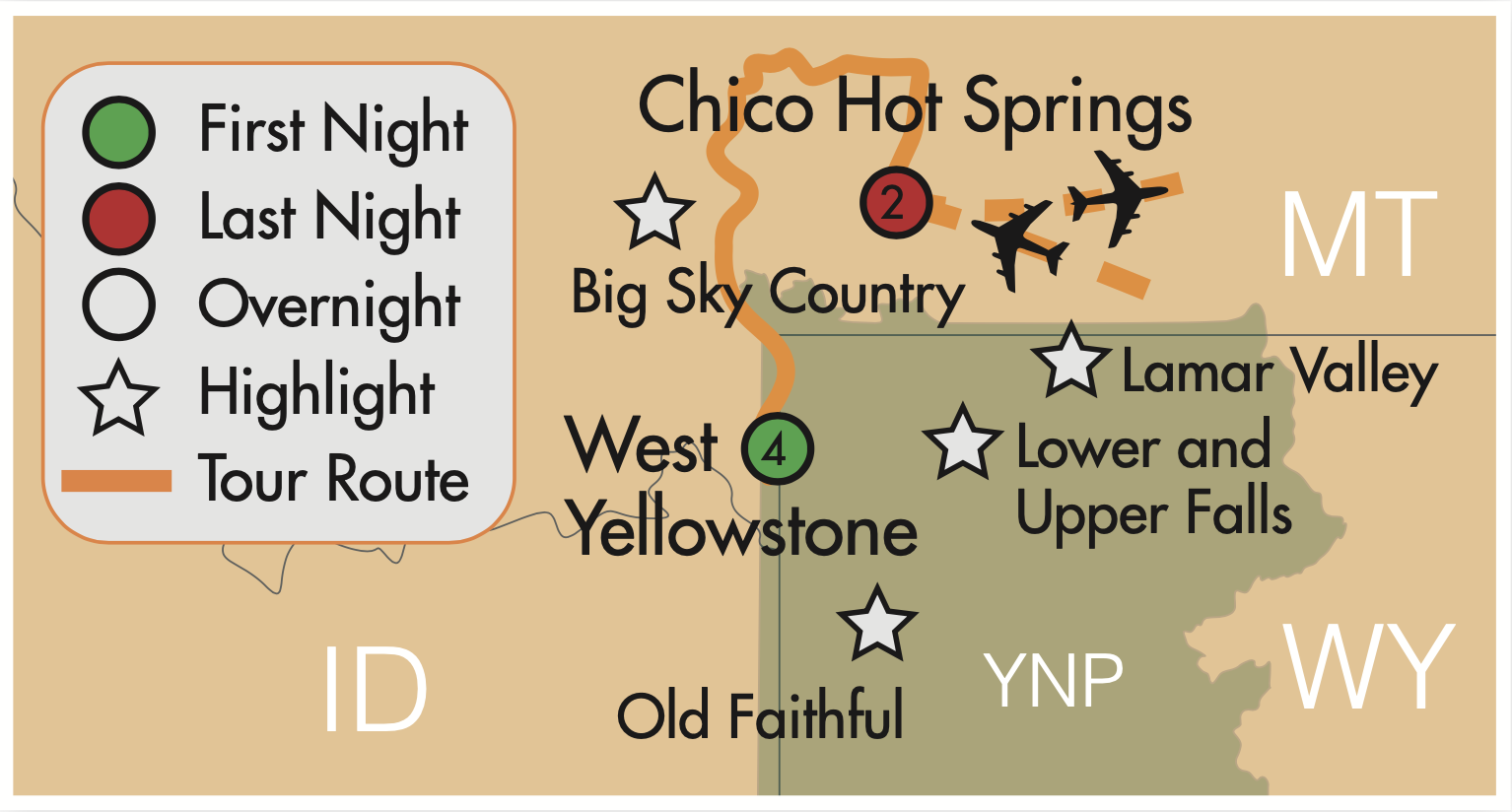 DAY 1: FLIGHT TO BOZEMAN, MT
Relax on a flight west to Bozeman, MT early afternoon. Begin this scenic extravaganza by traveling through the Gallatin Gateway to West Yellowstone, MT. Savor a delicious Montana dinner before unpacking for four nights at the Holiday Inn West Yellowstone Hotel. D
DAY 2: YELLOWSTONE NATIONAL PARK AND OLD FAITHFUL
Board our private heated snow coaches for an incredible excursion through Yellowstone Park to Old Faithful. Ride along groomed snow packed roads as our knowledgeable guide narrates a visit through the world's most concentrated geothermal and wildlife areas. Did you spot a shaggy herd of bison? The scenery is stunning at Fountain Paint Pots, Biscuit Basin and Madison Junction. Arrive Old Faithful Snow Lodge for lunch and free time to see an eruption of Old Faithful. B, L
DAY 3: WINTER WONDERLAND, AS YOU PLEASE
Today is your day at leisure to choose the activities that most interest you (fees not included). Your tour manager will be available to help you make arrangements. There are many ways to sightsee the area including but not limited to: visit the Grizzly & Wolf Discovery Center to experience an awe-inspiring wolf pack and watch the intriguing behavior of grizzly bears; relax and explore the Gallatin Forest for more photos; or satisfy your spirit for mild adventure and book a snowmobile tour into Yellowstone. They say if you can steer a lawnmower you can pilot a snowmobile! B
DAY 4: YELLOWSTONE NATIONAL PARK'S GRAND CANYON
Gather your camera and board heated snow coaches and trek on a guided tour with a local park expert deep into Yellowstone. See the famous sights without the crowds and with more animal sightings than in summer. Who will be first to spot a Trumpeter Swan? The scenery is stunning as we see steam and hot plumes of water mix with freezing temperatures at Beryl Springs, Gibbons Falls and the splendor of the Yellowstone's Grand Canyon's Lower and Upper Falls. B, Boxed Lunch, D
DAY 5: BIG SKY SLEIGH RIDE
Travel north into Big Sky to a 111-yearold homestead, 320 Guest Ranch, for a cowboy-inspired lunch. Enjoy a sleigh ride pulled by horses. What a treat! Arrive at the heart of Paradise Valley in the foothills of the Absaroka Mountains and unpack for two nights at the rustic Chico Hot Springs Resort & Day Spa. Perhaps you will want to take a plunge in the natural mineral hot springs pool or enjoy a warm beverage in the western Chico Saloon. B, L
DAY 6: LAMAR VALLEY
In 1995, wolves were reintroduced into Yellowstone and many have made Lamar Valley their home. Travel to this "American Serengeti" and see abundant wildlife, easier to spot against the white background of snow. Especially in the winter, wolves, bighorn sheep, bison, elk and river otters frequent this area because the lower elevation affords thinner ice to break through to vegetation below. B, D
DAY 7: FLIGHT HOME FROM BOZEMAN, MT B
Dates:
Departure: February 17 2022
Return: February 23 2022
Pricing:
Double: $2999 + $206
Triple/Quad: $2829 + $206
Single: $3299 + $233
*Price per person + travel insurance
*Includes roundtrip airfare from STL or MCI
Temperatures and Dress:
The following are the average temperatures in: Belgrade, MT: 38/18 Gardiner, MT: 30/15 Yellowstone: 29/5
You will want to bring layers and ample gear for winter weather. Please bring along comfortable walking shoes. We also suggest sunglasses, sunblock and an umbrella in case of inclement weather and you may want to pack a swim suit if you would like to swim in the hotel pools.

We recommend bringing cleats (Yaktrax Pro Traction Cleats or something similar), worn over your shoes or boots, to help provide additional traction and navigate the winter terrain in Yellowstone. These may be found at a local sporting goods store, online at amazon.com or other sporting goods store websites. They are also sold inside the park, but supplies are limited and typically more expensive.

Luggage:
Orange luggage tags are provided and are to be placed on your "checked luggage" (large bag). You do not need a tag for your carry-on bag, for which you will be responsible for taking on and off the coach. There is limited space in the cabin of the coach, so unless you require your carry-on bag while traveling, we will stow it in the luggage compartment.
On the first and last nights of this tour, you are welcome to pack your carry-on bag with essentials that would enable us to leave your "checked bag" on the coach. This will facilitate faster check-in and luggage delivery. This is not a requirement, merely a suggestion; we will deliver your "checked bag" to your room on the first and last night if you desire, just like every other night of the tour.
Identification:
Since we are traveling by plane you must bring a valid state-issued ID or passport.

Important Information:
New reservations will require a $250 per person deposit unless otherwise noted. As always, your deposit is still fully refundable for any reason until final payment. We are happy to accept cash, check (preferred) or credit card (Visa, Mastercard, Discover) for your deposit.
Throughout 2021 we limited capacity on all our tours. This policy was so overwhelmingly popular by Sunrise travelers, we have made it permanent. In 2022 and beyond, we will limit the capacity on our motorcoaches to 80%. Most Sunrise Tours travel on 50-seat coaches with extra legroom, which means guests will enjoy extra legroom AND at least 6-8 empty seats. In the rare cases when we charter a 55-seat coach, there will be at least 10 open seats on the bus.
Our popular on-board refreshment service on travel days will feature a variety of soda, beer, wine spritzers, juices and sparkling water choices served in recyclable aluminum cans. This is a safe and eco-conscious way for us to deliver the ever-popular Sunrise Tours "happy hour" on tour. We do not typically serve bottled water and ask that while on tour you be responsible for your own hydration and consider the Sunrise Tours drink service a welcome refreshment.
Terms and Conditions:
Please refer to our policies HERE for more information on our terms and conditions.

Share it
---