Journey to two vastly different National Parks, the Mojave National Preserve, and the vacation hotspot of Palm Springs, and enjoy Southern California's winter sunshine while exploring the great outdoors.
Day trip to Channel Islands National Park with optional departure time
Presidents Day Celebration at Ronald Reagan Presidential Museum
Joshua Tree National Park full day guided tour
Palm Springs Village Fest
Temecula Winery Tour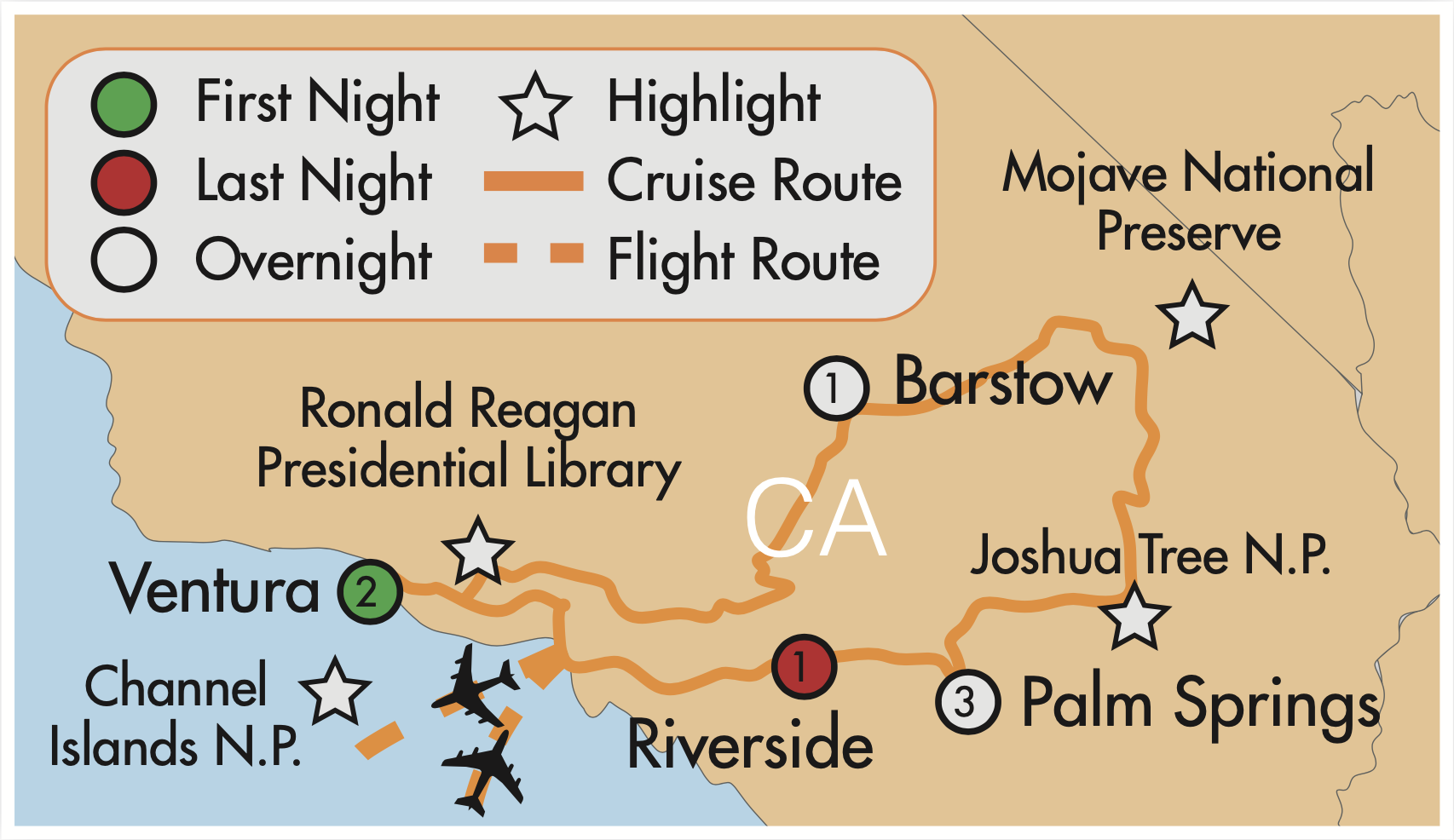 DAY 1: ARRIVE
Fly to Los Angeles and check in for two nights at the Holiday Inn Express Ventura Harbor, steps from the Santa Barbara Channel. D
DAY 2: CHANNEL ISLANDS NATIONAL PARK
Journey into the Pacific towards the "Galapagos of North America," Channel Islands National Park aboard a one-hour boat ride (weather permitting). Spend the day exploring Santa Cruz Island at your own pace, choosing your preferred departure for more or less time. Optional activities range from relaxing by the water, to hiking the rugged coastline for incredible views. Look for the islands' wildlife like the island fox or the scrub jay, which live nowhere else on earth! After a day of fun on the island return to the mainland aboard the ferry. B, L
DAY 3: PRESIDENTS' DAY
Enjoy a special Presidents Day Celebration at the Ronald Reagan Presidential Library & Museum. Explore the museum's exhibits, including an inside look at the Oval Office and Air Force One. Then step out to the Rose Garden to hear presidents of the past address the audience from the presidential podium. Past performances have included Abraham Lincoln, Theodore Roosevelt, Ulysses S. Grant, plus live music provided by the Los Angeles Police Concert Band. B, D
DAY 4: PALM SPRINGS
The historic Mission Inn Hotel opens its doors for a guided tour of its ornate halls with intricate Spanish design. Enjoy an elegant lunch at the hotel before continuing to the Palm Springs Air Museum for a full tour through America's military aviation history. Check into the Hyatt Palm Springs for a 3-night stay in the heart of one of the most iconic vacation destinations in the world. B, L
DAY 5: JOSHUA TREE NATIONAL PARK
See beautiful Joshua Tree National Park up close on a driving tour through the Colorado and Mojave Deserts. Incredible landscapes, remarkable geology, and unique plant life make this one of America's most popular National Parks. Keep an eye out for the park's wildlife residents like big horn sheep and coyote. Enjoy a picnic in the park, with time to walk around this unforgettable landscape. B, L
DAY 6: VILLAGE FEST
Sunnylands Center & Gardens has been the site of many important conferences, including Presidential Summits held by Obama, Bush, Reagan, and Nixon with leaders from around the world. Explore the beautiful gardens and visitor center to see this private estate and its unique place in international affairs. Take the Palm Springs Aerial Tram from the desert floor to the mountaintops for expansive views of the Coachella Valley. Enjoy lunch at Peaks Restaurant before returning to the bustling downtown area of Palm Springs for Village Fest, a weekly street festival featuring local restaurants, shops, and crafts. B, L
DAY 7: TEMECULA
Depart Palm Springs for another of Southern California's local gems, Temecula Wine Country. Enjoy a guided tour and tasting of one of the area's most popular wineries, Wilson Creek. Enjoy a special lunch at the winery before enjoying downtown Temecula. B, L

DAY 8: RETURN HOME. B
Dates:
Departure: February 18, 2023
Return: February 25, 2023
Pricing:
Double: $2,999
Triple/Quad: $2,699

Single: $3,699
*Price per person
*Includes roundtrip airfare from STL or MCI
Identification:
Since we are traveling by plane you must bring a valid state-issued ID or passport.

Average Temperatures:

Ventura, CA: 65°/48°
Barstow, CA: 64°/38°
Palm Springs, CA: 71°/47°

Riverside, CA: 68°/44°

Luggage:
Orange luggage tags are provided and are to be placed on your "checked luggage" (large bag). You do not need a tag for your carry-on bag, for which you will be responsible for taking on and off the coach. There is limited space in the cabin of the coach, so unless you require your carry-on bag while traveling, we will stow it in the luggage compartment.

Important Information:
Each reservation requires a $250 per person deposit planning fee (exceptions may apply) to be credited toward your final payment. Some or all of your deposit may be non-refundable per our cancellation schedule noted in these Terms & Conditions below. We are happy to accept cash, check (preferred) or credit card (Visa, Mastercard, Discover) for your deposit.
Throughout 2021 we limited capacity on all our tours. This policy was so overwhelmingly popular by Sunrise travelers, we have made it permanent. In 2022 and beyond, we will limit the capacity on our motorcoaches to 80%. Most Sunrise Tours travel on 50-seat coaches with extra legroom, which means guests will enjoy extra legroom AND at least 6-8 empty seats. In the rare cases when we charter a 55-seat coach, there will be at least 10 open seats on the bus.
Our popular on-board refreshment service on travel days will feature a variety of soda, beer, wine spritzers, juices and sparkling water choices served in recyclable aluminum cans. This is a safe and eco-conscious way for us to deliver the ever-popular Sunrise Tours "happy hour" on tour. We do not typically serve bottled water and ask that while on tour you be responsible for your own hydration and consider the Sunrise Tours drink service a welcome refreshment.
Terms and Conditions:
Please refer to our policies HERE for more information on our terms and conditions.

Share it
---