Surrounding Seattle, 3 National Parks make their home in the Cascade Range of Washington. Olympic, North Cascades, and Mt. Rainier National Parks display the beauty of glacial peaks, dense rainforest, and pristine coastline. Visit all 3 parks, plus tours of the big city, and surrounding communities.
North Cascades, Olympic, and Mt Rainier National Parks
Whale Watching Cruise
2 nights at historic Paradise Inn
Seattle City Tour
Boeing Factory Tour
Whidbey Island guided tour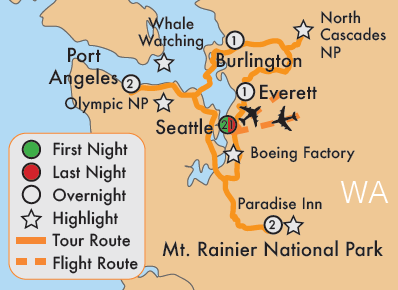 DAY 1: ARRIVE
Travel to Seattle and arrive for a welcome dinner and two-night stay. D
DAY 2: SEATTLE
Experience a full day tour of the "Emerald City" with a local guide. Ascend to the top of the Space Needle for endless views, and enjoy time at Pike Place Market. Enjoy dinner at a local favorite. B, D
DAY 3: PORT ANGELES
Travel across Puget Sound for a memorable stay on the Olympic Peninsula. Search for Humpback Whales and Orca aboard a lunchtime cruise, and enjoy leisure time to enjoy the beautiful city of Port Angeles. From our centrally located hotel, enjoy a walk on the pier, shops and restaurants, and nearby attractions. B, L
DAY 4: OLYMPIC NATIONAL PARK
Journey into the mountains of Hurricane Ridge within Olympic National Park. Stop at the Visitor Center to learn about the park from rangers and exhibits before traveling up the scenic road for 365-degree views and time to enjoy the area. Return to Port Angeles for dinner. B, D
DAY 5: WHIDBEY ISLAND
Board the Washington State Ferry for a day of touring scenic Whidbey Island. Join a local guide for a behind-the-scenes look at Fort Casey, Admiralty Head Lighthouse, and the Langley Whale Center. Enjoy a visit to Blooms Winery, plus leisure time to enjoy this peaceful island community. Overnight in Burlington. B, L

DAY 6: NORTH CASCADES NATIONAL PARK
Spend the day in one of America's best kept secrets, North Cascades National Park and the Ross Lake Recreation Area. With views of shimmering turquoise lakes and snowy mountain peaks, it may be hard to believe that North Cascades is one of our nation's least visited National Parks. After a day exploring this hidden gem, travel to Everett for an overnight stay. B, L, D

DAY 7: BOEING TOUR
Spend the morning exploring the world of flight at the Boeing Factory Tour. Continue to Mt. Rainier National Park, and enjoy the scenic drive up the mountain before checking into the historic Paradise Inn for a special two-night stay. One of the first National Park lodges, Paradise Inn opened in 1916 and features a grand lobby, an elegant dining room, and a 14,000-foot peak outside the front door. B, D

DAY 8: MT RAINIER NATIONAL PARK
Enjoy a full day at what John Muir called, "the most luxuriant and the most extravagantly beautiful of all the alpine gardens I have ever beheld in all my mountain-top wanderings." Join your choice of ranger programs from informative talks to guided walks. With views of the peak, access to nearby trails, and a beautiful hotel, there is no shortage of things to do during your day at Mt. Rainier. B

DAY 9: TACOMA
The mountain views continue as you depart Paradise and travel through the western portion of the park. Watch as the alpine ecosystem transforms into a thick temperate rainforest all around. Continue to Tacoma and visit the Museum of Glass. Walk along the Chihuly Bridge of Glass, a pedestrian walkway adorned with colorful glass installations by prominent artists. Enjoy one last dinner together before a final overnight stay near the airport. B, D

DAY 10: DEPART B

Dates:
Departure Date: August 16. 2024
Return Date: August 25, 2024
Pricing:
Double: $4,199
Triple/Quad: $3,699

Single: $5,500
*Price per person
*Includes round-trip airfare from STL or MCI (call for other gateway cities)
Luggage:
Orange luggage tags are provided and are to be placed on your "checked luggage" (large bag). You do not need a tag for your carry-on bag, for which you will be responsible for taking on and off the coach. There is limited space in the cabin of the coach, so unless you require your carry-on bag while traveling, we will stow it in the luggage compartment.
Walking Distance:
Travelers should be in good physical health and understand there are times when a good deal of walking is involved. Those who have difficulty walking may not want to take this trip or should discuss their personal situation with their doctor before deciding. You should be able to walk at a steady pace for a mile at a time and be able to manage steps to board/de-board the motorcoach several times a day.
Booking Information:

$250 per person deposit required
Includes airfare from St. Louis or Kansas City (call for other gateway cities)
Additional Information:
A total of three mailings are sent to assist you in preparing for your tour, including information sent upon receipt of your reservation.
Terms and Conditions:
Please refer to our policies HERE for more information on our terms and conditions.
Share it
---