Experience New England's stunning Fall views as you ride four different trains through Massachusetts, New Hampshire, and Maine. From the world's first mountain-climbing cog rail to a scenic lakeside train ride, this will be a trip to remember. You'll also sail out onto the Atlantic with a lobster boat captain (weather permitting), and enjoy classic mountain and waterfront resorts.
Experience several of the region's most scenic rail routes
Ride the world's first mountain-climbing cog railway at Mt. Washington
Enjoy a lobster lunch at DiMillo's, a former car ferry turned floating restaurant
Enjoy breathtaking views of Lake Winnipesaukee and the Ossipee Mountains
Experience a round-trip ride on the historic Mt. Washington Cog Railroad, the world's first mountain-climbing cog train
Explore New Hampshire's famed White Mountains and the Kancamagus Highway
A "Fall Foliage Special" excursion on the Winnipesaukee Scenic Railroad
Experience a performance of Cry Innocent, which is an interactive re-enactment of the pre-trial examination of Bridget Bishop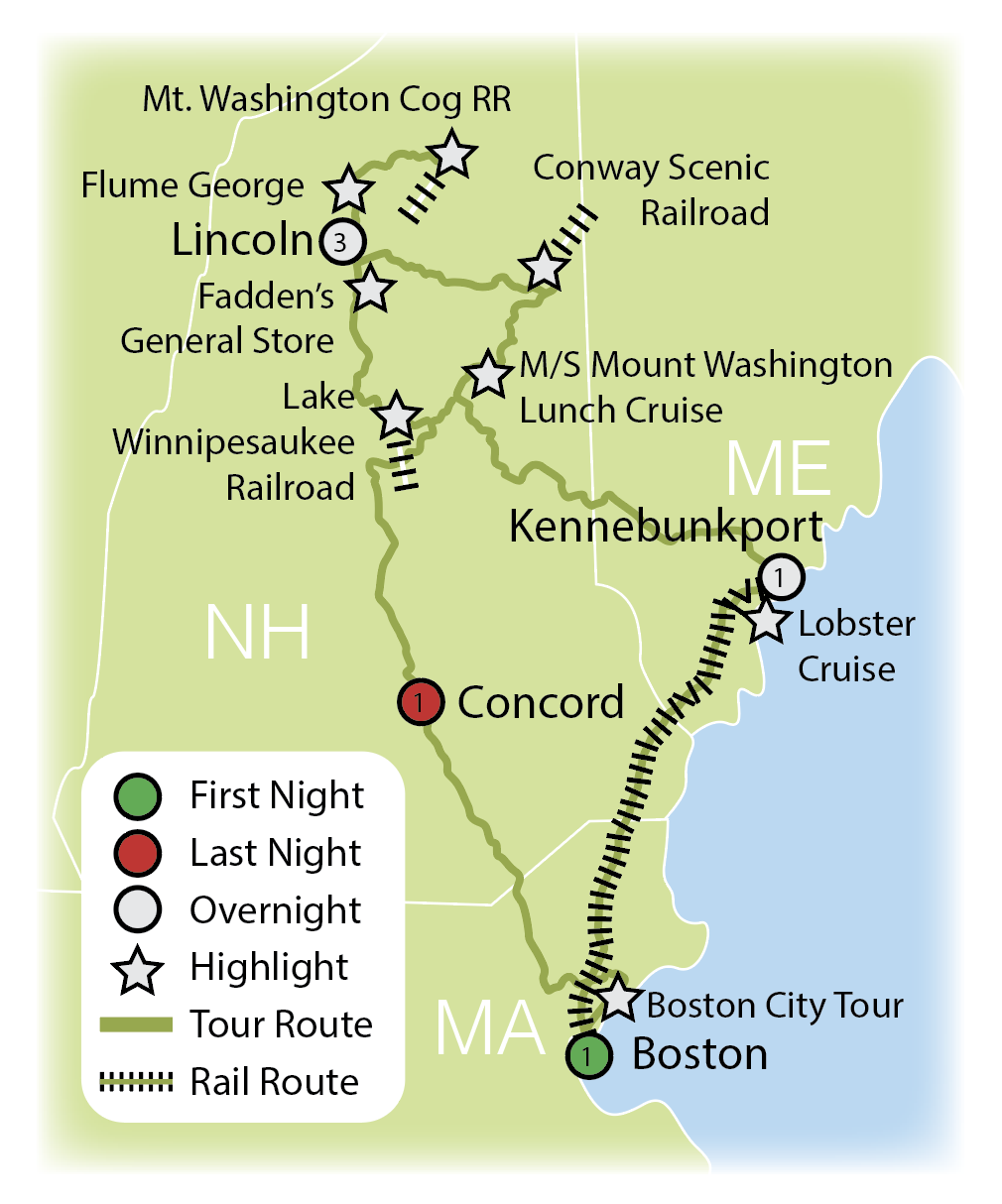 DAY 1: WELCOME TO NEW ENGLAND!
Enjoy a welcome dinner in Boston, the historic capital city of Massachusetts. D
DAY 2: DOWNEASTER/LOBSTER BOAT/KENNEBUNKPORT
It's "all aboard" today for your first rail adventure, as Amtrak's modern Downeaster train transports you through three states from suburban Boston to Wells, Maine. There, you'll be whisked away to lunch at Kennebunkport's historic Nonantum Resort. Then, weather permitting, we take an informative Lobster cruise on the Kennebunk River and the beautiful Atlantic coastline. The afternoon is yours to explore Kennebunkport or relax at the Nonantum Resort. B, L
DAY 3: M/S MOUNT WASHINGTON
Nestled in the foothills of the White Mountains and along the shores of Lake Winnipesaukee we head over to the oldest summer resort town in America - Wolfeboro, NH. We will board the M/S Mount Washington for a narrated cruise of Lake Winnipesaukee along with a delicious buffet lunch aboard. Then, we'll head to our resort for the next three nights. B, L, D
DAY 4: MT WASHINGTON/MOUNTAIN COG RAIL
Today, see the grand Mt. Washington Hotel, followed by a delicious luncheon. The day's highlight is a 3.5-hour round-trip ride on the historic Mt. Washington Cog Railroad, the world's first mountain-climbing cog train. In just three miles, you will ride the second steepest rack railway in the world up more than 3,500 vertical feet to reach the second highest point in the eastern U.S. On a clear day, those at the top can see from New York State to Maine...and even up into Quebec, Canada. B, L, D
DAY 5: "THE KANC"/CONWAY SCENIC RAILROAD
This morning, explore New Hampshire's famed White Mountains and the Kancamagus Highway, renowned among New Englander's as one of the region's most pristine scenic drives. Witness the splendor of the National Forest as you cross the 2,800-foot Kancamagus Pass, aka "The Kanc," before dropping into a stunning, deep valley. The rest of the day is spent aboard the Conway Scenic Railroad where we've upgraded your seats to the scenic panorama First Class dome car! Enjoy some of the most dramatic natural scenery in the East as you travel through spectacular Crawford Notch, over the Frankenstein Trestle, and across the Willey Brook Bridge en route to Crawford Station. B, L, D
DAY 6: FADDENS/FLUME GORGE/WINNIPESAUKEE RAILROAD
This morning, visit Fadden's General Store to learn about maple syrup from James Fadden, a seventh generation sugar-maker. Then marvel as we walk along the Flume Gorge on wooden walkways, past waterfalls, and 90-foot-high rock walls. After a wonderful lunch we head to the Lake Winnipesaukee Scenic Railroad for a train ride along the western shore of Lake Winnipesaukee. Enjoy dinner on your own with amazing capitol views in Concord, New Hampshire. B, L
DAY 7: HISTORIC BOSTON/HOME
Today, delight in a guided tour of Boston as you explore places like Paul Revere's House, the Bunker Hill Monument, and Faneuil Hall on the historic Freedom Trail. Then we'll sit for a farewell lunch featuring "LOBSTAH" and fresh local fare before heading back home. B, L
Dates:

Departure Date: Sep 17, 2023
Return Date: Sep 23, 2023
AND

Departure Date: Oct 7, 2023
Return Date: Oct 13, 2023
AND
Departure Date: Oct 14, 2023
Return Date: Oct 20, 2023
Pricing:
Double: $3199

Triple/Quad: $2999
Single: $3899
*Per person rates
*Price includes roundtrip airfare from STL or MCI (call for other gateway cities)

Average Temperatures:

Boston, MA: 62° / 47°
Concord, NH: 61° / 36°
Lincoln, NH: 58° / 36°

Luggage
Orange luggage tags are provided and are to be placed on your "checked luggage" (large bag). You do not need a tag for your carry-on bag, for which you will be responsible for taking on and off the coach. There is limited space in the cabin of the coach, so unless you require your carryon bag while traveling, we will stow it in the luggage compartment.
On the first and last nights of this tour, you are welcome to pack your carryon bag with essentials that would enable us to leave your "checked bag" on the coach. This will facilitate faster check-in and luggage delivery. This is not a requirement, merely a suggestion; we will deliver your "checked bag" to your room on the first and last nights if you desire, just like every other night of the tour.
Important Information:
Each reservation requires a $250 per person deposit planning fee (exceptions may apply) to be credited toward your final payment. Some or all of your deposit may be non-refundable per our cancellation schedule noted in these Terms & Conditions below. We are happy to accept cash, check (preferred) or credit card (Visa, Mastercard, Discover) for your deposit.
Throughout 2021 we limited capacity on all our tours. This policy was so overwhelmingly popular by Sunrise travelers, we have made it permanent. In 2022 and beyond, we will limit the capacity on our motorcoaches to 80%. Most Sunrise Tours travel on 50-seat coaches with extra legroom, which means guests will enjoy extra legroom AND at least 6-8 empty seats. In the rare cases when we charter a 55-seat coach, there will be at least 10 open seats on the bus.
Our popular on-board refreshment service on travel days will feature a variety of soda, beer, wine spritzers, juices and sparkling water choices served in recyclable aluminum cans. This is a safe and eco-conscious way for us to deliver the ever-popular Sunrise Tours "happy hour" on tour. We do not typically serve bottled water and ask that while on tour you be responsible for your own hydration and consider the Sunrise Tours drink service a welcome refreshment.
Terms and Conditions:
Please refer to our policies HERE for more information on our terms and conditions.
Share it
---