Join Sunrise Tours for a captivating eleven-day journey by air, land, rail, and sea. Begin with visits to the cosmopolitan hubs of New York City and Montreal, igniting your wanderlust. Step aboard Holland America's Volendam cruise ship for a seven-day cruise odyssey, docking at the most breathtaking ports of Canada and New England.
Local guided tour of NYC
First class lodging at Beacon Hotel NYC
Scenic train ride aboard Amtrak's Adirondack
Cruise the Canadian Maritime Provinces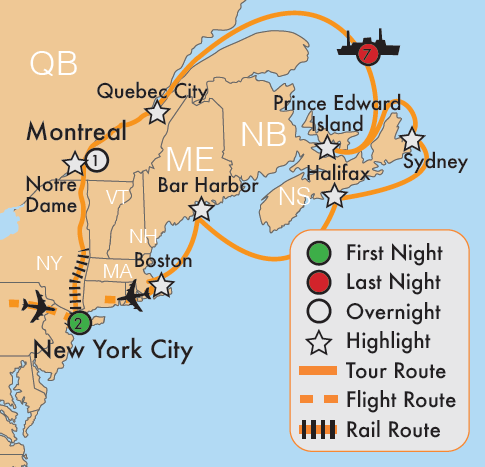 DAY 1: NEW YORK CITY, NY
Embark on an exhilarating flight to the Big Apple, where you'll find respite at the historic Hotel Beacon in Manhattan's Upper West Side. Enjoy a two-night stay in this storied haven. D
DAY 2: MANHATTAN
Unleash your inner explorer as we traverse Manhattan, guided by a local expert. Witness the borough's hidden gems, from the captivating expanse of Central Park to the luminous allure of Times Square. B, D
DAY 3: ADIRONDACK TRAIN
Trade the mundane for the extraordinary aboard Amtrak's Adirondack Train, the crown jewel of New England's railway journeys. Today we traverse the Hudson Valley by train, absorbing the best and longest views of the Valley and River before arriving in Albany for lunch. Continue to Montreal by luxury motorcoach. B, L
DAY 4: MONTREAL & EMBARKATION
Embark on a captivating city tour of Montreal, accompanied by a costumed interpreter who will unravel its secrets. Immerse yourself in the city's cultural tapestry as you visit iconic landmarks like the Notre Dame Basilica, the charming Old Port Sector, and the legendary Olympic Park. Prepare to set sail this afternoon aboard the MS Volendam! Each day at port, explore the town on your own or purchase a Holland American shore excursion on board the ship. B, L, D

DAY 5: QUEBEC CITY, PORT OF CALL
Journey to the heart of history as we arrive in Quebec City, a storied bastion steeped in time's embrace. Older than Jamestown and preceding the Pilgrims' arrival at Plymouth Rock, this city boasts the sole remaining intact fortifications north of Mexico. Within the UNESCO World Heritage Site, wander the hallowed grounds that house 17th-century religious orders and hospitals, paying homage to the past. B, L, D

DAY 6: GULF OF ST. LAWRENCE (CRUISING ONLY)
Sail past the remnants of maritime tales as you traverse the Gulf of St. Lawrence. Behold the solemnity of St. Paul's Island, its lighthouse a poignant reminder of bygone days. Known as the graveyard of the gulf, this infamous shipwreck site accompanies your voyage through the Cabot Strait and into the vast embrace of the Gulf of St. Lawrence. B, L, D

DAY 7: CHARLOTTETOWN, PRINCE EDWARD ISLAND, PORT OF CALL

Discover the charm of Charlottetown, the capital of Canada's smallest province, Prince Edward Island. Delight in its collection of Victorian houses and buildings, elegantly nestled amid picturesque parks awaiting exploration. This city holds a place of pride in Canadian history as the Birthplace of Confederation, where the Dominion of Canada was conceived during an 1864 conference held mostly at Province House. B, L, D

DAY 8: SYDNEY, NOVA SCOTIA, PORT OF CALL

Arrive in Sydney, the vibrant heart of Cape Breton Island, linked by causeway to the rest of Nova Scotia. Immerse yourself in the city's maritime allure, strolling along the harbor to discover locally crafted treasures and marvel at the world's largest fiddle towering beside the cruise pavilion. Explore historic houses and churches dating back to the 1700s and 1800s, savoring local cuisine accompanied by lively fiddle tunes and sea chanteys. Engage with local artists and take home a piece of their creations from Sydney's captivating galleries. B, L, D
DAY 9: HALIFAX, NOVA SCOTIA, PORT OF CALL

Nestled on a rocky inlet of the Atlantic Ocean, Halifax, Nova Scotia's provincial capital, exudes a distinct maritime character. Discover a captivating fusion of world-class history, nautical-themed museums, fortified bunkers, and striking public art. Explore the city's eclectic mix of fun shops, and revel in the lively ambiance of pubs where folk music and refreshing pints flow. B, L, D
DAY 10: BAR HARBOR, ME, PORT OF CALL
Experience the quintessential charm of Bar Harbor, nestled on Maine's Mount Desert Island. Traverse its scenic, walkable streets lined with delightful restaurants and boutiques. Indulge in the region's renowned lobster delicacies and treat yourself to delectable scoops of homemade ice cream. B, L, D
DAY 11: BOSTON, MA
Disembark and return home with cherished memories of an extraordinary journey. B
Dates:

Departure: June 26, 2024
Return: July 6, 2024
Pricing:
*Tour taxes: Double: $275/person. Call for single/triple/quad pricing.
*Price per person
Identification:

Valid passport required to travel.
Luggage:
Orange luggage tags are provided and are to be placed on your "checked luggage" (large bag). You do not need a tag for your carry-on bag, for which you will be responsible for taking on and off the coach. There is limited space in the cabin of the coach, so unless you require your carry-on bag while traveling, we will stow it in the luggage compartment.
Important Information:
Each reservation requires a $250 per person deposit planning fee (exceptions may apply) to be credited toward your final payment. Some or all of your deposit may be non-refundable per our cancellation schedule noted in these Terms & Conditions below. We are happy to accept cash, check (preferred) or credit card (Visa, Mastercard, Discover) for your deposit.
Throughout 2021 we limited capacity on all our tours. This policy was so overwhelmingly popular by Sunrise travelers, we have made it permanent. In 2022 and beyond, we will limit the capacity on our motorcoaches to 80%. Most Sunrise Tours travel on 50-seat coaches with extra legroom, which means guests will enjoy extra legroom AND at least 6-8 empty seats. In the rare cases when we charter a 55-seat coach, there will be at least 10 open seats on the bus.
Our popular on-board refreshment service on travel days will feature a variety of soda, beer, wine spritzers, juices and sparkling water choices served in recyclable aluminum cans. This is a safe and eco-conscious way for us to deliver the ever-popular Sunrise Tours "happy hour" on tour. We do not typically serve bottled water and ask that while on tour you be responsible for your own hydration and consider the Sunrise Tours drink service a welcome refreshment.
Terms and Conditions:
Please refer to our policies HERE for more information on our terms and conditions.
Share it
---