Discover the rich culture and awe-inspiring scenery of New Zealand. Considered one of the most unique destinations on earth, this island country offers travelers one-of-a-kind experiences including riding through glowworm caves, witnessing geothermal activity, and seeing some of the world's most scenic landscapes. This exclusive tour is limited to only 39 travelers and will be an immersive experience through New Zealand!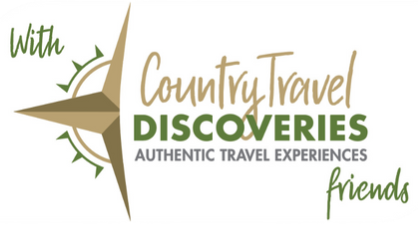 Visit the famous Auckland Sky Tower and dine at the Orbit 360 revolving restaurant
Visit to Waiheke Island and wineries
Waitomo Glowworm Caves
Visit to Hobbiton Movie Set
National Kiwi Hatchery
Stop at Waiotapu Thermal Wonderland, a showcase of geothermal elements
Pukaha Mount Bruce National Wildlife Centre
Explore the Te Papa Museum
Avon River Ride
TranzAlpine ride
Explore Queenstown
Gondola ride to Bob's Peak
Dark Sky Experience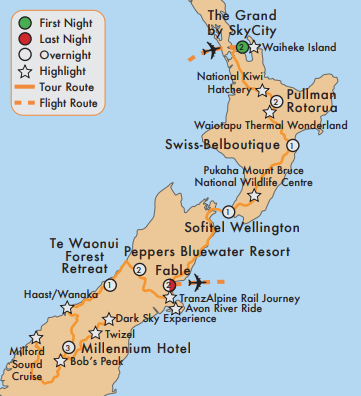 DAYS 1-3: WELCOME TO NEW ZEALAND!
Arrive in Auckland, a bustling city full of music, art, and culture. After taking a guided tour of the city, the afternoon is yours to settle into our hotel and explore at your leisure. Tonight, we'll enjoy a welcome dinner as a group at the Orbit 360 revolving restaurant in the famous Sky Tower. L, D
DAY 4: WAIHEKE ISLAND
We depart in the morning to board the Auckland ferry as we head to Waiheke Island. Waiheke is a haven of beautiful vineyards, olive groves, and white sand beaches. While touring the island, an impressive wine tasting and winery lunch is instore for our group. B, L
DAY 5: WAITOMO GLOWWORM CAVES/HOBBITON MOVIE SET
This morning, journey to Waitomo where we'll discover the Waitomo Glowworm Caves, known as one of New Zealand's best natural attractions. Here we'll take a boat ride through the glowworm grotto and marvel at thousands of magical glowworms Next, we'll continue on to Matamata, home to the Hobbiton Movie set used in the films "The Lord of the Rings" and "The Hobbit". We will take a guided tour "Beyond the Door" and have ample time to explore the ins and outs of the set. B, L
DAY 6: NATIONAL KIWI HATCHERY/TE PUIA THERMAL RESERVE
We spend today sightseeing in Rotorua, known for its geothermal activity. Kick-off with a visit to the National Kiwi Hatchery where we'll see the conservation of kiwi chick eggs at one of the most successful hatcheries in the world. Then, witness the Agrodome Farm Show where we'll be introduced to many animals before lunch on your own. This afternoon, transfer to the Te Puia Thermal Reserve where we'll discover one of New Zealand's most magnificent geothermal wonderlands featuring dramatic geysers and bubbling mud. We end today at the Te Puia Marae for a cultural evening of song, dance, and authentic cuisine. After dinner, our group is in for a real treat - enter the geothermal valley and enjoy hot chocolate while resting upon naturally heated rock-seats. B, D
DAY 7: NAPIER/WAIOTAPU THERMAL WONDERLAND
Following a delicious breakfast at the hotel, journey to Napier through Lake Taupo. Our first stop of the day will be Waiotapu Thermal Wonderland, a spectacular showcase of New Zealand's most colorful and diverse geothermal elements sculpted by thousands of years of geothermal activity. Next, we'll continue on to Napier to enjoy a guided Art-Deco walk of the city to marvel at the beautifully preserved 1930s architecture. B
DAY 8: PUKAH MOUNT BRUCE NATIONAL WILDLIFE CENTRE
This morning we enjoy a guided tour of Pukaha Mount Bruce National Wildlife Centre on our way to Wellington. The Mount Bruce reserve is a restored forest and captive breeding site home to many endangered wildlife species. B, D
DAY 9: WELLINGTON/TE PAPA MUSEUM
This morning take part in a sightseeing tour of Wellington. Drive past the Beehive and Parliament buildings, Mt Victoria, Botanical Gardens, and enjoy waterfront views. Discover New Zealand's rich history and cultures through Te Papa's world-leading exhibitions and treasures at the Te Papa Museum. B
DAY 10: AVON RIVER RIDE/QUAKE CITY
Relax and unwind on the scenic Avon River as we sit back and admire the spectacular views of Christchurch. Here we'll visit Quake City, a must-see to understand the seismic events that shook Christchurch over a decade ago. B, D
DAY 11: TRANZALPINE
All aboard the TranzAlpine to experience New Zealand's finest inland rail journey. Described as "The Great New Zealand Rail Adventure", the TranzAlpine is rated a top six scenic train journey in the world! Ride through spectacular river gorges, the Southern Alps, and along Lake Brunner on this unforgettable ride. Later we arrive in Greymouth and enjoy lunch at the historic Speights Ale House. B, L, D
DAY 12: QUEENSTOWN
Today we travel to Queenstown, stopping at unique attractions along the way. See dramatic landscapes and significant landmarks as we drive through Haast and Wanaka. B
DAY 13: QUEENSTOWN/MILFORD SOUND
Relish in the beauty of Queenstown set against the Southern Alps and along the shore of Lake Wakatipu. Early this morning we board Milford Sound, a cruise you must experience to believe. The stunning sheer cliffs and inky black water will surround you as we travel by ship to see the iconic Mitre Peak. Disembark from the ship and transfer back to Queenstown on a scenic flight. B, L
DAY 14: BOB'S PEAK
Spend the morning exploring Queenstown on your own. This evening we'll transfer to the Skyline complex where we will take a gondola ride to Bob's Peak, famous for its breathtaking views from 480 meters above Queenstown. B, D
DAY 15: JOURNEY TO LAKE TEKAPO
Depart on our journey to Lake Tekapo. On the way stop in Twizel, Mackenzie Region's largest town with many excellent restaurants and shops for you to enjoy. Here see mountain views in all directions. B, D
DAY 16: SIR EDMUND HILLARY ALPINE CENTRE/DARK SKY EXPERIENCE
This morning we're off to Mt. Cook to discover the fascinating history of this region at the Sir Edmund Hillary Alpine Centre, a tribute to one of the world's greatest explorers. This afternoon we embark on a journey 13.8 billion years in the making. The Dark Sky Experience is one of the most awe-inspiring Dark Sky Reserves in the world. B, D
DAY 17: CHURCH OF THE GOOD SHEPHERD/CHRISTCHURCH
As we head back to Christchurch, we'll see the Church of the Good Shepherd situated on the shores of Lake Pakapõ that was built as a memorial to the pioneers of the Mackenzie Country. Cap off the
day with free time before our farewell dinner. B, D
DAY 18: RETURN HOME
Travel home with fond memories of your adventures in New Zealand, or continue traveling to on our optional post tour of Sydney, Australia. B
OPTIONAL POST TOUR TO SYDNEY
DAY 18: WELCOME TO SYDNEY!
Arrive in Australia and meet your guide before enjoying dinner at your hotel. D
DAY 19: SYDNEY OPERA HOUSE/BONDI BEACH
This morning depart on a guided tour of downtown Sydney where we will explore the historic Rocks area and take in the views of Hyde Park, St. Mary's Cathedral, Parliament House and the Art Gallery. Next, see inside the world's most recognizable sails, the Sydney Opera House! This incredible display of architecture and engineering is a UNESCO World Heritage Site. Visit the world-famous Bondi Beach and enjoy the spectacular scenery. B, L
DAY 20: THE ROCKS/MANLY
Take a leisurely walk around The Rocks and uncover the authentic history of the Aboriginal people's heritage within Sydney Harbour. Next, continue by ferry to the vibrant coastal suburb of Sydney, Manly. Manly offers the best of both worlds, cosmopolitan buzz and a relaxed atmosphere. Explore the beach-front town on your own before heading to tonight's hotel. B
DAY 21: EXPLORE SYDNEY
After exploring Sydney on your own, enjoy dinner at Infinity, Sydney Tower's revolving restaurant. B, D
DAY 22: SAY FAREWELL
Say farewell to the friends you made along the way and return home with amazing new memories. B
Dates:

Departure Date: February 3, 2025
Return Date: February 20, 2025
Pricing (*Plus airfare: Air pricing from STL or MCI is approximated at $2,200, or $2,500 if including post tour to Sydney. Schedules and fare will be available in Spring 2024):

Double: $8,997 + airfare
Single: $11,495 + airfare
Post Tour Sydney Add, per person:

Double: $1,600
Single: $2,400
*Per person rates
*Price includes roundtrip airfare from STL or MCI (call for other gateway cities)
*Passport required
Identification:

Valid passport required to travel.
Luggage:
Orange luggage tags are provided and are to be placed on your "checked luggage" (large bag). You do not need a tag for your carry-on bag, for which you will be responsible for taking on and off the coach. There is limited space in the cabin of the coach, so unless you require your carry-on bag while traveling, we will stow it in the luggage compartment.
Important Information:
Each reservation requires a $250 per person deposit planning fee (exceptions may apply) to be credited toward your final payment. Some or all of your deposit may be non-refundable per our cancellation schedule noted in these Terms & Conditions below. We are happy to accept cash, check (preferred) or credit card (Visa, Mastercard, Discover) for your deposit.
Throughout 2021 we limited capacity on all our tours. This policy was so overwhelmingly popular by Sunrise travelers, we have made it permanent. In 2022 and beyond, we will limit the capacity on our motorcoaches to 80%. Most Sunrise Tours travel on 50-seat coaches with extra legroom, which means guests will enjoy extra legroom AND at least 6-8 empty seats. In the rare cases when we charter a 55-seat coach, there will be at least 10 open seats on the bus.
Our popular on-board refreshment service on travel days will feature a variety of soda, beer, wine spritzers, juices and sparkling water choices served in recyclable aluminum cans. This is a safe and eco-conscious way for us to deliver the ever-popular Sunrise Tours "happy hour" on tour. We do not typically serve bottled water and ask that while on tour you be responsible for your own hydration and consider the Sunrise Tours drink service a welcome refreshment.
Terms and Conditions:
Please refer to our policies HERE for more information on our terms and conditions.
Share it
---