Explore the best of Newfoundland and Labrador, defined by magnificent mountains, sweeping vistas, colorful wooden houses perched on rocky sea cliffs, and hidden fjords. Visit the charming 500-year-old city of St John's, one of the oldest in the "New World" and the easterly most city in North America. Traveling the province you will see the world's most beautiful scenery and historic attractions including Cape Bonavista Lighthouse and Gros Morne National Park. Visit the town of Gander and learn the role it played in the aftermath of the September 11, 2001 attacks. This vacation is sure to be one you won't forget!
Visit the easternmost province of Canada
Boat Tour of Witless Bay Ecological Reserve
Visit the Long Point Lighthouse
Learn about the town of Gander, and meet locals with first hand stories
Visit Red Bay National Historic Site in Labrador
Take a scenic boat tour on Bonne Bay in Gros Morne National Park
Enjoy a traditional kitchen party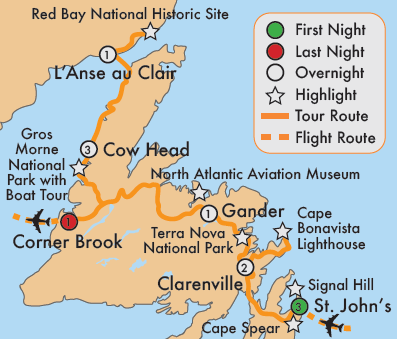 DAY 1: WELCOME TO ST. JOHN'S!
Travel to St. John's to begin your trip through the eastern most province of Canada. D
DAY 2: EXPLORE ST. JOHN'S
This morning, enjoy a city tour of St. John's, North America's oldest city. View the architecture of downtown, and a busy modern waterfront. You will visit Signal Hill, the site of the first transatlantic wireless communication. B, D
DAY 3: WITLESS BAY ECOLOGICAL RESERVE/CAPE SPEAR
Your day starts with a boat tour on the Witless Bay Ecological Reserve to search for puffins and other seabirds. The route continues with panoramic views of St. John's from Cape Spear National Historic Site, the most easterly point in North America, before heading back to downtown St. John's for a free evening exploring on your own. B
DAY 4: SIGNAL HILL/CLARENVILLE
Enjoy a relaxing morning before continuing to Clarenville, a beautiful seaside town, your home for the next two nights. B, D
DAY 5: BONAVISTA/TRINITY TOURING
Today you will explore two quaint historic towns. First is Bonavista where John Cabot arrived in North America in 1497. Learn about the hard life of the lightkeepers at Cape Bonavista Lighthouse Provincial Historic Site before continuing onto charming Trinity. Stroll the lanes and explore many historic buildings preserved from the 18th century. Overnight in Clarenville. B, L, D
DAY 6: TERRA NOVA/LONG POINT LIGHTHOUSE
Get ready to travel through Terra Nova National Park, be on the lookout for wildlife as we make our way to Gander. Stop in Twillingate where you will visit Long Point Lighthouse and learn more about the history of fishing in the area at the Prime Berth Fishery & Heritage Centre. Arrive in Gander, a town with a large role in the development of transatlantic aviation. Overnight in Gander. B, D

DAY 7: GANDER/AVIATION MUSEUM
Learn more about the history of aviation, and the hospitality from local residents during the September 11th, 2001 attacks. Then, travel through the province to Cow Head for our overnight. B, D

DAY 8: STRAIT OF BELLE ISLE FERRY/LABRADOR
Travel over to Labrador by ferry over the Strait of Belle Isle. Spend the night in Labrador and enjoy an included dinner. B, D

DAY 9: RED BAY NATIONAL HISTORIC SITE/COW HEAD
This morning we will visit Red Bay National Historic Site. This UNESCO World Heritage Site was a whaling station back in the 16th century. Then, ferry back to Newfoundland through Gros Morne National Park. Enjoy free time this evening in Cow Head. B
DAY 10: GROS MORNE/BONNE BOAT TOUR
Discover Gros Morne National Park. Enjoy a scenic boat tour on Bonne Bay, through the fjords of the national park. Visit the Tablelands, with picturesque views of flat-topped rock. Have a picnic lunch and walk through the Gros Morne Discovery Centre. Overnight in Cow Head. B, L, D
DAY 11: CORNER BROOK
Today, make your way to the town of Corner Brook. Corner Brook is known for incredible views and nature, which you will experience on your tour of the town. Tonight, enjoy a traditional kitchen party, with entertainment and dancing. Overnight in Corner Brook. B, D
DAY 12: TRAVEL HOME
This morning we will transfer to the Deer Lake Airport, saying goodbye to our new friends and treasured memories of this beautiful part of Canada. B
Dates:
Departure Date: August 21, 2024
Return Date: September 1, 2024
Pricing:
Double: $5,599
Single: $6,529
*Passport Required
*Includes round-trip airfare from STL or MCI (call for other gateway cities)
Identification:

Valid passport required to travel.
Walking Distance:
Travelers should be in good physical health and understand there are times when a good deal of walking is involved. Those who have difficulty walking may not want to take this trip or should discuss their personal situation with their doctor before deciding. You should be able to walk at a steady pace for a mile at a time and be able to manage steps to board/de-board the motorcoach several times a day.
Additional Information:
A total of three mailings are sent to assist you in preparing for your tour, including information sent upon receipt of your reservation.
Luggage:
Orange luggage tags are provided and are to be placed on your "checked luggage" (large bag). You do not need a tag for your carry-on bag, for which you will be responsible for taking on and off the coach. There is limited space in the cabin of the coach, so unless you require your carry-on bag while traveling, we will stow it in the luggage compartment.
Booking Information:
Booking requires a valid passport
$250 per person deposit required
Includes airfare from St. Louis or Kansas City (call for other gateway cities)
Terms and Conditions:
Please refer to our policies HERE for more information on our terms and conditions.
Share it
---