See iconic and historic covered bridges and visit the famous Sonnenberg Gardens. At the Corning Museum of glass, marvel at their collection, which includes works by Tiffany and Chihuly. With your poncho on, board Maid of the Mist, and get up close and personal to Niagara Falls!
See historic covered bridges
Sonnenberg Gardens and Mansion
See Niagara Falls on board Maid of the Mist
Visit Old Fort Niagara
Corning Museum of Glass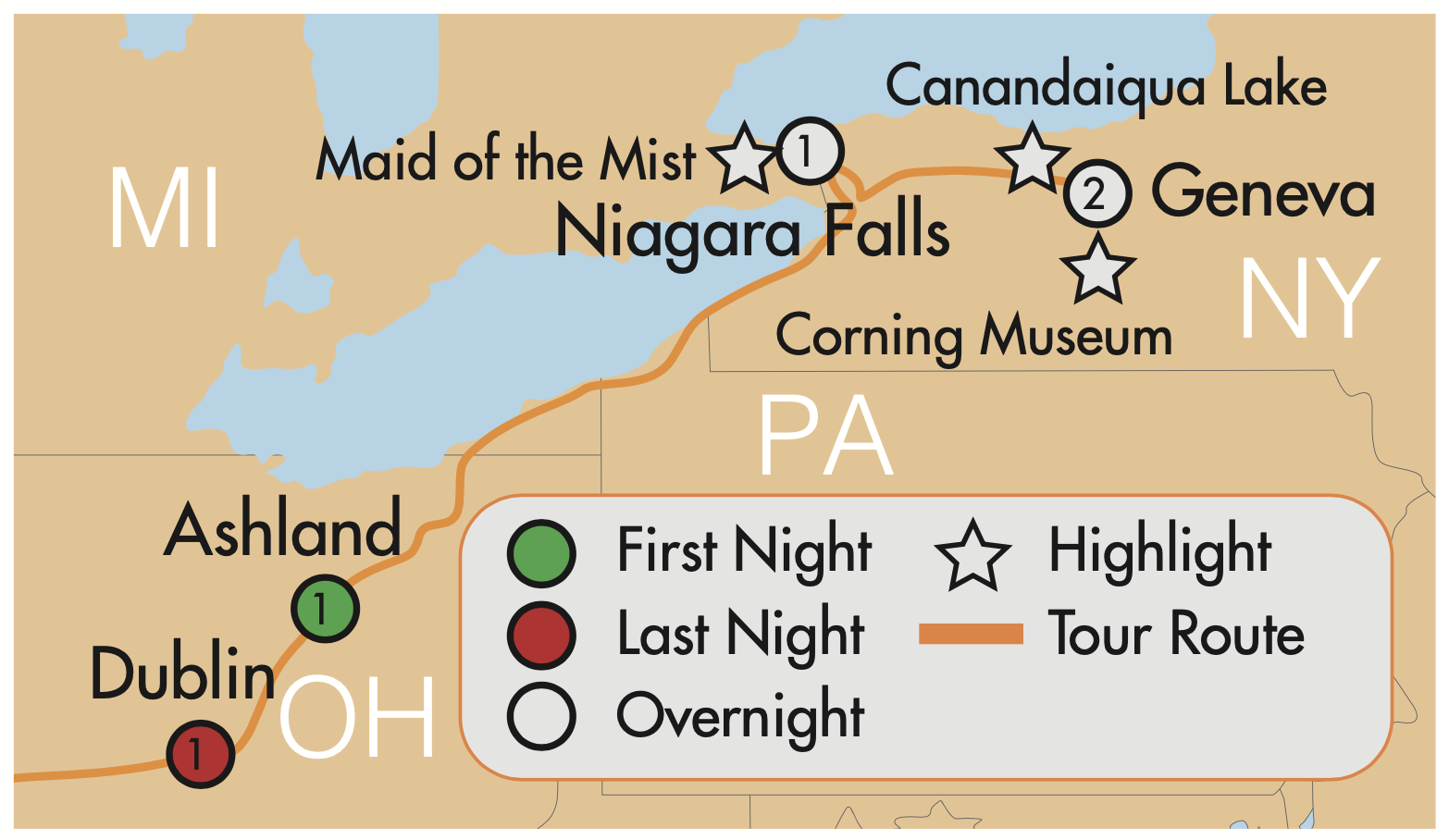 DAY 1: MID-OHIO
Board our comfortable motor coach and travel east to mid-Ohio for dinner at a Sunrise favorite, Schmidt's Restaurant and Sausage Haus, and our overnight stay. D
DAY 2: CANANDAIGUA LAKE
Enjoy a visit to beautiful Ashtabula County and visit historic and iconic covered bridges, including the longest covered bridge in the U.S. Continue to Canandaigua, NY and unpack for a 2-night stay in Geneva, NY. B, D
DAY 3: FINGER LAKES
Explore the nation's most extensively preserved country estate from the Victorian era, Sonnenberg Gardens and Mansion State Historic Site, featuring the historic mansion, stunning gardens and beautiful views of Canandaigua Lake. Tour the largest glass museum in the world, the Corning Museum of Glass, home to over 3,500 years of glass-making history. B, L
DAY 4: NIAGARA FALLS, NY
Travel to Niagara Falls, NY for an elegant lunch at Top of the Falls Restaurant. Step back in time during a tour of Old Fort Niagara, which played a vital role during the colonial wars by protection access to the Great Lakes region. Visit original 18th century buildings, enjoy incredible views of the Niagara River, and take part in exciting living history programs. Unpack for an overnight stay at the Doubletree by Hilton hotel located along the upper Niagara River. B, L
DAY 5: MID-OHIO
Experience the majestic and humbling power of the great Niagara Falls when we board the world-famous Maid of the Mist for a thrilling boat ride to the base of Niagara's three waterfalls – American, Bridal Veil, and Horseshoe Falls. Travel to mid-Ohio for an overnight stay. B, D
DAY 6: RETURN HOME
Travel home arriving early evening. B
Dates:
Departure: May 21, 2023
Return: May 26, 2023
AND
Departure: September 10, 2023
Return: September 15, 2023
AND
Departure: October 8, 2023
Return: October 13, 2023
Pricing:
Double: $1399
Triple/Quad: $1249
Single: $1759
*Per person rates
Temperatures and Dress:
Dress for traveling will be casual and comfortable. We suggest bringing a jacket or sweater as temperatures may be cool at night. You will also want to bring good walking shoes. Below are the estimated temperatures in each city:
Ashland, OH: 78/52
Geneva, NY: 71/54
Niagara Falls, NY: 74/54
Columbus, OH: 76/58
Luggage:
Orange luggage tags are provided and are to be placed on your "checked luggage" (large bag). You do not need a tag for your carry-on bag, for which you will be responsible for taking on and off the coach. There is limited space in the cabin of the coach, so unless you require your carryon bag while traveling, we will stow it in the luggage compartment.
On the first and last nights of this tour, you are welcome to pack your carryon bag with essentials that would enable us to leave your "checked bag" on the coach. This will facilitate faster check-in and luggage delivery. This is not a requirement, merely a suggestion; we will deliver your "checked bag" to your room on the first and last nights if you desire, just like every other night of the tour.

Share it
---