The Rocky Mountains roll on for a thousand miles of snow-capped peaks, thick forests, and clear glacial lakes. Banff was the first of the Canadian Rockies' National Parks established in 1885. Join us as we explore this incredibly majestic region.
Butchart Gardens
Float on Bow River
Two-night stay in Banff
Snow coach trek on Athabasca Glacier
Two-night stay in Whitefish, MT
Two-night stay in charming Leavenworth, WA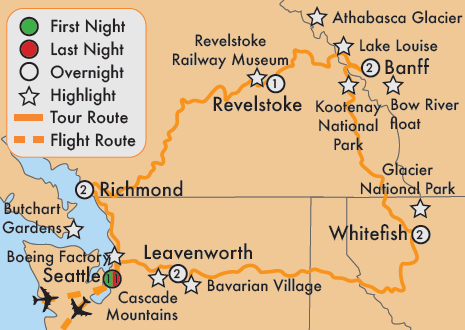 DAY 1: ARRIVE IN SEATTLE, WASHINGTON
Fly into Seattle for dinner and an overnight stay. D
DAY 2: BOEING TOUR & VANCOUVER, BC
Enjoy a tour of Boeing Factory Tour, featuring current and future Boeing products and services including "The Legacy of Rosie the Riveter" and "Destiny Module Exhibit" used on Shuttle missions. Cross the border into Canada and join our local guide for a tour of the bustling British Columbia seaport city of Vancouver. Unpack for a two-night stay in Richmond. B, D
DAY 3: VANCOUVER ISLAND, BC
Ferry over to Vancouver Island and experience an explosion of color at the world-famous Butchart Gardens, featuring 55 acres of stunning and meticulously-kept gardens. Enjoy lunch overlooking the beautiful rose garden before an afternoon of leisure to explore British Columbia's capital city, Victoria, with an ocean or mountain vista around every corner. B, L
DAY 4: REVELSTOKE, BC
Journey along scenic Trans-Canada Highway to the inland mountains of British Columbia to overnight in mountain paradise of Revelstoke. Nestled in the Kootenay Rockies, enjoy stunning views of rugged mountains, crisp glaciers, lush forests, and raging waterfalls. Learn about the history of the Canadian Pacific Railway and its role in building Canada as a nation when you visit the Revelstoke Railway Museum. Check into Three Valley Lake Resort surrounded by clear waters and sheer cliffs of the Monashee Mountains. B, D
DAY 5: BANFF, ALBERTA
Travel through Rogers Pass, Glacier and Yoho National Parks into Banff National Park, Canada's oldest national park. Enjoy the grandeur of the Canadian Rocky Mountains while floating on the Bow River with experienced river guides. This leisurely float offers excellent opportunities to view beaver, elk, and osprey complete with up close views of Three Sisters Mountain and some of the tallest peaks in the Rockies Front range. Arrive for a two-night stay at the Banff Caribou Lodge and Spa. B, D
DAY 6: ATHABASCA GLACIER
Join our local guide for a scenic journey north on the Icefield Parkway into Jasper National Park. Experience the azure blue waters of the glacier-fed Peyto Lake and explore the most photographed spot in the Canadian Rockies, Lake Louise. Enjoy a once-in-a-lifetime experience during a "snow coach" trek onto the surface of Athabasca Glacier, part of the largest icefield in the Canadian Rockies. B, D
DAY 7: KOOTENAY NATIONAL PARK, BC
Travel through Kootenay National Park, filled with icy mountain rivers and steamy hot springs, to Radium Hot Springs, BC for a European luncheon at Helna's Stube Restaurant. Cross back into the United States and unpack for a two-night stay in Kalispell, Montana. B, L
DAY 8: GLACIER NATIONAL PARK
Board the narrated "red bus jammers" for a journey along the Going-to-the-Sun-Road, the only road that crosses Glacier National Park. Enjoy the fresh air and views of Glacier's pristine forests, alpine meadows, rugged mountains, and spectacular lakes. After lunch in the park, enjoy an afternoon of leisure to experience the laid-back western vibe in Whitefish, MT. B, L
DAY 9: CASCADE MOUNTAINS, WASHINGTON
Travel through Coeur D'Alene National Forest to Leavenworth, WA, nestled in the heart of the Cascade Mountains. Enjoy dinner with German entertainment and unpack for a two-night stay at the charming Bavarian Lodge. Herzlich Willkommen! B, D
DAY 10: LEAVENWORTH
Day at leisure to stroll through beautiful Leavenworth. Tour the amazing Nutcracker Museum, with over 7000 nutcrackers of all kinds, some dating back to Roman times. Visit the Greater Leavenworth Museum to learn the community's unique history. Listen to the Alphorn serenades! So much to see and do in this delightful Bavarian Village. B
DAY 11: LEAVENWORTH AND CASHMERE, WASHINGTON
Enjoy a leisurely breakfast and morning to enjoy the Bavarian Lodge. Take a guided tour of the historic Cashmere Museum and Pioneer Village. After scenic drive through the Cascades, enjoy a final overnight stay near Seattle. B, D
DAY 12: FLY HOME. B
Dates:
Departure Date: July 25, 2024
Return Date: August 5, 2024
Pricing:
Double: $5159

Triple/Quad: $4529
Single: $6799
*Per person rates
*Includes round-trip airfare from STL or MCI (call for other gateway cities)
*Passport Required

Luggage:

Sunrise Tours luggage straps (that go around the entire exterior of your piece of luggage) are available in our office that can assist with ensuring your luggage stays securely closed throughout the air transport process. If you would like a complimentary luggage strap, please stop by our office during regular office hours.
Identification:
Since we are flying into Canada, a valid passport is required to travel.

Canadian Trip Information:
The currency is the Canadian Dollar. Although credit cards are recommended for ease in monetary transactions, there will be places where you may convert your US currency to Canadian Dollars. The current exchange rate is $0.80 USD = $1 CAD. Gratuities should be paid in the local currency whenever possible. Like the USA, Canada uses 110 volts, 60 Hz. It is not necessary to use an adaptor or converter with appliances and devices that you use in the US. Please check with your carrier regarding cell phone service and fees.

Important Information:
Reservations will require $350 per person deposit for this tour. Some or all of your deposit may be non-refundable per our cancellation schedule noted in these Terms & Conditions below. We are happy to accept cash, check (preferred) or credit card (Visa, Mastercard, Discover) for your deposit.
Throughout 2021 we limited capacity on all our tours. This policy was so overwhelmingly popular by Sunrise travelers, we have made it permanent. In 2022 and beyond, we will limit the capacity on our motorcoaches to 80%. Most Sunrise Tours travel on 50-seat coaches with extra legroom, which means guests will enjoy extra legroom AND at least 6-8 empty seats. In the rare cases when we charter a 55-seat coach, there will be at least 10 open seats on the bus.
Our popular on-board refreshment service on travel days will feature a variety of soda, beer, wine spritzers, juices and sparkling water choices served in recyclable aluminum cans. This is a safe and eco-conscious way for us to deliver the ever-popular Sunrise Tours "happy hour" on tour. We do not typically serve bottled water and ask that while on tour you be responsible for your own hydration and consider the Sunrise Tours drink service a welcome refreshment.
Terms and Conditions:
Please refer to our policies HERE for more information on our terms and conditions.
Share it
---